From a new food park in New Zealand to a strategic collaboration in Singapore, we chart the latest developments in Hilton Foods' Asia Pacific expansion and sustainability journey with regional COO, Melanie Chambers.
PROTEIN PARTNER OF CHOICE
Even as times and tastes change, meat continues to take pride of place on plates across the world.
Indeed, for millions of people, high quality meat remains the focal point of a multitude of meals and is still enjoyed as part of a healthy, mixed diet.
Not only is meat considered rich in protein, something most Australians and New Zealanders have no trouble consuming, but lean red meat especially also provides a wide variety of other nutrients including iron, zinc, and vitamins such as B12.
Meat is where it all began for Hilton Foods (Hilton), a leading meat protein and international food and supply chain service partner to retailers, global brands and the food service sector.
From humble beginnings in 1994 as a meat packing facility in Huntington, England, Hilton has become an international, diverse multi-protein food technology business. With a commitment to quality, innovation and customer satisfaction, the company has now established itself at the forefront of the Australian and New Zealand food industries.
Hilton has developed significant expertise in protein, processing and turning it into irresistible products that people buy and enjoy every day. Drawing on deep knowledge and experience, Hilton helps partners meet the broad and changing tastes of today's market.
Having always been an ambitious entrepreneurial business, whose families at the root of its history operated primary processing slaughter and deboning facilities dating back to the 1960s, Hilton's clear guiding principles underpin its mission to continue to be the world's first choice protein partner.
It is these guiding principles which have led to a series of successful, if not ambitious, acquisitions and joint ventures establishing Hilton as a clear multi-protein global industry leader.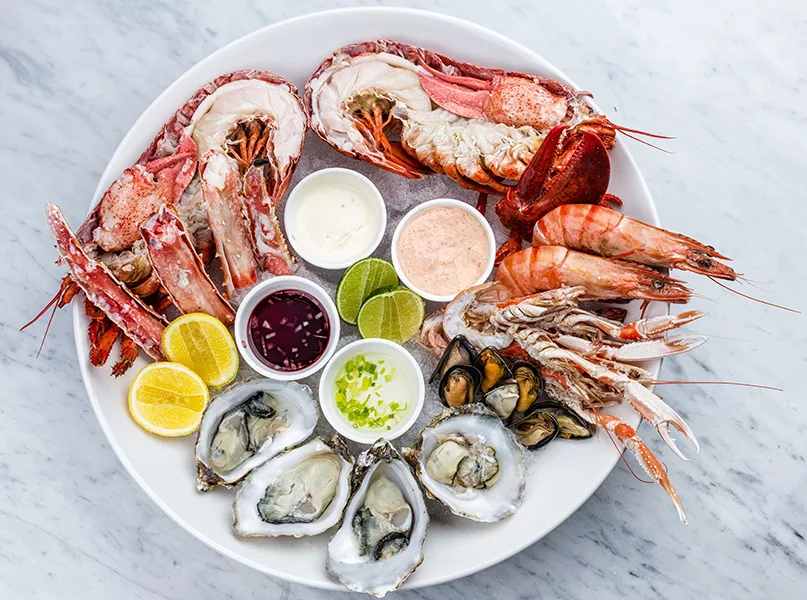 MULTI-PROTEIN OFFERING
Meat is just one of five categories that Hilton operates across, along with seafood, vegan and vegetarian, easier meals, and supply chain services, serving customers in 14 countries from 24 world-class facilities worldwide and a turnover of around £3 billion.
"Our unique offering is underpinned by our category management expertise and strong environmental, social and governance (ESG) commitments throughout all the categories that we operate in on an international scale," states Melanie Chambers, COO – Asia Pacific.
More than ever, seafood is both a staple source of protein and the focal point of exceptional dishes.
With consumer perceptions of seafood constantly shifting, freshness is paramount, as is sustainability in terms of how it's grown, reared and caught. Hilton helps its customers meet all of these expectations with a product range that delivers convenience, variety and excitement.
Where seafood is concerned, step one is sustainability. A big part of that is using every part possible, which minimises waste and saves costs. Hilton's expertise and technology manage the risk and give all the reassurances that customers expect.
Hilton's seafood product range is global in focus and local in flavour, and includes smoked salmon, wet fish, shellfish, coated fish, and fish cakes.
Innovative meat-free foods have also been delivered by Hilton for more than 40 years, with veganism and vegetarianism going fully mainstream in recent years.
Whatever the consumer's protein preferences, plant-based and vegetarian foods are an essential part of any offer, and Hilton delivers these fresh and frozen products to retail and food service customers.
"Our meat-free foods have helped to transform and grow the cross-channel vegan and vegetarian categories. Our Centre of Excellence delivers fresh production in local markets," Chambers says.
As convenience is key for millions of consumers every day, Hilton's easier meals are ready to heat or ready to eat, from straight-to-oven trays to ready meals, soups, sandwiches and wraps, reflecting both international cuisine and local tastes.
Hilton handles all consumer and retail needs across slow-cook and ready-to-cook meat, seafood, vegetarian and vegan foods. With advanced processing technology, the company can create affordable and easy solutions either for restaurants or from restaurants to enjoy at home.
Last but not least, Hilton's supply chain consultancy services share everything the company has learned across manufacturing, sourcing, procurement and the supply chain.
Hilton's Foods Connected platform is a cloud-based solution that gives a 360° view over supply chains, including procurement, food safety, quality, new product development and corporate social responsibility (CSR). Real-time data enables agile decision making to minimise risks and maximise profitability, and over 150 manufacturers as well as several leading retailers already rely on it.
PURPOSE-BUILT FOOD PARK
In Asia Pacific, Hilton operates four highly automated and technologically advanced manufacturing sites, supplying quality proteins to Woolworths and Countdown stores in the region.
The four sites employ approximately 1,600 team members operating 65 production lines, whilst 35 highly sophisticated robots pick and pack individual orders and send 5.7 million packets of meat to over 1,200 stores across Australia and
New Zealand.
The company's Australian sites are located in Bunbury (Western Australia), Heathwood (Queensland), and Truganina (Victoria), with Hilton's latest New Zealand site located in the Auckland suburb of Wiri.
Opened in July 2021, the AUD$100 million purpose-built food park in Wiri provides a full pre-packed portfolio of more than 250 products across meat, poultry and seafood proteins, harnessing Hilton's expertise across all of its protein categories.
The site is also complete with a fully automated warehouse store, that carries out individual store order picking for 150 Countdown stores on a daily basis. Automation in logistics has been pioneered by Hilton, driving new efficiencies in how goods are received, inspected, stored and picked.
"Our food park concept brings multiple proteins together, leveraging the combined volume to fractionalise manufacturing costs that could not be achieved in low-to-modest volume single protein facilities," explains Chambers.
"Manufacturing meat, poultry and seafood in the same facility provides customers with common packaging formats and consistent quality that engenders confidence and trust in the product and brand."
Three of Hilton's Asia Pacific sites, meanwhile, now pass product pallets directly to Woolworths' warehouses via an air bridge, reducing the need for trucks and material handling equipment (MHE).
Improving efficiency yet further is forming and slicing technology from TVI, enabling Hilton to 3D scan,
weigh and mould fresh meat products.
The advantages of this world-leading technology include improved slice yields, portion control and line balancing to enable automated packaging, controlled fixed weight portions and thus fixed priced ranges for customers, and consistent presentation and portion shapes allowing for new paper packaging options.
Passionate about integrating technology and people, Hilton has dedicated technical teams that specifically support, research, and improve its technology through smart software enhancements.
"There has been a substantial push to enhance our technology stack, improve the user and supporter experience, and develop the technological aptitude of the team," Chambers shares.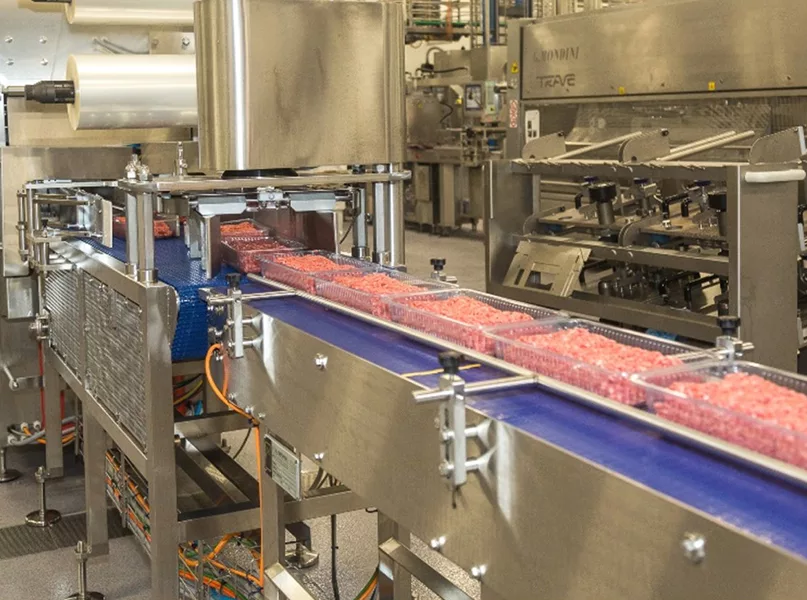 SINGAPORE COLLABORATION
Elsewhere in the region, Hilton has entered into a strategic collaboration with Country Foods in Singapore, providing proprietary technical solutions to the company's manufacturing and logistics practices.
The collaboration between two highly respected and established businesses will help Country Foods to increase its product traceability efforts, execute sustainable packaging solutions, and improve efficiency.
Hilton will be trading innovative products in Singapore direct from its global manufacturing sites, including but not limited to seafood, alternate protein, slow cooked meats, and selected cuts of Australian beef, lamb and pork.
"Singapore will see protein choices reach new levels of manufacturing and product excellence in existing sites, with ongoing joint exploration for new manufacturing and logistics opportunities in the future," Chambers notes.
Country Foods is one of Singapore's largest food importers, distributors and manufacturers, with a focus on innovative and sustainable food solutions. It is a wholly owned subsidiary of SATS, a leading provider of food solutions and gateway services that delights customers in over 60 locations and 14 countries, spanning Asia Pacific, the Middle East, and the UK.
SATS uses innovative food technologies and resilient supply chains to create tasty, quality food in sustainable ways for airlines, foodservice chains, retailers, institutions and e-commerce companies.
Country Foods currently services more than 1,000 clients and 800 white label and branded products including Farmpride and Amir's, leverages SATS' global network to provide valuable access to markets across the region, and offers turnkey, go-to-market solutions to connect people, communities and businesses.
Commenting on the collaboration, Pat McEntee, Hilton's CEO in the Asia Pacific region, celebrates the company's landmark expansion into Southeast Asia.
"Hilton is well positioned to cater to the growing demand for high quality, affordable and sustainable protein products across retail and other market channels. We look forward to providing Country Foods with the innovation, supply chain excellence and technical services for which Hilton is known," he says.
CIRCULARITY PRINCIPLES
With approximately 30 percent of global emissions coming from the food system, Hilton is on an equally exciting and important journey to materially reduce emissions not only within its operations, but across its supply chain.
The company is continuously working on strategies to achieve its science-based targets across Scope 1, 2 and 3 emissions, as well as its ambitions related to resource management and consumption.
Notably, during 2022, Hilton doubled its waste recycling rates compared to the previous year, and has challenged itself to further improve this benchmark to achieve a minimum recycling rate of 60 percent of the inorganic waste generated by its facilities.
The transition to a mono-packaging structure, utilised throughout Hilton's Asia Pacific operations, was also classified as 100 percent recyclable by municipal kerbside recycling services in 2022.
"This classification allows up to 3,515 tonnes of plastic trays to be recycled by end users every year," reveals Chambers.
"Furthermore, the recycling validation work completed with commercial recyclers demonstrated that plastic trays can be recycled with the plastic films still attached to them. This was an industry-first outcome which supported a further annual diversion of 3,245 tonnes of plastic film from landfill by end users."
The implementation of circularity principles by Hilton in Asia Pacific is exemplified by the incorporation of up to 70 percent recycled materials in PET trays, and the fact that 96 percent of the packaging materials used across its operations in the region are recyclable.
As Chambers herself has been committed to carving out a career path that focuses on driving circular economies in the food and beverage industry, and dedicated to building a business that makes the future look brighter, she is naturally proud that Hilton's Asia Pacific operations have been recognised by the Australian Packaging Covenant Organisation (APCO) with the APCO Annual Award 2022 for Highest Performing New Member.
The award recognises outstanding actions and contributions made by organisations against the packaging circularity targets set out by the Australian government.
Hilton's crate model, for example, looks to remove cardboard in Western Australia and improve supply chain operations, whilst industrial gas conversion in Truganina to nitrogen removed the need for CO2 cooling.
"Throughout 2022 we have made significant progress in the establishment of demonstrable circularity practices in packaging," Chambers acclaims.
"These extend beyond the formulation of packaging to reduce the use of virgin materials. We are leading the industry in the integration of an otherwise complex and diverse packaging supply chain to incorporate recyclable materials and further improve the recyclability of packaging materials."
RESPONSIBLE WATER MANAGEMENT
Managing water responsibly is also at the core of Hilton's resource management strategy, on the understanding that water stress and scarcity is becoming a more widespread reality.
As such, the company strives to reduce water intensity in its operations and eliminate water wastage where possible.
This approach to responsible water management extends beyond the efficient and effective use of water, and also includes the use of best practice principles in wastewater management.
"Over the last several years, we have implemented various initiatives to manage the water intensity of our operations," reveals Chambers.
"A few of these included improving our submetering and monitoring capabilities, optimising the operation of water-intensive plant and equipment such as cooling towers, and implementing various water recovery initiatives in our production lines.
"We are working on the feasibility of commissioning rainwater harvesting systems for cooling as part of our water efficiency initiatives. Subject to the outcome of our feasibility studies, we expect to implement these by the end of 2023," she adds.
In the Asia Pacific region, Hilton has set a water use target reflective of industry best practices and is working towards more ambitious targets.
The company's production facilities are very diverse in terms of production throughput and processed species, presenting both exciting opportunities and challenges for Hilton to continue to improve its water efficiency and wastewater management practices.
Hilton aims to set an industry benchmark in water efficiency, and challenge itself to reduce the water intensity of its operations.
"We are committed to delivering initiatives aligned with best-practice principles, achieving our 2025 targets of improving water efficiency in our facilities by at least 10 percent from a 2018 baseline, and to continue with our resource stewardship principles," Chambers informs us.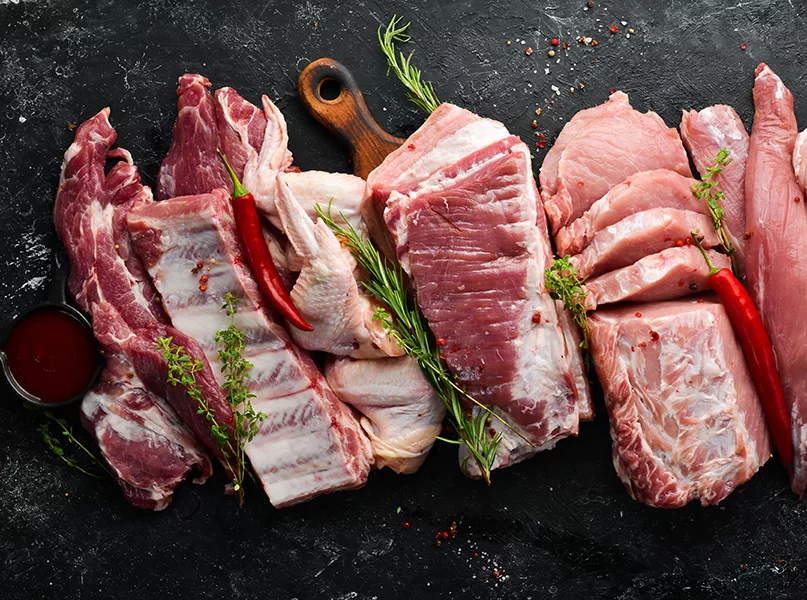 CONTROL AT EVERY STAGE
Hilton's responsibilities within the supply chain build on its environmental commitments and are a crucial element within its operations, ensuring compliance while leading the way in sustainable and ethical practices.
In Asia Pacific, the company's supply chain operations involve sourcing raw materials, processing the meat, and delivering the final products to Woolworths and Countdown stores.
A strong emphasis is placed on quality control at every stage of the production process by Hilton, whose commitment to the concept of Chain of Responsibility (CoR) ensures that all parties involved in the supply chain have a clear understanding of their responsibilities to maintain high-quality standards and comply
with regulations.
"Partner and supplier relationships are crucial to the success of Hilton's business in Asia Pacific," Chambers emphasises.
Indeed, the company relies on close collaboration with its suppliers to ensure a consistent supply of high-quality raw materials. Hilton also works with Woolworths and Countdown to understand their specific requirements and to develop products that meet their needs.
Effective communication and collaboration with suppliers and partners are key to ensuring the smooth operation of Hilton's supply chain.
The company places a strong emphasis on building long-term relationships based on trust, mutual respect and shared goals, an approach that ensures Hilton can continue to deliver high quality products to Woolworths and Countdown while maintaining its position as a leading supplier of meat products in Australia and
New Zealand.
With a focus on quality, innovation, and customer satisfaction, Hilton has established itself as a leading supplier of high-quality meat products.
"Our commitment to building strong relationships with suppliers and partners has helped to ensure the smooth operation of our supply chain, and Hilton's continued success within the Australian and New Zealand food industries," concludes Chambers.
HILTON FOODS PARTNERS