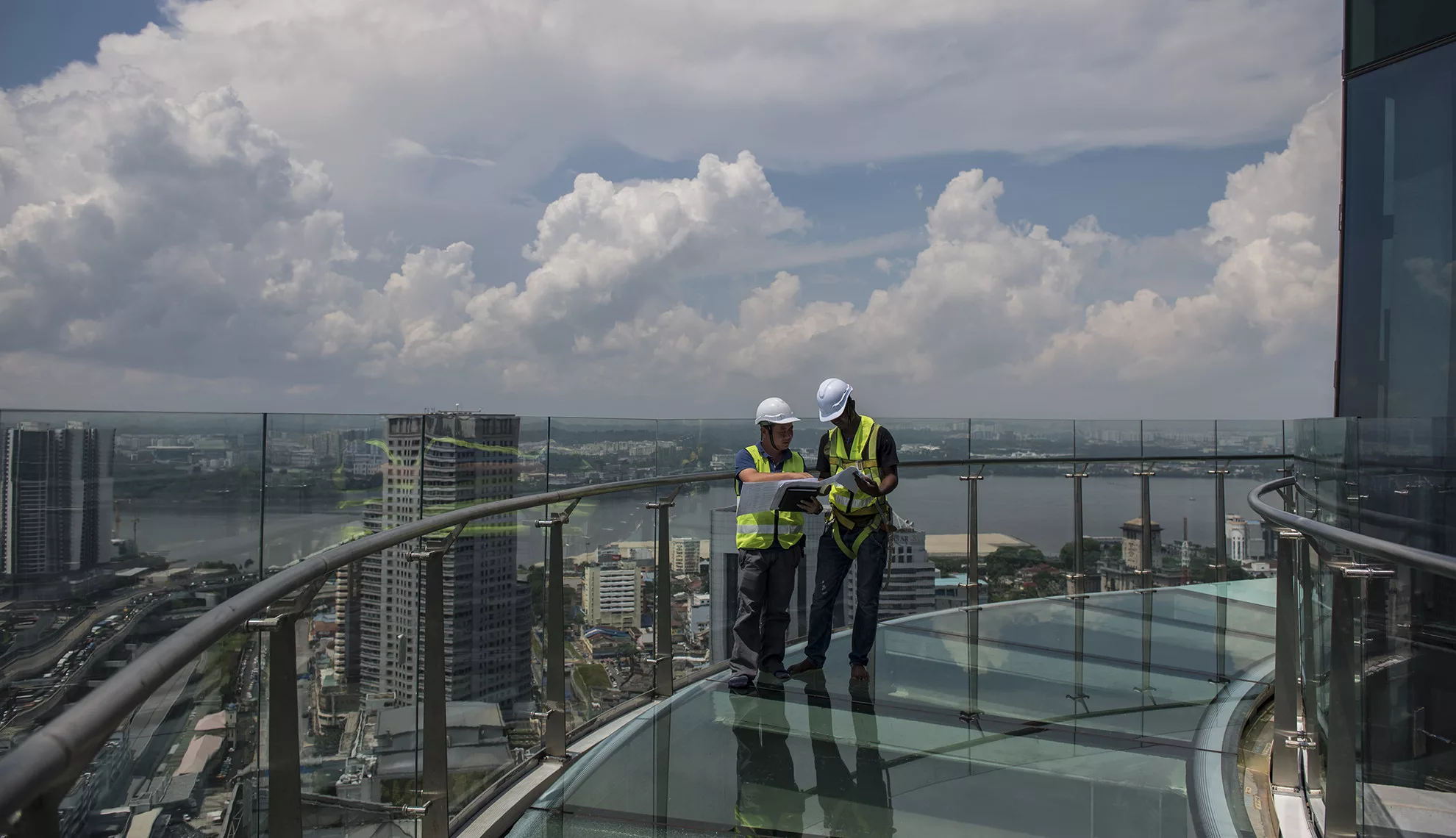 By embracing innovation and stepping into new markets, Euro Facade Tech continues to exceed client expectations and deliver landmark projects across the APAC region
Writer: Tom Wadlow | Project Manager: Tom Cullum
First impressions, rightly or wrongly, count for a lot in many aspects of life.
Whether it's entering an office for a job interview or taking a first glance at a plate of food in a restaurant, conclusions are often made within seconds.
The same can be said of buildings. Entire periods of history are identified by architecture, while a passer-by's impression of a company, organisation or residence can be defined by what they see from the outside.
The need for façade engineers to constantly evolve their offerings, therefore, is paramount.
"Façades are ever changing," comments Stephen Matula, Operations and Production Director for Malaysia's Euro Facade Tech. "We are seeing more complex designs and features being incorporated into building structures."
Picking out an example, Matula highlights the increasing uptake of glassfibre reinforced concrete (GRC) as a particularly innovative construction material.
Lightweight and extremely strong, GRC panels provide durability, fire resistance, sound reduction and energy efficiency on top of the inherently superior properties of the material itself.
"We are seeing an increase in the number of projects using GRC products as a feature façade element," Matula continues. "U-City in Adelaide was our first project to use this, and since then we have been awarded the Chowkit Hotel here in Kuala Lumpur and 472 Bourke Street in Melbourne with a GRC façade system.
"We also see a growth in the use of energy efficient LED lighting in facades. Additionally, we are witnessing more geometrically complex structures and are currently engaged to do such work on the Saloma Bridge in Kuala Lumpur."
Indeed, much has happened since the start of 2018 when Asia Outlook last spoke with Matula and Ted Graban, the company's Managing Director.
The latter sums up what has been an exciting period. "The last 12 months have seen significant progress on works completed, as evidenced by our increase in square metre production output by over 18 percent year on year," Graban says.
"We have had five projects come to production completion in 2018, and our next wave of projects are well into the design and procurement phases, with production commencing in the coming months."
Euro Facade Tech prides itself on its engagement with construction projects from concept to completion, no better evidenced than by its landmark work on the Exchange 106 Tower in Kuala Lumpur, one of Southeast Asia's tallest buildings.
The centrepiece of the $10 billion Tun Razak Exchange, the Exchange 106 Tower and its blue glass façade makes for a commanding presence.
Matula is particularly proud of the company's work on the striking 12-storey clear glass crown.
"This has been the most challenging part of the project," he says. "Designed using the latest 3D software, the crown comprises of a series of triangular articulated shaped panels that resemble a crystalised lantern effect on the building.
"The challenge for production was that every single unit was customised in size and shape and needed to be allocated to its individual specific location. As such our quality control inspections were clearly of paramount importance. The site installation was conducted under restricted and confined spaces, at a level of 492 metres, which made this task even more special."
Not far from another iconic Kuala Lumpur landmark, the Petronas Towers, will stand the Oxley Towers, one of the largest single developments in the area and a project which Euro Facade Tech recently won a contract to work on.
Outside of its home's capital, the company has also been busy expanding its portfolio.
For instance, it completed a first venture into Papua New Guinea by fulfilling a design and supply contract for APEC House in Port Moresby, which went on to host last year's APEC Summit.
Euro Facade Tech has also been expanding its presence in Australia. "Until now, our main focus has been on the Melbourne market as it has been booming over the past few years," Graban explains.
"To date we have executed five projects, with the highlight being the 52-storey, six-star residence known as the Capitol Grand. We have recently been awarded two new projects in Melbourne, namely 472 Bourke Street for Multiplex and Lincoln Square for Hutchinson. We are currently pursuing projects in the other main cities in Australia as well."
Asked what lies behind the firm's successful track record of project delivery, Graban highlights two major differentiators.
"Our success on projects relies on our ability to innovate and draw on international technical experience to add value to clients' expectations," he explains.
"Secondly, working closely with the architects and clients early in the project allows us to stay ahead and maximise the benefit to the client. Ironing out all design issues at the start, through the promotion of mini and full scale visual mock ups, allows for a better understanding of the design intent.
"These mock ups ensure that we leave nothing to chance – the clients understand what the end result will be early on during the initial design phase, to guarantee a desired result. This in turn allows the project to run smoother throughout the various phases of procurement, manufacture and installation."
As eluded to by Graban at the beginning, the façade industry is an ever-changing one, and Euro Facade Tech will need to continue innovating and adopting new techniques in order to build on the progress it has made to date.
Matula mentions the development of a vertical sliding window system for high rise buildings, a solution currently under testing and expected to become available on the market by late 2019 or early 2020.
This adds to the ongoing development of a dry double skin (DDS) façade system, a solution which comprises highly transparent curtain walls with an internal blind system. This traces the sun's movements in order to deploy blinds automatically when needed the most, helping clients to save on what can be extremely high air conditioning bills.
Matula also highlights an internal technological investment. "We have implemented a new sophisticated customised management resource planning system.
"This is designed for our specific business and streamlines our entire operation, from design through to installation. We are already seeing significant benefits by the implementation of this software."
Such innovations and willingness to try new ideas will stand Euro Facade Tech in positive stead for the rest of 2019 and beyond. As the industry continues to advance at a rapid pace, so too will the capabilities and capacity of this pioneering Malaysian firm.
Commenting on his priorities for the year ahead, Graban concludes: "Hopefully we can continue our year on year growth in the façade industry and continue to be a leading player in the Southeast Asia and Australasia regions.
"Additionally, we are looking at expanding our business into several new markets, including India, South China, Hong Kong, the Middle East and Africa."
VIEW Euro Facade Tech BROCHURE