Leading laboratory services across Malaysia, we dive into Innoquest Pathology Sdn Bhd, and speak to CEO Dr. Nelson Nheu about delivering high-quality and affordable diagnostics services throughout the country.
A QUEST FOR SUCCESS
"Healthcare is a passion, born from the joy of helping other people."
The words of Dr. Nelson Nheu, CEO at Innoquest Pathology Sdn Bhd (Innoquest) sum up the positive, people-centric spirit of a company working for the health and wellbeing of people across Malaysia.
Formerly known as Gribbles Pathology, Innoquest is currently the largest private provider of diagnostic laboratory services in the country. This industry-leading position has been achieved by way of the company's mission, to deliver affordable diagnostics services of the highest quality, which is in turn made up of a multi-faceted mantra.
"We are medically managed, run under the stewardship of medical doctors; we are the lab of the future – investing in new technologies and tests that are clinically relevant, and we create memorable patient experiences – from blood taking to releasing the report to a doctor, every patient's journey is what matters to us," Dr. Nheu tells us proudly.
For over 26 years, Gribbles Pathology has been the market leader in in-vitro diagnostics (IVD) in Malaysia. The rebranding in June 2022 comes with the backing of TPG as the company's key investor, and more importantly with the leadership of PAH (Pathology Asia Holdings).
MALAYSIA'S MEDICAL SERVICE
PAH is the fastest growing clinical lab in Southeast Asia (SEA), with a strong presence in Singapore, Malaysia, the Philippines, Vietnam and Australia. Innoquest's regional reach and unparalleled volume allow the company to provide the highest quality at affordable prices.
Innoquest Malaysia obtained CAP (College of American Pathologists) accreditation and launched a powerful online platform that allows company services to be delivered in a much more seamless and efficient way. Innoquest's immediate plans are to have new features on this platform that will continue to improve the way that doctors can deliver lab test services to patients.
"Today we are operating through 75 sites across East and West Malaysia, offering employment to 1,100 staff in Malaysia," Dr. Nheu says. "We have a very strong team of experts serving millions of patients each year, from couriers on their motorbikes who service thousands of clinics each day, rain or shine, to the dedicated scientists who provide potentially life-saving test results around the clock.
"Our multidisciplinary services are the most comprehensive in Malaysia, covering the most special tests in genomics, anatomical pathology and adjuvant oncology molecular testing, down to the high volume and fully automated Biochemistry, Haematology, Immunology and Toxicology departments. If there is any clinical lab service that we don't provide in-house, we are able to refer these special testing services to the best international labs such as Mayo Clinic Laboratories, for which we are an exclusive distributor."
With its regional strength, PAH is also able to acquire best-in-class laboratories with niche competencies, such as toxicology testing – until now, all confirmatory toxicology tests in Malaysia were serviced by the overwhelmed public sector.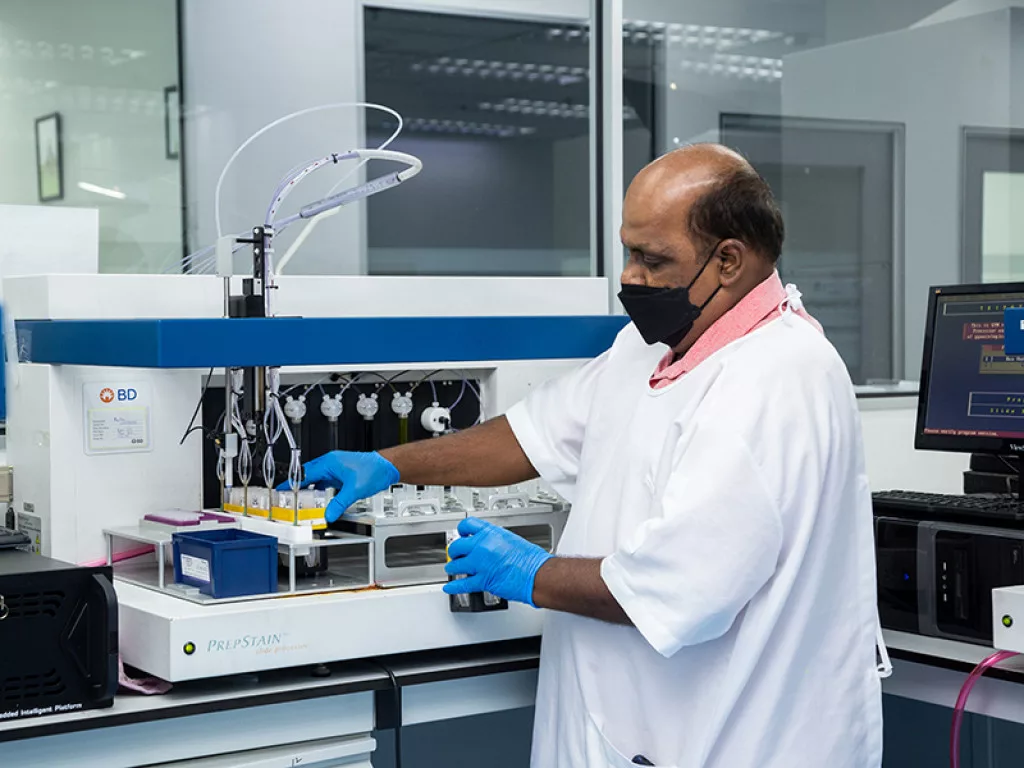 DIAGNOSING THE INDUSTRY
The recent COVID-19 pandemic has changed perceptions on the importance of healthcare and diagnostics in general, which echoes throughout Innoquest.
"For the first time in my lifetime, we have experienced how healthcare dictates our economy," Dr. Nheu elaborates. "We saw how significantly the results of PCR testing determine when and how the workforce can function, borders can be reopened for travel, or when we can board a train or even grab a taxi. All these basic things that we take for granted, have been limited to one single swab test result."
The pandemic also accelerated the digitisation of the healthcare industry. With Innoquest and PAH's vision of being innovative, and with recent investments and acquisitions to move the company ahead in this trend, there remains a lot of potential moving forward.
"I am very excited about the future of our company and that of the industry. I always believe that disruptive technology to our industry should be coming from within, allowing the experts to determine and shape the future of diagnostics and patient data management," Dr. Nheu explains.
"Three years ago today, I would have not imagined that the diagnostics industry would be what it is now. In my recent visit to the AACC Annual Scientific Meeting and Clinical Lab Expo Conference held in Chicago (US), the largest of its kind, it was clear to me how much emphasis is given to COVID-19-related testing, resulting in non-COVID-related tests taking a backseat.
"I am certain that this will quickly fall into balance again, but it was pleasing to see the willingness to invest in and rapidly adopt new technologies in IVD service delivery. This trend will only continue – and it is exciting to just imagine what this industry will look like in another three years."
While Innoquest operates in a very traditional industry with a heavy focus on 'standards of procedures' and quality of care, emphasis is also being placed on innovating the ways it delivers its services. Nowadays, most things are at people's fingertips and the traditional way of operating is not able to keep up with this trend. Thus, it is important for Innoquest, as the largest diagnostic healthcare provider in Malaysia, to continuously innovate the way it delivers its services.
"Innoquest is in the best position to drive the future of the healthcare industry in Malaysia," Dr. Nheu says. "I firmly believe that "disruption" should be fostered from within. Much of our effort and passion is towards new methods of delivering our services, to ensure that the future of diagnostics never compromises on the fundamental ethics of healthcare."
GROWTH SECTORS
As the economy returns to normalcy, it is expected that there will be a rise in some areas of medicine which were put off during the pandemic period. Cancer diagnosis, elective procedures, non-communicable disease management, and flu outbreaks among others will see a marked increase in hospital and clinic presentations.
The Innoquest team, already with the largest capacity, will continue to build-up to meet industry needs and to ensure that service levels are maintained, along with the company's quest for continuous improvement. According to Dr. Nheu, healthcare is not spared from the critical labour shortages seen in other industries. As hospitals and other health services experience the flood of increased workload, labour supply is a key constraint.
"We will continue to emphasise our human policies that have worked well for us, with extremely low staff turnover in our supervisors, management and above," he elaborates further. "We also foresee that other areas of growth will gap-up in the near future, including our foreign worker screening where Malaysia is still short of around one million foreign workers for our plantation, manufacturing, service and other key industries.
"We expect our borders to open soon for foreign workers to flood back. I am glad to see that our ministries are increasing the approvals of foreign workers; this will help our labour crunch tremendously. Health tourism will also experience higher traffic. Innoquest continues to ensure all stakeholders mentioned receive the best diagnostic services, as our economy finds normalcy in the next few quarters."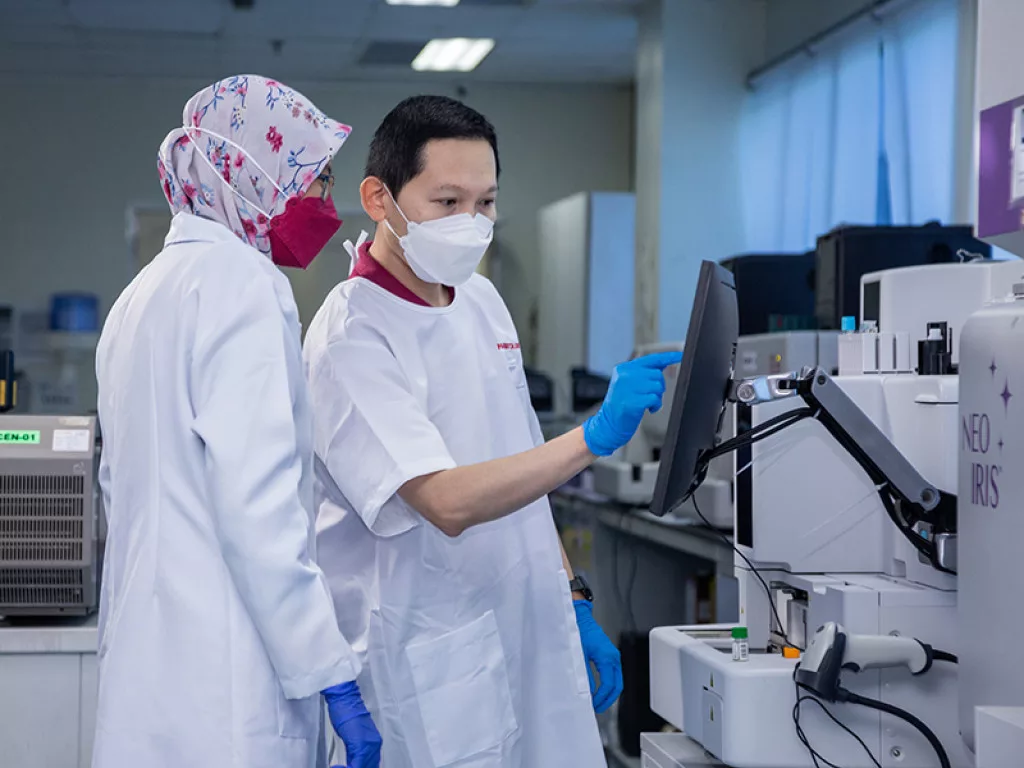 A FULL-SERVICE LAB PROVIDER
PAH has recently set up a genomics lab under LifeStrands Genomics to complement existing competencies in Malaysia and the region. Within a short period, they have increased their NIPT (non-invasive prenatal testing) profiles and capacity, and have built a growing list of offerings including somatic oncology testing (with a highly competitive menu of comprehensive offerings), pharmacogenomics testing, and have invested in liquid-based biopsy competency to be launched soon in Malaysia.
Innoquest is proud to include LifeStrands services and products to its existing range of service offerings nationwide.
NIPT assesses a foetus' risk of having certain chromosomal abnormalities including Down's syndrome. A simple maternal blood test allows the laboratory to examine the foetal DNA – reducing the risk of complications such as miscarriage associated with more traditional methods of sampling and testing.
"In Malaysia, the adoption of this test is still at a lower rate due to the prohibitive cost. However, PAH through our genomics lab and Innoquest Pathology offers a high-quality NIPT service that is fully CAP accredited (the first of its kind in Malaysia)," Dr. Nheu continues.
"Our task is to continue reducing the cost to make it affordable for pregnant women in Malaysia. I am proud to announce that our team is headed by Dr. Vivek Rathi, one of the top molecular pathologists in Australia.
"We have also made strategic investments to launch various seamlessly interconnected platforms, allowing the doctor to order tests electronically, track the progress of all episodes, view lab results in real-time, have access to useful data such as their ordering pattern, their patient's lab and other health records (for example, from their wearables – smart watches, mobile phones and other devices)."
Innoquest continues to invest in other speciality testing competencies to complement its traditional lab services, such as animal pathology, and is the only private provider with a full menu for veterinarians, including microbiology and anatomical pathology lab services. The company's anatomical pathology services are complemented by a full range of immunohistochemistry testing and molecular testing for targeted therapy. Innoquest offers a comprehensive menu of toxicology testing backed by expertise based out of its sister laboratory in Australia called Safeworks Laboratories.
"I am also very excited about our plans in chemical and environmental testing, which will be revealed soon," Dr. Nheu alludes.
AT THE CORE OF THE QUEST
These plans and developments would falter without Innoquest's hard-working staff, who remain the company's heart and soul.
From the dedicated scientists working around the clock to the motorbike couriers who battle city traffic and all kinds of weather, Innoquest's employees are working towards the goal of improving patient care. Innoquest emphasises standard operating procedures (SOPs) and strictly follows internal and external quality governance.
"From our recruitment policy towards fully qualified staff, followed by stringent training before they can operate independently, we foster professional and personal development to find the most adequate career path for each individual," Dr. Nheu tells us.
"Having multiple labs with a range of specialties across the region gives our staff the opportunity for further development across functions, within and outside Malaysia (in our sister companies in Singapore, Philippines, Indonesia and Australia)."
Frequent assessments and appraisals are carried out at Innoquest to encourage regular feedback amongst staff and management, and to identify areas for improvement and growth. Company work culture focuses on teamwork and empathy, and on teaching and learning. Staff are rewarded for their excellence in performance, and we strongly encourage positive behaviour: great customer service to doctors and their patients is our central focus.
"In response to the growing awareness of mental wellbeing, especially during stressful times of the recent pandemic, we also engaged the services of an Employee Wellbeing consultant to ensure our employees' concerns are seen to," Dr. Nheu adds.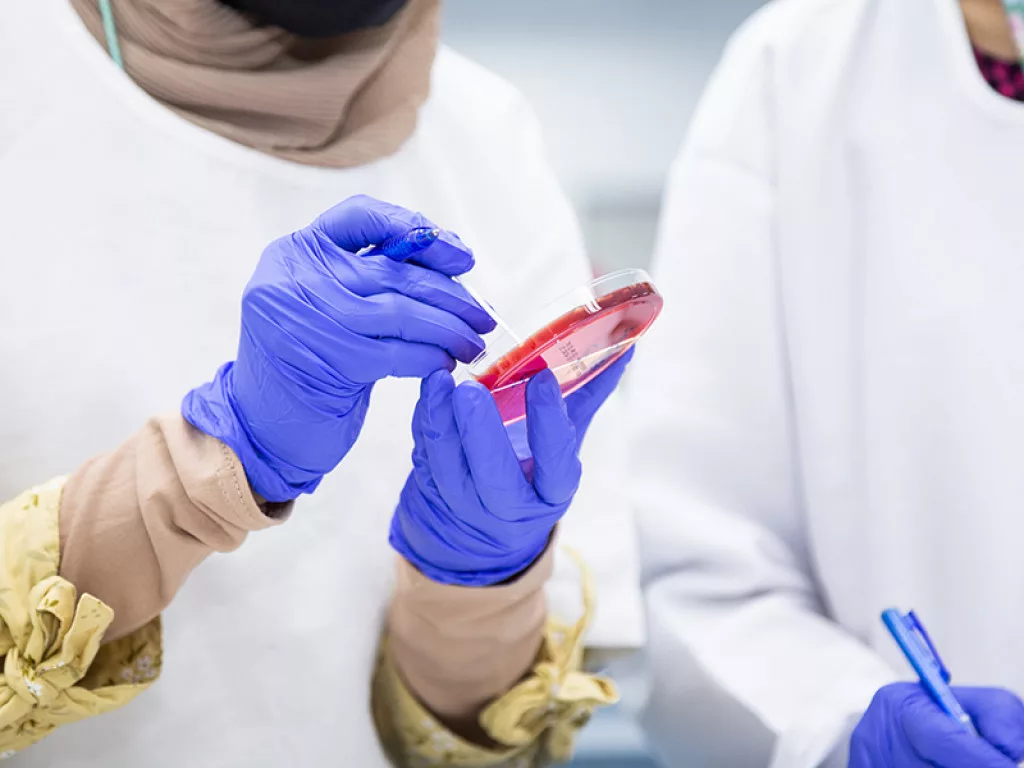 THE PATH AHEAD
For Innoquest, a large part of the past three years revolved around managing the pandemic; the company was the first private laboratory in Malaysia to provide COVID-19 screening to the public and its efforts were mostly channelled to helping the public healthcare system conduct mass screening, as it was having difficulty coping with the large numbers at that time.
During these three years, Innoquest also expanded and built new labs to run COVID-19 tests across the country as well, and at the same time managed the pandemic within its own workforce.
"Today, as we ease into endemicity, we return our attention to our core laboratory testing, focusing on expanding our services to reach more people in the country, providing new test offerings to the community, selling tests from the personalised medicine field, histopathology, occupational health and safety, and improving service delivery as a whole," Dr. Nheu concludes. "In the coming years, we aim to provide a seamless patient journey through IT, from the ordering of tests by our doctors, to providing e-reports safely and efficiently through our IT platforms to improve patient care management and doctors' experience.
"We continue to build our strong reputation in the medical and research field; growing and expanding partnerships with medical centres, other private and government institutions; we continue to drive improvements in patient care; staff competency, training and development."