Encompassing stylish innovation and premium urban accommodation with a community-minded approach to construction, we speak with Robert Furolo, Executive Manager of Corporate Communications at Deicorp.
DESIGN, DEVELOP AND DELIVER
"The Deicorp team is committed to delivering the highest standards in everything we do. From site selection to design and construction, sales and customer care, we give every buyer peace of mind that they've made a smart choice."
It is this prevailing commitment to the highest possible standards that has directly led to over 25,000 people currently enjoying homes built by Deicorp.
Deicorp was founded in 1999 and is a privately-owned integrated construction and development company. Based in Sydney, Australia, Deicorp has so far delivered 8,000 apartments and over 150,000 square metres of retail and commercial space across more than 40 suburbs in the city. As Sydney's leading builder of transport-connected developments, Deicorp is currently building around 3,000 apartments across nine projects.
"We bring peace of mind to buying property. For over two decades now we've been dedicated to helping people achieve their goals through property and delivering an inspiring way to live. We're here for our customers," affirms Furolo.
For 23 years, Deicorp has been operating as a privately-owned property development and construction group for residential, commercial and retail real estate. The company delivers significant residential development to areas of growth across Sydney.
"We feel a great sense of responsibility in giving back to these communities," he continues.
Alongside this responsibility, Deicorp recognises and respects what makes these neighbourhoods unique by supporting local projects and charities that will have a positive, lasting impact on the surrounding communities.
"At Deicorp, we understand that a home is a significant life investment and purchasing off-the-plan is a new experience for many. We are with you each step of the way to make your journey into a Deicorp property as seamless as possible, from sales to post-settlement customer care," he acclaims.
As part of the customer support offered, Deicorp runs regular information sessions to answer potential queries from clients and to keep them informed on construction progress. Through every stage of the property purchase, Deicorp ensures the customer experience is a rewarding one.
Deicorp's founder, Fouad Deiri started in the construction industry as an apprentice carpenter, and worked his way up, gaining experience and knowledge before starting his own company. He understands the key drivers of successful projects as well as how to build them, and it's through this learning that Deicorp has developed its customer-centric approach to all components of the business.
"We are now at the point where we have the scale and capability to take on very significant projects, but we are nimble enough to do so without huge overheads and slow decision-making constraints," adds Furolo.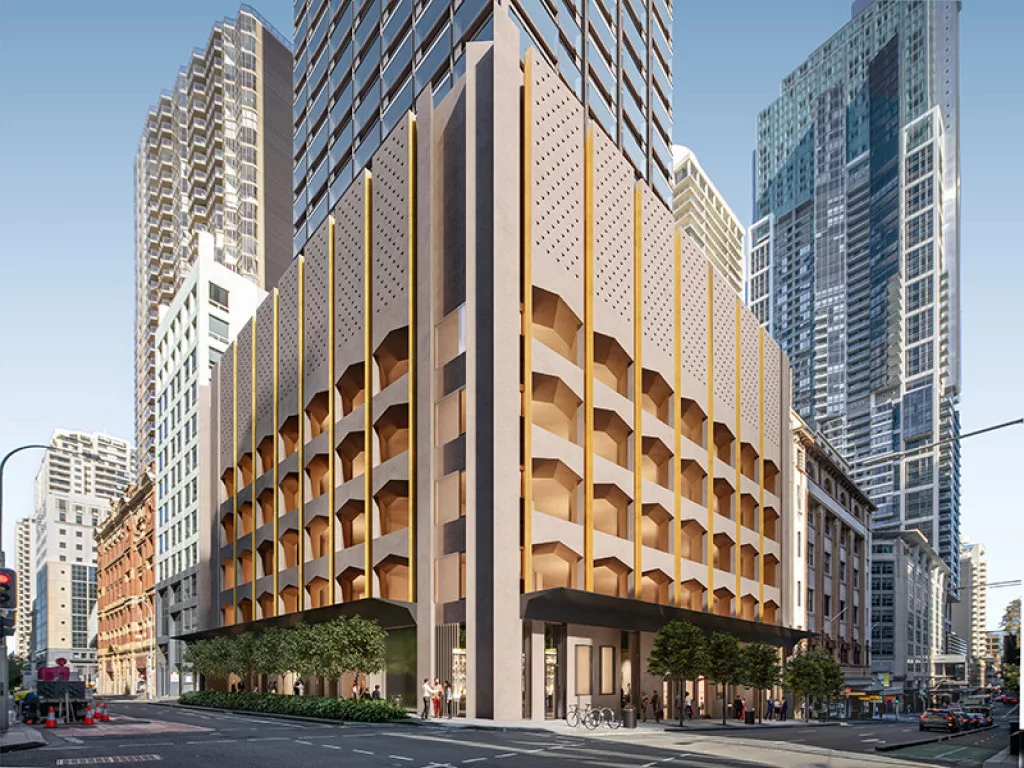 PRESTIGIOUS NEW PROJECTS
On the cusp of Sydney's most eclectic city neighbourhood, a prestigious new Hyde Park address is emerging.
An exciting recent addition to the Deicorp portfolio is The Hyde Metropolitan project which is in the final stages of approval from the Sydney City Council and is Deicorp's flagship project– a 55-level luxury high-rise building in the heart of the Sydney CBD. This AUD$700 million project will deliver a truly spectacular building with stunning harbour views and an unrivalled lifestyle for prospective owners.
This new project features an iconic tower and competition-winning design by acclaimed architectural firm Candalepas Associates. Luxurious, distinctive, and one-of-a-kind, this spectacular landmark is designed to be adored by all of Sydney. Deicorp believes this address will truly be where the best of Sydney can be found. The Hyde Metropolitan, by Deicorp, promises to be a timeless addition to the Sydney skyline and aims to bring a sense of calmness to the hustle and bustle of city living.
Becoming Sydney's prime developer has been made possible due to several key factors at the core of Deicorp's company values.
"We're a values-driven business that uses our success to ensure we deliver great outcomes in the communities we're building in. For example, we have recently been acknowledged for our leadership in contributing to an affordable housing project supporting the local indigenous community in Redfern.
"Parallel to this, Deicorp is also completely committed to transport-oriented projects. Over the past decade, the average distance from a new project to the nearest train station has been less than 250 metres. This focus on convenience and investment security through superior site selection means Deicorp projects are always found in the best locations," adds Furolo.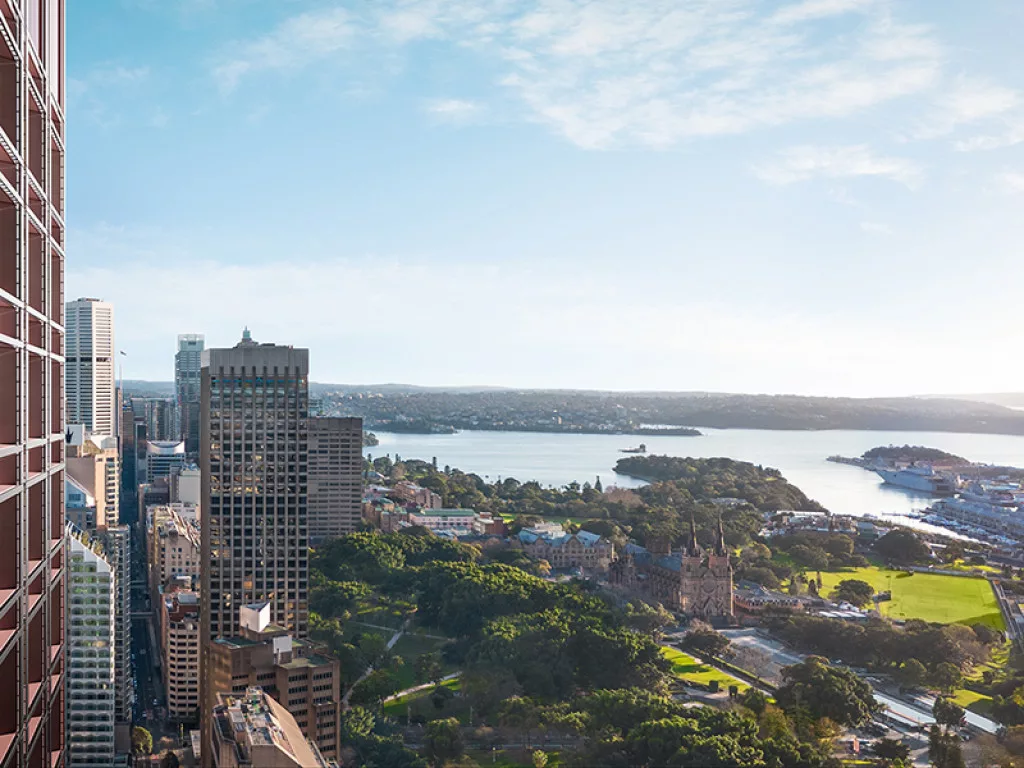 ENABLING LASTING INFRASTRUCTURE
Deicorp is embracing the environmental benefits of delivering the highest levels of efficiency and sustainability in its buildings. The latest projects are all being built to a minimum of five-star Green Star Standard which covers the construction methods, materials and operation of the buildings.
For purchasers, this means more efficient and cost-effective whole-of-life and operational costs. For the environment, this lessens the impact of Deicorp's projects.
In terms of adding value through mixed-use developments, the positioning of amenities has greatly enhanced urban development across Australia.
"Our focus on transport connection and amenity provides enormous benefits for purchasers and the broader community. Living so close to transport and the village precincts we create reduces the need for private vehicle movements for day-to-day activities. This then reduces congestion and pollution, and creates local employment centres that contribute to an area's economic wellbeing," explains Furolo.
"All of this improves the quality of life for residents and the broader neighbourhood."
ENGAGING WITH THE COMMUNITY
Deicorp has a long history of generosity and supporting great causes. The company endeavours to make a difference by being genuinely engaged with the communities it works in through a combination of sponsorships and donations.
"Over the years, we have been a major sponsor of Camp Quality and helped raise millions of dollars for children impacted by serious illnesses," says Furolo.
More recently, Deicorp has sponsored local community organisations and neighbourhood centres, which coordinate vital services and capacity-building projects needed within local communities.
"Our funding of these groups supports programmes including homework and tutoring for disadvantaged students, transport services to keep the elderly, frail and disabled connected with friends and services, as well as community events and festivals to keep people connected," he continues.
As well as sponsoring and supporting local initiatives, Deicorp's development projects aim to add significant value to the areas where they are constructed.
"First and foremost, we build homes. Within Sydney, for a range of reasons, there has been a persistent and ongoing undersupply of housing for more than 20 years. Our work has provided thousands of opportunities for young couples and families to become homeowners," details Furolo.
Alongside this, Deicorp offers quality of life. This involves delivering villages that bring homes and convenient retail areas together to give access to amenities and an optimal lifestyle. Deicorp also provides jobs and services including childcare centres, supermarkets, cafés, restaurants, pharmacies and medical centres.
"Additionally, because we always build close to rail, our developments help reduce congestion, bring convenient access to jobs and services, and help create vibrant precincts."
Looking ahead to a prosperous future, Deicorp is focused on securing the best sites possible across Sydney, building high-quality residential and mixed-use projects and providing affordable, desirable and stylish homes for homeowners and investors.
"We simply plan to design, develop and deliver the homes that Sydney wants and needs," concludes Furolo enthusiastically.