Food delivery vans operated by Tasty Fresh Food Co are a convenient and cost-effective way for employees to enjoy a fresh morning tea or lunch at their place of work. Founding Director, Colin Lear, details the journey of Australia's number one lunch van operator.
"We're the number one lunch van operation in Australia and dare I say we're the largest, and arguably the best, lunch van operation in the world."
Tasty Fresh Food Co has come a long way since husband-and-wife team Colin and Carly Lear started the company originally known as Foodmobile with a single second hand van back in 1979.
From humble beginnings making sandwiches in a single shopfront and servicing a small group of clients in the eastern suburbs of Melbourne, Tasty Fresh Food Co today has a national fleet of over 180 purpose-designed and built vans operating from six state of the art facilities across Australia.
"We produce pre-packaged, grab-and-go convenience food in our production facilities, load them onto our fleet of lunch vans which then set out and visit the same group of clients at the same time each business day," outlines Lear. "It's classic convenience retailing – the Tasty App sends out an alert that the van is about to arrive, our customers head out, grab their choice of product and our Van Sales Manager expedites the transaction."
The three core pillars of this family-owned and operated company – fresh daily, value for money, and quality product in quantity – were set right from the onset and remain to this day.
Blue collar workers are still the predominant customers for Tasty Fresh Food Co however the quality and wide range of sandwiches, rolls, hot pastries, fried food, sushi, salads, cakes, chocolates, snacks and beverages ensure many office workers also take advantage of the convenience and healthy food selection.
LEAP OF FAITH
Whilst some things have remained the same over the years, Colin and Carly made the unusual decision in 1989 to sell the very cottage-style Foodmobile business and take the lunch van concept to a more professional level by building on the 10 years of trial and error and starting again from scratch.
Using the proceeds of the Foodmobile sale to purchase a factory in the Melbourne eastern industrial area of Bayswater, the company then had enough space to build a commercial kitchen, bakery, administration facilities, along with warehouse space for 10 vans before relaunching as Tasty Trucks in April 1989.
"Everything was securely housed under the one roof which took the business to a whole new level in terms of professionalism," Lear tells us.
In 1993, having filled the Bayswater depot with 10 modern new vans, Tasty Trucks then took the opportunity to lease an adjoining yoghurt factory when it became available next door.
"We moved our kitchen and admin into the newly acquired space and this gave us the opportunity to automate our sandwich production using conveyors which was very innovative at the time and a significant learning curve," adds Lear.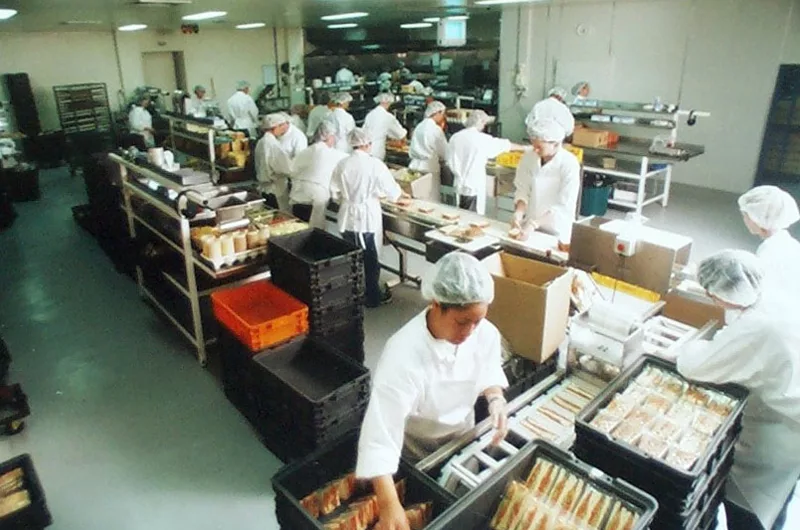 It wasn't long before the freed-up warehouse space was filled with a further 10 vans and the company then began looking further afield for a larger premises to take advantage of the unfolding growth opportunities.
Tasty Trucks took the punt in 1999 and moved to a much larger factory in neighbouring Ferntree Gully, where the head office, production and bakery is still located to this day.
"It was a leap of faith as we had to rebuild all the kitchens and bakery, but it gave us the opportunity to more than doubled our capacity to 50 vans and expand our area of operation," Lear recalls. "I spent all my time at the new site managing the new build while the Management Team took on the extra management responsibilities which gave them invaluable experience in all areas of the business."
By 2006 the Ferntree Gully facility had reached its 50-van capacity giving coverage to all eastern and south-eastern industrial areas of Melbourne when the decision was made to establish a distribution centre in Tullamarine. This enabled the company to service the large western industrial areas of Melbourne and the facility has since been upgraded to accommodate a fleet of 30 vans.
GOING NATIONAL
Tasty Trucks launched its state of the art Tasty Mk II van in 2009; a huge project in which the company converted the Toyota HiAce into a modern, stylish and distinctive Tasty lunch van.
"We then set about replacing our fleet of vehicles, each of which has a 12–14-year life cycle before they are decommissioned," Lear informs us. "We want our customers to feel totally confident about buying product from our vans and we work hard to keep our shop front looking modern, meticulously clean and appealing."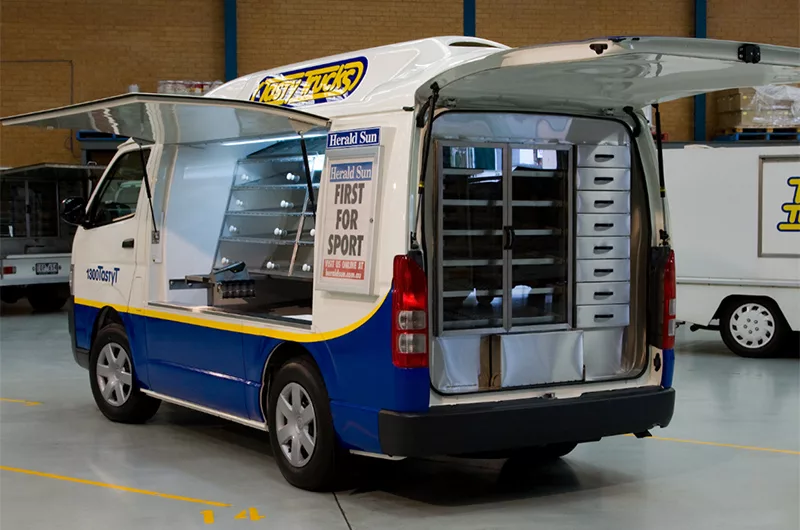 With the audacious goal of becoming a national business, Tasty Trucks put in place an Executive Team in 2011 before making its first inter-state acquisition the following year in Newcastle, New South Wales (NSW); a challenging venture but timely with the company now having full coverage of every industrial area in surrounding Melbourne suburbs.
2014 saw Tasty Trucks enter the Sydney market with a new name following a rebrand and a refreshed livery of Maroon and Cream.
"Our branding wasn't particularly foody looking, so we came up with the Tasty Fresh Food Co name along with a new colour scheme. From the time we launched our new look, our customers have commented on how they love our new gourmet trucks," explains Lear.
With product being produced and supplied from Newcastle, Tasty Fresh Food Co rolled out as a brand new service from a Distribution Centre in Wetherill Park, Sydney, before looking further afield and acquiring Street Chef in Perth three years later in 2017. After constructing a brand new, purpose-built facility right in the hub of the Perth freeway system and rolling out the brand new Tasty Fresh fleet, the Perth acquisition now represents the company's stand-out business success.
The opportunity to penetrate the Queensland market would soon follow in 2020, as Tasty Fresh Food Co continued its national expansion.
"As with Newcastle and Perth, we acquired an existing Queensland business to give us a starting customer base and set about developing a new facility in Yatala, from where we eventually rolled out our brand-new Tasty fleet of 30 vans in August 2021," Lear shares.
"Nationally I believe the market has capacity for up to 220 vans Australia wide and we will continue to work hard over the coming years to maximise the growth opportunities.
"Over the journey we've developed a highly skilled and dedicated team to continue the growth of the business and of course, because we are unique in the world, there is definitely an opportunity to test ourselves outside of Australia when the time is right," he continues.
LATEST DEVELOPMENTS
Tasty Fresh Food Co now comprises 520 team members, 180 vans, six facilities across four states in Australia, and services 35,000 workers each business day at their place of work.
In line with their Continuous Improvement value and as the early Tasty Mk II vans start to approach their end of life, the company has partnered with the Royal Melbourne Institute of Technology (RMIT) University to develop the next generation Tasty Mk III van.
With limited in-house R&D expertise and capabilities, partnering with RMIT University's large and well-renowned School of Mechanical Engineering is the ideal way for Tasty Fresh Food Co to access research, design and development expertise to create and test a new and innovative food heating and cooling system.
Funded through a national government programme, the Tasty Mk III project aims to evaluate existing mobile food heating systems, including the one currently used by Tasty Fresh Food Co, and develop an innovative prototype to cater for the very exciting growth years ahead.
"It's about maintaining our products at a stable, food safe temperature in the mobile environment to produce a first-class eating experience for our valued customers," emphasises Lear.
Toyota's latest model HiAce has significantly changed in design and is no longer suitable for conversion to a Tasty van so the company has decided to revert to the original concept of a cab chassis fitted with the catering box while still maintaining the distinctive Tasty van exterior shape.
The Hino 300 Series Hybrid and the Fuso Canter have been identified as the potential vehicles of choice by Tasty Fresh Food Co as it also looks to maximise energy efficiency.
"Whereas the current HiAce is working at maximum power capacity, the Hino 300 and the Fuso Canter would have excess energy to support the innovation in our food heating and refrigeration systems. That's a really exciting project for us and it all looks extremely promising in our quest to develop the world's most technologically advanced lunch van," Lear notes.
Vans aside, Tasty Fresh Food Co is also about to ramp up its self-serve division, TastyXpress, whose micro market and smart fridge solutions are installed at select client sites.
Micro markets are unattended retail environments where consumers can engage 24 hours a day with products on shelves and in open coolers, and use self-checkout kiosks.
"We've taken on board the micro market concept as it's a really good fit for the large administration buildings where the convenience of our vans may not suit the more informal break times of white collar workers and it's working really well for us," says Lear.
Having proudly served Australian workers with a delicious selection of food for more than 40 years, the Tasty Fresh Food Co story has only just begun.
TASTY FRESH FOOD CO. PARTNERS