Striking the balance between regeneration and innovation, Wabtec Corporation is the global leader championing improvement through movement. Senior Regional Vice President of Australia and New Zealand, Wendy McMillan, discusses laying the tracks for the shift to green.
TRANSPORT, DECARBONISED
Did you know that over 20 percent of the world's freight is moved by a Wabtec Corporation locomotive?
In addition to this, more than 30 percent of freight that passes through North American shipping ports is both managed and monitored by Wabtec Corporation (Wabtec) software.
Complimentary to this vast global impact, Wabtec today is truly blazing the trail in terms of decarbonising transport solutions within the global infrastructure network.
"I am very happy to say that our company is right at the forefront – and not just in thought leadership.
"We are the doers, the innovators, and we've got the track record to back that up," opens Wendy McMillan, Senior Regional Vice President Australia and New Zealand (ANZ) at Wabtec.
"Rail is unquestionably the most sustainable way of transporting both people and goods around the world.
"Whether that's the food on your table to the products on your shelves, freight rail is an integrated, efficient and cost effective and sustainable way of moving that product," McMillan comments.
A GLOBAL FOOTPRINT
As both a Fortune 500 and NYSE-listed corporation, the global strength of Wabtec is practically unparalleled. Total operations comprise approximately 25,000 employees, with a presence that includes operations in roughly 50 countries.
The company has a vast freight presence, while transit occupies approximately 33 percent of the Wabtec portfolio. Its specialities comprise equipment, systems, digital solutions and value-added services.
As an ever-developing entity, Wabtec's pace of evolution has rarely abated since the launch of the Class I railroads that derived out of the US in the company's nascency.
"There's a fantastic story in terms of innovation and development through organic and merger and acquisition growth. There are so many good companies that have been involved with Wabtec throughout its long and proud history," McMillan comments.
Translating the company's strengths to the specificities of ANZ, this market represents a microcosm of the entire Wabtec operation.
"In an ANZ context, we represent every aspect of our market offering," McMillan tells us. Here, the company mirrors its global portfolio on behalf of both global and regional clients.
This is evidenced by an extensive and dynamic range of product lines, whether locomotives and equipment, to components of the transit business that encompass all aspects of green. This applies to HVAC, platform screen doors, braking products and couplers, all the way through to digital systems, positive train control, signalling, energy management systems, and mining products.
"Operating within a global matrix company, we see what our footprint really allows ANZ to dial into," she continues.
A lesser-known aspect of the Wabtec portfolio, the company also handles port and marine operations, which hearkens back to McMillan's early path into the industry, during which she developed a taste for the transport sector that has sustained her for almost 30 years.
"Post university, the first opportunities in trade gave me the interest for transport, and with quite a global flavour, since I was dealing extensively with Japan at the time and throughout Asia with an export focus.
"There's a lot to learn and be excited about in terms of trade, freight and shipping – that drew me further in alongside my port experience within bulk, break bulk and intermodal," she recalls.
From an industrial perspective, the opportunities within the Australian market are as vast as the landscape itself, with the country hosting some of the largest coal haulers in the world alongside the renowned iron ore regions of Western Australia.
"We are very fortunate to have an extraordinary growth curve and opportunity with our mining clients and our long haul and intermodal clients with the freight task that's before ANZ.
"In terms of freight rail, there's an iconic project – Inland Rail – which is underway at the moment and supplementing the freight task across the large distances that Australia has to negotiate in its haul and intermodal, break bulk, and bulk," she adds.
On the transit side, Melbourne supports one of the largest tram networks in the world, with other light rail systems operating across New South Wales, Queensland, and Australian Capital Territory.
The metro networks in Australia's major cities make fertile ground for innovation, attracting significant investments from state governments in furthering metro services encompassing high-capacity signalling, and turn-up-and-go approaches.
"The metro is significant in tackling our severe traffic and congestion load. Twinned with the sustainability, greenhouse reduction and decarbonisation, that's where a lot of the investment and efficiency is being planned and actioned," McMillan comments.
LOW-TO ZERO EMISSIONS LOCOMOTIVES
Wabtec occupies a stance that is truly innovative in terms of applying digital solutions to the rail transport infrastructure with an explicit emphasis on sustainability. The company's combination of battery technology and advanced technological solutions are a key differentiator in the sector.
"Our aim is to create a zero-emission hydrogen powered locomotive," McMillan explains.
"When we do so, this will allow us to create a more sustainable planet, enabling the elimination of 300 million tonnes of carbon dioxide across the global transportation network with our battery technology, while reducing road congestion and making transportation safer for everyone."
This is also embodied by Wabtec's pioneering suite of products and digital solutions that have a strong interface with locomotive products.
"Within transit, we are constantly creating solutions that enable the shift to green, primarily by decarbonising rail transportation," McMillan tells us.
"We have components or technology on virtually every major transit rail system globally, so ensuring that we are continuing to produce products and solutions that enable an even more sustainable rail network is really where we're focusing our attention."
There is no underestimating the role that technology plays in driving the sustainable transformation of forward-thinking freight and transit. Alongside Wabtec's exciting recent partnership with Roy Hill, the company's Trip Optimizer technology is a prime example of this, which McMillan describes as "essentially intelligent cruise control for trains."
"We currently have that technology installed across 11,000 locomotives globally. It's saving 500 million gallons of fuel and drastically reducing carbon emissions. According to the latest statistic, this has slashed emissions by 500,000 tonnes per year."
Indeed, at Wabtec, the company's standpoint on sustainability is not just founded on claims and promises, but rather on total transparency bolstered by statistics and action.
"Doing our part to address climate change in the transportation sector is at the centre of our business strategy, and we are carefully balancing where the world is going and where we must lead. Our mission to succeed in these efforts is governed by core sustainability priorities and our purpose: to move and improve the world," McMillan said.
"We are the doers, the innovators, and we've got the track record to back that up"

Wendy McMillan, Senior Regional Vice President ANZ, Wabtec Corporation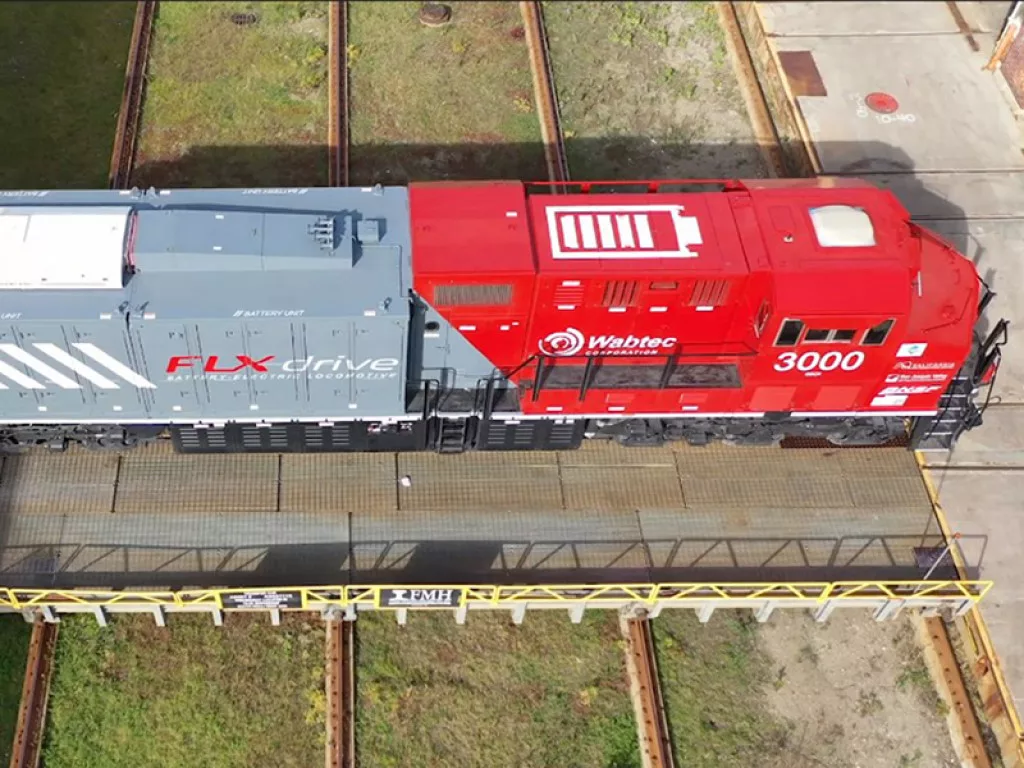 PEOPLE-CENTRIC PERFORMANCE
Wabtec's strengths as a company are rooted in its very fabric as a diversified and fully inclusive enterprise.
"We are an employer of choice and diversity, and inclusion is incredibly important to us.
"On the executive team that I am fortunate enough to lead in ANZ, we have an equal balance of male and female representation." McMillan comments. "We believe this diversity strengthens our innovative capacity, unleashes the full potential of our employees, and ultimately contributes to our business success. That's why we are committed to ensuring a diverse and inclusive workplace that respects and seeks the individual talents, experiences, and viewpoints of all our employees. Valuing everyone's contribution isn't just something we talk about. It's what we try to put into practice each day."
Customers for Wabtec are a pleasure to work with for the company, since they share the same essential values and orientations. They remain the solid foundation on which the company is based.
"Having the customer in mind and keeping up the strategic invent with our vision, mission and sustainability pathway is paramount," she continues.
In keeping with the company's sustainable values, Wabtec look to incorporate localisation wherever possible.
"We work with all the big miners and long-haul operators, ranging from more modernised locomotives to maximise their fleet and assets, in keeping with our whole of life focus here.
"They're Australian-made, so we're very clear about that in both freight and transit for a localisation push."
This local strength has been amplified over the past 18 months where minimising supply chain risk and leveraging a greater degree of control has become paramount.
"We source globally and locally to ensure we have constant quality and product safety."
Turning to talk of the supply chain, McMillan highlights the sophisticated approach that the company subscribes to, which served Wabtec in good stead over the turbulent course of the pandemic.
"Continuous improvement is always at the source of our supply chain. In terms of how we deliver that day in day out for our customers in a COVID-19 environment, this is with dedicated sourcing managers, commodity leaders, and parts buyers. This is supplemented with very strong forecasting from our manufacturing and operations teams.
"When you scale that model up, it's all about partnerships, relationships, and trust.
With the company's laudable sustainability commitments bolstered with the backing of a concrete track record, Wabtec continue to lead the charge into the future of transport.
As McMillan concludes, "We're at a critical inflection point on the role that rail transportation can have on driving the clean energy economy. Wabtec is committed to help lead that in a major way."