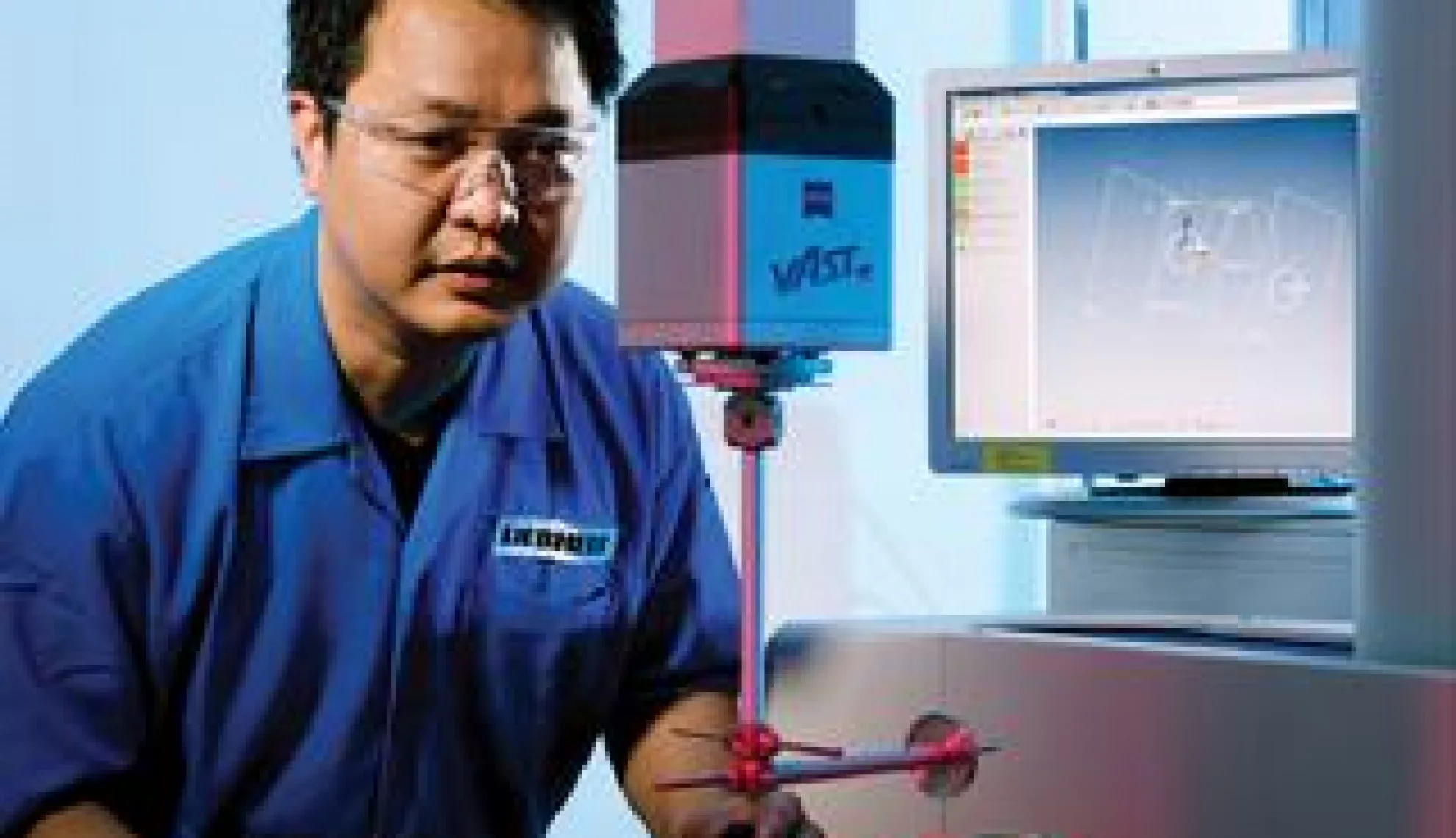 Asia's Aerospace Artisans
Liebherr-Singapore are proving that cost effective solutions and high quality services are the key to success
Writer Matt Bone
Project Manager James Mitchell
Liebherr-Singapore started out as a representative office for ship and offshore cranes in 1985. In 1994, the company expanded their sales and after-sales services with a bigger diversity and range of products including earthmoving equipment, crawler cranes, tower cranes, mobile cranes and port equipment. In 1995, Liebherr-Singapore added an aerospace division to repair Liebherr aerospace components which is already in use by several companies. By the middle of 1998, Liebherr had added refrigerators and freezers to their sales portfolio.
Currently, the company have more than 230 staff who are housed in a prominent five-story building close to downtown Singapore, enabling them to be close to their customers in the heart of Singapore. Albert Chua, Liebherr-Singapore's Managing Director, commented on the company's steady but positive growth: "Business has increased steadily, from a turnover of €40m in 2004 to €150m today. This is down to the timely and cost-effective solutions we provide for the customer and our constant evaluation of our core services and business structure."
A Busy Year
Liebherr have had a very successful and productive 12 months. Each division of the company has developed and established a positive business model and made encouraging market strides in their respective industries, ensuring the name Liebherr is the first name mentioned for its crane services.
One such division of the company really excelling has been mobile cranes, where sales of the product have constantly been high as Chua explains: "Liebherr mobile cranes are very well received in the Singapore region, with our crane capacity ranging from 30t to 1200t, enabling us to cater for a wide range of company requirements. Our customer, Moh Seng Crane Pte Ltd, recently took delivery of our latest LTM 1750-9.1 in January 2014, the strongest 750t crane in its class. We have worked with Moh Seng for many years now and they continue to stand by our world class products."
Other divisions of the company have seen equally promising sales for the last year; including the Tower division and Earth Moving division, who are both seeing steady sales and service requests in Myanmar, Hong Kong and Malaysia. Liebherr have recently appointed new distributors and dealers for their Earth Moving division in Vietnam, Indonesia and Thailand and intend to participate more actively in these markets over the coming months. It is this global presence that makes Liebherr such a market leader. "We have participated in mines, building development and infrastructure work in several Asian countries and we have delivered the first Liebherr luffing tower crane (180HCL) to Myanmar for the construction of their Junction City project in downtown Yangon. We will continue to support our customers with technical and support services on every piece of equipment we sell. That is the Liebherr way, no matter what the problem, we will always endeavour to help you as quickly as possible," Chua cites.
Constantly Improving
Liebherr-Singapore, although a strong market leader, are not about to rest on their laurels; they are constantly looking for new ways to improve the company and the services they offer. In line with the aviation sector in APAC, Liebherr's Aerospace division have continuously expanded their local repair capabilities. Recently, they have been further certified under ISO 14001 to implement the repairs for Airbus A380 components on their premises, making them one of only a handful of companies able to do so. Liebherr-Aerospace, Singapore's newly established environmental system for the maintenance, repair and overhaul of aircraft components has recently been certified according to DIN EN ISO 14001:2004 by TÜV SÜD PSB Pte. Ltd., Singapore. Mr Chua is very pleased with the awarding of the ISO 14001:2004 and how it reflects on the company: "This certification guarantees that Liebherr-Aerospace Singapore is capable of systematically controlling and reducing its industrial waste, its consumption of resources as well as its operating costs thanks to our environmental management system."
Challenging Times
With Liebherr having so many strings to their bow, challenges are likely to be faced in one form or another. The company's maritime division have seen a declining trend in ship building activities in South East Asia. This has meant ship cranes have not been as widely needed and with the cheap importations from China affecting harbour mobile crane purchases, Liebherr have had to look closely at the market and re-evaluate their services.
The appliance division has been closely monitoring its activities in the Asia-Pacific region, which is widely regarded as a heterogeneous cultural and behaviour region. Chua is acutely aware of the impact this mixed-culture has on the business: "Having so many different countries within this region, each requiring separate mandatory energy efficiency ratings, safety approval, different capacities and finishes, has seen our appliances become a very exact market. Understanding and overcoming such diversified requirements hasn't been easy, but we do not shy away from a challenge and we have prevailed as have our figures, delivering 84,655 units of fridges in 2013 to countries such as China, Australia and Taiwan," he remarked, adding that they are "confident 2014 will see bigger appliance sales."
Liebherr have steadily grown to become a globally recognised and respected brand by sustaining their core values as Mr Chua describes: "We apply our core values in as much of our business structure as we can. We are trustworthy and honest in our relationships and services at all times. We maintain the highest quality possible throughout our innovative product range and we ensure our staff are always trained to the utmost level and should a problem ever arise, then we accept responsibility for our products and services and will always resolve a dispute in a professional manner. In short, our core values are the secret to our success this will continue to be the case."
VIEW Liebherr Singapore BROCHURE