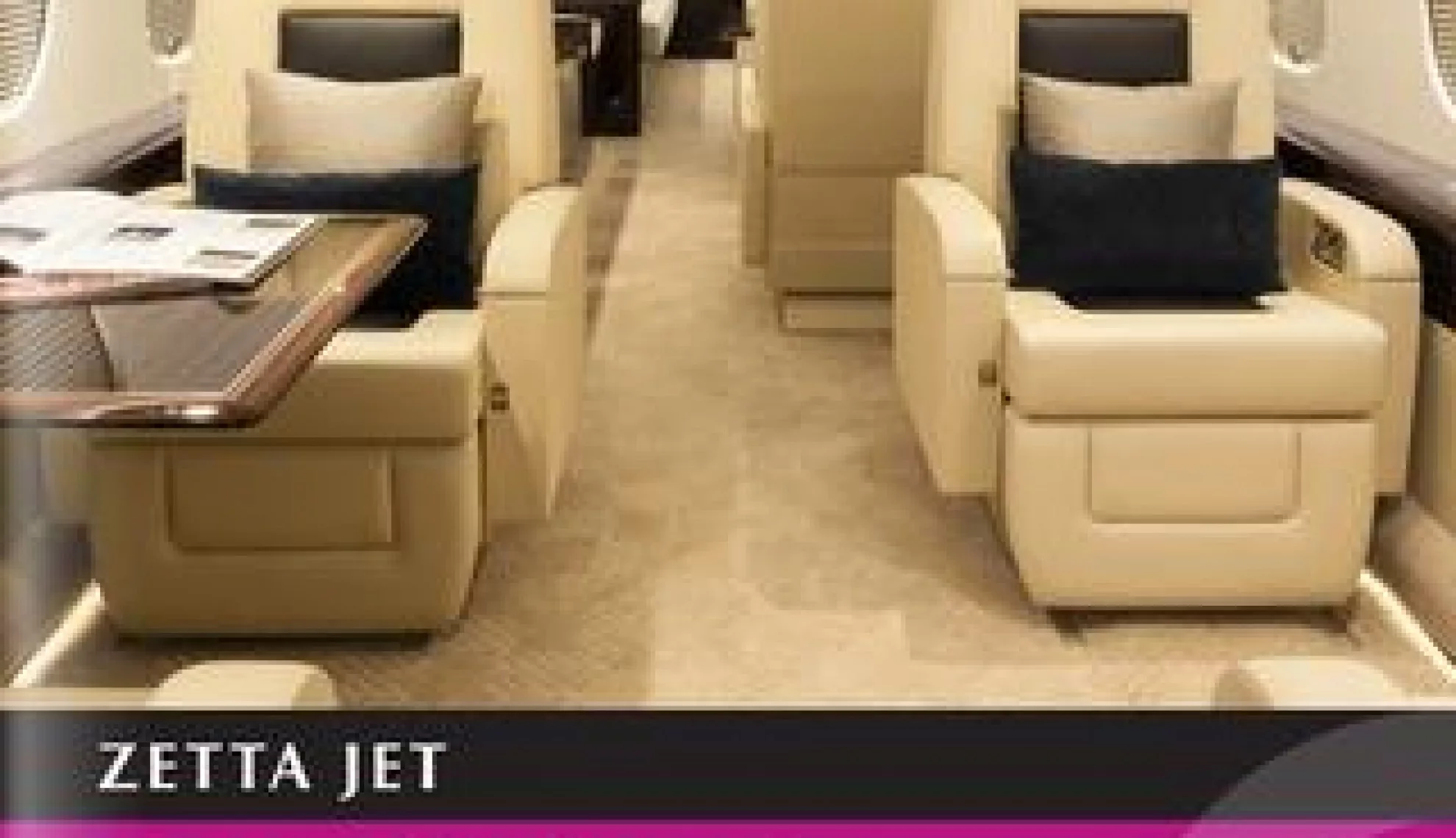 Aviation Luxury Like Never Before
Writer: Emily Jarvis
Project Manager: Callam Waller
Since launching on 8 August, 2015, luxury private airliner, Zetta Jet has adopted an aggressive expansion plan to continue growing its market share and deliver the ultimate private jet experience for discerning, elite travellers. Operating solely around clients' schedules, the Company is able to draw-upon an established network of sales and support offices in six strategic global locations – namely Los Angeles, New York, London, San José, Harbin and Singapore – to deliver bespoke luxury experiences in business travel.
"True to its international outlook, the Zetta Jet experience combines the dedicated Asian service philosophy with the flexibility and 'can-do' spirit of the US, adorned with the glamour of Europe's enduring chic. At the core of Zetta Jet's philosophy is the conviction that no desire is too extravagant and no request too difficult," the Company commented at the time of launch.
Within a month of establishing its head office in Singapore – often considered a hub for Southeast Asian business – the Company secured a lucrative annual business opportunity as the private airliner of choice for the
Singapore Grand Prix, transporting star-studded individuals to Singapore for the prestigious night race, renowned among racing enthusiasts. Zetta Jet's planes were fully-booked, with flights scheduled from cities across the globe including Dubai, Moscow, Beijing and London.
The brainchild of seasoned aviation professionals' Geoffery Cassidy (Managing Director), Matthew Walter (Director of Sales) and James Seagrim (Director of Operations), Zetta Jet brings together the very best in talent, facilities and technology to deliver a revolutionary private flight experience.
An FAA-certified air carrier, the Company owns and operates a Bombardier Global fleet, featuring the latest Global 6000 and Global 5000, which delivers unmatched performance, comfort and reliability for the most astute traveller. The Company is the only part 135 operator authorised to conduct Polar flights, enabling the airline to optimise routes without limitation.
In line with the recent increase in demand for its services, generated as a result of its flourishing industry reputation and unique offering, the Company has purchased additional flagship Global 6000 aircraft which Managing Director, Geoffery Cassidy hopes will solidify Zetta Jet's market positioning this year.
"At Zetta Jet, we are committed to offering our customers the ultimate private jet experience. Not only does the Global 6000 aircraft enhance our leading business aircraft portfolio, it also delivers the perfect combination of comfort, range and performance sought-after by the international travelling elite who make up our clientele," he said.
Global 6000
Manufactured by Bombardier, one of the world's most prestigious plane and train manufacturers, the Global 6000 aircraft benefits from consistent high quality design, comfort and safety compliance adhered to in all facets of the design and manufacturing process.
"The addition of two Global aircraft to Zetta Jet's growing fleet reflects the increased demand for high-end, competitive and reliable aircraft in the region," said Peter Likoray, Senior Vice President, Sales, Bombardier Business Aircraft. "The state-of-the-art Global 6000 business jet delivers unparalleled luxury and comfort together with an impressive transcontinental range capability and is perfectly suited to meet the needs of the world's most discerning travellers."
"With a growing fleet of the most technologically advanced aircraft in the private aviation industry, Zetta Jet promises to deliver the ultimate in bespoke luxury experiences," added Zetta Jet. "The Global 6000 business jet offers more cabin volume and more floor space than any other aircraft in its class. Continuously meeting the travel needs of different customers, Bombardier offers Global 6000 customers the option of adding a shower to their aircraft; ensuring they reach their destination rested, refreshed and ready for the day ahead."
Financed by China's AVIC International Leasing Co. Ltd, Zetta Jet's flagship Global 6000 will operate out of the Company's North American hub in Los Angeles to cater for increasing demand for its intercontinental charter services across the Pacific Rim.
"This agreement not only strengthens our market position in the Asian aviation market, but it also indicates the strong recognition and confidence that AVIC Leasing, a key partner of Zetta Jet and a leading player in China's financing market, has in the growth potential of Zetta Jet and its business," said Cassidy.
According to the Company, no other business jet in the ultra-long range segment can match the high-speed range and capabilities delivered by this aircraft.
Boasting the fastest in-flight KuBand and KA Band Wi-Fi, beautiful Hermès linens, Christofle tableware, and Salon champagne, including a carefully curated wine list from a renowned sommelier, no detail is overlooked for the airline's VVIP clientele. The Company also offers passengers a mix of cabin configurations and varying interiors with their Global fleet to cater for their customers' needs, whether it's for a business meeting setting or a relaxed bedroom setting with double divans.
"Offering the ultimate in cabin comfort, this impressive jet can link Shanghai to San Francisco non-stop with eight passengers and four crew members. It can travel 11,112 kilometres at M 0.85 with eight passengers on board," Zetta Jet highlighted.
In total, the Company currently owns and operates a Bombardier Global fleet of six aircraft including the latest Global 6000 and Global 5000. The Company's total aircraft order with Bombardier stands at four Global 6000 aircraft with options for two additional business jets, for the same aircraft model, Global 6000 when the demand requires.
Fleet-wide cabin connectivity
Striving to exceed customer expectations across the board at all times, Zetta Jet continues to monitor the latest trends and amenities expected on luxury flights; placing a recent focus on technology and connectivity.
Selecting Rockwell Collins' ARINCDirectSM to provide its customers with the fastest internet speeds – available through Viasat Yonder over KU band, and Inmarsat Jet ConneX (JX) over KA band – the Company has become the first business jet provider in Asia to offer high-speed connectivity across its entire aircraft fleet. Rockwell Collins has long been a pioneer in the development and deployment of innovative aviation and high-integrity solutions for commercial, governmental and private applications across more than 150 countries.
The new contract expands Zetta Jet's existing relationship with Rockwell Collins, with the airline currently utilising a number of ARINCDirect's integrated services to enhance the in-flight experience as well as a whole host of internal flight processes.
"Our goal is to create unique guest experiences and provide only the absolute best in service and amenities that the world has to offer," said Cassidy. "Rockwell Collins is enabling us to accomplish that goal by providing our passengers with faster and more reliable in-flight internet service. And, being able to get flight planning, flight operations scheduling and cabin connectivity all from one company is a tremendous value to Zetta Jet."
With a flexible and fast-acting approach to the ever-changing aviation environment, Zetta Jet is driven to succeed in markets across the globe. Equipped with its unique route-optimisation, a strong continuous improvement strategy and a growing reputation for a bespoke private flight experience, the Company says it is "a first of its kind for global business aviation".
VIEW Zetta Jet BROCHURE