Made-to-order sandwiches and a myriad of business developments are on the menu for Subway Hong Kong & Macau, as the management team tells us.
FRESH WAY FORWARD
"Let's open a submarine sandwich shop."
Those were the simple but effective words of co-founder, Peter Buck, that inspired the start of the Subway story in 1965.
Together with fellow co-founder Fred DeLuca, a college freshman at the time, a business relationship was forged that would go on to change the fast-food landscape and many lives in the process.
Today, Subway is the world's largest submarine-style sandwich chain with over 44,000 restaurants around the world, 38 of which are located between Hong Kong and Macau. The brand arrived in the area more than two decades ago, when Hong Kong's first Subway restaurant was built in the resort town of Discovery Bay by a budding franchisee.
In October 2017, the dynamic mother-son duo of Christel and Jamie LeBrun took over the management of Subway Hong Kong & Macau's development office.
"We were looking for a business that could provide our family with more opportunities and financial independence," opens CEO of Subway Hong Kong & Macau, Christel LeBrun, who was originally a franchisee for Subway over 15 years ago in New Zealand.
After opening five restaurants in New Zealand, Christel headed to Hong Kong and opened a further four Subway restaurants, which led to the opportunity of becoming a Business Developer for the brand together with her son.
"I grew up eating and working at Subway and I have always loved the brand, so when the chance arose to develop the brand I loved in a market I loved, I grabbed it with both hands," says General Manager, Jamie LeBrun.
The Subway Hong Kong & Macau development office is a lean but well-oiled machine, as accomplished as the brand is old, with more than 60 years of combined experience in its ranks.
"Subway is a family-owned business, and our office has that same feel. We work hard and look after each other along the way; it's something we enjoy and take pride in," notes Christel.
"From there, we have admin and accounting staff as well as operations managers and business consultants helping to keep an eye on our field operations, in addition to our 10 franchisees and hundreds of restaurant staff."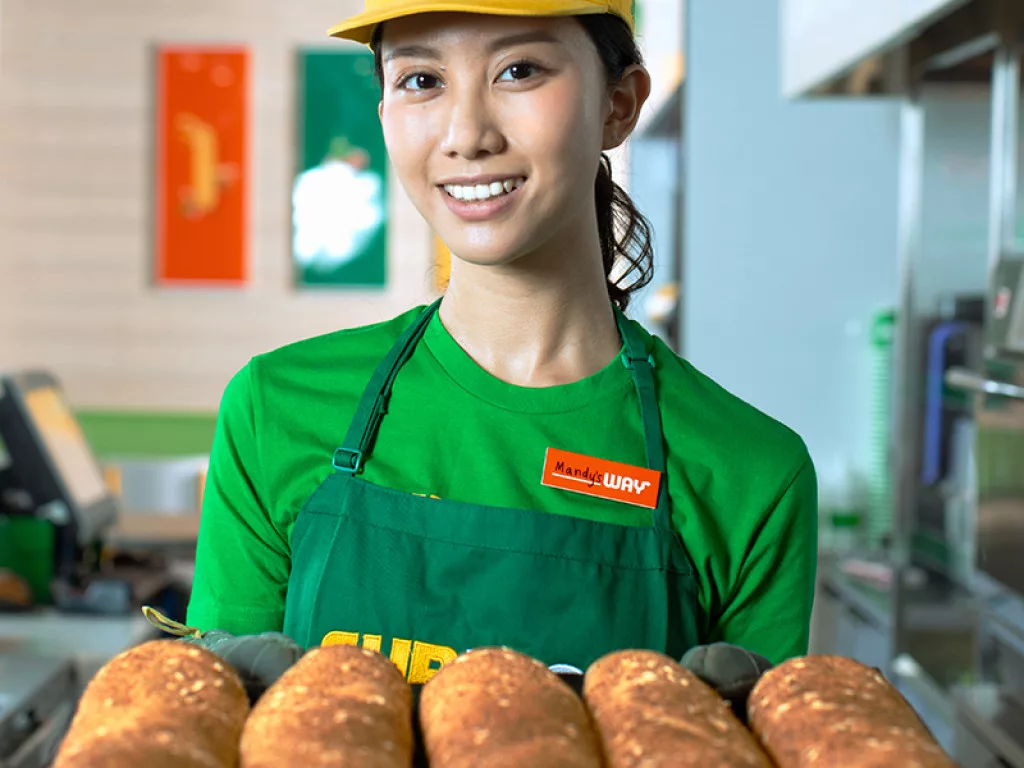 OPERATIONAL FOCUS
Just over four years on from coming under new management in Hong Kong and Macau, the Subway brand is thriving.
In that time, the number of restaurants here has almost doubled, same store sales are increasing by 25 percent year on year, and new restaurants are signing longer leases in great locations, all signs that the business is only going to expand, and expand quickly.
A greater focus on operations and leasing has helped to develop a stable base of successful, profitable Subway restaurants in key locations across Hong Kong and Macau.
Franchisees are investing in both new and existing restaurants, and with fresh management has come a fresh refurbishment of Subway's restaurant décor, the rollout of which is helping to reimagine the brand identity as a whole.
"Subway has an updated look in Hong Kong and Macau, with over 80 percent of restaurants already decorated in this bright, clean and digital décor," outlines Jamie. "This is important as it means the image of the brand is moving forward as one, as we continue to open new restaurants and remodel existing ones."
Strong relationships with major landlords and a positively motivated group of franchise owners reinvesting in the brand and décor has helped to nearly double the Subway restaurant count across Hong Kong and Macau in just three years.
Acutely aware of the importance of localisation, Subway Hong Kong & Macau has also rolled out a selection of popular local and desired specialties, from Mentaiko Crab and Black Pepper Beef to Rotisserie Chicken and even now a Plant-based Vegetarian Chicken Schnitzel.
Complementing the Subway staple of freshly baked bread, made-to-order sandwiches and vegetables prepared on-site, the menu is tailored to excite and resonate with local consumers.
"We have successfully started to innovate with local ingredients, but also simplify our menu offerings down to what works for our customers," Christel says.
"Our core target market is the people of Hong Kong and Macau. A lot of people think the bulk of our customer base are expats, and whilst they are an important segment, they are not necessarily the focus for our market."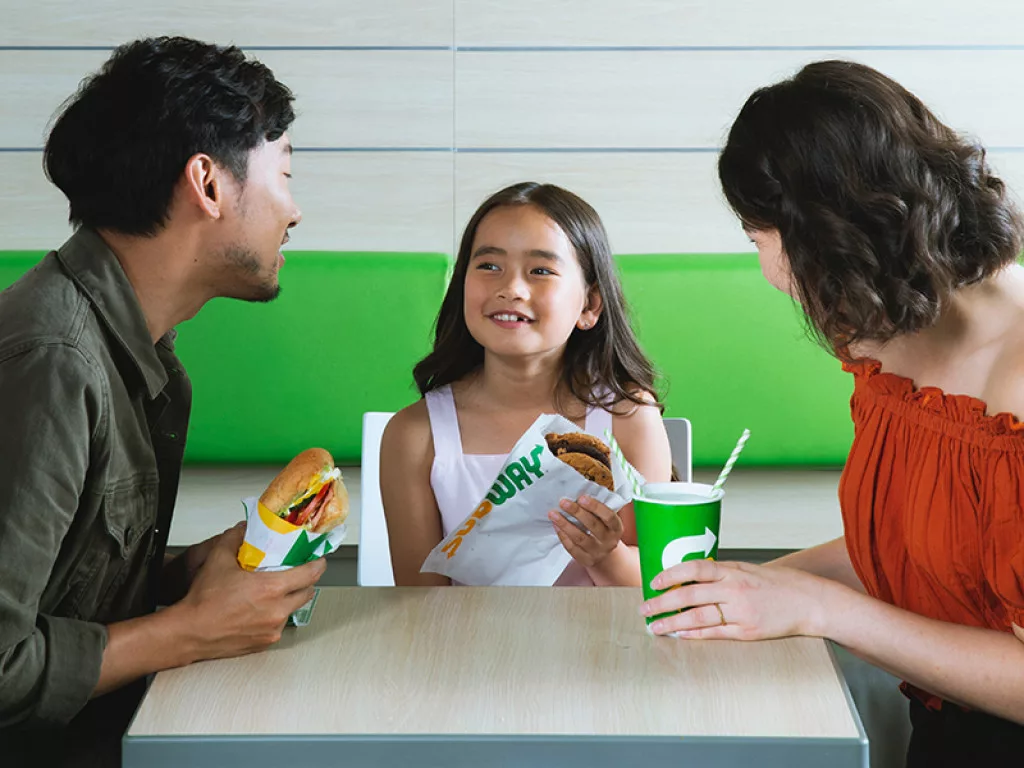 FRANCHISE SUCCESS
Through its franchise model, Subway has provided a number of entrepreneurs in Hong Kong and Macau, and thousands more worldwide, with the opportunity to be their own boss within their local community.
With the backing of a global brand coupled with world-class training and support, Subway is always looking for talented individuals to join the team and become part of the success story.
"Subway gives everyday people the chance to own their own business, and not just any business, but one with a proven track record and amongst the largest, most recognised brands in the world," states Jamie.
"No matter one's background, if they have the right attitude and desire to learn, they have the chance to succeed with Subway."
Indeed, Subway offers a great deal of comprehensive training and ongoing support to ensure its franchise owners are fully equipped to run their restaurants to their full potential.
With COVID-19 restricting travel, the offline facet of franchisee training is now conducted locally by the development office. An international online component is also used, where franchise owners attend online seminars with the experienced training team in Brisbane, Australia.
Franchisees undergo a structured two-week training programme before completing a series of exams to become a 'certified franchisee', at which point they are awarded their respective restaurant numbers.
This is only the beginning, however, as Subway Hong Kong & Macau then offers extensive training in its restaurants until both office and franchise owner are confident they are ready to open a Subway restaurant.
"There is no specific timeframe for this, but generally speaking new franchisees without any food and beverage experience will participate in around six weeks of in-office, in-store and online training before opening their first Subway restaurant," reveals Christel.
Franchise owners are empowered by Subway Hong Kong & Macau on a daily basis, and are encouraged to develop their set of skills and level of independence.
It comes from an understanding that each franchisee has their own unique skillset, developed in their previous line of work.
"We recognise the skills in each franchise owner, helping them to maximise opportunities aligned with their strengths and trying to support them in areas that they might not be so confident in," she adds.
"The most rewarding aspect of being a Business Developer at Subway is watching franchisees take on challenges that they thought they couldn't overcome, supporting them through the hard times, and watching them prove to themselves that they are capable and can succeed."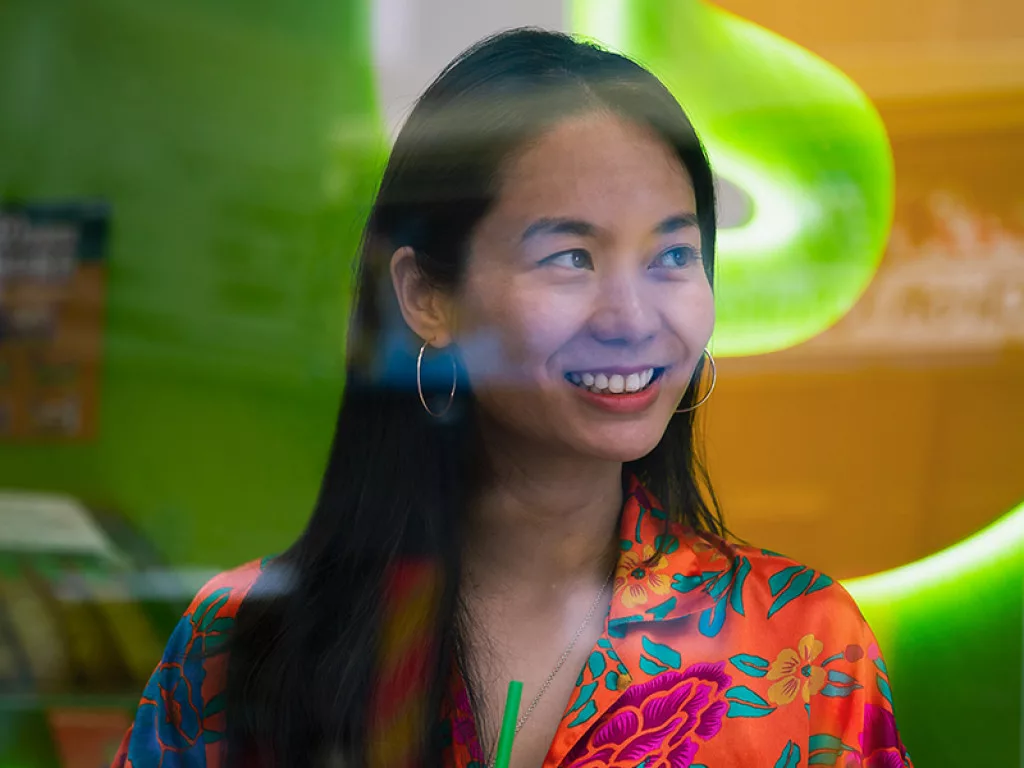 BENEFITS OF SUBWAY
The support of the development office doesn't stop there, either, as it is on call 24/7 to continuously offer guidance throughout a franchisee's time with Subway.
"That is a big part of our jobs as Business Developers for Subway, if not the most important part," Jamie emphasises.
"I think that because we are also franchise owners, it gives our franchisees a great deal of confidence that we are making the best decisions for the market, and that we fully understand the pressures of running a restaurant in Hong Kong and Macau."
The confidence that surrounds the Subway brand in Hong Kong and Macau is reflected in the fact that only a few weeks into 2022, two new franchisees have already been welcomed into the tightknit franchise family.
"There are big upsides to Subway in Hong Kong and Macau, so it's a good time to get into the business. We are after ambitious people who want to own multiple restaurants, and there is plenty of room for growth," affirms Jamie.
As a globally recognised and respected brand, Subway franchisees inherit all the benefits of big business, from cohesive marketing budgets and point-of-sale analytics and insights direct from Franchise World Headquarters (FWH) to the economies of scale when it comes to the supply chain.
These benefits are made instantly available to Subway Hong Kong & Macau's franchise owners, benefits that would otherwise take several years to develop.
"In Hong Kong, over 300 restaurants close each month, but with the support of the Subway brand via our development office, we give everyday entrepreneurs the tools and support they need to have every chance of success," Christel assures.
"We have closed just one restaurant in the past 24 months which, amidst the protests in Hong Kong and the global pandemic, we think is a sign of a strong and resilient brand."
"The most rewarding aspect of being a business developer at Subway is watching franchisees take on challenges that they thought they couldn't overcome, supporting them through the hard times, and watching them prove to themselves that they are capable and can succeed"

Christel LeBrun, CEO, Subway Hong Kong & Macau
THE FUTURE IS FRESH
With the support of IPC Asia Pacific (IPCA), an independent Subway franchisee-owned and operated purchasing organisation, digital innovations are on the horizon for 2022.
"We are itching to bring convenience and rewards to our loyal customer base. This year, we are looking to launch an application that offers online order and pick-up services, loyalty schemes and gift giving capabilities," confirms Jamie.
The IPCA team purchases food, equipment, packaging, décor items, and technology from Subway-approved suppliers. They also manage the supply chain and provide a range of support and value-added service to help run franchise owners' businesses efficiently and cost-effectively.
As for Subway Hong Kong & Macau, relationships in this part of the world are of the utmost importance.
"We ensure that relationships are managed with the highest level of integrity and create win-win scenarios with suppliers and partners," Christel shares.
"As our business grows, so does theirs, and we have developed wonderful, reliable and loyal business and personal relationships with the people who help to make our business a success.
"After all, our office and franchise owners feel like a family, so we want our suppliers and partners to feel the same way," she continues.
Targeting 50 restaurants by the end of 2022, and double that number by 2024, the collective support of partners, suppliers, franchisees, IPCA and the Subway regional team will be crucial in achieving this challenging but ambitious goal.
"We will be doing everything between now and then to reach this goal. Watch this space!"