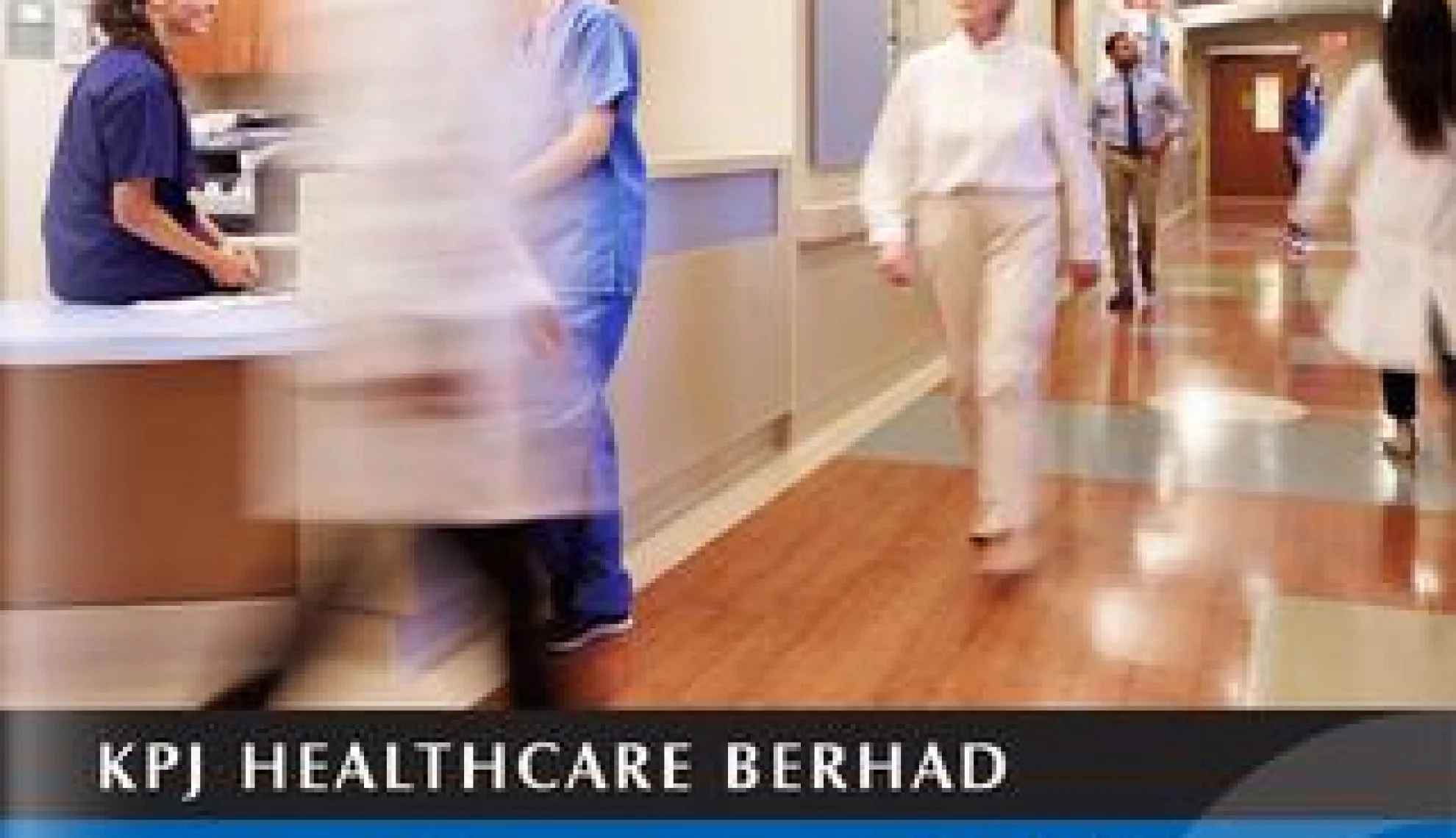 A Continued Push for Compassionate Care
Writer: Emily Jarvis
Project Manager: Eddie Clinton

The operator of Malaysia's largest private healthcare network, KPJ Healthcare is demonstrating its commitment to further ingrain into the country's healthcare system through strategic long-term investment in the sector's infrastructure.
With plans to spend close-to RM1.3 billion to build eight new hospitals in Malaysia over the next three-five years – adding to its existing portfolio of 25 hospitals locally, the management of two hospitals in Jakarta, one in Dhaka and a stake in hospitals in Thailand and Australia – KPJ aims to continue exploring activities in other healthcare-related industries that can ultimately boost the quality and delivery of hospital care, such as investments in training, state-of-the-art medical equipment and a continued push to improve access to healthcare for the aged population.
Leveraging the strength and consistent year-on-year increase of patient numbers, taking the total number to more than 2.8 million according to KPJ's 2014 annual report, KPJ's primary focus, however, is to unlock new growth opportunities in Malaysia by increasing the availability of cost-effective treatments through encouragement of health tourism.
"These thriving subsectors hold tremendous potential for the future, in line with increasing consumer demand," the Company said in the report.
"For example, in growing the health tourism segment, our aggressive marketing strategies continue to show stellar results as we have expanded our footprint into Asia, the Middle East and Africa."
Specialist care
Following a hugely successful 2015, with KPJ achieving significant milestones, including the enhancement of existing hospitals as well as the building of two new facilities, the Group has leveraged the confidence of its stakeholders to boost long-term profitability via plans for eight new hospitals and funding for its ongoing expansions.
The aforementioned investment of RM1.3 billion over the next three-five years includes the RM376 million Damansara 2 Specialist Hospital – due to open in the fourth quarter of 2019 – and the construction of further hospitals across Johor, Kuching, Miri, Klang, Malacca and Port Dickson.
During the announcement in March, 2016, KPJ President and Managing Director, Datuk Amiruddin Abdul Satar said the Group would also be spending between RM400-500 million on the continuous expansion of its existing facilities, which will involve upgrades to seven hospitals in Malaysia. These upgrades will involve aspects such as changes to hospital design to streamline operations, while also improving patients' level of comfort, privacy and limiting the chances of infection.
Among the most recent notable Group achievements is the opening of a new operating theatre and intensive care unit complex at KPJ IPOH Specialist Hospital in February, KPJ Pahang Specialist Hospital in Kuantan last month, followed by the KPJ Perlis Specialist Hospital in the third quarter of the year.
Affordable care
Since embarking on the KPJ Senior Living Care initiative last year, the Group has seen a steady increase in occupancy levels at its three facilities, suggesting that the surface has only just been scratched for access to affordable care for Malaysia's aged population.
"The response is picking up. We have got slightly more than half occupancy at the moment at our Tawakkal Health Centre in Jalan Pahang," said Abdul Satar.
Through its investment in KPJ Tawakkal Health Centre in Kuala Lumpur, the Sibu Geriatric Health and Nursing Centre in Sibu, and Jeta Gardens Retirement Resort in Australia, KPJ has taken a strong first step in the aged care segment.
"…we aim to unlock its full potential in the Malaysian market and are confident it will become a sustainable portion of the business in the long-term. For example, we were able to begin operating our own KPJ Senior Living Care at the Tawakkal Health Centre based on experience gained from Jeta Gardens and several knowledge transfer initiatives.
"KPJ Senior Living Care has been designed to offer a home-like environment, where quality care is provided to all residents, regardless of ethnicity, social status, religion, belief or political affiliation. Our medical, nursing and other healthcare professionals at the centre will provide comprehensive, effective and efficient care, filled with love and compassion," the Company continued.
Scholarships
As the demand for a skilled local healthcare workforce grows in line with KPJ's patient numbers, the Group has further enhanced its education push to contribute to local content development and mitigate any skills shortfalls. During Abdul Satar's recent announcement, he also outlined the organisation's plan to release RM2 million in scholarships this year to students of the KPJ Healthcare University College (KPJUC).
Approximately 45 students will benefit from these full scholarships which will include tuition fees, accommodation as well as living allowances. The students will be selected and sponsored by the hospitals under the KPJ Group, and serve these hospitals for a period of six years upon graduation as a welcome addition to the more than 11,000 doctors, nurses and support staff currently employed by KPJ.
Continually recognised by various accreditation bodies – such as the Malaysian Society for Quality in Health (MSQH) and the Joint Commission International (JCI) – for its delivery of education to students at many of its facilities, KPJ offers more than 35 programmes from foundation level courses, right through to PhD level.
"A significant number of doctors trained by us also actively contribute to the development of new specialists via skills transfer at the medical school. All of our industry firsts and specialist programmes in Malaysia demonstrate KPJ's capabilities as a strong contender to become the Government's partner in promoting the country as the leading healthcare hub in the region," emphasised the healthcare professional.
High expectations
With the global tourism market estimated to rise at an exceptional CAGR of 17.9 percent throughout 2013-2019, reaching a value of US$32.5 billion by the end of the forecast period, KPJ is making all the right investments today to capitalise on this segment in the future.
Moreover, the organisation's drive for continuous expansion and improvement in Malaysia will see the Group bolster its domestic footprint and reinforce its reputation for upholding award-winning international healthcare standards; all while retaining its patient-centric approach to remain the most competitive and preferred healthcare provider in the country.
VIEW KPJ Healthcare Berhad BROCHURE