Goodline's leading construction and maintenance services cater to major resource companies in Australia's thriving minerals landscape.
A WELL-REPUTED RESOURCE
Mining has long been a cornerstone of the Australian economy.
The country is in the midst of yet another minerals boom, exemplified by record exploration spending and capital raising, whilst contributing to the sustained growth and prosperity of current and future generations.
Now, the resources industry is refocusing to ensure a more sustainable future, with major miners moving into rare-earth minerals such as lithium, nickel, potash and copper, as coal is descaled to make way for more sustainable energy sources.
Established in 1999 by John and Catherine Kennedy, Goodline provides maintenance, construction, and engineering services to the most influential resource companies in Australia.
Maintenance is the founding discipline and primary business of Goodline, which today stands as a truly multidisciplinary contractor that has the capacity to manage and execute a diverse range of major mining, infrastructure and building projects.
Employing more than 800 members of staff, the company's reputation has been built by exceeding quality and performance targets, and a track record of delivering projects safely, on-time, and within budget.
This reputation, supported by key industry leaders, has resulted in widespread endorsement of the company's work throughout Australia.
Goodline has five key strategic locations in Weipa, Emerald, Port Hedland, Nhulunbuy, and the Olympic Dam. In each of these locations, the company has an established residential workforce that conducts minor project and maintenance works.
This workforce is supplemented by Goodline's first-in, first-out (FIFO) teams who also complete its major construction projects. Additionally, the company has a centralised corporate office on the Sunshine Coast (SEQLD) and engineering, procurement, and construction (EPC) support offices in Perth and Adelaide.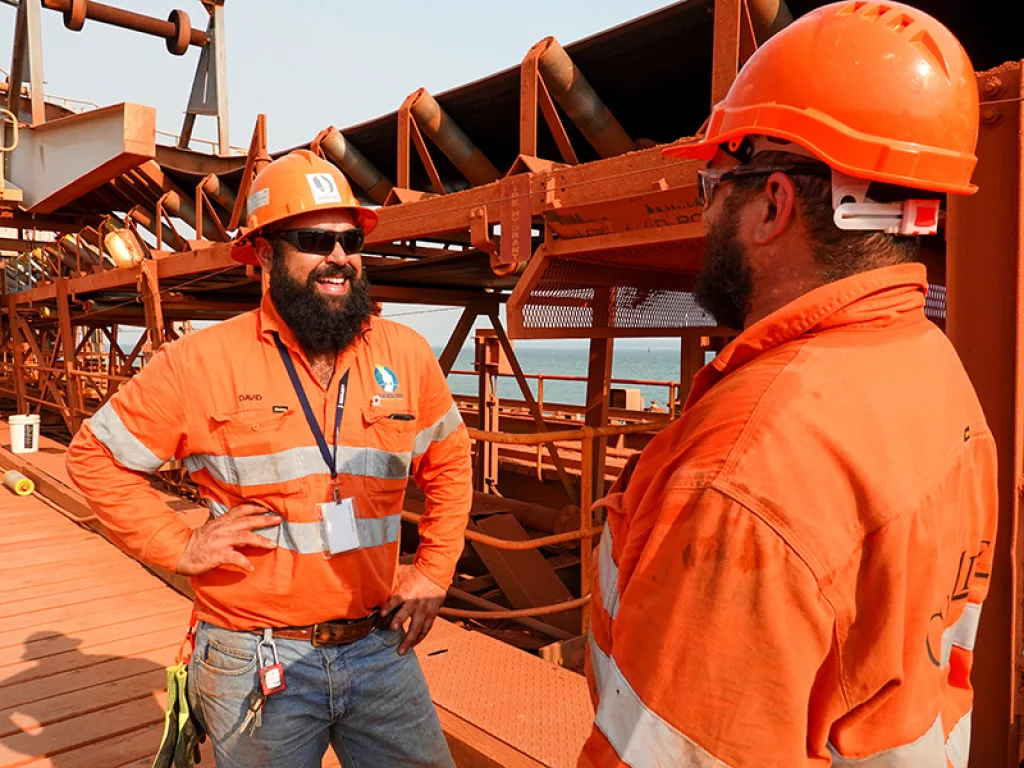 LARGE-SCALE CONTRACTS
A leader in construction and maintenance services for Australia's most influential resource companies, Goodline's first foray into major construction works came in 2004 as part of Rio Tinto's NeWeipa mine project.
Goodline has an extensive relationship with Rio Tinto, a leading global mining group, that spans more than 20 years.
In that time, Goodline has continued to complete shutdown maintenance and minor project works for Rio Tinto, culminating in 2017 with the award of several major packages on the Amrun project.
Located around 40 kilometres south of Rio Tinto's East Weipa and Andoom mines on the Cape York Peninsula, the Amrun project involves the construction of a range of mining infrastructure including a bauxite mine, processing and port facilities.
Goodline was contracted to deliver two significant infrastructure packages for the Amrun project – the Hey River Terminal and the Accommodation Village.
Having started out as a small, family-owned business, Goodline is proud to have secured large-scale contracts ahead of some of the largest construction companies in Australia.
This relationship also set the foundation for Goodline to expand into Nhulunbuy in 2015, and the company has also completed major works with Rio Tinto Iron Ore in Western Australia (WA).
Goodline's first major project in WA was a revetment wall project awarded by Fortescue Metals Group (FMG) in 2006.
The company was contracted to construct a foreshore protection system for FMG's brand-new port, which involved the installation of eight kilometres of concrete revetment bedding.
Over the last 16 years, Goodline has performed several major construction projects for FMG, as well as extensive shutdown maintenance works.
The company is currently working on the container handling facility for FMG's Iron Bridge project. This includes the construction of a process plant and conveyor system at the port.
A strategic investment enabling FMG to provide an enhanced product range to customers while increasing its production and shipping volumes, Iron Bridge is located 145 kilometres south of Port Hedland, where Goodline's long-standing relationship with global resources company BHP also initially began.
Goodline has completed several projects as part of BHP's Rapid Growth Project, in addition to shutdown maintenance, plumbing, and electrical infrastructure works.
This relationship prompted Goodline's expansion into the Olympic Dam in South Australia, and Emerald in Central Queensland.
The company's largest venture to date, however, took place in 2015 at the Roy Hill project, where Samsung C&T contracted Goodline to complete structural, mechanical, and piping work for the port stockyard.
Running for 18 months, it included the construction of landside infrastructure, conveyors, transfer stations, switch rooms, sample stations, magnet structures, apron feeders, and a bucket wheel reclaimer which at the time was the largest in Australia.
To this day, Goodline continues to perform major project works and shutdown maintenance at Roy Hill.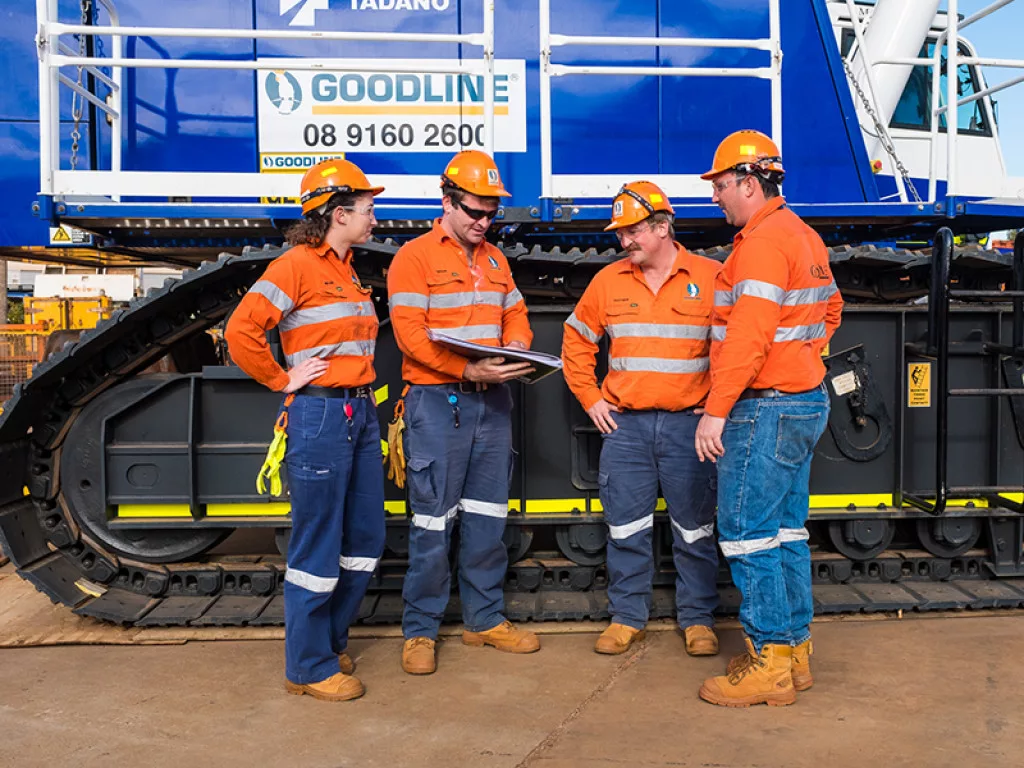 SUPPORTING LOCALS
Supporting regional Australia, and the people in those areas, is another top priority for Goodline.
Residential has always been a strategy for Goodline. The locations in which it operates have some of the best lifestyles in the country, and investment into facilities is at the core of how the company operates.
Goodline's commitment to working for state and local government, meanwhile, reflects its support for communities and enriching lives.
These works can range from minor maintenance to large construction projects, and at one point, Goodline even had a personal trainer in Weipa who was contracted as a lifeguard at the local pool. This kind of work, and a level of investment back into the towns in which it operates, is extremely important to Goodline.
Equally, the company is committed to hiring, training, and supporting local talent.
People are the company's most valuable asset and foundation for the future; Goodline therefore provides ongoing support and development, robust leadership, a safe workplace and sound work practices.
For young members of the community, Goodline also facilitates work experience and apprenticeship programmes, and encourages their growth and development into highly skilled tradespeople.
People are key to the company's success. Training and development are at the forefront of Goodline's ethos, from its apprenticeship and graduate programmes to ongoing staff development.
By so doing, it helps to create the next generation of construction workers, so people understand the career opportunities in the industry for graduates and apprentices.
Maintaining the belief that a diverse workforce enriches its working culture, the company also trains and employs Aboriginal and indigenous locals.
The packages of work secured on the Amrun project have allowed Goodline to expand its local indigenous engagement, through direct employment and partnering with local indigenous businesses.
While the industry is actively pursuing an image change, Borserio recognises that there is still work to do to ensure all people see mining as a viable career option.
The opening of a technical office in Perth, to service clients in the Pilbara region of WA with cost-effective solutions, will likewise ensure Goodline attracts a wide range of personnel, as it is able to provide jobs that cater to diverse lifestyle options.
In May 2022, the company opened an office in Adelaide, with a view to creating a similar support structure for its works in South Australia.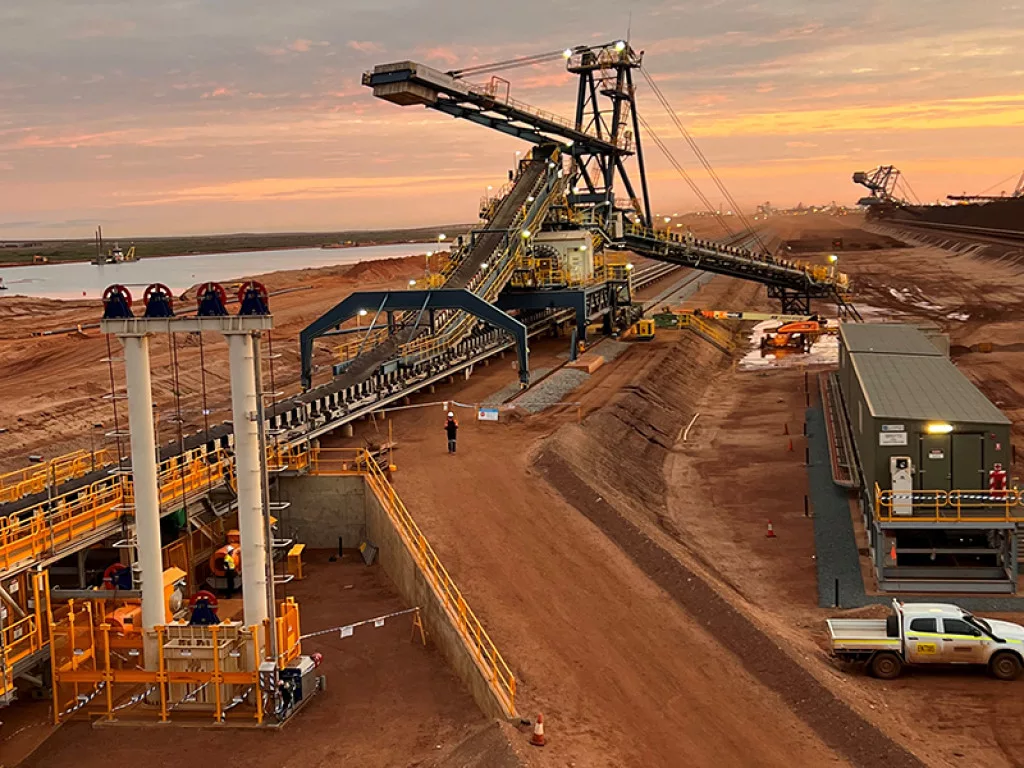 SAFETY AND TRANSPARENCY
Goodline's embedded culture of safety starts with its people.
Safety is the number one priority, with the wellbeing of staff, contractors, clients, and members of the public receiving nothing less than the company's utmost attention.
Health, safety and environment (HSE) is intrinsically linked with good performance and delivery, and Goodline works closely with clients to deliver favourable, customer-focused outcomes in terms of safety and performance.
Whilst ensuring the safe execution of projects on budget and on time, Goodline's in-house project management personnel have the experience to offer a single point of contact.
With its clients' best interests at heart, Goodline's continuous project reporting guarantees complete transparency of construction progress, financial control, and quality assurance.
In times of global uncertainty, this transparency and open, honest communication has never been more important.
Goodline is a family-owned company that continues to remain true to its roots and values; with a policy of open and honest management and communication.
Attraction and retention are now more important than ever, given the heightened expectations of employees in a post-COVID world and dynamic market conditions fuelled by skills and materials shortages.
Balancing labour market challenges and global supply chain issues, there nevertheless remains a large volume of opportunities for construction work.
At present, Goodline is looking to maintain revenues of AUD$250-350 million. Over the next 12 months, it will continue to establish itself within newer operations, and consolidate all operations with a strategic focus on major clients and communities.