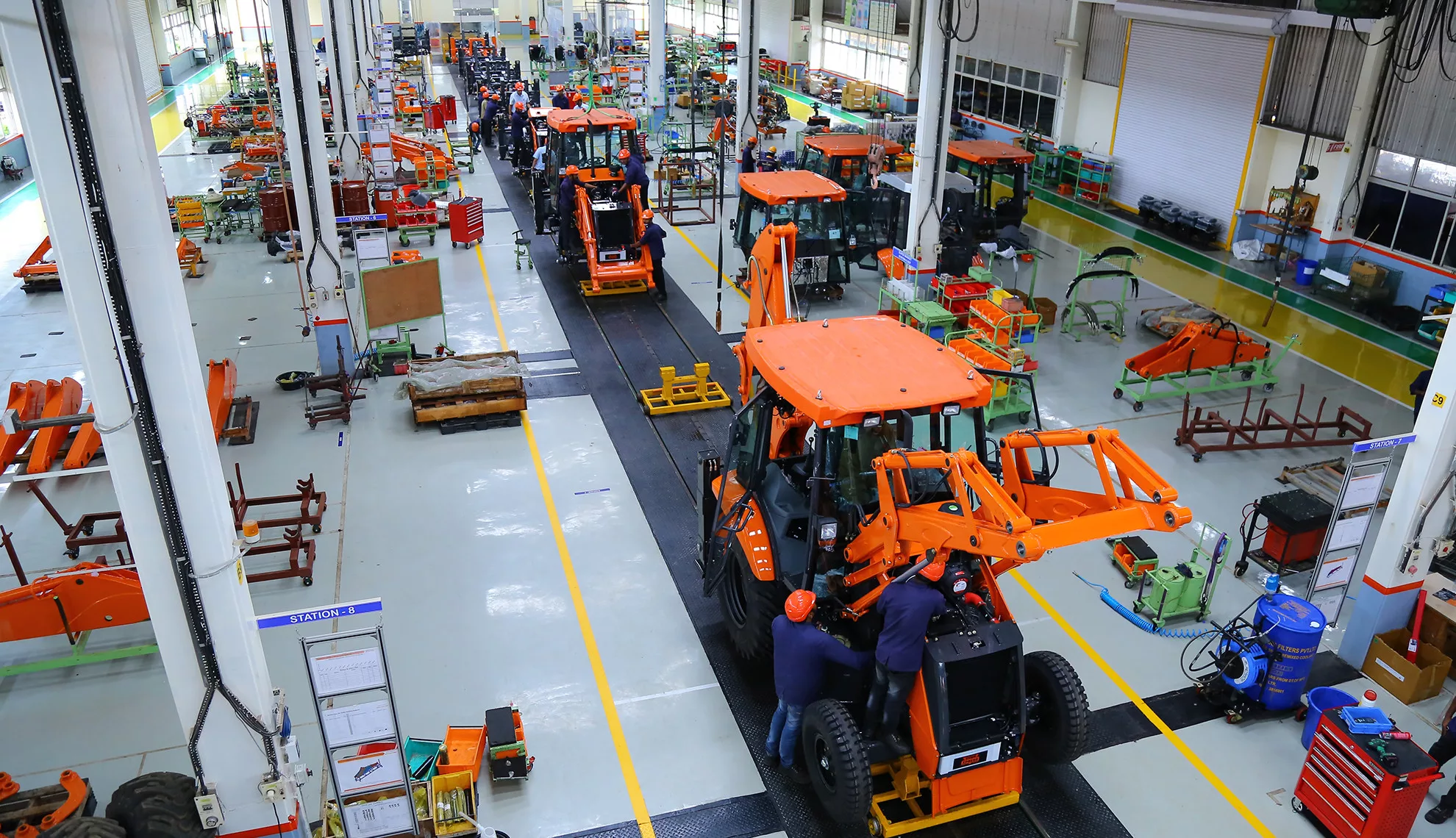 Indian Industry Leaders
A key player within the Indian machinery manufacturing industry, we spoke to Tata Hitachi Construction Machinery about the sector in the wake of COVID-19, and what it takes to stay ahead
Writer: Marcus Kääpä | Project Manager: Joshua Mann
India is synonymous with large-scale industry.
The vibrant country provides substantial and various resources across the world, from refined petroleum, cars, machinery parts and metals, to chemicals, cotton and rice. Within the manufacturing sector, construction equipment production is one of India's key provisions.
Despite the negative impacts of the COVID-19 pandemic, the demand for construction equipment has been gradually recovering over the past six months. The industry witnessed a 20 percent year-over-year (YoY) volume growth in the second quarter of 2020, followed by double digit growth in October and November of the same year.
And presently, with the implementation of COVID-19 vaccines across India, business and customer confidence has improved in all sectors allowing for a faster overall revival of the industry.
"In the present, the outlook for the construction equipment industry remains positive on the back of robust infrastructure investment by the Indian government," begins Sandeep Singh, Managing Director of Tata Hitachi Construction Machinery Company Private Limited.
"Highway construction and awards for the period of April to December of FY21 have increased by 12 percent and 110 percent respectively. In December of 2020 alone, 1560 kilometres of highways were constructed; an increase of approximately 60 percent YoY.
These are exciting times, and it makes me happy to be a part of the growth of our country."
A joint venture between Tata Motors Limited and Hitachi Construction Machinery Company Limited, Tata Hitachi provides world class construction equipment to address India's infrastructure and mining requirements.
The company focuses on developing global products to suit Indian working conditions, and the organisation's product line-up includes a wide range of excavators from two to 800 tonne excavators, 35 to 290 tonne rigid dump trucks, as well as wheel loaders and backhoe loaders. Tata Hitachi's two plants at Dharwad, Karnataka and Kharagpur, West Bengal, epitomise world class manufacturing and state-of-the-art technology.
"At Tata Hitachi, we prioritise our outreach to customers through a strong distribution network that aids in the servicing and selling of products," Singh assures us. "Our vast network includes a marketing head office, regional offices, branch offices, four regional parts warehouses and dealerships spread across the length and breadth of the country. Our dealers are our extended arms – the face of customer connection.
"Our comprehensive range of support solutions such as full maintenance contracts, annual maintenance contracts, extended warranty, maximise the returns of the customer's investment by optimising equipment utilisation. It also helps strengthen our relationship through the customer life cycle experience."
To stay at the forefront of Indian machinery manufacturing, Tata Hitachi focuses on three key aspects of business development and operational improvement.
Innovation is seen by the company as a critical element of its success, and something it strives to maximise across the board. In its competitive market, Tata Hitachi's teams keep working on the development of new and improved products and processes.
This is exemplified by several of the company's developments, such as a special quarry version of a construction range of excavators, the super long front and rail pulling attachment, SHINRAI experience zones at dealerships designed to improve customer experience, and mobile workshops to provide on-site repair services to our customers working in remote locations. On top of this, there are re-manufactured components as cost effective solutions to company customers, and a mobile app (e -DOST) for online call management and service monitoring.
In line with this maximisation of innovative development, Tata Hitachi has followed a multi-pronged approach to the increased digitalisation and automation.
"With the help from Hitachi Construction Machinery, Japan, we introduced IoT in our hydraulic excavators with the launch of our GI series of machines in 2012," Singh explains.
"Consite is a consolidated solution service that links customers to their machines on the construction site. We present the machine's key operational data through this system. The initial adoption was slower than our expectations, however with focussed efforts we were able to demonstrate the value addition this feature could provide to our customer's operations.
"Based on this feedback and experience we introduced inSite, a GPS and GPRS based remote machine monitoring application for our EX-series of excavators and wheeled products. inSite is locally developed and provides details such as machine condition, operational hours, location, geo fencing and more."
With the world increasingly addressing the issues regarding environmental protection and preservation, Tata Hitachi places a lot of focus in its sustainability operations.
"Tata Hitachi has identified some core target areas to work upon under the Global Sustainable Development Goals indicated by United Nations General Assembly," Singh tells us proudly. "We are working on reducing CO2 emissions and carbon footprint by improving our operational efficiencies, utilising solar power and improving our product lifecycle.
"The whole organisation is working to reduce paper and increase automation under the "paperless office" initiative. We are also improving our products to optimise and reduce the fuel consumption in a bid to reduce emissions further. There have been tree plantation drives undertaken by us for last many years to increase forest cover around our factories."
Both company plants at Kharagpur and Dharwad are zero discharge plants. Additionally, Tata Hitachi has put considerable efforts towards rainwater storage and ground water regeneration. The new admin blocks in both of the plants are officially certified as eco-friendly green buildings.
People-centred operation
Tata Hitachi emphasises employee and individual development. Planned job rotations, involvement in CFTs, exposure to the best practices, senior leadership mentoring and regular training help build knowledge and skills, are a few elements of employee-centric focus the company prioritises.
Tata Hitachi employees are encouraged to take higher responsibilities and challenging assignments at a very young age with "Freedom-to-Fail" to build their confidence.
Succession planning remains one of the key parameters on which the leaders are evaluated.
"Building capability of the employees is the first step towards empowering employees.
When employees are capable, senior leaders can trust the employees to take the right decisions," Singh tells us.
"It is also very important that employees can be trusted so as not to resort to wrong means to achieve the results. This is made possible by continuous reinforcement of ethical standards, adherence to Tata Hitachi's Code of Conduct and company values instilled in the employees by the senior leadership. An open-door policy makes senior leaders highly approachable and available for support all the time.
"Tata Hitachi has a strong KPI culture and senior leaders are challenged all the time.
Without building a competent and trustworthy team and proper delegation, it would not have been possible to achieve results."
In the future, Tata Hitachi will be looking to ramp up production to ensure that it is able to provide its customers with the right machines at the right time. The company will work closely with its partners to improve their capacities on top of this.
"Ensuring availability of material is going to be the first priority for us. We are also working on some new products to ensure that we have a solution for the varied needs of our customers," Singh confirms. "Another area which will continue to be in focus is localisation of components and indigenisation of some products that we are currently importing.
"We would like to source locally as much as possible to optimise costs and to protect our business from uncertainties of FOREX fluctuations. This also dovetails very well with the "Atmanirbhar" initiative of the Indian government."
With increased mechanisation being a priority, Tata Hitachi is seeing a great requirement for various types of attachments to complement its base machines. The company is planning to introduce an array of attachments to ensure that it is able to provide its customers with a one-stop-shop kind for solutions.
VIEW Tata Hitachi Construction Machinery BROCHURE