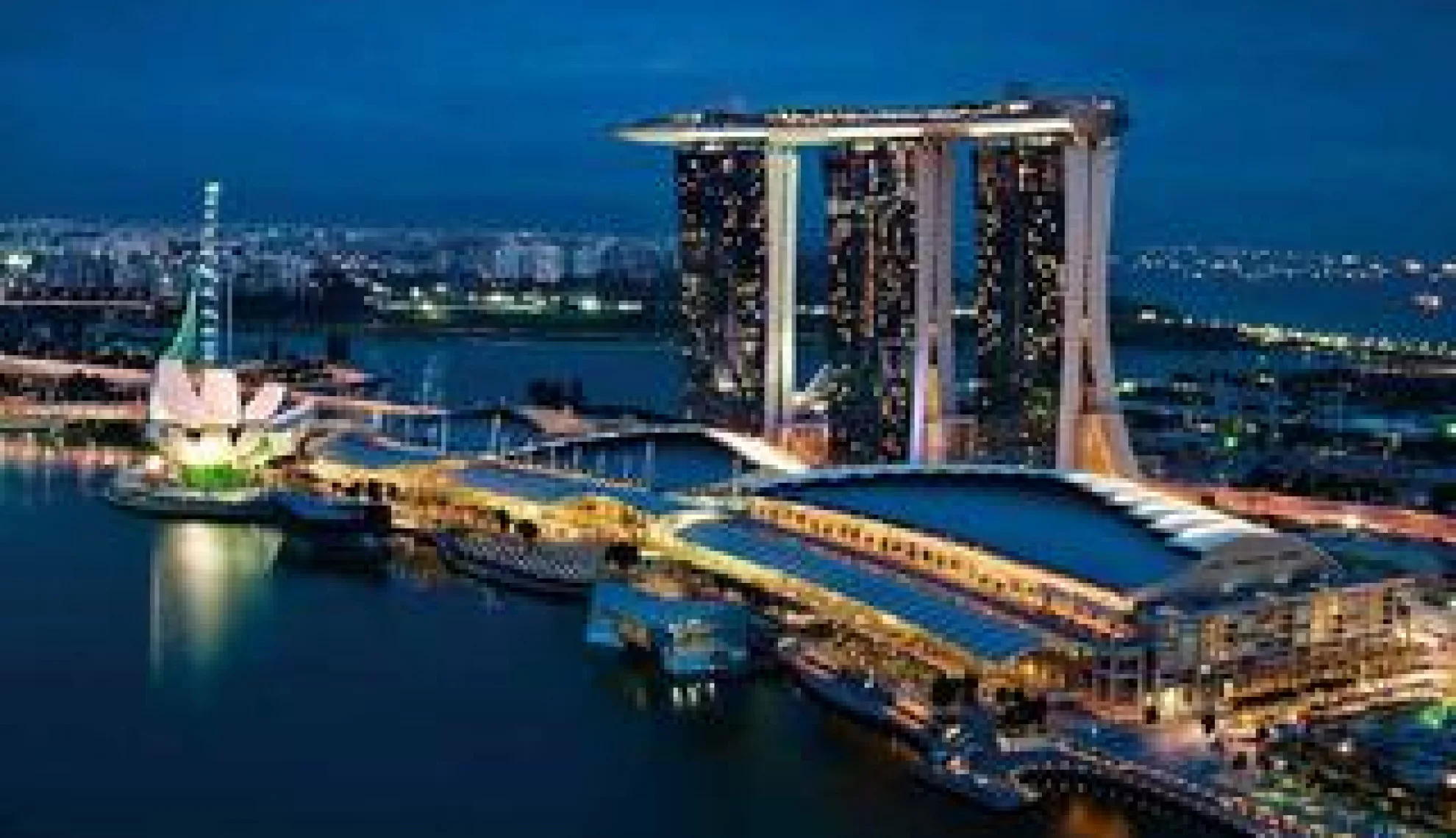 Dare to dream
It pays to dream big. And dream big is what Lian Beng has done. Within the first four months of 2013, it has secured six construction projects worth about S$750 million, taking its orderbook to record highs. Construction Director Jeffrey Teo tells us more.
Writer Ian Armitage

Project manager James Mitchell
In 1978, Ong Pang Aik joined his father to help run the family business. At the time, the company, Lian Beng, was a civil engineering sub-contractor. Mr Ong wanted more. He wanted to expand. It was his dream and a lot can be said for the power of the dream – he helped grow Lian Beng from a subcontractor that took on small-scale civil engineering a to a Building and Construction Authority Grade A1 main contractor, and subsequently to an SGX-listed company with close to $250 million in market capitalisation and an annual turnover of close to $450 million .
Today Lian Beng's wholly-owned subsidiary, Lian Beng Construction, is the chief revenue driver. While it has gone into property development and continues to grow along the value chain into other construction support services such as ready mixed concrete, construction equipment and machinery leasing and engineering works, they are a secondary focus.
"While we have ventured into property development and other fields, construction remains our group's main business, forming more than 75 percent of our turnover," Mr Ong said in a recent interview.
Notable on-going construction projects include Thomson Grand, developed by the Cheung Kong Group from Hong Kong, Waterfront Isles, developed by Far East Organization, and Hedges Park, developed by Hong Leong Group.
Lian Beng is also co-developing a few residential, commercial and industrial projects with its joint venture partners. A few examples are M-Space and Mandai Dormitory at Mandai Industrial Estate, Spottiswoode Suites off Neil Road, a hotel development near Bugis, Lincoln Suites off Newton Road and mixed development, The Midtown at Hougang. In many of these property development projects Lian Beng also undertakes the construction.
We recently had the privilege of talking with Lian Beng's Construction Director Jeffrey Teo, who answered our questions in this unique Q&A.
Tell us more about Lian Beng's history. What defines you as a business? And what are your key strengths?

Established in 1973, Lian Beng Group Ltd is one of Singapore's major home-grown building construction groups and one of the few which has integrated civil engineering and construction support service capabilities.
We are principally involved in the construction of residential, industrial and commercial projects, and civil engineering projects as a main contractor, and are a Building and Construction Authority (BCA) Grade A1 contractor. That means we can tender for public sector building projects of unlimited contract value. We are also engaged in other construction related activities. These include the provision scaffolding and engineering services, the supply of ready-mix concrete, leasing of equipment and machinery, reinforcement bar fabrication and the training of foreign construction labour.
We also engage in property development, mostly through joint-ventures.
Lian Beng Group Ltd was listed on the Main Board of the Singapore Exchange (SGX) in 1999 and our key strength is our vertically integrated business model.
How is the business performing?

The last 12 months have been exciting for Lian Beng. We made very good progress in our business, in the following ways:
In construction, we secured several big projects: Skies Miltonia in February 2013, Bartley Ridge in March, and two industrial projects at Sunview Road and Tampines Crescent in early April and Oxley Tower @ Robinson, a hotel at 122 Middle Road and Goodwood Residence at the end of April. That is great news. Within the first four months of 2013 we have secured six construction projects amounting to about S$750 million, strengthening our orderbook to a record high of S$1.2 billion.
In property development, our 55 percent-owned industrial development at Mandai (M-Space) is fully sold. We have also just launched our 50 percentowned residential development at Spottiswoode Park Road (Spottiswoode Suites) and another large scale mixed-development project at Hougang (The Midtown).
Have there been any challenges?

As with anything there were challenges along the way. The foreign levy has increased and is expected to increase further. There will also be tightening of foreign labour. The construction cost is therefore likely to increase. We need to find ways to continue to improve our productivity.
How would you sum up the current state of the industry? Are there lots of opportunities for the company?

There are. The construction industry is brimming with opportunities with the increasing population and hence the improvement and expansion of infrastructure, and the increase in housing demand and other commercial and industrial property demand. As construction demand increases, the cost of construction support services is likely to increase too. We need to seek new ways to improve our productivity to address this challenge.
What does the Singapore market demand in a developer? How do you go about meeting that challenge?

We believe that generally the market demands a developer to provide comfortable homes at affordable prices and at an acceptable level of quality. The market also demands that the developer complete the project on time. To meet this challenge the developer must be prudent in its tender of the land, in ensuring the proper and on-time completion of the project, and in sizing the market well to sell the property at the acceptable price level.
You mentioned the tightening of foreign labour earlier and the government is continuing to tighten quotas. How is that affecting you? What are the ramifications?

The construction cost is expected to be higher. To ensure no delay in our projects we need to improve our productivity. We are, to some extent, insulated from this issue as we have our own workers. We train our own workers, we have an overseas training centre to prepare our workers, and we have also our construction support resources. However, Lian Beng is always on a lookout for new methods, new technologies, new processes or new ways to reduce the reliance on manpower and increase productivity through these new innovative discoveries. We are expecting the construction cost to be brought to its equilibrium after the initial phases running in the new productivity measures.
You have two major projects due for completion this year – Spottiswoode Residences and the Scala at Serangoon Avenue 3. How are they progressing?

Both projects are expected to complete towards the end of 2013.
Tell me a bit more about the company's working culture and values? What's important to you?

Our core values are:

1. Teamwork – A commitment to common goals based on open and honest communication while showing concern and support for each other.
2. Integrity – Do the right thing…. always. We do what is right, not what is easiest. We are true to ourselves and others. We are transparent, honest, and consistent. We take pride in our work and act with professionalism.
3. Innovation – Challenge existing practices…. Strive to find ways to continuously improve.
4. Excellence – We challenge ourselves to execute flawlessly and to consistently deliver the highest quality of service to our clients. We seek the best talent and promote personal and professional development.
5. Commitment – We are passionate about solving complex issues and are intensely focused on serving our clients and helping them achieve their business objectives. We do what we say we are going to do: we create value.
Lian Beng is no stranger to awards and you've won accolades like the BCA skilled Builders Competition (you were winners for the architectural finishing category and took home the productivity trophy). Tell me more about that? Are you proud to have won?

We are honoured to have won the award. There are numerous construction companies and there are also many great completed projects. It is an honour to win and winning the award is a testimony of our strength and capability. On 16 May 2013 Lian Beng Group – through its subsidiary Millennium International Builders Pte Ltd – will be receiving the BCA Construction Excellence Award for the Ritz Carlton Residences in Singapore. The award demonstrates the strength of its overall management of the project, possessing the required technical capability and innovations for the construction, and achieving a very high quality standard of the completed project.
You are also fully engaged with the Green and Gracious Builder Scheme. Why is that important?

The BCA Green and Gracious Builder Scheme was established to promote sustainable environmental protection and gracious practices in builders during the construction phase of projects. To be socially responsible, a builder should embrace sustainable environmental protection and gracious practices and engage this scheme.
With eyes on the future, what's in store for Lian Beng?

We aim to secure more construction projects, strengthen our construction order book further and increase our construction revenue. On our property development business, we aim to achieve good sales in our development projects, and to continue to seek opportunities to co develop projects with suitable partners.
To expand our business we shall maintain our strategy of actively but prudently pitching for more construction projects to maintain our margins and participating in property development through joint ventures. There are opportunities overseas but we need to tread carefully.
Are you optimistic about the local construction sector?

We are. There are still a lot of opportunities within Singapore with the increasing population. Along with the expected population growth, there is a growing demand for housing, commercial and industrial, as well as the improvement and expansion of infrastructure.
If you met a Genie who offered to have all of Lian Beng's dreams come true, in order of priority, what would they be?

In business there are no shortcuts. We need to work for our successes. We need to lay our own firm foundation so that we can grow bigger and stronger.
What is the secret to Lian Beng's success?

There is no secret in our success; we just work hard and we embrace our corporate culture dearly. We believe we are successful mainly through our teamwork and diligence. We work hard daily to fulfil our mission of providing the best quality for services and products to all our customers so that we can achieve our vision to be a leading building construction player in Singapore. We also believe in continuously improving our capabilities, our productivity and expand our service offerings so that we remain competitive.
No business can be successful without its human resource. We welcome those who share the same values with us, to join us, and together we fulfil our dreams. We welcome like-minded partners to form JVs to explore business opportunities in Singapore or overseas so that we grow bigger and stronger together.
Lian Beng has not only survived tough times during economic downturns and recessions but has emerged stronger. It continues to grow along the value chain and we look forward to bringing you more from them in the near future.
To learn more about Lian Beng visit www.lianbeng.com.sg.
VIEW Lian Beng Construction BROCHURE