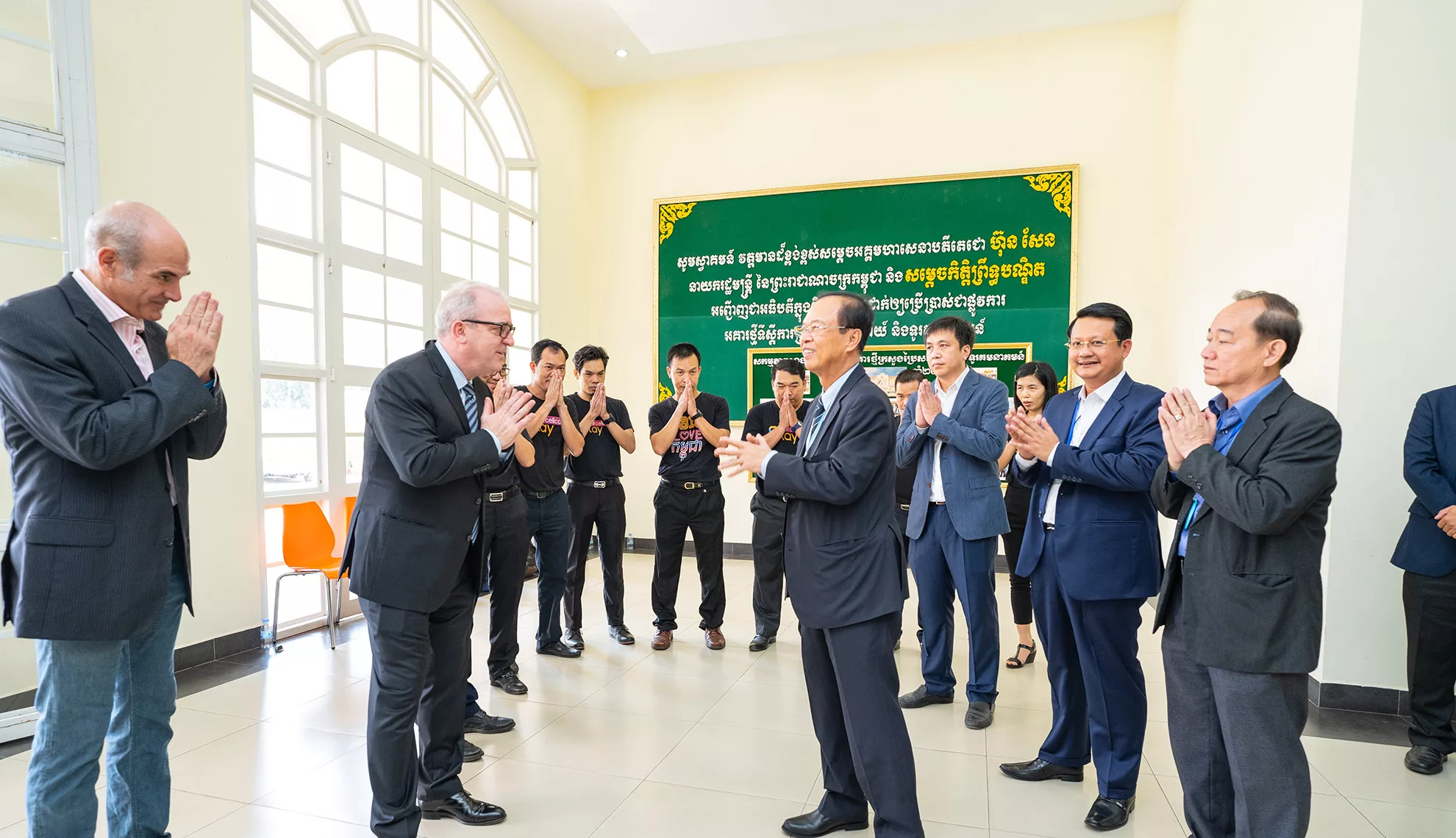 Innovation at a Time of Crisis
Cambodia's longest standing and only Cambodian-owned mobile network operator has become a shining light for the region in responding to Covid-19 and acting fast to support the medical community at the frontline
Project Manager: Donovan Smith
As reported cases of COVID-19 rise in Cambodia, Cellcard has switched with incredible speed to safeguard its operations and respond to customers, ushering in a range of new plans and services including the country's first 5G use case, Telemedicine.
Cellcard is the only Cambodian-owned mobile network operator in the country and the longest standing of more than 23 years.
The Royal Group of Companies includes more than 30 businesses, including the leading telco Cellcard, and the country's leading internet service provider EZECOM, the largest e-money company Wing, the Cambodian Broadcasting Service and digital television company Digital Sky.
Together they form the Royal Group ICT Division, and united they stand by the vision to lead the full digitalisation of Cambodia and see it move to a middle-income economy by 2030.
And so when COVID-19 required each C-level executive in the Royal Group to re-evaluate and respond, there emerged an impressive launch of new products and services with the full backing of the Cambodian Government with Chairman Kith Meng coordinating personally with the Ministry of Health and Ministry of Posts and Telecommunications.
With 70 percent of the Cambodian population interacting with a Royal Group company every day, it's easy to see how impactful a joint response could be in a market that is showing one of the most accelerated uptakes of mobile data and online content in Southeast Asia.
The main focus of this response is the nation's first 5G use case, Telemedicine, giving the Ministry of Health a vital lifeline to patients wherever they are via mobile phones and devices.
Cellcard has been preparing its 5G rollout for some months and conducted its latest live demonstration of its 5G speeds in Phnom Penh to a high-ranking government delegation in February, showing speeds in excess of 1.6 gigabits per second. Most customers on Cellcard's 4G currently enjoy 20 to 30 megabits per second depending on location.
Little did Cellcard know that just a few weeks later, this 5G capability would be so swiftly escalated into a Telemedicine service to help in the battle against COVID-19.
The Telemedicine service is based out of four main centres in Phnom Penh – the Khmer Soviet Friendship Hospital, the Chak Angre Health Center, and the headquarters of the Ministry of Health and Ministry of Posts and Telecommunications.
The nation's leading doctors can now deliver video conference consultations with 5G ultra-high speed and high definition video and can coordinate on-ground medical teams.
The solution uses Cellcard's Standalone 5G site and Ezecom's fibre optic cable with a router and video conferencing platform and terminal at each of the four locations.
Plans are already underway to expand quickly to more than 10 locations to give many more doctors access to the service and fully trained, before the crisis worsens.
class="blockquote">

"Our engineers have installed the Telemedicine service in less than one week. We launched a completely new tariff with nationwide communications in just five days. We have close to 2,000 doctors and nurses using our free voice and SMS service"
Cellcard launched a new tarrif plan Cellcard 4U, giving customers the Kingdom's first rollover plan enabling customers to save up all their unused data, voice and SMS. The innovative plan also gives the customer every fourth week free of charge.
At just $1.25 a week for five GB of data, 5,000 minutes of voice calls and 500 SMS, the plan is priced for the majority of nation to help them stay connected during the coronavirus pandemic and accesses internet for vital news and information.
Cellcard was the first to adopt a voice messaging on the ring tone to urge people to stay calm and stay united in the fight against the virus. It also waived all voice and SMS charges to all doctors and medical staff registered with the Cambodian Ministry of Health.
Cellcard CEO and CEO of Royal Group ICT Division, Ian Watson, says the Group would do everything possible to support the medical community whose work was of utmost importance to national security.
"Our employee's good health is of primary importance to us. We have taken serious consideration to keeping all members safe while working in our designated primary and alternate locations. The amount of work being done despite challenging conditions is tremendous and the innovation I am seeing from my team is outstanding," he comments.
"Our engineers have installed the Telemedicine service in less than one week. We launched a completely new tariff with nationwide communications in just five days. We have close to 2,000 doctors and nurses using our free voice and SMS service.
"Further, we established our free SIM card delivery service in a matter of hours, to get our SIMs to customers wherever they are to keep them connected and online.
"The virus pandemic has indeed caused many industries and companies to wind down, but Cellcard and the ICT Division of Royal Group is ramping up."
Wing Money has waived all Wing-to-Wing transactions fees and increased its merchants to facilitate cashless and contactless transactions such as utilities, food and groceries home delivery.
Ezecom has doubled its internet speeds for all customers for three months and launched a heavily discounted plan for its higher speed packages.
Cambodian Broadcasting Service is working side by side with the Ministry of Health, making sure all live press announcements and safety campaigns reach as many living rooms as possible, free of charge.
Digital Sky has launched a new e-learning channel for grade 12 students so their studies can continue and not impact the final exams. The channel will expand to other grades as all schools remain closed.
"This is just the beginning," Watson says. "We are conducting daily video calls with our executives challenging them to lead the way with innovative ways to keep operations running, employees in jobs and customers supported with care and assurance that things will get better and that we are here for them every day, 24-seven."
Cellcard is no stranger to Asia Outlook magazine. Its first article was published in 2018 when it heard of the resounding success of the very bold and aggressive 4G LTE rollout, going from 300 sites to 3,000 in the space of just 12 months.
We again checked in with the CEO 12 months later as news spread of the firm's continued success and multiple global awards, including 5G Asia CXO Operator of the Year.
Now, as Cellcard celebrates its sixth consecutive Ookla Speedtest Award, Cambodia's undisputed 4G network leader is switching focus at lightning speeds to usher in 5G for one of the most worthy use cases humanity could ask for right now.
"We always maintained that Royal Group and Cellcard would lead Cambodia into the digital age with 5G, with a strong commitment that the technology would improve lives," Watson adds.
"Things are changing on a daily basis, but the one thing that stays constant in this time of uncertainty is that Royal Group and Cellcard will stand by its customers 100 percent, and together we will see this through and become better leaders, better managers and better people as a result."
VIEW Cellcard BROCHURE