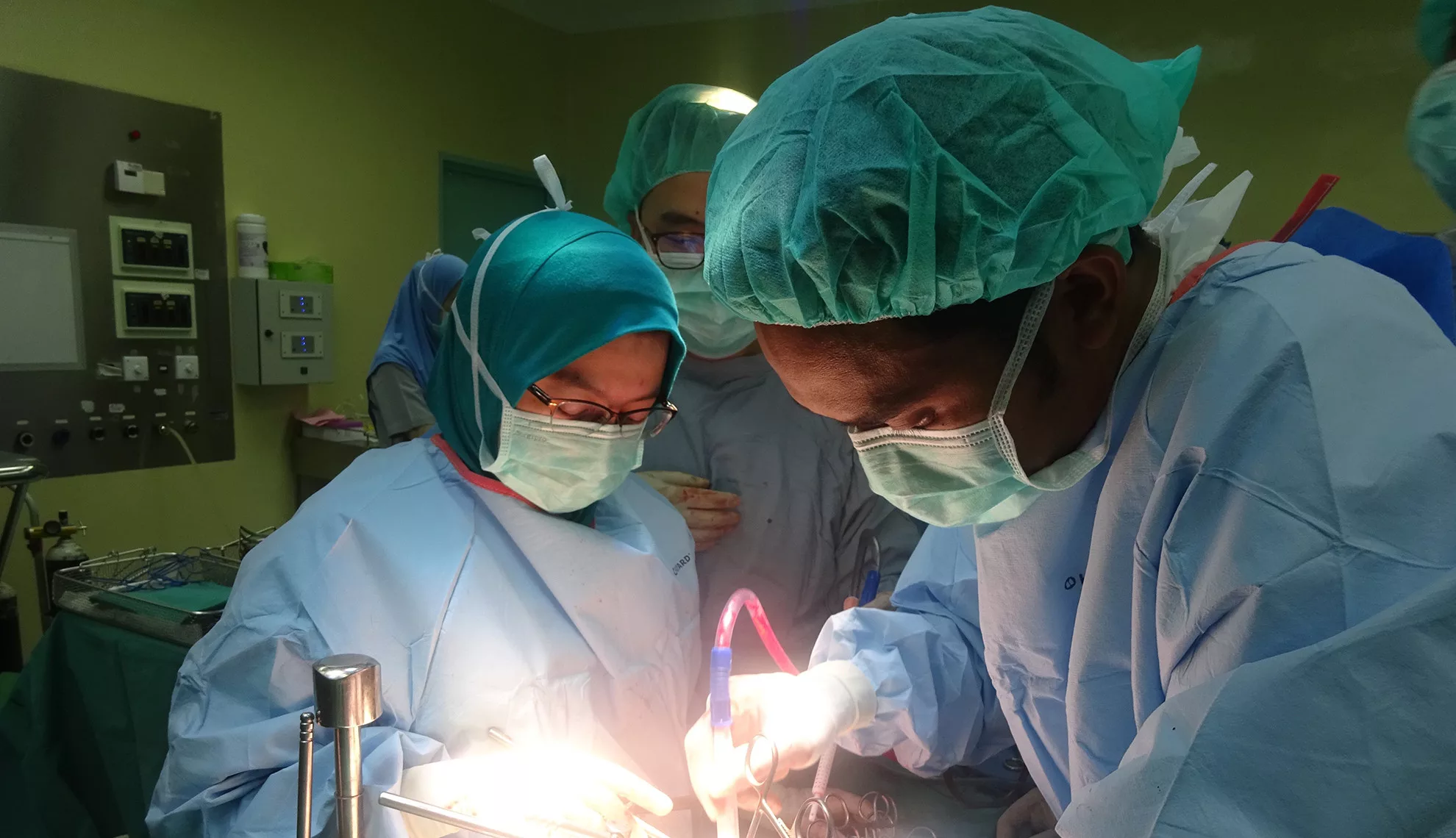 Better, Faster, Friendlier
By embracing new technologies and patient-centricity, Hospital Canselor Tuanku Muhriz is helping to uphold the best-in-class reputation of Malaysia's world-renowned healthcare industry
Writer: Jonathan Dyble | Project Manager: Callam Waller
Developing and developed economies. From political studies to annual economic outlooks, these two terms have come to separate the nations of our planet into two broad categories – but what are their differences and where is the line drawn?
Indeed, there is no universally accepted definition for either, the World Trade Organization allowing its members to define their own status on this theoretical spectrum. But there are a number of commonly recognised traits.
The Business Development Bank of Canada, for example, cites developed countries as those which have mature and sophisticated economies, advanced technological infrastructure, diverse industrial and service sectors, and access to quality healthcare and education.
However, with such a vast multitude of factors of play, it's rare to find case studies written in black and write, and ambiguity or debate can be common.
Take a look at Malaysia, for instance. It's a nation defined as developing, yet its diversified economy houses robust manufacturing and service sectors, now standing as one of the world's most open economies and a leading exporter of electronic goods and components.
Socially, Malaysia has made great strides too. Less than one percent of Malaysian households currently live in extreme poverty and its education structure is on par with that of many western nations, comprising 11 years of compulsory schooling (six years primary and five years secondary).
And that's before we even get to the country's impressive healthcare record.
"Malaysia's healthcare industry has maintained international recognition as the best in the world according to the International Living Annual Global Retirement index for four years consecutively," reveals Dr Hanafiah Harunarashid.
"Being under the governance of the Ministry of Health, the sector receives great support from both the public and private sectors who simultaneously strive to spearhead modern medicine, cutting-edge surgery, technology and impeccable service."
Harunarashid himself is one individual at the forefront of this thriving industry.
Currently he stands as the Director of Hospital Canselor Tuanku Muhriz (HCTM) – a teaching hospital under the umbrella of the Ministry of Education that plays an important role in the education, research and training of specialists, doctors and healthcare workers, driving the field and healthcare leaders of tomorrow forward.
"Our role is as challenging as ever in this evolving industry. Adaptability has become the key to success," Harunarashid continues.
"It is exciting to see Malaysia already taking part in revolutionary change with its involvement in big data, precision medicine, genomics, augmented intelligence and predictive medicine. And it's a country that has a lot more potential to grow in terms of both capability and capacity."
Preserving progress
It has been 12 months since the Director last spoke with Asia Outlook. Yet, similarly to 2018, a lot has been achieved by HCTM in this relatively short period.
"We have consolidated many things," he states, first highlighting how restructuring has remained ongoing following the merger of four faculties, two institutes and one hospital at the health campus of Universiti Kebangsaan Malaysia in Kuala Lumpur – what is now HCTM's core base.
"Management is more organised and transparent, and our administrative efficiency has improved. Meanwhile, closer ties have been fostered between the different disciplines, allowing us to successfully develop a holistic healthcare model, and a more efficient discharge process and postal drug delivery service have also been implemented."
On top of this, recent statistics show that waiting times in both the hospital's emergency department and pharmacy have reduced, while patient and staff satisfaction have risen – strides resonating with its tagline, 'Better, Faster and Friendlier' (BFF).
Every standard operating protocol is scrutinised in accordance with BFF, the healthcare specialist continually striving to improve both its end service offering and internal processes to stay ahead of the curve. Even finance management and corporate communications have been reviewed, audited and optimised.
"In the past year we have also placed emphasis on talent management and recruitment," Harunarashid affirms. "As part of this initiative, a series of leadership lectures were organised, with top corporate figures including former cabinet ministers delivering their lectures and insights to our senior administrative staff.
"Through a more significant involvement between the hospital and industry, and government bodies, HCTM has been flourishing with more collaborations and memorandums of understanding to better improve the services rendered to our patients."
Building with collaboration
Further, HCTM is currently in discussions with SingHealth to develop an educational module on health economics and leadership and will be launching its healthcare programme at the Universiti Kebangsaan Malaysia business school, with first intake slated for next year.
Evidently, its role as a teaching hospital and heavy involvement in research and development activities make it a critical player in Malaysia's healthcare ecosystem.
"Throughout the year we have been approached by many suppliers who wish to collaborate further with HCTM," the Director states. "And of course, we welcome new relationships wherever possible."
Indeed, MySalam provides some recent evidence of this point.
A national health protection scheme initiated by the current government to help the Malaysian public who are eligible for free healthcare and compensations, HCTM was chosen to be part of the public-private partnership.
"One entity we currently work with is clinical microbiology diagnostic solutions specialist Thermo Fisher Scientific, for example, using 31 of their solutions which provide us with accurate and fast results, and further support our BFF mandate," says Harunarashid.
Collaboration is in the very blood of HCTM, also embraced by Harunarashid on a more personal level.
"Internationally, I have been elected to be the President of the Asia Surgical Association and the International Adviser to the Royal College of Surgeons Edinburgh. And in Malaysia,
I am a council member of the Malaysian Medical Council, the highest regulatory body in Malaysia for healthcare," he reveals, these roles combining with his work for HCTM, UKM, the Ministry of Education and humanitarian medical relief NGO Mercy Malaysia.
A progressive horizon
Personal and organisational achievements combined, it's been an exceptional year for HCTM and its Director. And the future remains similarly bright for 2020 and beyond.
Progress continues to be made with Health Technopolis, a flagship project set to become something of a healthcare city involving not only the hospital but research labs, industry offices and retail outlets. Indeed, this will be the next critical stage in the organisation's ongoing growth.
"The groundworks are still being executed, but we're very excited about its development, and are hoping to begin its first framework soon," Harunarashid affirms.
In addition, 2020 will see the opening of HCTM's very first children's hospital, making UKM the first university in Malaysia to have two separate teaching hospitals, enabling it to cater for more patients, research and training.
Further, there are also major plans to build a new operating theatre, new intensive care unit, and new emergency unit in the latter stages of next year.
"Diversification of our revenue streams is also a priority," the Director states.
"We've now launched our very own philanthropy unit to further help more patients financially by hosting events for our patient welfare fund, produced our corporate video and have identified specific spaces to be rented for eateries and/or health related stores.
"This initiative, alongside our current policy to review our charges and expenditure and central procurement processes, have led to a more efficient fund management and avoidance of wastage. This exercise has resulted in the generation of income in excess of over RM120 million ($27.8 million) last year for the first time in the hospital's history."
Be it an emphasis on technologies, R&D or patient-centric practices, it is safe to say that HCTM will be crucial in upholding Malaysia's esteemed status as a regional hub of medical excellence moving forward.
"I am certainly looking forward to seeing which new directions this country's healthcare industry takes," Harunarashid states.
"Maintaining a reputation for having both one of the best and most affordable, accessible and quality healthcare systems will be challenging, especially with rises in operational costs and non-communicable diseases.
"In order to prevail, the industry will need to further incorporate cutting edge technologies and ensure they're available to the many."
VIEW Hospital Canselor Tuanku Muhriz BROCHURE