Yarra Trams offers a service founded on inclusivity for all Melburnians. Members of the executive team discuss laying the tracks for a culture of diversity at the world's largest tram network.
THE OPERATOR THAT CARES
Since the 1880s, trams have run along the streets of Melbourne as a vital source of transportation for Australia's second-most populous city. As it has gradually evolved into a sprawling metropolis, Melbourne has done so around the network of tram tracks that is woven into its very fabric.
Fast forward to 2023, and nearly 200 million passenger trips a year, 250 kilometres of double track, almost 500 trams, and over 3,000 employees combine to create the biggest operating tram system in the world. Enter, Yarra Trams.
"We are proudly the world's largest tram network, operating out of nine depots and locations around Melbourne, and serving Australia's most culturally diverse city," opens Carla Purcell, Yarra Trams' newly appointed CEO. Joining Purcell is Chief Development Officer, Adele McCarthy, and Chief People Officer, Peitta Dyball.
In 2009, the operation of the Yarra Trams network was taken over by Keolis Downer – a joint venture formed between Keolis, internationally recognised operator and integrator of all mobility modes, and Downer – the leading provider of integrated services in Australia and New Zealand with over 100 years' rail experience.
"We derive great value from this joint expertise and together we have done a lot in a short space of time," Purcell continues, highlighting ongoing innovations in the network including heightened accessibility and integration of new technologies.
Working closely with the Victorian Department of Transport and Planning, Yarra Trams continues to deliver as a reliable partner to service major international events in Australia's sporting and cultural capital, and in delivering significant transport projects across the city.
Alongside fulfilling its practical mandate of connecting the people of Melbourne in a physical sense, Yarra Trams champions a spirit of connection that sets the company apart as a corporate entity founded on a strong culture of diversity and inclusion.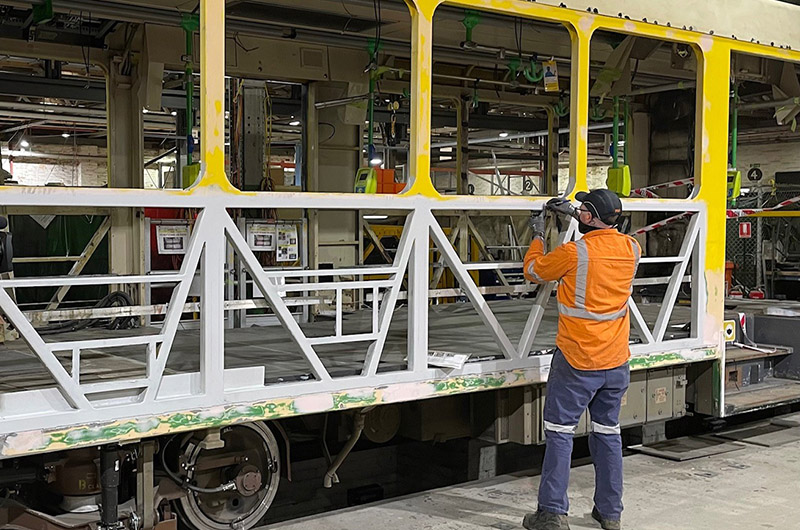 Tell us more about the launch of your Pride tram and why you decided to involve the public in its design?
Adele McCarthy, Chief Development Officer: "I'm proud to be the executive sponsor of the Yarra Trams Pride Alliance. We are an active group of employees who want to contribute to making the workplace a great environment for LGBTI people to come and work, while also engaging with the community. We constantly look to promote career opportunities for queer, or marginalised youths, and remain active in the community.
"We have taken a rainbow tram on the Pride March for the past two years, so we saw this as a natural extension to combine our in-house design expertise with the creativity of the community. Coming out of COVID-19, we knew that our arts community had been hit hard by the pandemic, so it offered a nice opportunity to run a competition for local artists. Anyone could submit a design for the tram, and we opened up the voting to decide the winner. We had over 3,500 votes for the winning design, which has proven incredibly popular. We developed it with our key partners, Midsumma and JOY Media. It was in the Pride March in early 2023, and will be around our network for a year afterwards.
"It's a tangible expression of our key message, which is 'All Aboard'. Everybody is welcome on board our trams and we want our employees to reflect the diversity of the communities that we serve."
POWERED BY PEOPLE
Yarra Trams drives social benefits by fostering an inclusive workplace that cares for the people behind the network and is intrinsically linked to the community surrounding the company.
As Peitta Dyball affirms, "one of our key aims is to have a workforce that's as diverse and varied as the communities that we operate within."
From over 1,400 drivers, to engineers, operational and support employees, every member of the Yarra Trams family is made to feel empowered and engaged. This is reflected in a high level of retention, with many employees having been with the company for 40, 50 or even 60 years.
"We are striving to create a culture where all our employees feel like they belong and can thrive in this environment," she continues.
As part of this, Yarra Trams is always open to opinions and ideas from its people across the company, regardless of their position.
"We have a fantastic culture built around a philosophy of continuous improvement and identifying those 'one-percenters' that drive us forward," says Purcell. "We are constantly looking at ways we can evolve – both the network and any part of the company – and within that, all of our people come up with ideas."
Purcell goes on to highlight Yarra Trams' '#AllAboard Tram' as one such idea – the brainchild of a colleague on the media team, which has now become a colourful emblem of the company's all-encompassing stance on inclusivity. This representation and celebration of a traditionally marginalised community is also furthered by the Yarra Trams' Pride Alliance, which seeks to promote employment opportunities within the transport sector from typically overlooked areas, as well as provide a support network for current employees.
"One of our key aims is to have a workforce that's as diverse and varied as the communities that we operate within"

Peitta Dyball, Chief People Officer, Yarra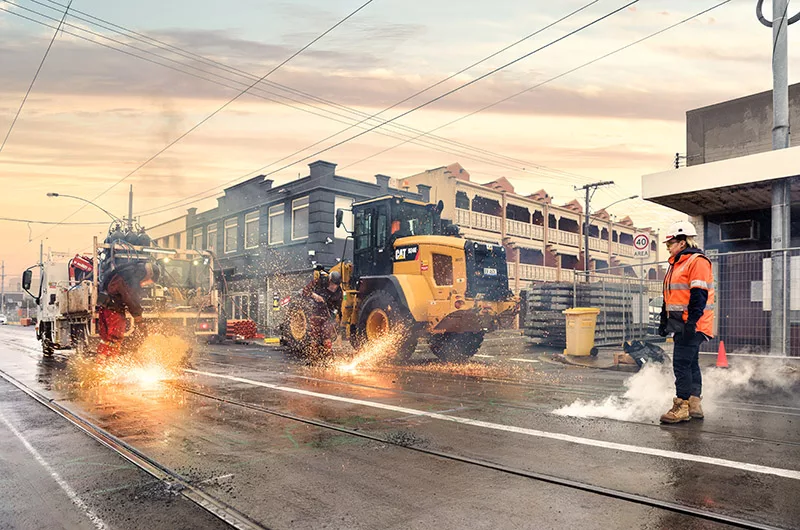 A SPORTING PARTNER
As the 'Sporting Capital of Australia', Melbourne plays host to several major events where fans descend on the city in their thousands. Melbourne's trams fulfil a unique and critical purpose in servicing major staples of the sporting calendar, including the AFL Grand Final, Australian Open and the Australian Grand Prix.
Event organisers, local government, and all event attendees can rest assured that a successful event begins not when you get to the ticket gate, but when you board the public transport that will take you there with a seamless service.
"In 2022, Melbourne held the first Grand Prix after COVID-19, and it was the biggest one on record. We moved nearly 175,000 people to the racetrack with nearly 2,500 services; it was a phenomenal effort. A lot of planning goes into it, and it's something that sets us apart because it supports both the government and the event organisers in giving them the confidence that they can run a successful event each year. This year's Grand Prix sold 120,000 tickets in the space of just three hours, and we are ready to meet the challenge of how we can ensure that people have the best experience possible."

Carla Purcell, CEO, Yarra Trams
"We've always had a rich culture of cultural and linguistic diversity and promoting jobs for Victorians. It's important to us to continue to look at those underrepresented segments of our communities and ensure that we're providing great careers and opportunities for all segments of the workforce," says Dyball.
In terms of other outward relations with the community, Yarra Trams' annual Community Partnership Programme has involved collaborations with key community forces such as Fairtrade Australia and New Zealand, and social enterprises, Fitted for Work, Good Cycles, SisterWorks, YMCA ReBuild, and Ability Works, to name a few.
"Every year we identify community organisations that align with our values to promote across our network and advertise the incredible work that they do. This is extremely well received around the community, and the trams look amazing travelling around the network," shares Purcell. In many instances this relationship has gone beyond a wrapped tram and advertising, with community partners becoming long-term suppliers to, and partners of, Yarra Trams.
It is through such initiatives that Yarra Trams keeps its ear close to the ground on the needs and demands of the communities it serves – whether within, or outside of the company.
"We continue to ensure that we're listening to our people and getting feedback from our gender equality working groups, our pride alliance and other employee networks to make sure that we really understand what's important to them," Dyball affirms.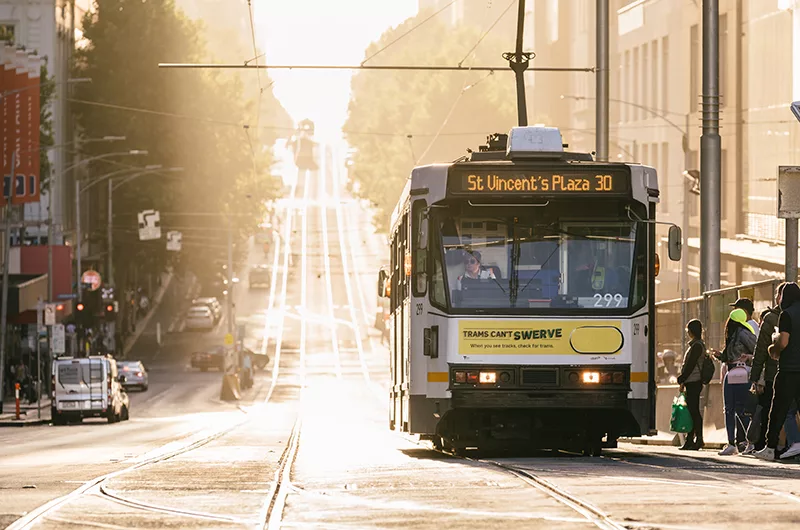 DRIVING GENDER EQUITY
Internally, a great source of pride for the executive team, is Keolis Downer's focus on developing Yarra Trams as a welcoming workplace for women.
"Not that long ago, just nine percent of our workforce was female," recalls Purcell. "Now, we're sitting at nearly 30 percent, and that's not simply by hiring more women, but by making some key structural changes to the way in which we operate."
Several policies have been instrumental in enacting this change – including introducing part-time working hours (an industry-first), and implementing gender neutral parental leave, whereby a child's primary caregiver is given 14 weeks paid absence regardless of gender.
Indeed, our conversation with Purcell occurs during her own parental leave – a time that also witnessed her promotion to CEO with McCarthy acting in her stead until her return.
"I think that says a lot about the organisation and its commitment to ensuring the best people are in the right roles," she says.
Yarra Trams' decision to become the first network in Australia to offer part time driving jobs was a deliberate move to encourage more female employees. As a result, the company has experienced a step change in the number of women applying for positions.
"The reason we focused so hard on getting enough diverse applicants in our tram driver ranks is because often, they will become our future leaders in the business," explains Purcell.
By so doing, Yarra Trams creates a sustainable pipeline for diverse leadership starting at the entry level, leveraging company policy to re-shape traditional gender narratives and tap into new avenues of the labour market.
For Dyball, maintaining a gender-diverse senior leadership team is essential in driving the company's values.
"It makes a huge difference to the decisions that we make and the culture that we drive through the organisation in creating an environment where everyone is welcome – both as passengers on our network but also as employees. We want that real sense of belonging within Yarra Trams because that's what makes it a great place to work," she adds.
A TOTAL TRAMSFORMATION
Complementing the positive story of transformation in Yarra Trams' workforce since Keolis Downer assumed the franchise Yarra Trams' is also ambitiously undertaking the world's largest tram refurbishment project.
Yarra Trams is breathing new life into old trams, by stripping them down to the bare bones across their workshops and re-entering them into the network with new and improved safety and functionality features. Having just reached the 300th tram, the overall project is due for completion in late 2023.
"These are very old trams that we've had on the network for more than 40 years in some instances, but they come out of the workshop looking brilliant. It completely refreshes the interior while also extending the tram's life," explains Adele McCarthy.
"It's been an incredibly challenging and complex project, but we're proud of our results. The project is being completed in collaboration with Downer and we are really utilising their expertise, together with the nearly 15 years' experience of Keolis Downer operating Yarra Trams" Purcell adds.
The latest safety figures are an affirming testament to the project's success, with the number of safety incidents falling by 75 percent since the new models have been in operation. Another major advantage to these safety benefits extends to improving working conditions for the drivers.
"One of the most impressive things about this programme is not only how we have extended the life of those assets, but the positive feedback from our drivers who are enjoying a more comfortable, improved driving experience," says Dyball. "Our passengers also love the refurbished interiors and more comfortable ride."
"Essentially, this programme is all about making sure that we're continuing to offer a reliable and comfortable service for all our passengers," echoes McCarthy.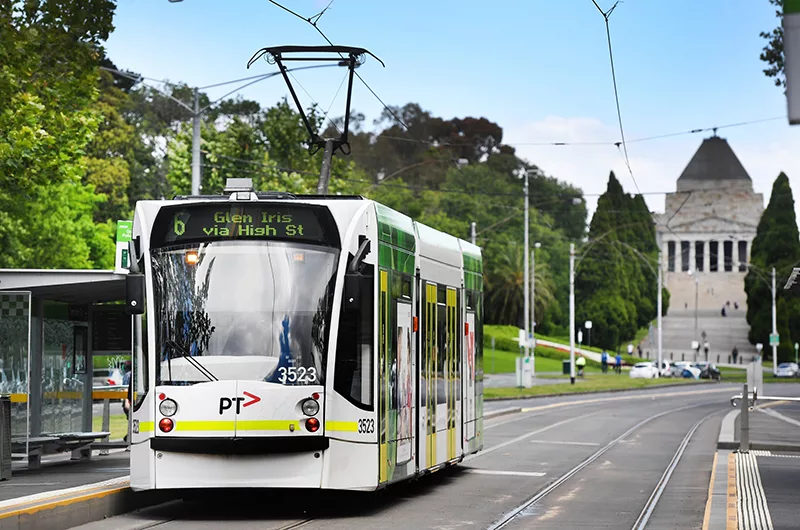 A CHANGING LANDSCAPE
With passenger service at the core of Yarra Trams' work, the company was recently confronted with a unique period in its history. What happens when those passengers disappear, and you're faced with an empty network?
This was the quandary facing Yarra Trams when the COVID-19 pandemic struck, and the city was forced into lengthy periods of lockdown. However, as a critical service for getting essential workers to their jobs across Melbourne, trams had to keep running.
"From a patronage perspective, we got as low as eight per cent, but we continued to operate a full service throughout the pandemic," outlines Purcell. "The first challenge was to make sure that we had enough staff to deliver that service so that essential workers could get around."
"It was an incredibly privileged position to be able to continue to operate throughout and fulfil that role," adds Dyball.
Finding opportunity in adversity, Yarra Trams took advantage of the reduced passenger levels to bring forward scheduled maintenance works with less disruption while also making improvements in customer service to raise standards for when passengers would inevitably return.
McCarthy highlights the installation of separation kerbs as one such improvement, constructing raised kerbing through busy streets to divide car and tram lanes to minimise the chance of vehicle and tram collisions.
"We installed kerbing on central business district (CBD) streets because these are the worst streets in terms of vehicle to tram collisions," McCarthy explains.
Aside from these external works, Yarra Trams was recently commended with an award for its internal communications campaign launched during the pandemic, encouraging employees to get vaccinated – named, 'Your Shot to Win'.
"Our focus during that period was on our people, our passengers and keeping everyone safe. We were very quick to adapt and showed incredible flexibility," Dyball tells us. "We were putting controls in place in real time to keep our employees and passengers safe and as a result, we saw almost no workplace transmission until the very latter stages of the pandemic."
AN OPPORTUNITY FOR INNOVATION
Even with the effects of the COVID-19 pandemic fading, Yarra Trams continues to adapt to how the dynamics of public transport have shifted now that passenger levels have recovered to almost 80 percent.
"People have changed and it's a different landscape compared to pre-COVID-19. We're looking at what we can do to reflect these new patterns, now that most people tend to be working from home at least two days a week," says Purcell. "It's about attracting new passengers and creating new trips to reflect people's new habits."
Within this, there has been a major focus on improving the accessibility of the network, installing accessible stops and trams to improve the experience for those with mobility issues and adjusting timetabling to ensure that such vehicles are travelling more often.
New technologies have also been incorporated across the network to observe and analyse new passenger behaviours, driving innovation in a post-COVID-19 context.
"Now that people are using the network differently, we've been looking at innovative ways to understand those new travel behaviours, including using anonymised mobile phone GPS tracers to really understand the way that people are coming back out to multi-modal travel," observes McCarthy.
In addition, after the world became well-versed with the use of QR codes during the pandemic, Yarra Trams installed QR codes across its roughly 1,700 tram stops, allowing passengers to easily scan and access electronic information on the next scheduled arrival. This innovation was recognised at the prestigious Global Light Rail Awards in London in late 2022.
Working closely with the Department of Transport and Planning, McCarthy also highlights the rollout of automated passenger counting which will be instrumental in improving the management and operation of the network, staying in tune with the number of people using each service.
"These features will give us greater insight and allow us to respond to how people are using the network," McCarthy says.
This in turn creates an avenue for improving safety and security aspects when faced with overcrowding, with the potential for technological innovations such as CCTV layered with artificial intelligence (AI).
"We are looking to become more automated and responsive in terms of making sure that people feel safe and that they receive the services they need from the network," McCarthy says.
Going forward, Yarra Tram's efforts in the asset management space will centre on utilising data to optimise the network, whilst making major strides within the sustainability sphere. This entails new innovations such as the installation of green rooves on top of tram stops, and using new modular designs built with recycled materials.
"We have research partnerships ongoing with several universities where we're always looking at what's next around the corner," says Purcell. "We maintain a huge focus on how we can build a more sustainable future. It also really helps being part of the global Keolis family and being able to tap into innovation and best practice being driven by other networks across the world."
INTO THE FUTURE
In laying the tracks for the network's future, Keolis Downer will continue to focus on growing its ridership numbers as it recovers to full patronage and invests to remain as relevant in Melbourne's transport space as it has been since inception.
"If we have the biggest tram network but we can't get people on it then it starts becoming irrelevant. We need to get trams and public transport back up in respect of the ridership," affirms Purcell.
Meanwhile, McCarthy will continue to oversee the roll-out of new innovations within the network to further its continual pursuit of improvement and evolution, above all driving accessibility with technological improvements through Yarra Trams' recently launched Accessibility Action Plan.
"It's about physically changing the network to improve what's provided, and working with our brilliant staff to make sure that they're fully equipped to offer the best possible experience for everybody," McCarthy shares. "It's also about recognising that every passenger has different needs and becoming even more welcoming for people with disabilities."
Finally, as Chief People Officer, Yarra Trams' polestar is clear for Dyball.
"Our focus is always going to be on our communities. On my part, the focus is very firmly on our people and how we continue to make Yarra Trams a great place to work."
A huge part of this, is guaranteeing the sustainable future of the company by securing the next generation of Yarra Trams' talent.
"We are focusing on how we continue to recruit the next generation of Yarra Trams employees and drivers that are going to best represent our city, while creating a meaningful impact by fostering an inclusive environment with long-term career paths for all our people," closes Dyball.
YARRA TRAMS PARTNERS