Janus Electric's next-generation exchangeable batteries are revolutionising road transport fleets. Lex Forsyth, CEO, informs us about this breakthrough technology.
SWAP AND GO
A technology breakthrough that utilises existing electrical infrastructure has created a world-first zero-carbon solution to electrify road transport fleets in Australia.
This ground-breaking battery technology has been developed by Janus Electric (Janus), dedicated to providing Australian road transport businesses with a smarter, safer, and cleaner alternative.
"We identified a need for the electrification of heavy vehicles and established that the batteries need to be exchangeable. Hence, the Janus solution was born," opens CEO, Lex Forsyth, who launched Janus in 2020 together with fellow co-Founder, Bevan Dooley.
Aiming to electrify the trucking industry, Janus has developed a patented exchangeable battery system that negates the need for lengthy recharge times.
As the company's revolutionary batteries are exchangeable, they are not permanently fixed to the truck and can therefore be removed and charged in just four minutes at any Janus Charge & Change station.
"With most plug-in vehicles, you have to wait for the vehicle to charge, whereas with the Janus solution, you just swap the battery and keep moving; that's the key difference," Forsyth states.
Utilising renewable energy sources such as solar, wind, and hydro, Janus' Charge & Change stations provide a three-way system – grid to battery, battery to battery, and battery to grid.
This creates demand for renewable energy during the day and means better utilisation of the national electricity grid, offering utility providers and governments a significant return on green technology infrastructure. It also enables renewable energy to be fed back into the grid, minimising surges and outages.
"Our Charge & Change stations act as a battery energy storage system, so you're able to use the battery that's in the station as a microgrid to help support infrastructure, logistics parks, and grid-style assets," explains Forsyth.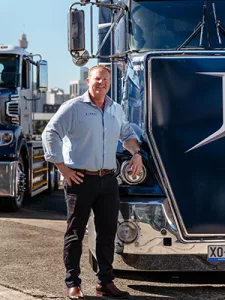 CONVERTING EXISTING FLEETS
The impossible has been made possible by Janus, as the company can convert prime movers from existing fleets into electric vehicles (EVs).
Janus converts diesel engine trucks due for a rebuild or replacement with a new electric motor, at a cost comparable to rebuilding an existing diesel motor.
"Existing vehicles already produced for fleets can be reutilised by replacing diesel engines with electric motors," Forsyth outlines.
The daily management of operating costs and margins is at the core of every transport and logistics business.
Fleet electrification will revolutionise existing operating costs and deliver significant, proven savings to the bottom line over a vehicle's lifetime.
It's estimated that converting existing diesel-powered trucks to Janus' technology can reduce maintenance and operating costs by up to 70 percent over the vehicle's lifespan, therefore significantly reducing the need for capital investment in completely new EVs.
Indeed, electrification means no oil changes, oil filters, air filters, or fuel filters, whilst reduced levels of heat extend the life of brakes and tyres. Operationally, fleets are also cheaper to run as the cost of electricity per kilometre (km) is cheaper than diesel.
"The environmental benefits are simply a by-product of the solution. It's about how we put returns back into logistics supply chains, increase their margins, reduce their operating costs, and still give them the same efficiencies that they experience with their current vehicles," emphasises Forsyth.
Fleet owners are also not locked into one type of battery cell, such as lithium-ion, as Janus' batteries have been created to be fully upgradable with emerging technologies.
EXPANDING PRODUCTION
In Melbourne, the company recently converted seven trucks for Cement Australia to the Janus solution, the last of which was delivered in August 2023.
Another converted truck belonging to Janus' long-standing customer, Fennell Forestry, has now travelled in excess of 42,000km and completed around 180 battery swaps.
It's undeniable proof of where the technology is going, and very shortly, Janus will also have the world's largest electric truck operating for Qube which is capable of hauling up to 175 tonnes.
"We have trucks heading to California into the ports of Los Angeles and Long Beach with a customer that has come on board there, and we've a lot of enquiries coming out of New Zealand, Mongolia, South Africa, and other regions," notes Forsyth.
With the UK and Europe equally starting to show a lot of interest, Janus is expanding production and looking to roll out a further 30 electric trucks by June 2024 in Australia as well as the US.
"It's about where we position the business and open up production and conversion centres in key locations and areas across the world," Forsyth concludes.