The soul can't get enough of Burgertory's sinful creations. Hasheam Tayeh, CEO, tells us about the rapidly expanding gourmet burger chain with a devilish play on purgatory.
Burgertory welcomes those seeking the best of both worlds, bringing heavenly freshness and quality fit for the gods with a touch of Lucifer's cheekiness.
Upon opening its doors in 2018, visionary CEO Hasheam Tayeh quickly realised Burgertory had something special that could become more than just a transaction, but a place to seek refuge from average burgers.
The company's creative play on purgatory, a devilishly unique identity and story, is one of many inspiring and innovative concepts being born each day in the Australian food and beverage industry.
"It's definitely an exciting space to be in. It's forever growing at a really fast pace, so you must keep up or be left behind. It comes with many sleepless nights and constant pressure, but that's what drives us," Tayeh says.
"We are disruptive, loud and always try to stay ahead of the curve. From our food to the design of each branch, it is constantly elevated."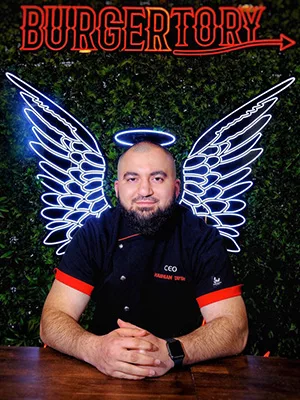 AGGRESSIVE EXPANSION
Burgertory is one of three new and exciting brands recently established by Tayeh, along with Mipasto and Bean Lab.
Tayeh, who completed his studies in banking, finance and international trade at Victoria University after attending the Qatar Leadership Academy, attributes his ability to simultaneously operate multiple brands to the support of his talented team.
"Together, they offer customers a captivating experience, renowned customer service, and the highest quality food," he acclaims.
The three brands have now expanded to more than 35 sites across Victoria, with Burgertory impressively becoming one of the biggest independently owned and operated gourmet burger chains in Australia following the opening of the flagship Box Hill store.
Three more Burgertory branches are set to open in Melbourne within the next two months, and by the end of 2023, the company hopes to have over 50 stores in operation including 10 new restaurants in New South Wales (NSW).
"Expanding to Sydney will be one of the most important milestones for this company. I aspire to continue our growth and expansion across Australia, supporting local communities and creating job opportunities," Tayeh emphasises.
"Sydney is a very exciting city with a rich culture that appreciates great food. Our plan is to first open up in the west as we think it has the most potential with a dynamic demographic that aligns with our customer base."
Burgertory is expanding aggressively across Australia, with Sydney being the first on the hit list, as it seeks to be the country's very best burger chain.
"We also plan to achieve this ambitious goal by empowering the people we work with and our customers, while our operations team makes sure that we are constantly going back and strengthening the foundations that got us to where we are today," adds Tayeh.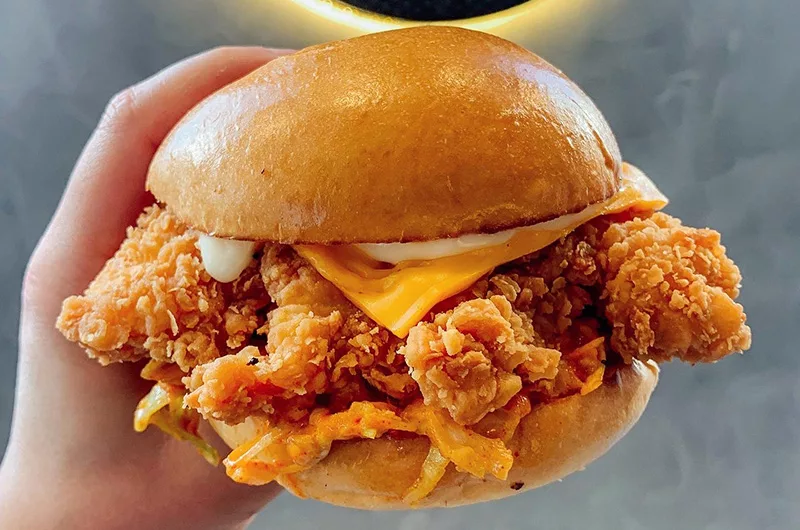 PACKED WITH FLAVOUR
As well as its devilish image, Burgertory is known for its colourful buns and outlandishly large, flavoursome burgers.
AUD$30 million worth of burgers, which are handpicked by the chefs and freshly made in-house with locally sourced produce and ingredients, were sold by the company in 2021.
Sinners can choose from a wide variety of premium beef or southern fried chicken burgers that come with fresh vegetables and house-made sauces, whilst saints can now devour Burgertory's newly-launched plant-based Sinless range.
The launch of Sinless in 2022, which features Simplot's plant-based proteins and Herman Brot's low-carb and vegan buns, came amidst growing demand for alternative proteins in the category.
"We launched the Sinless range at the Richmond branch, where we collaborated with v2food," Tayeh informs us.
"We have designed the menu in a way that allows you to change any burger to a plant-based alternative. It's an exciting collaboration and something we plan to do more of in the future."
Burgertory's most popular vegan burger is the Envy, which is made with plant-based Beyond Meat, whilst any burger on the menu can be made with gluten-free buns and house-made vegan mayo.
Meanwhile, the company also recently acquired fellow Melbourne-based burger chain, New York Minute, whose 11 physical stores have been rebranded under the Burgertory banner.
Just last month, Burgertory launched a new, affordable menu across the New York Minute chain in which 90 percent of items are priced under AUD$10.
"This is unheard of for a gourmet burger chain, and it was featured on Channel 9 news," shares Tayeh.
BONUS INCENTIVE
In July, Burgertory was excited to announce the roll-out of its pioneering incentive scheme, where 10 percent of the company's entire profits are shared amongst the company's 400 members of staff as bonuses.
Everyone from cleaners and cashiers to cooks and managers reaps the rewards, providing they and their store perform to realistic targets.
"We are one big burger family. We've implemented a roadmap for our employees on the ground to grow with the business and share the profits with them through our incentive scheme," Tayeh says.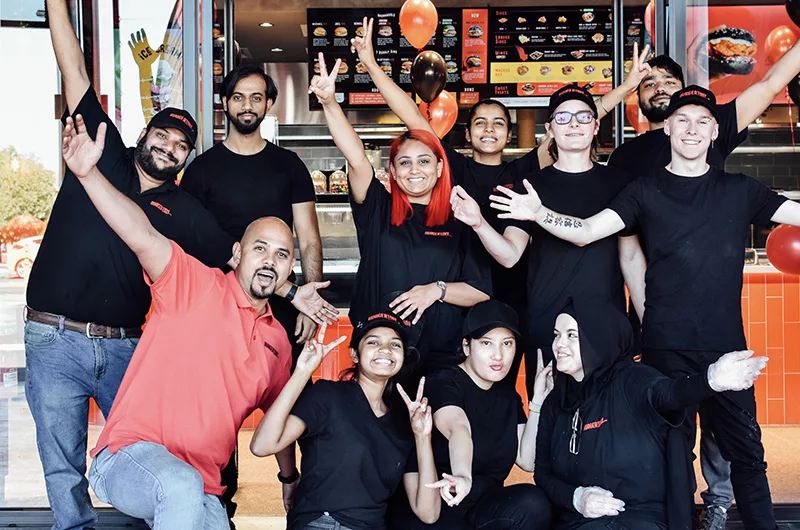 "These are very achievable targets and could see my staff pocketing up to AUD$50,000 in bonuses each month – that's 10 percent of their store's profits. Now everyone can be rewarded, no matter what their position is within the company."
Targets aren't simply tied to the amount of burgers sold, but to hitting cost of goods and labour targets for managers, and customer service, presentation and hygiene for staff.
Never before has a hospitality company as large as Burgertory given back so much to their team, regardless of their position. For Tayeh, as a proud business owner, there is no better way of giving back to the people that drive the company than giving them a share of the profit.
"Retaining excellent staff and attracting the best people is vitally important right now. That's why we introduced this industry-first incentive scheme," he explains.
It's a long overdue scheme, according to Tayeh, whose fundamental core values of honesty, loyalty, integrity and teamwork are embodied day in, day out by the company's employees.
There has been an ecstatic reaction from Burgertory's staff, incentivised by the bonuses to pick up more shifts and do more to hit their targets quicker.
Staff are the backbone of Burgertory and the secret to making the best burgers, each of which is made and presented with love and effort. In recognition of the scheme, Burgertory was the proud recipient of the quick service restaurant (QSR) incentive award.
"That was a very humbling experience for our team, knowing that we are in the mix with industry leaders such as KFC and Hungry Jack's," smiles Tayeh.
SURVIVE AND THRIVE
The bonus initiative is designed to promote a better working culture, greater accountability, an even higher level of customer service quality, and combat staff shortages that are currently crippling the industry.
"It's an exciting time for all of us at Burgertory, and these changes are being made in order to thrive during a very challenging time for businesses across Australia who are battling inflation, staffing and supply issues," Tayeh tells us.
Equally, in order for the business to survive and thrive, Burgertory works closely with suppliers, harnessing each other's strengths.
Some suppliers have even grown with Burgertory throughout the company's relatively short but successful journey to date.
"Having great relationships along with respect and trust with suppliers is crucial to businesses alike and vital to what we do," affirms Tayeh.
What Burgertory is looking to do over the coming year is achieve national domination, even with new competition and brands on the rise.
"We must stay focused and make our foundation even stronger in order to withstand any bumps in the road, because I'm sure there will be many."