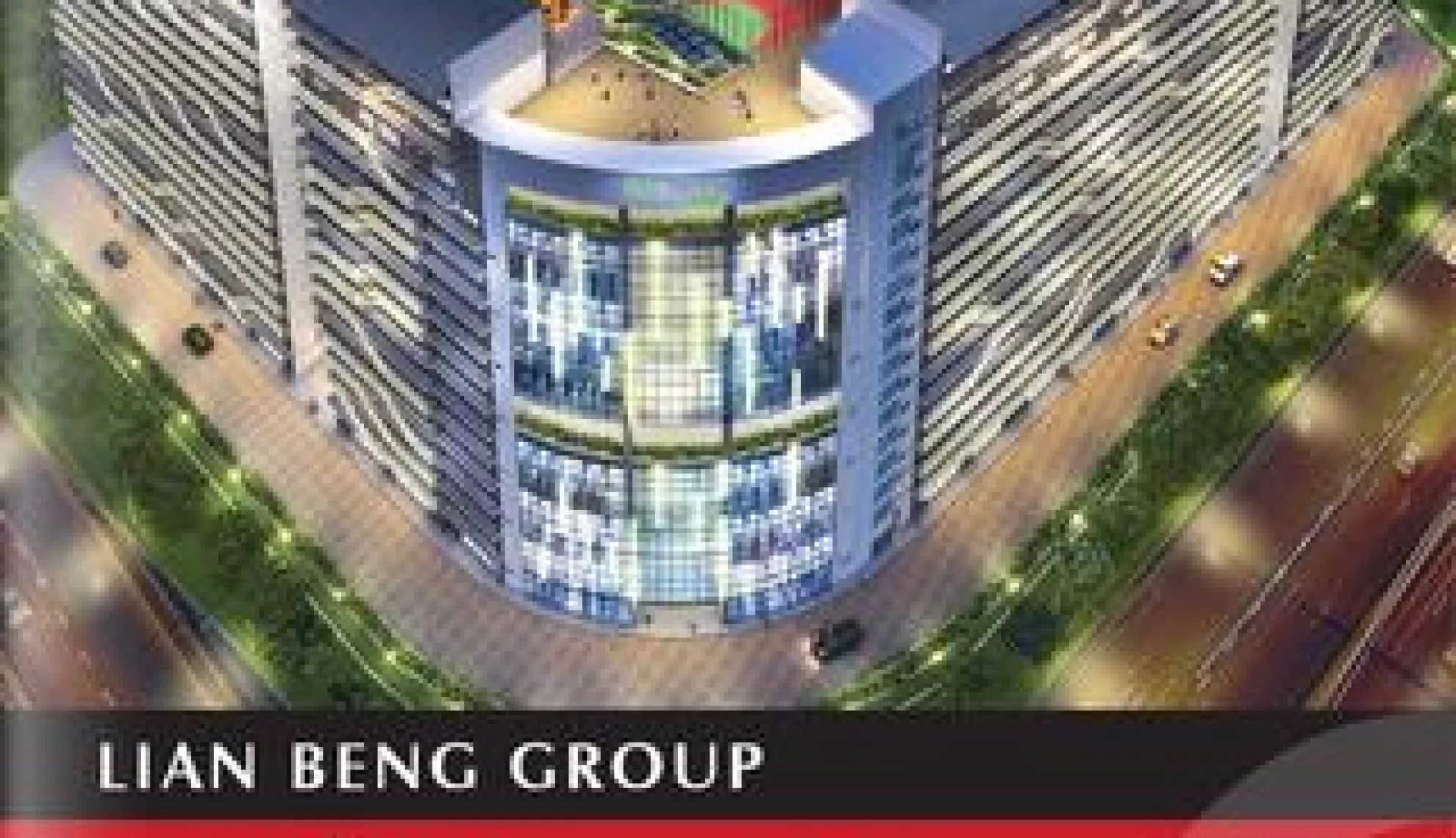 Laying the Foundations to Dream Even Bigger
Writer: Emily Jarvis
Project Manager: James Mitchell
Lian Beng Ltd remains cautiously optimistic of its core construction business, which promises to provide a sustainable flow of construction activities through to the end of 2017 via an impressive order book of S$821 million, as at November 2014. As one of Singapore's major indigenous building construction Groups, Lian Beng is one of the few which has integrated its civil engineering and construction support service capabilities in order to offer an all-encompassing solution.
The construction arm of the business has come a long way since opening its doors in 1973. The now-Executive Chairman, Ong Pang Aik joined his father to help run the family business in 1978, transforming the Company from a subcontractor undertaking small-scale civil engineering, to a building and construction authority (BCA) grade A1 main contractor operating across the property development, industrial, commercial and civil engineering subsectors.
The A1 rating allows Lian Beng to tender for public sector building projects of unlimited contract value and similarly, its A2 grade in civil engineering allows the Company to tender for engineering projects of up to S$85 million in contract value.
Apart from construction, Lian Beng also engages in property development, mostly through joint ventures. Some of its completed and ongoing property development projects include; Lincoln Suites, M-Space, Spottiswoode Suites, The Midtown & Midtown Residences, NEWest, KAP Residences, Eco-tech@Sunview and Hexacube. In addition, Lian Beng has also developed and presently operates a workers' dormitory, through a joint venture at Mandai Estate.
"While we have diversified into property development along with other key areas, construction remains our Group's main business, forming more than three-quarters of our turnover," Mr Ong commented in a recent interview.
In recognition of its advocacy for sustainable living developments, Lian Beng was awarded the Green Mark Platinum award by BCA in 2010 for its project at 29 Harrison Road, which now functions as the Group's headquarters.
This year, Lian Beng's Construction Director, Jeffrey Teo expects the local construction industry to remain challenging as keen competition saturates the market along with high labour costs and the foreign worker levy placing a limit on international workers. "In spite of these challenges, we have equipped ourselves with the right strategies, including a vertically integrated business model, allowing us to secure several big projects including the Aspri-Westlite dormitory at Jalan Papan, and Tampines North Drive, which are now in the first phases of development," he said.
Principally involved in construction activities, Lian Beng can also provide value-add construction related services such as the provision of scaffolding and engineering services, the supply of ready-mix concrete, leasing of equipment and machinery, reinforcement bar fabrication and the training of foreign construction labour. "We strive to provide an end-to-end solution that will make any project cycle run as smoothly and efficiently as possible," added Teo.
Aspri-Westlite dormitory
Designed to house resident foreign workers as part of the government's long-term plans to create purpose-built living spaces with self-contained living, social and recreational facilities, the 1.5 hectare Aspri-Westlite dormitory is the answer to modern-day living in Singapore. In March of this year, this joint venture between Lian Beng and Centurion Corp celebrated the successful groundbreaking for the 7,900-bed property development, which will be Singapore's first dedicated and integrated accommodation, featuring a 3,000m2 ASPRI (Association of Process Industry) training centre for the process construction and maintenance (PCM) industry.
"The purpose-built accommodation complete with ASPRI training centre is a strategic development which will support government initiatives to increase productivity levels. The ceremony marked an important milestone in the ASPRI-Centurion-Lian Beng partnership. When completed, it will improve worker productivity levels and welfare, contributing to the positive development of the process industry," commented Lian Beng's Executive Chairman, Mr Ong.
With completion of these strategically located dorms expected by mid-2016, the plans have been confirmed to meet the stringent requirements of the recently passed Foreign Employee Dormitories Bill, which ensures that the health, safety and security of residents are met with a newly guaranteed high standard; including provision for resident's social and recreational needs.
Increasing productivity
As Singapore's government continues to work with the construction industry and support productivity efforts through various grants and schemes, this presents further opportunities for Lian Beng to take advantage of in the future. "The construction industry is brimming with opportunities, given the ever-increasing population resulting in the growing need for improvement and expansion of the relevant infrastructure.
"As construction demand increases, the cost of support services is likely to increase too, therefore, we will be examining new ways to improve productivity and address this challenge," stated Teo.
Similarly, as the foreign levy is expected to further increase, construction costs are liable to increase. However, Teo explained that Lian Beng is somewhat insulated from this challenge due to having its own workers and training methods: "We have an overseas training centre to prepare our workers and this is complemented by various construction support services. But we are always on the lookout for ways to continuously improve our internal process methodologies including training and the adoption of new technologies to reduce our reliance on manpower and increase productivity."
Displaying years of experience and an impeccable track record, Lian Beng continues to reinforce its stellar reputation in managing large-scale and complex construction projects with a commitment to adopting the latest innovations and showcasing industry excellence. "By actively, but prudently, pitching for further construction projects to maintain our margins, our aim is to further strengthen our construction order book. The property development side of the business is touted to grow in line with the demand for accommodation set out by the government for foreign workers, and we will continue to seek opportunities to co-develop projects with suitable joint venture partnerships," Teo concluded.
VIEW Lian Beng Group BROCHURE