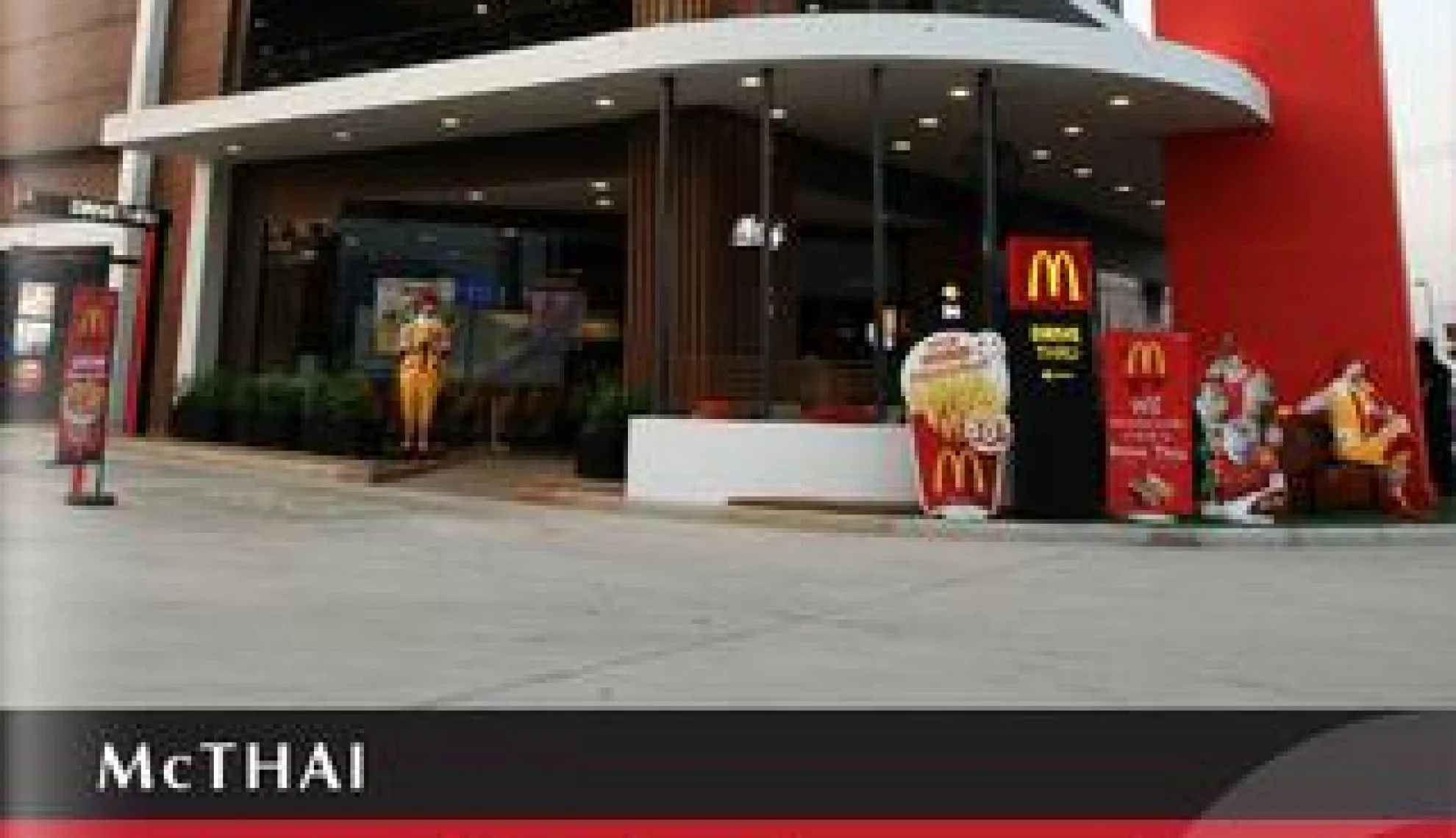 Global Brand with Local Reach
McThai is rolling out an unrivalled localisation strategy to enhance market saturation
Writer: Emily Jarvis
Project Manager: Ben Weaver
McDonald's sells more than 75 hamburgers every second and its famous golden arches are recognised by millions around the globe. As a result of its alignment to global strategy, 'Plan to Win', McDonald's serve 68 million people a day, which equates to around one percent of the world's population. With more than 35,000 restaurants in 118 countries, the quick service restaurant chain strives to be more than just a restaurant; seeking new ways to fulfil its brand promise of quality, service, cleanliness and value.
Employing more than 1.7 million people worldwide, McDonald's has mastered the quick service and fast food industry with an unparalleled localisation strategy. Nowhere is this truer than Thailand, where the franchise has 202 restaurants, serving more than eight million customers a month.
"In line with our local commitment, we have items that are specific to Thailand like the Samurai pork burger, the spicy McWings, the spicy chicken teriyaki and rice, and chilli sauce available as a condiment," said Hester Chew, Chairman of Executive Committee and CEO of McThai, the sole McDonald's franchisee in the country.
Although some items are localised, McThai's core products are largely the same internationally and of the same universal quality as you would find in any McDonald's globally.
"McDonald's has a global supply system. Our french fries are from the US, our cheese is from New Zealand and we have recently been importing beef from Australia. We look at the regional supply system to see who has the best ingredients, quality and price to match the product and we work on a system of delivery," Mr Chew explained.
Strategy for growth
The first McDonald's restaurant in Thailand was opened in 1985 and since Mr Chew joined the business, things have changed significantly.
With extensive experience in the food service industry, Mr Chew acted quickly when he joined McThai in 2006, implementing his vision for the brand in Thailand, including the introduction of a separate McCafé premium coffee counter and dessert station in most of the McDonald's restaurants, which have proved highly successful.
"After becoming CEO, I started to look at the fundamentals," Mr Chew continued: "In the first six months we looked at staffing, promoted some from within, brought new blood into the organisation, repositioned incentive schemes and the way we look at the business in terms of our customer service; we changed the way our restaurants look, how the brand was positioned and the menu items.
"Today, we are in a much healthier state," he says. "Things have gone from good to better. We have a steady business. We've grown from 93 restaurants in 2006 to more than 200 by the year-end. I think the growth has been good."
Bringing the brand to life
One of the key changes in recent years has been the remodelling and updating of the restaurants to bring them in line with the global brand, introducing new lighting and decor with an "urban edge" as Mr Chew further explained: "We wanted to push our McDonald's stores from being traditional quick service restaurants into lifestyle restaurants.
"In terms of the look and feel it is about colours; we make the restaurants as welcoming as possible but with an urban edge. About five years ago the decor was aligned with the McDonald's 'millennium concept'; this has now been updated and given a new identity called 'allegro'. This design has been rolled out across the majority of our Thai branches."
In 2010, McThai introduced the concept of drive thru quick service restaurants, another successful venture. In a market where convenience is key, the brand also added a 24-hour home delivery system to its repertoire in 2007, joined in 2014 by a mobile point of sale (mPOS) solution allowing customers to conveniently pay by credit card for takeaway food using their mobile devices.
"Convenience is very important. In an area like Bangkok it is key. Delivery is a popular service in Asia, not just Thailand. You'll find similar services in Singapore, Malaysia, the Philippines and Indonesia," confirmed Mr Chew, who further highlighted the McThai vision to be the quick service restaurant of choice in Thailand by the end of 2015.
Driving McThai forward
For the future, Mr Chew hopes the Thai government will continue to drive the economy forward with the eventual goal of attracting more foreign investment and creating further jobs in the country. The knock-on effect of this will help grow McThai's presence in the country.
"These things are out of our control at the moment. Therefore, for us it is about undertaking ongoing improvements to internal processes. Customer service is another area of continual improvement," Mr Chew explained. "I think we have seen success from our STEPUP programme to develop our staff and this has been an important contributor to business performance and placing the customer at the core of all we do."
Mr Chew further emphasised: "The McDonald's business is a people business, providing food and beverage services in its restaurants as well as home delivery. Therefore, we give top priority to our staff, as they are the ones who deliver happiness and satisfaction to our customers.
"Additionally, the next couple of years will see us continue to learn the best ways to ensure the business remains relevant to our customers. For example, the Provinces of Thailand are very different to the major metropolitan areas such as Bangkok. Each area requires a different approach in order to attract the customers there."
In furtherance to this, Mr Chew has ambitious hopes for McThai, with the long-term outlook to achieve more than 400 McDonald's restaurants in the country; highlighting that technology will play an important part in the future of the company.
VIEW McThai BROCHURE