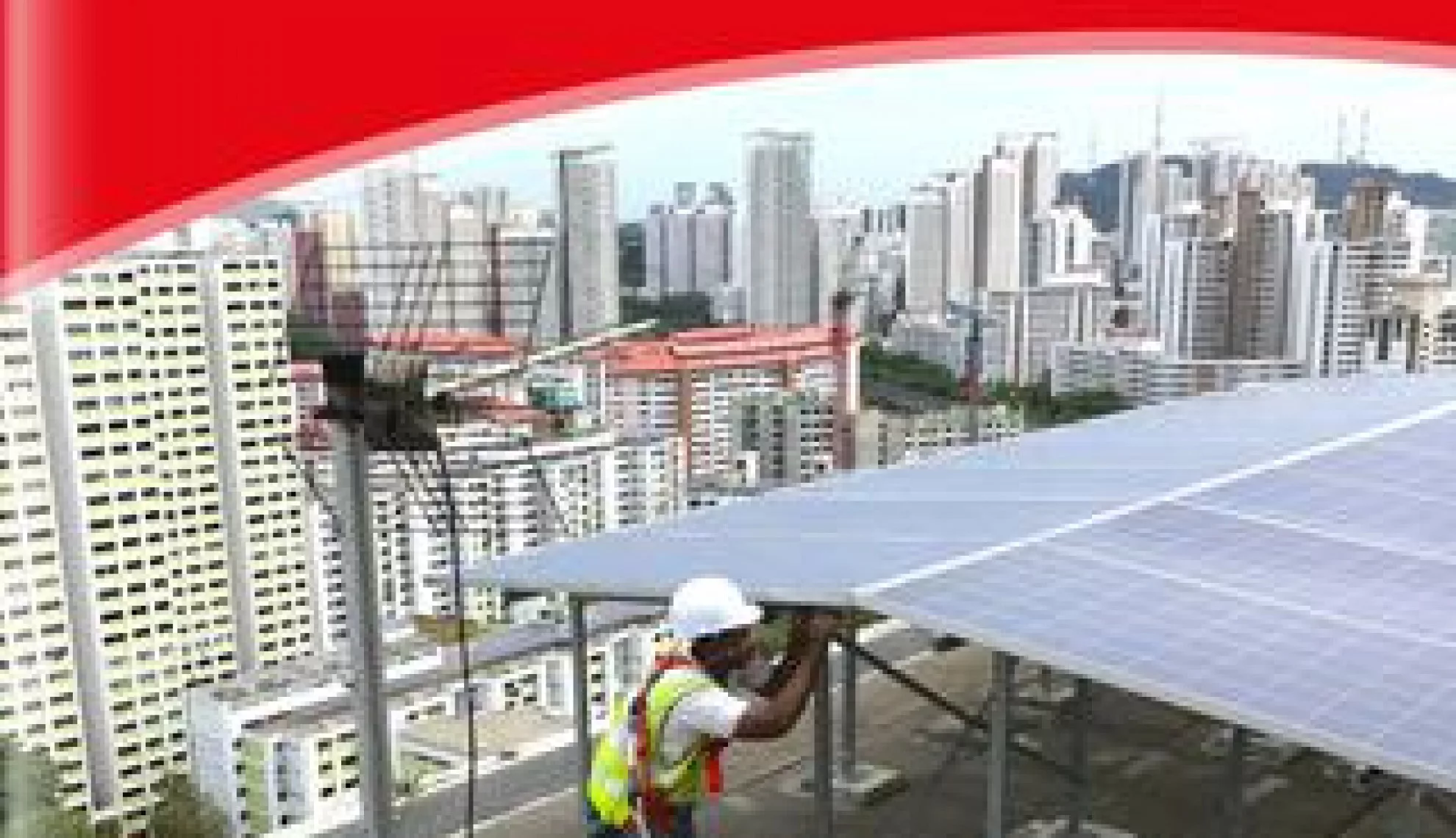 New Direction for Solar Energy

Writer:Matthew Staff
Project Manager:Matt Cole-Wilkin
For the past five years, Sunseap Group of Companies has applied its 'new direction' to a solar energy market already thriving from the organisation's unrivalled capacities and innovation.
The 2011 change of business model represented the most significant moment of Sunseap's 37-year history, as co-founders Lawrence Wu and Frank Phuan addressed the need and demand for affordable and sustainable energy before adopting its Solar Power Purchase Agreement (PPA).
The latter recalls: "Sunseap started as a solar panels manufacturer and supplier in 1979 and the Company maintained this business model mostly up till 2011, when Mr Lawrence Wu and I realised the need and demand for affordable and sustainable energy. Through the solution – the Solar PPA Model – we fully finance, build and operate solar systems atop our clients' buildings to supply them to solar energy.
"Since then we have shifted our business downstream to provide solar energy as a service to our clients via zero-cost models like the Solar PPA. In recent years, we have expanded our business into energy retailing. We have also employed research & development (R&D) efforts in related technologies."
Shifting from an upstream to downstream focus, its rapid and recent evolution across areas including energy storage solutions and floating photovoltaic (PV) systems addresses intermittency challenges and the need for more innovative deployment systems as well.
"Currently in the market and in Singapore, Sunseap is the only Company with enough generation capacity to distribute clean energy via the national grid. With the liberation of the electricity market in Singapore due in a year's time, we will able to supply solar energy to the masses," Phuan emphasises as a key differentiator. "We are also self-reliant and vertically integrated, performing key processes in-house; such as installation, maintenance, and monitoring. We are also looking to provide complete energy solutions through R&D."
Now big enough to make a difference, yet flexible and entrepreneurial enough to adapt quickly, the next development will be battery solutions with solar systems, merging batteries with solar generated processes to address intermittency issues in order to deploy solar energy on a much more substantial scale.
Phuan continues: "In a land-scarce country like Singapore, it is crucial to look at innovative ways to deploy solar systems, and water bodies are one area. We are currently test-bedding our floating photovoltaic (PV) systems on reservoirs in Singapore, hoping to expand deployment in this area. Apart from floating PV systems, we are also looking at fully maximising available land area with flexible panels that can be retracted when not in use.
"In addition, we are also constantly looking for ways to implement solar into day-to-day applications. One example is 'Green-Fi'; Wi-Fi access powered by solar panels as a 'green' source."
At the forefront
Still majority owned by Wu and Phuan, the reduction in bureaucracy and enhancement of quick proactive thinking has been the launching pad for such aforementioned innovations, and the business is streamlined further still via its three wholly-owned subsidiaries; Sunseap Leasing, Sunseap Energy and Sunseap International.
The former specialises in rooftop solutions via the Solar PPA, Sunseap Energy functions as the energy retailing arm focusing on offsite clean energy solutions, and the latter develops, owns, builds and operates rooftop and ground-mounted solar PV projects via long-term PPAs across the Asia-Pacific region.
And driving each of these complementing divisions is an R&D team and specialist workforce staying true to the innovative nature that built the organisation to begin with.
Phuan notes: "In order to remain at the forefront of the competition, we dedicate resources to R&D. We have a capable team of innovation drivers in the Company housed within our Special Projects department, and through R&D we are able to test latest technologies, and at the same time, find out ways to improve our processes to better serve our clients. Aside from our efforts in R&D, we also work with institutes of higher learning, such as universities, to develop new solutions."
Sunseap as a Group places as much emphasis on sustainability within the Company as it does on the energy shortfalls it is trying to aid, and has a human resource strategy to compound this ethos. Subsequently hiring and training people to suit the business's culture, its investment into employees facilitates individual personality, and encourages personnel empowerment.
"We advocate open communication at Sunseap," Phuan affirms. "We work in an open-office concept, with a hierarchy structure that is flat. Our staff have fed back to us that an environment like this not only gives them confidence to provide their feedback, but it also makes them feel more at home."
Customised solution
Achieving efficiency and sustainability internally makes achieving the same goals externally all the more possible, and its ever-growing portfolio of projects and clientele certainly validate this notion.
"It is never easy to negotiate long-term projects that we are accustomed to doing. This is particularly true for our Solar PPA projects where tenures are typically between 20-25 years," Phuan says. "In all projects, prior to negotiations, we will conduct a feasibility study to access the working conditions of areas such as roofs and electrical infrastructure to ensure optimal performance and service delivery once contracts are signed.
"During this process, we also meet with clients to better understand their energy needs to tailor a customised solution. Typical negotiations of long tenure projects such as Solar PPA, take between six months and a year, from negotiations to signing."
Locally, in Singapore, some of Sunseap's notable clients include the Housing & Development Board, Apple (the first 100 percent clean energy supply in Southeast Asia) , Jurong Port (the largest solar facility on a port), and amongst others; Panasonic, Cambridge Industrial Trust and Singapore American School.
"On the international scale, we have announced a 140 MegaWatt-peak (MWP) solar farm in India, in the state of Rajasthan, and a 10 MWp solar farm in Cambodia, in Bavet City, Svay Rieng – the first solar farm in Cambodia," Phuan adds.
In each case, Sunseap not only addresses the current challenges engulfing the solar domain, but also tries to keep ahead of the industry curve in preparing businesses for potential challenges to come.
"One challenge facing the solar energy generation is intermittency," Phuan explains. "Solar energy being an intermittent source can only be generated in the day. Without a storage solution, excess solar energy generated cannot be stored for later use, and instead, gets sent to the grid. Energy storage through batteries will greatly mitigate this challenge, and lower peak energy charges by using stored energy.
"Aside from ESS, we pride ourselves on data extraction and monitoring to provide our clients with information about the performance of their systems. We are also looking into demand-side management, combining rooftop solar systems with appropriately sized batteries on commercial buildings to reduce the maximum demand and lower demand charges."
Sustainable energy, worldwide
At present, Sunseap's reach extends beyond its headquarters in Singapore to comprise operations in Thailand, Philippines, Cambodia, India and Malaysia; remaining loyal to its origins – the name itself standing for 'Sun', 'Southeast Asia' and 'Pacific'.
"Our name represents our near-future expansion plan into these regions, with our end goal of providing affordable and sustainable energy solutions to consumers worldwide," Phuan says.
"Our focus is currently in projects based on the grid parity model, and rural electrification. Grid parity is a phenomenon where the cost of generating solar energy is equal or lower than that of conventional energy," he continues in identifying the key services being implemented in the region. "Essentially, grid parity models do not rely on the presence of incentives such as Feed-In-Tariff, present in countries such as Philippines. Our Solar PPA is an example of such a model where we fully finance the solar systems and sell the solar energy generated to clients.
"Rural areas in developing countries such as Cambodia present a lot of potential for solar and energy storage. Approximately 50 percent of the Cambodian population has no access to electricity."
Applying the same demand-driven approach to its supply chain, this area of logistics will become all the more pivotal as the Sunseap brand expands, and steps have already been taken to instil a strong network of outsource partners to hone this facet.
Outsourcing in such a manner, Phuan emphasises, will – in turn – enable Sunseap to focus more wholly on its primary business and core competencies as it edges closer and closer towards its global clean energy ambition.
The co-founder concludes: "In one or two years' time, we'll be listed on the Singapore Exchange (SGX), and by then, we're likely to have devised a clean energy solution combining our solar systems and batteries. We also foresee Sunseap branching out into providing services in areas of energy efficiency, communications, and data mining; areas which we are currently looking into.
"We hope to have gained entry into markets beyond the Southeast Asian and Pacific region in the space of both on-grid and off-grid solutions."
VIEW Sunseap Singapore BROCHURE