Traversing the challenging landscapes of Papua New Guinea's perilous roadways, Mapai Transport is thriving in the face of adversity. Chairman Jacob Luke provides an update on all current operations.
HIGHWAY TO HELP
Papua New Guinea (PNG) is a relatively small country in terms of population. It is home to just eight million people, despite its geographical vastness with a large number of islands and expansive seas. This means that people in business are connected far more closely than those in larger economies.
"This intimacy creates a desire to do well for people and the communities. The sense of 'I've got you covered' is evident. The service industry is therefore competitive, and reasonably efficient under difficult conditions," opens Jacob Luke, Chairman at Mapai Transport (Mapai).
Unfortunately, a relatively low domestic income (often spread within a larger family unit because of cultural expectations) does lead to troubles outside the realm of business, and an aging infrastructure (power and roads in particular) causes disruptions and is a significant cost to businesses in PNG. Power generation is unreliable and costly, and poor road conditions result in a disproportionate cost to the transport industry that operates along the Highlands Highway.
Luke believes that the industry in PNG at present is both an inspiring and challenging place to do business for several key reasons. Extreme wet and dry seasons demand the implementation of regular, crucial, operational decision-making, and the landscape's steep inclines are often deemed impassable in torrentially damp conditions. Additionally, landslides and earthquakes regularly force the highway's closure. As well as the omnipresent risk of unpredictable weather conditions, PNG's animals pose a threat to trucks and drivers. For example, compensation is often demanded for the loss of village pigs, a valuable trading commodity, often used in accumulating a bridal price. With over 800 dialects spoken across the nation, PNG holds on to its cultures passionately, and there are dozens of tribal cultures, all of which are respected.
"The company is also on high alert during elections due to the sheer number of candidates vying for votes throughout regions in all the provinces, and therefore tensions always run high, another challenge to be wary of in business," observes Luke.
THREE IS THE MAGIC NUMBER
The Mapai Group operates across three main divisions: Mapai Transport, Mapai Logistics and Mapai Properties. Mapai Transport operates around 100 trucks, the majority of which are Kenworth trucks specially modified to operate in the harsh PNG conditions, that run between the coastal city of Lae into the Highlands Provinces.
"The conditions are arduous for several reasons but specifically the dangers stem from road conditions that are affected by climate (extreme wet seasons and earthquakes), the terrain (steep, curving mountain climbs), and uncontrolled, unregulated weights carried by 'rogue' operators. Trucks and drivers are also sometimes subjected to opportunistic criminal activity," explains Luke.
Mapai has depots in Lae, Goroka and Mt Hagen, with around 300 people employed within the Transport Division, and a workshop that supports the fleet and employs around 120 skilled people. Trucks are rebuilt from wrecks, gearboxes and transmissions are rebuilt from scratch, with trucks and trailers trip-checked after every journey. The workshop also runs the only heavy-duty recovery trucks throughout PNG. As a result of this smooth slate of operations, Mapai's client base has become extensive and includes Coca-Cola Europacific Partners, Nestle and Heineken Brewery amongst copious other local companies in their roster.
Secondly, Mapai Logistics manages the movement of products for two major resource projects in the country, the Porgera Gold Mine (PGM) and the Ramu Nickle Mine (RNM), with both projects continuing to experience unique challenges. In 2018 Mapai purchased and gifted 10 trucks to the landowners of the RNM, to ensure they were able to participate in the wealth their traditional land was generating. These trucks and the company subsequently registered to run the operation and continue to operate today. The PGM is in a remote area of the Enga Province, and the route into the mine is difficult and sometimes dangerous.
"Mapai Logistics holds PNG's national Cyanide Certification, allowing us to transport dangerous goods, along with fuel, mining equipment, food and construction needs such as thousands of tonnes of cement. Close relationships have been forged with Swire Shipping and Mariana Lines to facilitate the supply chains for these mines," continues Luke.
Finally, Mapai Properties owns the land where the company operates its workshop, residential units for employees, and a significant remote depot in the Highlands. This division also manages the security force which is employed to secure all the Group's assets and people. Approximately 40 people are employed within the properties strand of Mapai, part of approximately 400 staff across the three entities.
"Our workforce contributes meaningfully to their areas of responsibility, for the common purpose of efficient service delivery"

Jacob Luke, Chairman, Mapai Transport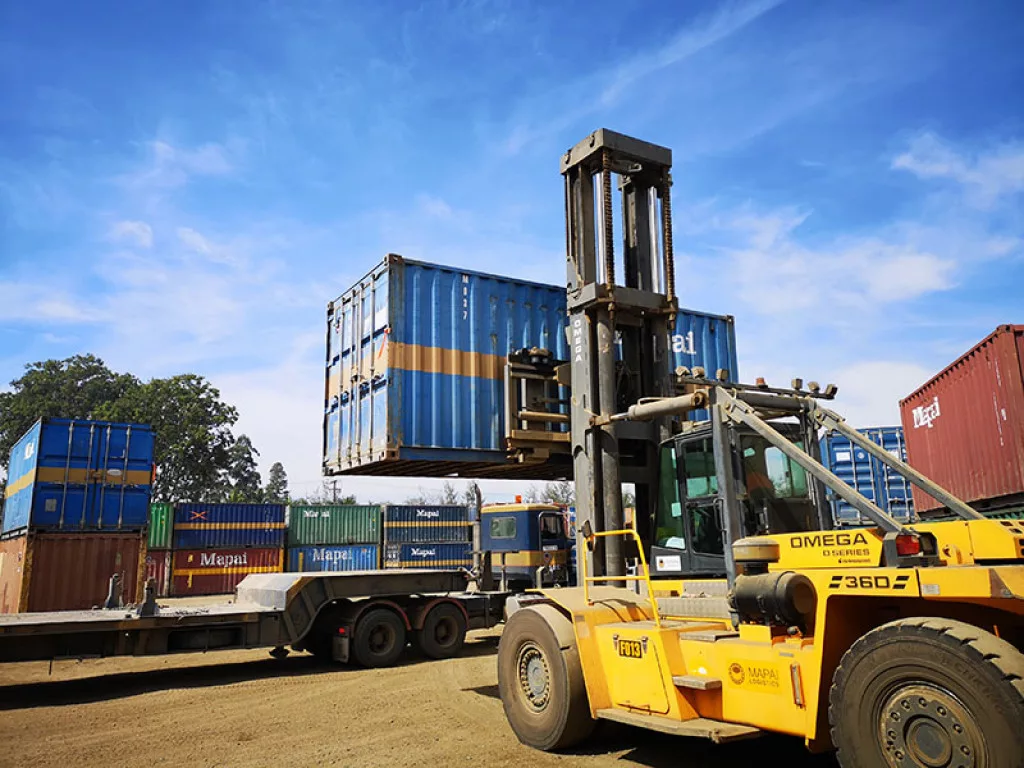 PRIDE IN PROJECTS
A source of immense pride within Mapai is The Jacob Luke Charitable Foundation (formerly Mapai Charitable Foundation), which is regarded as the 'baby' of the company's founder and current Chairman. The name has been changed to ensure the legacy of Jacob Luke is remembered for many years to come.
"The Foundation is currently constructing an early childhood and primary school for its community in Lakolam, Wabag, Enga Province. This project includes several double classrooms, 15 teachers' houses, employment of teachers, water supply, septic sanitary construction, and electricity via standalone generators. Future projects include the development of health facilities and a place for worship which is vitally important for remote communities," adds Luke.
Additionally, the company continues to focus on community needs and assists where necessary. In the worst moments of the COVID-19 pandemic, Mapai donated gas bottles to Goroka General Hospital which was in dire need of gas to save lives.
Supply chain operations, whilst not as mature as those in more developed countries, are integral to the business for Mapai. PNG is a country of islands, so shipping is an important link for businesses and communities throughout the nation. Mapai works closely with both local and international shipping lines, and its partners, to deliver seamless supply chain operations.
"Prior to the PGM closing, a good example of this was our relationship with Swire Shipping and CEVA Logistics, offering the PGM a logistics service that facilitates the consolidation, shipping, and transport of goods from international supply points to the mine in the remote highlands of PNG. We are confident that this will resume upon the recommencement of mining operations," explains Luke.
"Our key priority now is to grow the business so that we can bring our workforce back to pre-COVID-19 levels. Like a lot of businesses, Mapai was forced to make severe staff cuts because of the virus, which ended up resulting in about a 20 percent reduction. Our aim is to be able to re-engage those employees."
The next major priority for Mapai is to start preparation to provide the required logistics and transport services to the Porgera Joint Venture (PJV) when it reopens. A couple of other exciting opportunities to diversify the business are currently being explored too.
"It is far too early to comment further on these enthralling developments, but suffice to say that the diversification being sought complements our existing services and strengthens our relationship with suppliers, partners, and customers. Opportunities are continually sought for the furtherment of Mapai," Luke concludes optimistically.