Combining local expertise with global connections, we dive into the premium real estate brand, Knight Frank Malaysia, with Director of Project Management, Joshua de Souza.
SPEARHEADING MALAYSIA'S REAL ESTATE DEVELOPMENT
The construction and real estate market across Southeast Asia is alive with activity. The region is a dynamic hub overflowing with potential and ripe for development. At the vanguard of the industry and poised to capitalise such development opportunities, stands Knight Frank Malaysia (KFM).
"We have learned so much globally on how things have been done, but in these times of innovation and with the ever-evolving technology integration within the construction industry, it makes one really appreciative of how far we have come in the advancements that we have."
In the past 12 years that Joshua de Souza – KFM's Director of Project Management – has worked in this field, he has paid witness to industry-changing advancements that have shaped the evolution of the built environment. Gaining experience in Project Management after starting out as an assistant architect, it was the opportunity to both embrace and drive change across the regional industry that attracted de Souza to a young and ambitious company such as KFM.
"The opportunity to join KFM and build a department from the ground up really struck a chord with me," he recalls fondly. "I had all these ideas of what a Project Management department should be like and how it should be managed, so I took up the challenge and have not looked back ever since."
With the company celebrating its 20th anniversary just last year, de Souza's department of Project Management forms an integral part of KFM's core competencies, within a portfolio that spans the full gamut of property services. This expertise encompasses several departments, including Valuation and Advisory, Research and Consultancy, Property Management, Office Solution and Strategy, Land and Industrial, Capital Investments, Residential Agency, Facilities Management, Project Management and Workplace Consultancy, Asset Management and International Project Marketing.
"Our main services are three pronged – advisory, transactions and management," de Souza explains. "Through our nationwide team, we are able to provide end-to-end solutions for anything related to real estate."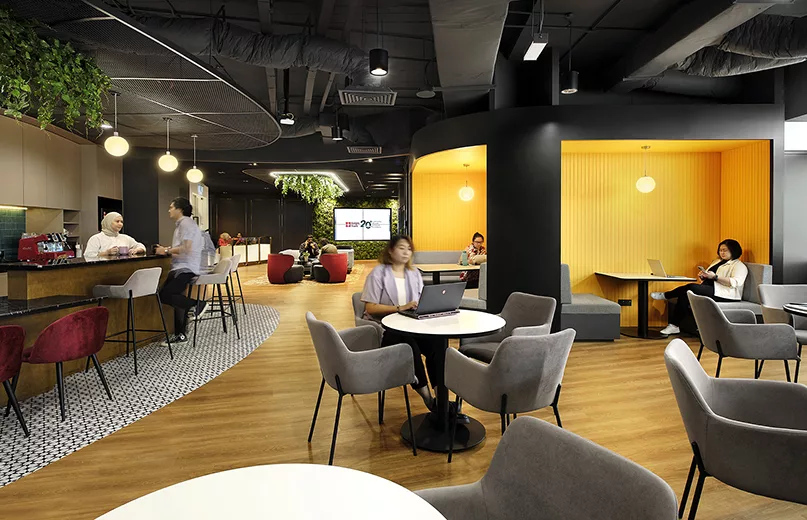 LOCALLY EXPERT, GLOBALLY CONNECTED
Bolstering this expansive service offering is KFM's team of over 700 employees spread across its headquarters in Kuala Lumpur and additional regional branches in Penang, Johor and Kota Kinabalu. Collectively, this translates to an unparalleled level of local expertise that marries with the world-class best practices, esteemed reputation and extensive experience of the wider Knight Frank group.
"Since we were established in 2002, we have grown to develop a strong presence both locally and globally," says de Souza.
"We aim to provide quality service and solutions to our clients, understanding that their needs go beyond the mere promise of basic professional service."
In seeking to truly "go beyond", KFM is dedicated to widening its reach across the nation, beyond the urban destinations most typically associated with housing development. For de Souza, this explicitly local emphasis promises to be the fruitful next stage in the company's continued trajectory of growth.
"There are still so many areas and places that need infrastructure and various upgrading projects," he affirms. "We forget that Malaysia is not just the big cities like Kuala Lumpur, Penang or Johor Bharu – there are still many more states in the country that need developing. How this will be achieved in the next few years will be an exciting journey to be a part of."
Continuing to develop this local network is a crucial next step in developing its reach and allowing KFM to tap into new markets, capitalising on the burgeoning demand for real estate across the country. Within this, de Souza hints at targeting developing markets outside of the Klang Valley region.
"With a presence in more locations, the company can better serve its clients and provide more personalised and targeted services that meet their specific needs," he shares.
"Our Managing Director, Keith Ooi intends to elevate our premier real estate brand with his personal mantra of the 'four Es' – to empower, engage, embrace and expand."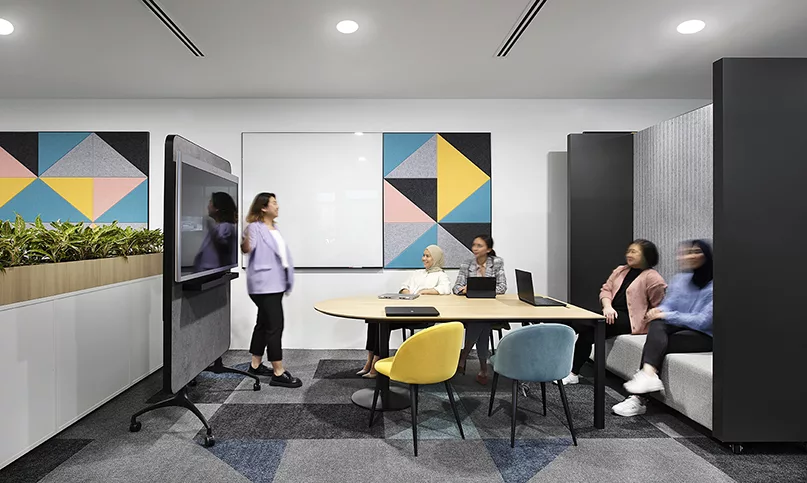 PRESTIGIOUS PROJECTS
As testament to the exciting journey that the company has undertaken thus far, the past year alone has seen KFM handle its biggest projects to date. This has included working with iconic names such as DHL and retail giant, Amazon.
The former involved the development of a 70,000 square foot (sq ft) project on behalf of DHL Asia Pacific Shared Services Sdn Bhd (DHL APSSC) within the Damansara Uptown area of Petaling Jaya at Imazium – an undertaking which de Souza identifies as the KFM's "most complicated project thus far."
Indeed, the project involved work across multiple departments spread over several floors and two buildings, with a brief to consolidate them all into three consecutive floors in a new office, revolving around a central stairway and atrium space to allow for cross collaboration.
"We started off the programme with a workplace analysis to understand the new practices moving forward and with that constructed a change management programme to complement the move," explains de Souza.
Added to the complex logistical nature of the project, COVID-19 complications created a further level of challenge for KFM to navigate.
"The project team worked hard to coordinate the whole programme as we were also hit by lockdowns and other restrictions but continued to work and coordinate with multiple stakeholders and contractors to ensure a timely delivery of the project.
"On top of this, our commercial team played a crucial role to keep all project costs in check and subsequently ended up saving the clients close to RM2 million from our initial estimates," he observes. "Ultimately, having such understanding stakeholders and having their full trust to deliver the project made this one of our most memorable projects to date."
Elsewhere, KFM's work on a new Amazon (AWS) facility has involved handling state of the art fixtures and finishes, in what de Souza describes as "one of the most detail-driven projects we have had to deal with."
Although an ongoing and eventful journey, it is one that has been truly rewarding for the whole KFM team.
"Ultimately, we learnt lots from this project and I can say it was a pleasure working with some of the most intellectual and industry-savvy individuals that we have ever had to deal with on any project," he shares.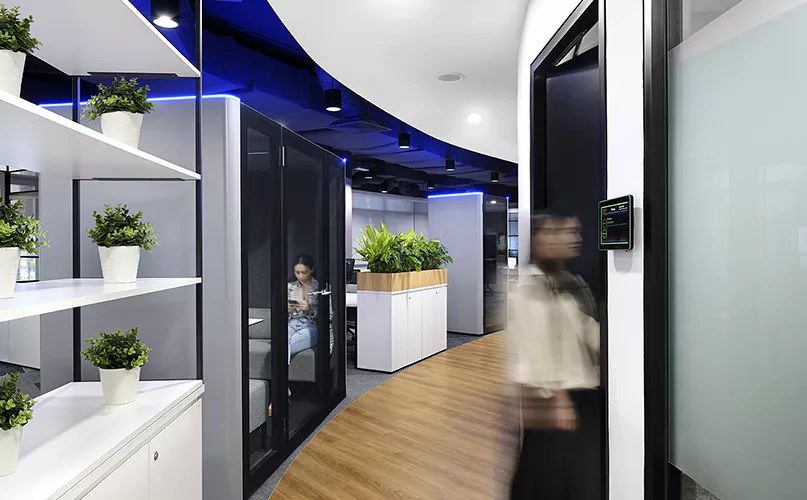 AN APPETITE FOR EXPANSION
Drawing to a close, de Souza returns to KFM's key priority for 2023/4 of expanding operations beyond its current base.
"On the department side of things, we are continuing to look at expanding our project portfolio and diversifying into more industrial built facilities, building refurbishment works and strengthening our workplace consultancy and change management offerings to our clients."
In keeping pace with an ever-evolving industry, this notion of growth also applies to the company's increasing use of technology and digital solutions, with the goal to enhance its digital capabilities.
"This includes developing new digital tools to enhance the client experience, and perhaps looking into virtual property tours or online property management systems," he tells us.
In addition, KFM will remain astute to the trends that have shaped its journey thus far, increasingly developing its sustainable practices and mitigating its environmental footprint within a sector where this is now expected, and no longer a 'nice to have'.
"As the importance of sustainability in real estate continues to grow, we aim to develop new sustainability initiatives and partner with clients to implement sustainable solutions in their properties," de Souza affirms.
"Although we are just finding our foothold within the industry, we have learnt a lot from our peers and will continue to try and position ourselves as a preferred partner of choice for Project Management and Workplace Consultancy to our clients and future clients."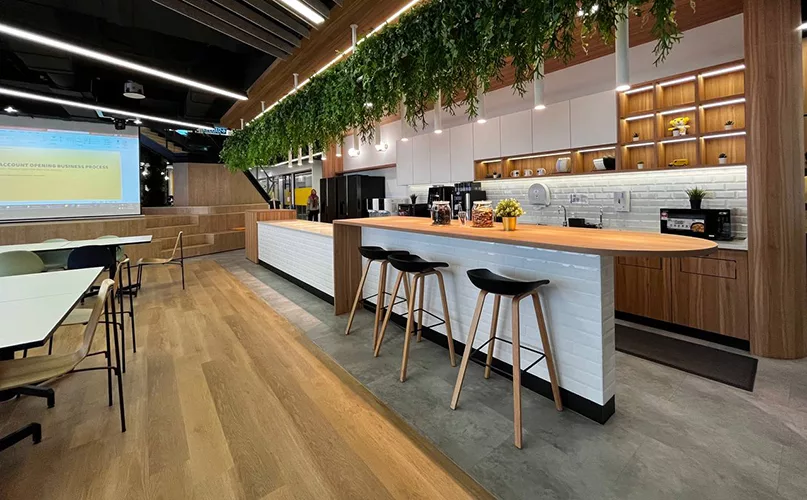 KNIGHT FRANK MALAYSIA PARTNERS