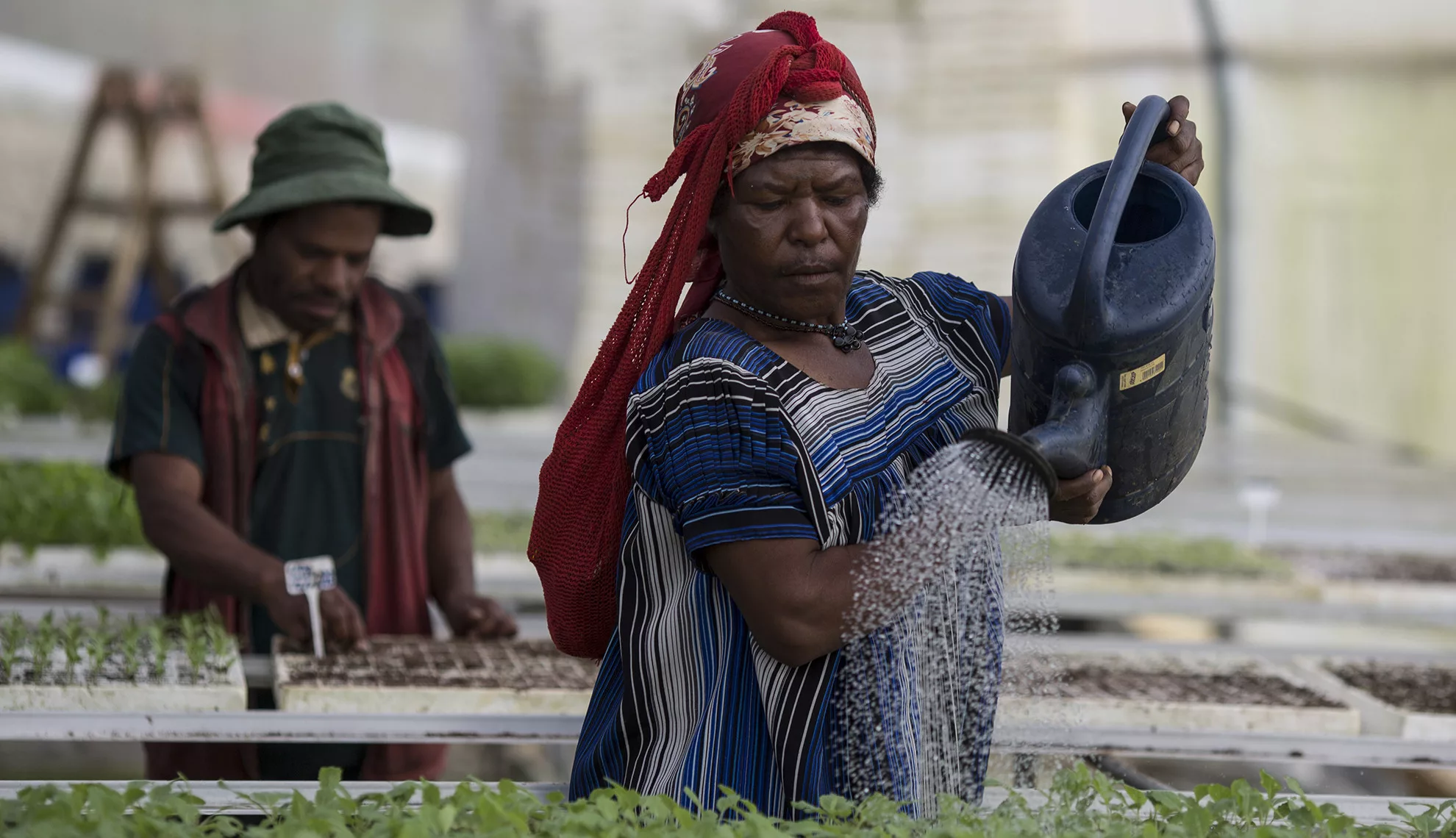 Inspiring Agrarian Independence
Innovative Agro Industry continues to drive developments across a wide variety of agricultural endeavours, providing PNG producers with vital commercialisation opportunities and employment to many other locals
Writer: Tom Wadlow | Project Manager: Matthew Selby
Papua New Guinea should be a self-sustaining agrarian producer.
The country is blessed with naturally conducive conditions for farming a wide variety of crops – a warm and rainy climate, rich soil and abundant water resources – but despite these favourable factors it relies on imports to feed its people.
Among the top imported products, along with vehicles, fuel and heavy machinery, are meat and rice, basic dietary staples which consumers are paying inflated prices for due to a lack of commercial home production.
For Ilan Weiss, Chairman & Executive Director of Innovative Agro Industry (IAI), the opportunity to narrow this deficit and help PNG to get back on (or discover) its farming feet was too good to turn down.
"The primary reason to engage in agriculture here are the Papua New Guineans," he says. "You can try and engage a Papua New Guinean on any subject on any matter and they may be interested or not, just like anyone else, but you mention agriculture to them, and their eyes light up.
"The reason for this is that they have been doing agriculture for far longer than Europeans – it is something that is dear to their hearts. Papua New Guineans have been farming for thousands of years but that does not deter an acceptance of innovation. You find good farmers almost everywhere in the country."
IAI is a subsidiary of LR Group, a leading project development organisation active in Africa, Europe, Asia, Oceania and South America since it established in 1986, recording over $2 billion in investments in rural initiatives.
Weiss has been leading IAI in PNG since it first arrived in the country in 2011. Its remit is to address the challenges which will enable PNG to upscale its agricultural output, challenges which include a lack of infrastructure and logistics outside of Port Moresby, financing, governance and a commercial mindset among farmers.
"To be successful in PNG, one needs to ensure service and control of the full supply and value chain," Weiss adds. "There are no service providers or opportunities to outsource, and this is the reason that we have developed fully integrated agricultural projects."
Grass to glass
IAI's development portfolio in PNG is extensive, the company initiating a wide range of lifechanging schemes covering various agricultural activities such as farming, greenhouses, poultry and downprocessing.
Dairy is another critical focus, the recent launch of the country's first commercialised dairy farm representing a particularly proud moment for Weiss and his team.
Representing a holistic, grass to glass enterprise, Ilimo Dairy Farm is based in the Central Province of Papua New Guinea and expected to produce five million litres of pasteurised dairy products every year, including fresh milk, flavoured milk, dairy snacks, ice cream, yoghurts and others.
It is a farm with sustainability at its heart – the site is equipped with a state-of-the-art milking parlour and dairy processing plant, while use of high intensity field crops to supply its own stock feed also help it to produce products efficiently with a minimised environmental footprint.
"Our farm also has a solar farm onsite to supply additional energy requirements, and we utilise a cutting-edge waste management system to decrease our ecological impact as much as possible," Weiss says. "Further, we use the latest in monitoring technology to ensure our herd is comfortable, stress free, and happy."
On the human side, the project has created 200 new jobs for PNG workers, as well as new cash cropping opportunities for Central Province farmers engaged in its feed outgrowerprogramme.
"Transfer of knowledge is another key element of this project," adds Weiss. "Effectively training Papua New Guineans in practices such as herd management, dairy product processing and distribution throughout the local community will guarantee local self-sufficiency and the continuity of the industry.
"The farm represents the vanguard of a viable local dairy industry that will ultimately replace the need for imported fresh dairy products in PNG."
The other major beneficiaries are Papua New Guinean consumers, who have welcomed the product with open arms. Ilimo Dairy Farm has been able to supply fresh milk at less than 50 percent of the imported price, with IAI working to increase local dairy consumption by working with schools in a bid to address child malnutrition issues. And such has been the success of the development, Weiss and his team are looking to open a second plant in Morobe.
Empowerment en masse
Indeed, Ilimo is one of many projects in action which are helping to transform the lives of local people.
Combined, IAI's developments have provided job opportunities to more than 1,000 Papua New Guineans from all walks of life, the empowerment spreading to hundreds of small-scale farmers and suppliers who can now rely on a steady, commercial income stream.
Such farmers include vegetable producers, Weiss highlighting the example of a frozen vegetable enterprise in the Highlands region which is again helping to remove the reliance on imported goods.
"This is the first of its kind in PNG, and probably the first in the Pacific Islands that is equipped with an advanced IQF (individual quick freeze) processing line which procures fresh vegetables such as potatoes from local out-growers, processes them and markets the produce as frozen vegetables like French fries," he explains. "At a later stage, the project will also process taro and other sweet potatoes to expand to export markets."
The setup combines the best of authenticity and modernity, the hi-tech site able to process non-industrially grown produce in a way that offers a superior tasting end product at scale.
Another commercially oriented and modern vegetable farming enterprise is the 9 Miles AgroFarm.
Operating on the outskirts of the capital Port Moresby since 2014 and employing 160 workers, the farm spans six hectares and utilises greenhouses with advanced drip irrigation and climate control systems, producing around 18 tonnes of vegetables a week which represents the majority of what is available in PNG's capital, Port Moresby.
"Meanwhile, in the rural area of Sirunki in the Enga Province, we have set up an agro-industrial services and training centre (AIC) that grows, processes and markets vegetables, focusing on premium strawberries and potatoes," adds Weiss.
"The AIC relies on engagement with smallholders and has achieved widespread positive social impact in the region."
Powered by people, for people
Social impact also lies at the heart of IAI's future pipeline of projects.
For example, in Hela Province, near the Southern Highlands, the organisation is formalising plans for a coffee industry rejuvenation development.
A memorandum of understanding was signed between IAI and partners ExxonMobil, Mineral Resources Development Company (MRDC) and local governing authorities in 2018, a public private partnership that will impact up to 5,000 people over the next five years through coffee production and marketing.
"This is key to revitalising the industry in PNG," says Weiss. "We are looking to plant up to 15 million new coffee trees in the province, and our team has been working with partners including the Coffee Industry Corporation to develop a model that will empower the people of Hela.
"The project will diversify the economic base and further encourage the development of additional small enterprise. Running parallel to the coffee project will be other agriculture initiatives – as coffee takes a long time to grow, we have developed a maize programme to provide feed to our chicken farm in Hela."
And it is this continued creation of employment and earning opportunities for staff and farmers that forms the central motivation for all of IAI's future planning and delivery of projects.
Weiss highlights the human aspect of the job when bringing the conversation to a close, the Chairman and Executive Director determined to build on the success of IAI's training programmes which have resulted in PNG nationals holding key positions in all of its projects.
"The goal is to have a close to 100 percent Papua New Guinean workforce at all levels of our operations," he says.
"We are commercially oriented, obviously, and we are definitely not shy in employing innovation, but what I believe sets us apart is our staff at all levels and the passion they bring to their work notwithstanding the challenges. A company is only as good as its workers, plain and simple."
VIEW Innovative Agro Industry BROCHURE