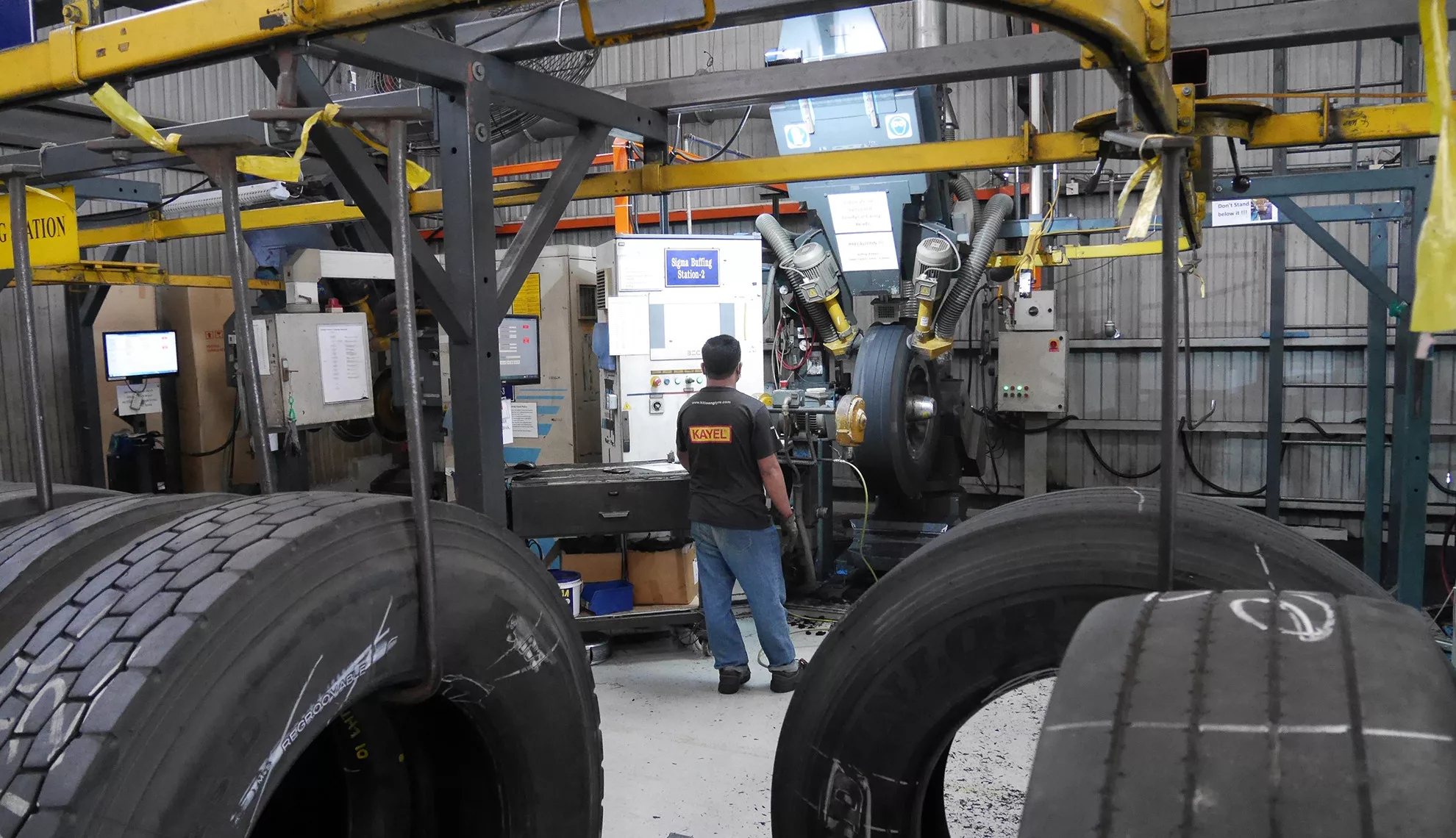 Keeping the Wheels in Motion
Kit Loong Commercial Tyre Group is helping companies across
Malaysia to remain on the road, its comprehensive offering underpinned by unrivalled expertise, brand partnerships and technology
Writer: Tom Wadlow | Project Manager: Josh Mann
Roads, despite their comparative antiquity versus the likes of air and rail, are a backbone of commerce.
A critical element of a global multimodal transport network that millions of businesses rely on to move goods and people from A to B, highways continue to form key components of industrial strategies adopted by governmental authorities.
Malaysia is no different. Home to a mature road network which supports almost all industrial activity, the country is embarking on an improvement drive to make doing business even easier.
And progress is being made, both pushed from the government through projects such as the Third Industrial Master Plan (IMP3), as well as businesses who are looking to make Malaysia a competitive hub within Asia.
Indeed, the nation is already home to 1.2 million commercial vehicles which rely on its roads to serve their companies, and keeping these cars, vans, trucks and HGVs roadworthy is also big business, the tyre and related services market worth more than RM3 billion ($720 million) a year.
For Kenneth Teh, Group MD of Kit Loong Commercial Tyre Group, the sector represents a vibrant, fast-moving field of work that is subject to constant evolution.
"The increase of imports from China has obviously been a real disruptor to the established world-renowned tyre companies, who still have very strong brand kudos here, but are now operating in a system where they are fighting to outline value versus cost. Unfortunately, they are not as organised and consistent in this market as they need to be," he explains.
"We are finding this is the most interesting development. Standalone cost became the key measurement for a while, but we are seeing a shift to operations starting to look at the wider picture."
Safety, in particular, forms part of this wider picture.
Kenneth continues: "Safety is of paramount concern everywhere in the world, but particularly in Malaysia with our highly mixed road traffic composition and network of mostly two-lane highways. The commercial vehicle industry is very attentive to this and playing a big role in increasing the safety of its vehicles, particularly when it comes to tyres.
"The government here is heavily looking to enforce more stringent measures around road safety and is hoping the wider transport community will pick up newly introduced standards, such as ISO39001:2013 on road traffic safety management systems."
And it is this which prompts Kenneth to outline three major challenges facing the tyre industry in Malaysia, challenges which Kit Loong Commercial Tyre Group is actively addressing through its own activities.
The first is a lack of discipline and knowledge, and resultant lack of 100 percent adherence to regulation, while the second revolves around brand and product confusion, a problem which leads to wastage when tyres are used for the wrong application or if the right maintenance programmes aren't in place.
"The final challenge is modernisation," Kenneth adds. "Technology is playing an increasingly important role in the sector, but it is still in its fledgling stage in Malaysia. Adoption of available technology is slow, mainly due to prohibitive costs currently, but the industry knows it needs to adapt, and is working to find solutions that apply well to Malaysia."
Knowledge is power
So, how is Kit Loong Commercial Tyre Group addressing the three challenge points highlighted by Kenneth?
In the area of discipline and knowledge, the Group MD points to decades of experience and accumulation of knowhow.
"Old, hard-won knowledge over 88 years of operation, getting the right product and enforcing the highest standards, along with understanding our customers' operation through big data and technology to give clear, consistent advice, are what stand us apart," says Kenneth.
"Our team's knowledge, with our dedication to helping clients enforce key standard operating procedures, mixed with a compulsive focus on honesty, is what makes us who we are."
This is evident in the company's safety-first approach to business (SC3), achieved through Competitiveness (operational efficiency), Cost effectiveness and tighter Control.
For instance, it helps customers choose the optimum tyres for their fleet via its diagnostics assistance service, while also providing complete outsourced maintenance or ad-hoc maintenance support, what Kenneth sees as the most critical element of any fleet's drive to prolong tyre life.
Spreading intel is also paramount to solving the knowledge and discipline conundrum. Here, Kit Loong Commercial Tyre Group can provide over 400 hours of training, covering topics from the importance of tyre maintenance through to practical courses on tyre repair procedures and importance of proper inflation pressure.
This, alongside seminars for company owners and industry representatives, helps to portray the message that a focus on safety leads to a more profitable organisation.
Kit Loong Commercial Tyre Group also draws on the knowledge and brand power of its manufacturing partners, helping to answer the second challenge surrounding product confusion and wastage.
"The products are important, but as part of a wider sustained effort to create longer life, such as SC3OCT," says Kenneth. "We work with most major brands as one of the largest commercial tyre distributors across Malaysia – these include Michelin, Goodyear, Bridgestone and Continental, as well as up and coming brands such as Giti and Triangle to tailor our offer to the needs of our customers.
"We base our decisions on what will deliver the best cost per kilometre for any operation. This means addressing the fleet needs and company culture but without sacrificing safety, which is always the key standard we operate by.
Beyond brand partnerships, Kenneth is quick to praise the wider supplier network that the company relies upon in its everyday operations, many of them being long-term partners to the business.
"We know we operate in a super-connected and interdependent industry, so we rely on them and them on us for continued success," he continues. "Alongside this, our client relationships are just as important. For us, the key to the whole supply chain is knowledge sharing between all parties to make the whole greater than the sum of its parts.
"However, we face an interesting challenge in Malaysia in how to share our knowledge beyond our suppliers and clients. We see a lot of initiatives with great intentions from the government and public bodies, but the issue is always how to effect change.
"We are working hard on finding methods to share knowledge, offer support and contribute our knowhow to the improvement of the industry in general, but it's not always easy in a market that can be quite traditional and resistant to change on the ground."
Connected by technology
Technology may prove to be a facilitator of the knowledge sharing mission referred to by Kenneth, who circles back to the third challenge faced by the industry, which is the relative slowness of digitisation.
Again, Kit Loong Commercial Tyre Group is meeting this head on thanks to its embracement of digital solutions, no better demonstrated than by its platform KLConnect. Described by the Group MD as underpinning everything the company does, the system tracks a tyre's life from cradle to grave.
Automated alerts for routine and immediate maintenance are provided to clients based on tyre condition and length of time on the vehicles in question, while data can also be analysed to determine whether casings are suitable for retread.
Such data can be presented in real time to clients through various devices, with full reports provided on a tyre's durability over its life, meaning clients can make better decisions when choosing which tyres to use in the future.
KLConnect also powers Kit Loong Commercial Tyre Group's new, ultramodern retreading plant in Shah Alam.
A vital part of prolonging a tyre's life, retreading carries with it both environmental and financial benefits for commercial fleets.
"We spent many years investing and learning from renowned brands to make sure we have the most efficient retreading plant in Malaysia, if not all of Asia," comments Kenneth. "We now have a capacity to produce over 1,000 pieces a day, but the key to our success is the efficiency of the plant, powered by our KLConnect technology and aided by ISO process compliance.
"Retreading a tyre saves roughly 70 percent of the energy and natural resources of a new tyre, and a lot of people don't know that tyre casings are made to be retreaded roughly two to three times – with passenger vehicles it is rare, due to the cost and infrequency of tyre replacement. However, for commercial vehicles where costs and CSR are critical, retreading should make up a large part of a company's tyre mix. For instance, 80 percent of all aircraft tyres are retreads."
The plant is loaded with four Spectra detector machines, three shearography machines, three Matteuzzi computerised buffing machines, three AZ hot feeding extruders, six curing chambers, one of which is industry 4.0 ready, (IoT connected) and three high pressure test machines, Kit Loong Commercial Tyre Group operating three models when it comes to retreading. Customers can either send their own casings or sell casings which the company then upcycles and sells to other buyers, the third model involving projects for international tyre manufacturers and private brands.
Futureproofing
This state-of-the-art facility will no doubt serve to cement the company's position as a complete tyre management solution for commercial tyres in Malaysia, Kenneth's major ambition for 2020 along with the further enhancement of KLConnect, which is entering phase two of development that will see it launch as a standalone software-as-a-service product.
"Alongside this we will be re-launching our tyre rescue service Kit Loong 24-seven," he adds. "This will become an 'all you can eat' subscription model to give our customers peace of mind that they are always covered for one fixed cost.
"We are also driving home our safety message by providing free training and seminars to the industry on the importance of getting it right. Mobile retail is another area we're looking at with our dealer partners, as physical stores are no longer the be-all and end-all."
The company's ambitions also carry an internationalist outlook.
It already works with several suppliers on outsourced projects worldwide, and Kenneth hints at the potential to work across the region in a franchise model when the moment presents itself, with Thailand and China identified as candidates for future expansion after its domestic goals have been fully realised.
The luring of Group Marketing Manager Michael Hutt to the business in June 2019 is also testament to its forward-thinking ethos, his words providing a fitting conclusion to why Kit Loong Commercial Tyre Group will be setting the agenda in Malaysia (and beyond) in years to come.
Hutt says: "Having worked in marketing for the best part of nine years across Europe and the USA, I was living in Malaysia when I was introduced to Kenneth Teh. Having not worked in tyres before, I was a little apprehensive that I didn't have the industry knowledge.
"However, after meeting Kenneth I was massively enthused by his forward-thinking mentality and plans for the next five years, essentially aiming to bring the tech world to the tyre industry.
"Having a background in tech, I saw a fantastic opportunity to work in a still-growing industry and bring new assets and business models to a sector that was prime for this type of disruption. Kit Loong has a fantastic network and a very strong base from which to grow and develop."
VIEW Kit Loong Commercial Tyre Group BROCHURE