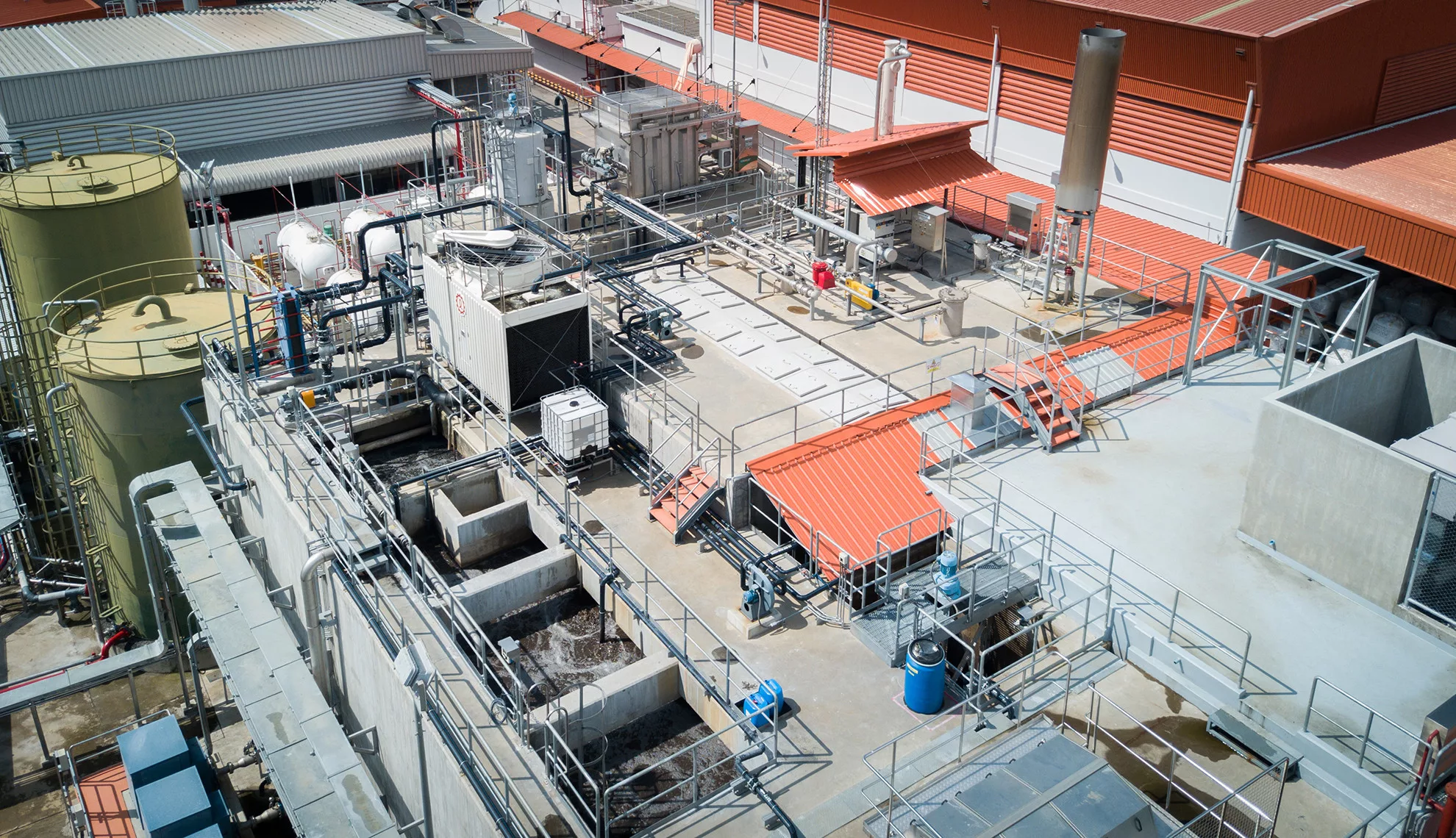 Untapping Potential
The need to safeguard and manage water sustainably is more important than ever, and Veolia Water Technologies is leading the charge with clients across the food and beverage sector
Writer: Tom Wadlow | Project Manager: Matthew Cole-Wilkin

Water, despite covering 71 percent of the earth's surface, is facing unprecedented pressure to supply our needs.
Although the planet is blanketed by oceans, it is freshwater that holds the key to sustaining so much natural and manmade life. Whether it be plant photosynthesis, rearing animals or human hygiene, it is unquestionably our most precious resource.
The problem? Just 2.5 percent of water is fresh, and 99 percent of this is not easily accessible, the vast majority trapped in glaciers and snow.
Industries therefore face a battle to locate and preserve enough water to meet their requirements, the food and beverage (F&B) sector being the most prominent example.
"Water is the lifeblood of the F&B industry," asserts Thomas Debruyne, Market Manager (F&B) & Digital Transformation Manager, Veolia Water Technologies, Asia Pacific. "The water footprint for the production of common F&B products reflects the pressure that the industry has placed on freshwater resources.
"Who would have imagined that 150 litres of freshwater is required to produce a small cup of coffee? Or that breweries produce, on average, four times more wastewater than beer, with the potential to harm the environment?"
The statistics are unrelenting. For instance, 70 percent of global freshwater withdrawals are made by the F&B industry, which includes the agriculture sector, making it the world's largest user. By 2050, these volumes are forecast to increase by 70 percent.
Having previously played down risks associated with water availability, food and drink manufacturers are beginning to act, knowing that high-quality water used for manufacturing, and wastewater for discharge that comply with evolving local authorities' regulations, are vital to meeting heightening regulatory benchmarks.
"A growing group of leading F&B manufacturers are now becoming more concerned with water risks," says Debruyne.
"They realise the implications that this has on their companies' bottom line, and also their ability to be more 'waterproof', which includes using consistent high-quality ingredient water, minimising water discharge, and maximising water, gas and waste re-use. Additionally, investors are understandably becoming more and more inquisitive about how MNC's are mitigating their risks associated with water management."
"On top of that, with growing consumer interest in environmentally-conscious and sustainable products, these companies are more careful in managing these risks that have significant impact on their reputations."
APAC – untapped potential

In Asia Pacific, the opportunity to improve the management of water is almost boundless.
Governments are passing legislation to tighten up on standards, which is leading to a greater demand for more advanced solutions, while consumers are increasingly scrutinising the quality and provenance of products.
Couple this with the fact that the F&B industry is the fastest growing in the region, and an enticing prospect is emerging.
"This presents an exciting space for us to be working in, due to the various risks that come with the industry's growth," comments Debruyne. "This is especially the case since Veolia is well-equipped to address many risks such as water scarcity, reputation management, and regulatory compliance."
Indeed, Veolia Water Technologies is uniquely placed to lead the charge towards sustainable water management across APAC.
With its Asia Pacific headquarters in Kuala Lumpur, the company has been present in the region for more than 35 years, providing unique water, wastewater, and reclaim solutions for municipal and industrial customers, from process design to complete turnkey installation and maintenance services.
This is backed up by a portfolio of 350-plus technologies. These solutions include but are not limited to full water re-use solutions, energy-producing sludge treatment, equipment complying with the latest hygienic design requirements and regulations, and mobile water services.
These services are deployed across 14 Asia Pacific countries by a team of over 1,100 employees, and for Debruyne, the decision to join Veolia (first in 2011) was a straightforward one.
"Realistically, companies only choose to invest in projects and associated technologies that have a quick return on investment," he says. "Though I am convinced that we are at a cornerstone today, as water management risks have never been greater, water is still a subsidised commodity, so many companies find it difficult to justify any investment in more sustainable solutions.
"But this is beginning to change as people are seeing greater value in long-term returns, and I'm happy to be a part of this change. Joining Veolia was an easy choice for me as the group has the capabilities to support clients from all industries in their pursuit for sustainability, managing resources like water, energy, and waste."
Transformed by technology

The aforementioned arsenal of technology is key to Veolia's efforts in supporting such sustainable transformation endeavours.
"Features like predictive maintenance and real-time optimisation tap on the latest innovation in IoT and artificial intelligence-based analysis, bringing about a plethora of benefits," adds Debruyne. "These include allowing treatment plants to automatically adapt to various events and reduce operational expenditure."
Veolia's AQUAVISTA™ platform is a case in point.
Created in response to customer calls for data-driven optimisation in water and wastewater treatment, this cloud-enabled digital service platform comprises four modular bricks – Portal, Plant, Insight, and Assist.
These programmes enrich users' aggregated data through a combination of algorithmic applications and human process expertise, helping customers achieve operational efficiency and quality compliance.
"Through long-term product development and focused client consultation, Veolia recognised some common needs across customer accounts," says Debruyne.
"These include the desire to reduce non-compliance events and unscheduled maintenance, minimise energy and chemical consumption, and access up-to-date information about installations' operational conditions.
"With AQUAVISTA™, plant personnel now have a monitoring tool to efficiently control connected plants and water treatment equipment. This provides operators with real-time remote monitoring of equipment data, dynamic alarm management, and information, leading to long-term improvements in efficiency and productivity."
An example of this in action comes from Danish utility company BlueKolding, which installed AQUAVISTA™ Plant at all four of its wastewater treatment facilities and sewer network. The move has enabled it to better manage upgrade costs, and to optimise energy use, sludge production and recirculation, and chemical usage.
Futureproofing food and drink

Within the F&B segment, Veolia Water Technologies works with clients all over the world, including several multinational giants.
In Thailand, it has partnered with Associated British Foods (ABF) on a wastewater treatment project which demonstrates what can be achieved on a confined plot of land.
Debruyne explains: "ABF had required the wastewater treatment plant to be built within its existing manufacturing grounds. Due to the compact design of its water and wastewater solutions, Veolia was able to work within ABF's parameters without compromising on the plant's performance.
"Now, ABF's wastewater treatment can be performed on premise, with capacity for higher flow requirements projected into the next decade. This project also won us a distinction in the Global Water Awards for Industrial Water Project of the Year in 2018."
Another example cited by Debruyne is with Swiss manufacturer Nestlé in Qingdao, China.
"The project demonstrated Veolia's ability to help customers manage water challenges in compliance with local discharge standards," Debruyne continues.
"In our experience, multinational corporations and their subsidiaries tend to have high internal standards that are often more stringent than what's required by local regulations.
"In line with Nestlé's global initiative to reduce the company's environmental footprint through better water and wastewater management, the Nestlé team at the Qingdao plant decided to recover COW Water (generated by milk production) and reclaim secondary effluent."
The results to date have been emphatic.
Thanks to Veolia's expertise and solutions, the Qingdao operation is progressing towards its target to reuse 925 cubic metres of treated water a day from 2021 – it is currently reusing 750 cubic metres of treated wastewater on a daily basis, the equivalent of six Olympic-size swimming pools.
Projects such as these leave Debruyne confident that more companies will come on board and choose to upgrade their water and wastewater treatment processes.
"Innovative technologies allow F&B manufacturers to adopt zero liquid discharge policies with great returns and lowered exposure to risks, especially in areas where water scarcity is high," he adds.
"With the right technologies in place, F&B plants can boast positive energy balance by reusing treated waste and wastewater. These manufacturers will also find it easier to justify new investments which would not have been considered in the past."
Having proven there is a return on investment to be made, Veolia's 350-strong portfolio of proprietary technologies will continue to lead the way in APAC's F&B water management revolution, a trend which is gathering momentum.
"We are observing a growing trend where more and more companies are prepared to invest in improving the way water is managed at their sites," Debruyne states.
"F&B manufacturers are now looking at the 'true cost of water', which estimates the overall cost by taking into account the costs of managing water and the often-unforeseen expenses related to risks involved in operations, changes in regulations, and reputation."
For Veolia, the market is opening up in front of it, presenting a tremendous opportunity to grow and make a genuine difference.
Debruyne concludes: "Our expertise and product portfolio are applicable to the complete site water management – from ingredient water and process water to re-use and discharge solutions that leverage maximum resource recovery. Coupled with our F&B industry experience, Veolia will continue to contribute to sustainable development in the region through our unique solutions and services.
"We're also looking ahead to keep up with the myriad of challenges faced by water and wastewater professionals, especially in the area of smart water management through our AQUAVISTA™ digital platform."
"Our competitive advantage is in our advanced technologies and industry expertise. Hence, we are focusing on how we can turn even the most innovative technologies into modular and robust solutions. We want to mobilise these swiftly and at a competitive rate."
VIEW Veolia Water Technologies BROCHURE