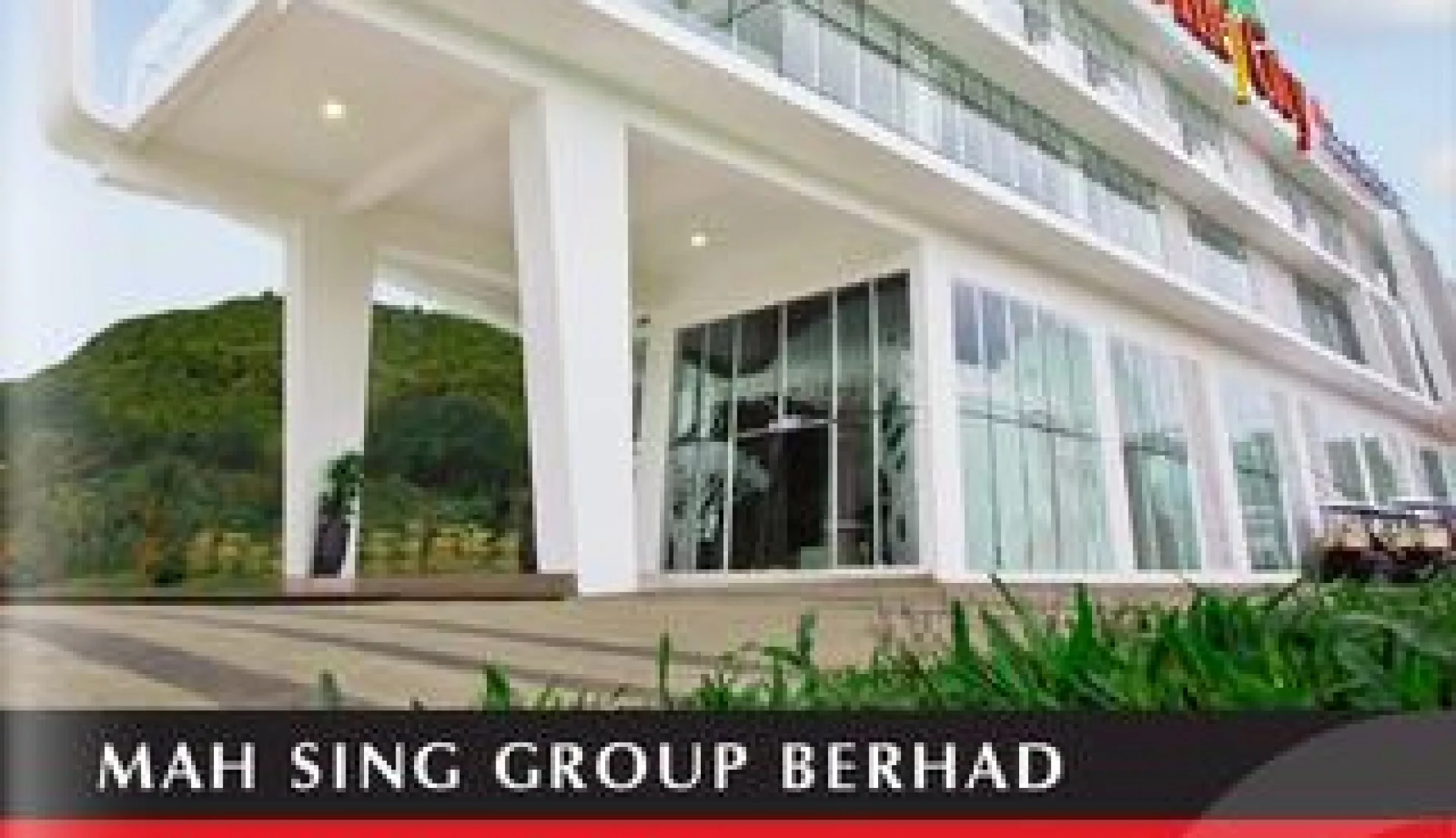 On Song Sustainability Surpasses Industry Demand
Writer: Matthew Staff
Project Manager: Joe Palliser
Mah Sing Group Berhad is looking to maintain its focus on providing affordable homes to the mass market segment in 2015 as it continues to enforce its position as Malaysia's leading property developer.
Incorporated in 1991 and listed on the main market of Bursa Malaysia, the Company has been at the forefront of building quality homes and commercial projects in strategic locations for the subsequent two-and-a-half decades; proving flexible enough to take on a vast array of projects, while simultaneously entrenching a familiar and reputable ethos into the wider market.
As such, the Group has a comprehensive portfolio of 48 projects – both past and present – to display, similarly promoting the high standards that Mah Sing has become so renowned for in Malaysia.
Spread throughout the country's economic nexus and property hotspots – including the Klang Valley and Greater Kuala Lumpur – the Group Founder, Managing Director and Chief Executive, Tan Sri Dato' Sri Leong Hoy Kum is proud of the achievements that have been accomplished so far, and the lives that have been enhanced as a consequence of the Mah Sing offering.
"The Group has proven its versatility with a diverse range of projects, from medium to high-end residential properties to Grade A office buildings, retail projects, SoHo and industrial projects," he says. Regardless of the product series, all our products carry hallmarks of innovative designs and quality finishes, majestic grand entrances, security, extensive landscaping and greenstreet concepts.
"We will continue to build eco-sensitive and environmentally friendly developments so that our homebuyers can enjoy life amidst greenery, in harmony with nature."
Winning more than 100 domestic and global awards in the process, the Group's notoriety regarding product design, concept, innovation and quality are the tangible results of Mah Sing's operations, but the benefits provided by the overall offering go far beyond that.
Tan Sri Leong continues: "One of the most fascinating aspects about our involvement in the property development industry is our ability to enhance the lives of our buyers and investors.
"That is the idea behind Mah Sing being a premier lifestyle developer. Hence, we are committed to building quality homes, further to building a holistic community.
"With each of our properties, we wish to impart a lifestyle that is a step up from what our purchasers have experienced before. This includes having exclusivity, security and amenities that address their lifestyle needs.
"To our investors, we present a high value property that has good capital gains as well as rental yield, suiting their investment strategy."
Elite development
Incorporating areas of sustainability within its areas of operations, as well as a flagship corporate social responsibility (CSR) platform via the Mah Sing Foundation, the Group's philosophy regarding the enhancement of lives is most prominently evident through its portfolio of projects.
Of the 48 undertaken, 11 have already been completed with the remainder not only serving the upper end of the market but also addressing lifestyle improvements to the masses of home buyers.
"In fact, many of our properties meet the value for money demand of this middle income group who desire a higher quality of life within their affordable means," Tan Sri Leong emphasises. "Seeing that we are already among the elite of fully-integrated developers in the nation, we persistently innovate to improve on our delivery, quality, processes and operations."
Some of the major breakthroughs made recently in this area – complementing its numerous constructs in the Greater Kuala Lumpur and Klang Valley – include en bloc sales, the first of its kind in Malaysia's commercial property domain, and an increase in market capitalisation through which Mah Sing hit the RM4 billion mark earlier this year.
Arguably its most significant development at present however, is the Group's Southville City@KL South project, as the Group CEO explains: "Mah Sing's Southville City@KL South is a sustainable mixed-use township development that aspires to create a cohesive master plan which delivers a conducive and safe environment. Further to this, the township also aims to draw both multi-generation living and the working community.
"Mah Sing is also working towards building a vibrant and sustainable business and commercial hub within Southville City itself which will also benefit the surrounding neighbourhoods."
The 428 acre freehold development has an estimated gross development value of RM8.3 billion and is the epitome of accessibility, successfully bringing major, global industrial operators into the area, and decorating the township with a host of modernised homes, offices, retail premises and leisure facilities to create the ultimate in integrated living.
"At Southville City, Mah Sing envisions an integrated township where all walks of life come together," Tan Sri Leong adds. "Through a cohesive approach in master planning and the size of the land acquired, we have the opportunity to create value-adding features; to innovate landscape designs for a safe and conducive environment for both pedestrians and cyclists.
"We also have the opportunity to master plan and string the right products together, to activate both the morning and evening catchment for business sustainability, and to deliver appreciating value."
Customer satisfaction
Value appreciation is a concept familiar throughout the Mah Sing offering, as a proven market-driven developer who also rolls out a series of relevant products to the sector; again at accessible prices and in line with existing demand.
"We believe in product branding and differentiation which suits market needs, hence we build products that are rightly priced without compromising the quality of the product," Tan Sri Leong notes. "To establish customer satisfaction, we continue to focus on quality, customer service and effective customer relationship management.
"Further to this, over the past two decades we have also established working relationships with a good panel of suppliers and contractors who work seamlessly with our staff."
Additionally, Mah Sing also strongly believes in and implements extensive after sales service to further enhance levels of customer satisfaction; further enforced by its M Care initiative set up as a one-stop professional service to provide myriad services including renovation, interior design consultations and relocation services.
"M Club is a distinctive buyer loyalty programme especially created to provide additional benefits to house buyers where members can enjoy buyer-repeat purchase discounts, buyer-get-buyer rewards, birthday surprises and many more exceptional benefits," Tan Sri Leong says.
Constantly upgrading
To facilitate such exceptional quality as an end product, the internal processes within the Group have to be similarly refined, and nothing epitomises this more within Mah Sing, than within its employment strategy.
The key, according to Tan Sri Leong, is the embedment of loyalty within the business, and the Group CEO describes himself as "blessed to have a good and loyal team".
"I treasure members of every department and their experience and skill. They have control over the different parts of the business, whether it be business development, sales and marketing, project planning and management, CSR or other areas," he continues. "Externally, the Company is always on the lookout for fresh talents, while internally, we do not rest on our laurels and are constantly upgrading ourselves.
"Staff from all levels are encouraged to attend regular strategic training for improvements and to keep up with the market demands."
Staff development occurs from top to bottom throughout the Group, with motivation, training and remuneration key pillars behind maintaining what is an award-winning array of talent.
"We are pleased that we are recognised as one of the best companies to work for in Asia by the HR Asia Awards," Tan Sri Leong says. "We were also awarded the Best Company for Leadership Award by IAIR Awards and the Best Managed Company in Malaysia by Euromoney Awards."
Building quality homes
Bridging the aforementioned projects, continuous improvement strategies, value proposition and internal development; the end result is a market positioning and industry reputation that Mah Sing has attained in being a world-class regional developer.
Tan Sri Leong states: "Our mission is to become the most respected and highly diversified Group fully committed to continuous enhancement of our core businesses.
"We are committed to developing our people through effective human resource strategies that are closely aligned to the Group's business strategies. Our staff are innovative, creative, competent and, above all, loyal to the Group.
"Ultimately, we provide our customers with excellent quality products at competitive cost, prompt delivery and flexible service through our uncompromising commitment towards total customer satisfaction. Our shareholders are also assured of maximum returns on their investments and we will continually play a major role in community development."
In 2015, these facets will see Mah Sing Group maintain its focus on providing affordable homes to the mass market segment, while intensifying its marketing efforts to differentiate and diversify its range of properties across various growth locations, in line with market demand.
Tan Sri Leong concludes: "Mah Sing is committed to building quality homes which are affordably priced in communities that offer comfort and convenience. Hence, careful thought is given to incorporate safety features, environmentally-friendly features and facilities.
"We believe that quality does not depend on price range; we want our customers to be proud of their homes."
VIEW Mah Sing Group Berhad BROCHURE