As a market-leading subsidiary of TIME dotcom Berhad, AIMS Data Centre Sdn Bhd (AIMS) is optimising its investment power and customer base to expand its already internationally renowned products and services.
THE CENTRE OF MALAYSIAN TECHNOLOGY
AIMS is once again thriving as Malaysia's leading carrier neutral data centre operator and managed services provider, capitalising on its role as one of TIME dotcom Berhad's most significant subsidiaries.
Beginning life in 1990, the business has had to diversify, adapt, transform and rebuild over its 25-year history to reach its current, internationally-renowned status. Overcoming competitive sectors and ever-changing market demands, it is in the arena of data centres where it has conquered and expanded from ultimately.
"AIMS offers state-of the art facilities for equipment housing with unparalleled connectivity options," the company states. "Maintained round-the-clock by expert staff, our data centres are equipped to the highest industry standards; 24-hour security, clean agent fire suppression, robust cooling system and uninterruptible power supply (UPS) with back-up generators."
Alongside its core data centre offering, exists an extensive range of managed IT services from procurement to the deployment of software and hardware, working closely alongside its ever-increasing range of international customers.
These customers benefit from AIMS' turnkey services across cloud technologies, content delivery, disaster recovery and carrier management to achieve an all-under-one-roof offering which looks set to reach an even more widespread demographic of both carrier and enterprise customers in the future.
STRENGTH TO STRENGTH
AIMS' current industry positioning doesn't tell the whole story of the business's diversification and development however. The company has proven its ability to overcome challenges that are now synonymous with the Group's legacy.
Chief Executive Officer (CEO), Chiew Kok Hin recalls: "The Company started in 1990 as an IT business by nature, doing all the things you would expect under the umbrella of technology.
"In 1994, we ventured into becoming the first commercial ISP in Malaysia, which we performed very well in."
The rapid expansion that subsequently occurred was both a gift and a curse as the company built its reputation in the industry but struggled to juggle the diverse and extensive range that customers now expected of the AIMS brand.
"I joined in 1997 and while we were in the red for a couple of years, by 2000 we had turned the company around," Chiew continues. "We chopped the businesses that weren't achieving profitability and divided the retained three into separate business units."
It was at this point that AIMS began fully capitalising on its data centre potential, this division being complemented by a premium internet access offering and, thirdly, a continuation and improvement of its managed engineering services surrounding these two facets.
The CEO adds: "We went on to grow these three businesses which lead to our business growing two-fold every year. By 2011 we were back in the black again and we've doubled our revenue and profitability ever since."
This resurgence came amid arguably its most significant strategic advancement through its acquisition by Malaysian giant, TIME dotcom. Combining the three entities in 2011 – AIMS as the country's leading data centre player, and TIME as Malaysia's second largest fixed line incumbent – the resulting Group structure has launched AIMS' recent market domination as it continues to "leverage the Group to go from strength to strength", Chiew emphasises.
EXPANDING COVERAGE
Despite the inevitable enhancement of notoriety and capital power that came through its acquisition, AIMS was keen to ensure it lost none of the entrepreneurial flair or customer-focused philosophies that had initially made the business so successful.
"One of the reasons behind our success at AIMS was the fact that we were neutral and provided equal access to all carriers," Chiew explains. "When we were bought by TIME dotcom in 2011 we were then seen to be only a part of a telecoms company, but I think over the years we have shown through our behaviour, investments and customer engagements that while we were a 100 percent subsidiary of TIME dotcom, we were still retaining the philosophies we had shown prior to the acquisition."
In less than two years, any lingering concerns among customers had been allayed, with customer confidence subsequently reaching an all time high.
This, in turn, provided AIMS with an opportunity to not only improve its services in line with close customer collaboration and demand, but to also expand geographically, as Chiew notes: "As well as in Kuala-Lumpur, we since formed a presence in Penang and Cyberjaya, the ICT hub of Malaysia.
"Since then, we have gone down south to Johor and have also set up a satellite in East Malaysia, in Sabah. Late last year we also expanded into Singapore. Our geographic coverage has expanded alongside our products and services which are introduced to compliment our data centre services."
With the extra capital investment power available to AIMS, combined with a wider footprint than ever before and a more multinational demographic of customers than ever before, the company is in a prime position to keep ahead, not only of its competitors, but of the overall industry curve.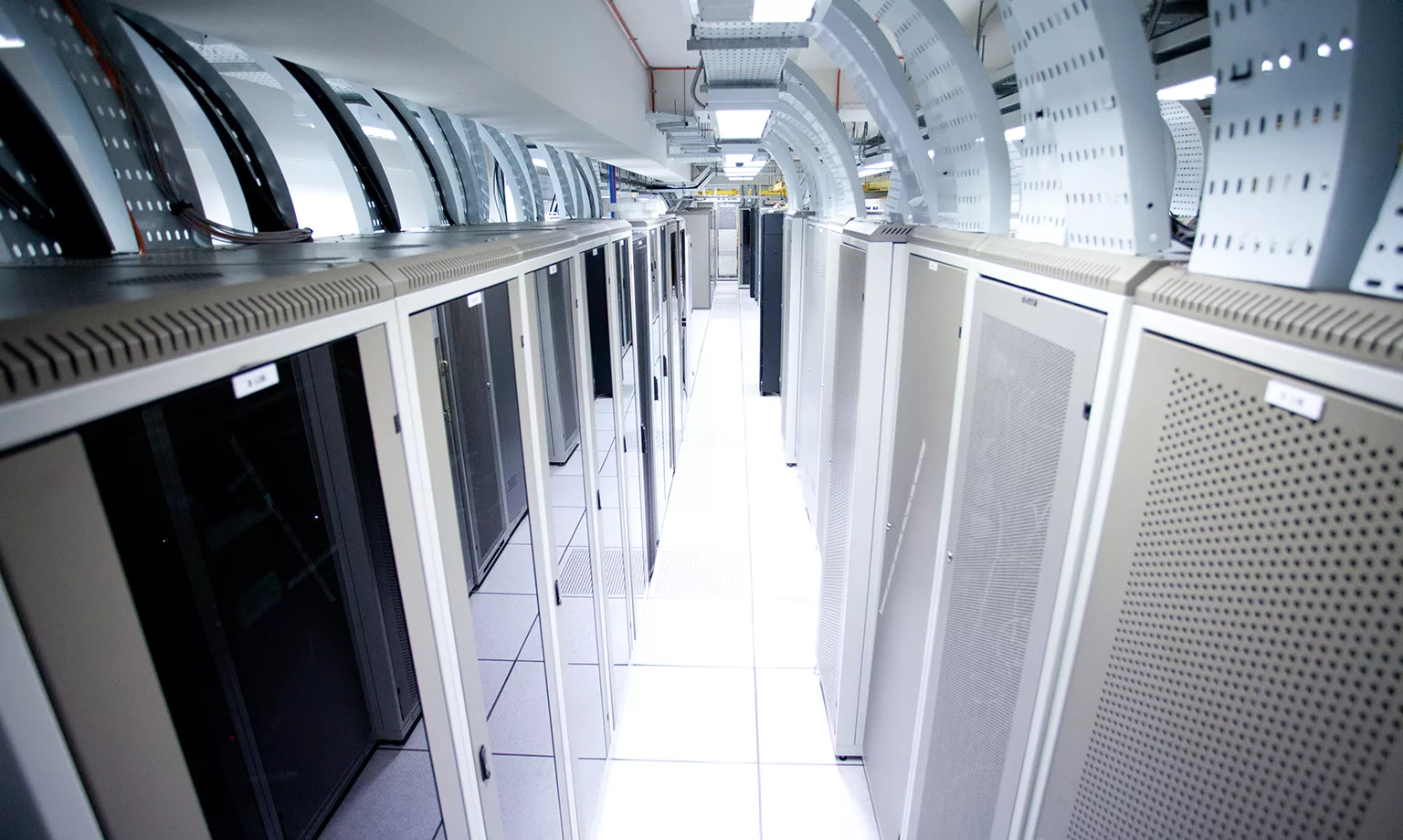 AHEAD OF THE CURVE
A key trend that this ability has incorporated in recent years stems from eco concerns and improving efficiencies throughout its core data centre operations.
Traditionally a challenging sector in which to be energy-efficient, any forward strides made in improving the situation resonate not only with onlookers and analysts, but especially with potential customers who are under similar pressures to partner with environmentally-conscious organisations.
"We are the first multi-tenanted data centre in Malaysia to invest and adopt the Dynamic Rotary Uninterruptible Power Supply (DRUPS) – a fully green and environmentally friendly UPS that leverages on the stored kinetic energy of a spinning flywheel instead of the battery bank used by conventional UPS systems," Chiew says. "This is a significant milestone in terms of making ourselves a greener and more efficient data centre.
"We also embarked on other initiatives like cold aisle containment and pre-cooling to further reduce our carbon footprint. At the same time, to ensure efficiency, we have an R&D team which deals with nothing but monitoring these new trends."
AIMS' compliance with international standards while bringing its own innovation and uniqueness to its services makes it an even more appealing proposition to customers, worldwide, and as the Group's external influence continues to expand and advance, its internal influence on the workforce is having an equally beneficial impact.
Chiew adds: "It's a continuous process; setting a philosophy and educating our people to that. The majority of the people understand and many have been with the company for more than 10 years.
"They have seen the changes that have transformed the company to what we are today and understand that they need to continuously change also."
FUTURE GROWTH
The most recent change has been in its target market, adding an enterprise element to the existing carrier demographic traditionally benefitting from the AIMS offering. With a 90 percent market saturation of the latter market in Malaysia, Chiew is confident that similar success can be replicated in the enterprise domain, albeit with a slightly altered service.
"We went into the enterprise market 18 months ago with the view to showing the same commitment and expertise we have within the carrier industry," the CEO says. "Over these 18 months we have learnt a lot in terms of adjustments we need to make for enterprise customers.
"We now have all the certifications needed to ensure we are able to meet their market and regulatory needs. We are seeing a healthy growth in this segment."
Looking forward, this is a key area in which AIMS intends to grow in the future, once again proving itself as a dynamic and proactive business in what is still a relatively young, but competitive data centre market.
Supported by its ongoing expertise in internet services and advanced technologies, as well as its continuous TIME dotcom backing, the business is now in a better position than ever to also expand further internationally; the likes of Indonesia, Thailand, Vietnam and Myanmar all potential regions in which to replicate its success.
Chiew concludes: "This year, we will concentrate on embarking on these strategies and we have the necessary tools and resources to go deeper into the enterprise segment.
"The message we always want to send to customers across every segment is simple; we know what you need, just leave it in our hands."