We speak to Jonathan Wigley, Group General Manager of Camco Engineering, and discuss the company's history in the manufacturing industry, its expert teams in the field, and its current digital developments.
AUSTRALIAN INDUSTRY SOLUTIONS
"'Excellent customer service' is written on the back of our business cards. We live by that every day, and I believe this is a significant part of what separates us from the competition."
The words of Jonathan Wigley, Group General Manager for Camco Engineering (Camco), sums up his thoughts on the company's place in the market.
"Our core values are service, accountability and integrity," he tells us. "Our customers know that they can call on us at any time and they will receive a constructive response that is focused on solving their problem."
Camco is a comprehensive, integrated mechanical engineering business that provides time critical engineering solutions to the most progressive businesses in Australia, and since 1995 has continuously and reliably been delivering high-quality products and services to its clients across the region. These industry clientele include those within the mining, oil and gas, energy (including hydrogen), rail, and defence sectors. With approximately 350 permanent staff, Camco operates primarily from its base in Perth, while also providing specialised site services.
"We operate 24/7 and 365 days per year," Wigley informs us. "Our dynamic and responsive staff understand that the cost of production downtime for our customers is substantial, and our aim is to offer an efficient solution that keeps their operations going."
The majority of Camco's ongoing contracts are directly with end users who are blue chip, international organisations. The company's primary services include the offsite refurbishment of assets with an emphasis on improving service life and reliability to an 'as new' or improved condition, which includes all the associated manufacturing processes and final acceptance testing.
This encompasses precision machining, gear cutting, mechanical fabrication, specialised welding and mechanical fitting. Camco's specialised site services include repairs and upgrades to production assets as well as the management of ship loading capabilities at many of Australia's liquified natural gas (LNG) facilities.
"Camco occupies a significant footprint within the Perth metropolitan area, with approximately 24,000m2 of workshop space – there is no job too big for Camco to handle," Wigley says. "This workshop space is complimented by a similar area of yard space for storage, laydown, loading and unloading. Our main workshop facilities are based in Canning Vale and Belmont in Western Australia, with both facilities in close proximity to major transport routes offering ease of access to all industry hubs."
The company prides itself on providing outstanding customer service and solutions delivered in a safe and timely manner, and that are tailored to the specific needs of each client. It is this commitment to its clients' needs that has resulted in Camco gaining a reputation as a leader in mechanical engineering across each of the industries it operates within, and Wigley has had the privilege of watching the company's growth for more than two decades.
"Our customers know that they can call on us at any time and they will receive a constructive response that will solve their problem"

Jonathan Wigley, Group General Manager, Camco Engineering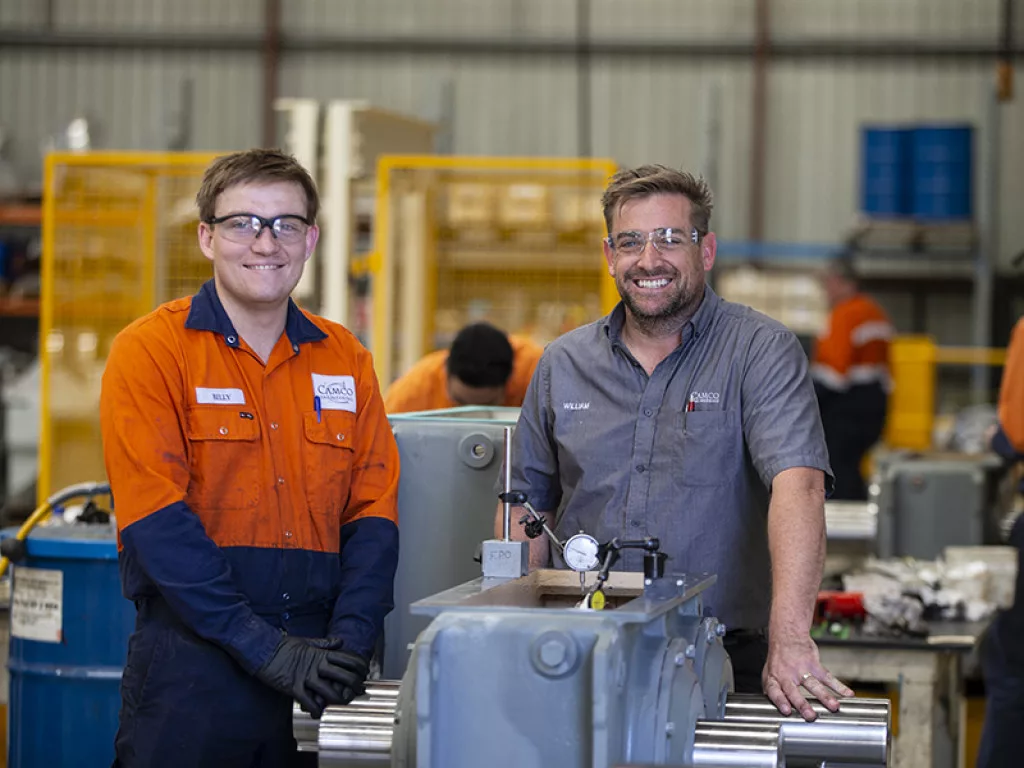 FROM PAST TO PRESENT
Wigley graduated in economics before spending time in the finance sector prior to his place with Camco. The finance sector fuelled Wigley's drive for results, and 21 years ago, when the chance arose for him to join the company, he took the opportunity.
"I was effectively there to do whatever needed to be done, and at that point Camco was a small business," Wigley reflects. "Despite that, it was growing fast. Camco engaged directly with the end users and required systems in place to deal with commercial, QA, HSE, HR and other aspects of the workplace.
"I was appointed as General Manager 12 years ago as our growth trajectory really started to climb. And since then, working in the manufacturing industry has given me the opportunity to gain experience in a range of interesting areas such as commercial contract negotiation, quality assurance systems, pricing strategy, production technologies and methods."
This growth exists currently, and as part of the company's upwards trajectory, the owners of Camco have committed significant capital in the construction of two new bespoke manufacturing workshops. Totalling nearly 4,000m2, the concrete column constructed buildings includes lifting capacity of up to 90 tonnes each. One of the new workshops will be utilised as an Advanced Manufacturing Facility for upcoming projects in the defence sector.
DIGITAL AGE
Wigley's journey with Camco has carried him through a revolutionary period of time; one in which digital and technological advances have underpinned and spearheaded businesses and their success. Skip forward to the present day and Camco is continuing its push to become a digital environment.
"The company's movement into becoming paperless is a cultural shift but we are developing tools that allow for efficient image capturing when it comes to condition reporting and traceability," Wigley continues. "There has also been a strong focus over the past two years on physical and personnel security, as well as cybersecurity. We have recently achieved Defence Industry Security Programme (DISP) Entry Level accreditation to support the management and control of Intellectual Property, especially for our customers.
"DISP accreditation includes a stand-alone server with strict access controls and has also resulted in greater physical security as well as cybersecurity. All new employees are security screened prior to employment with Camco in accordance with the relevant Australian Standard."
"Training is intrinsic to what we do, and upskilling staff is an ongoing and important process"

Jonathan Wigley, Group General Manager, Camco Engineering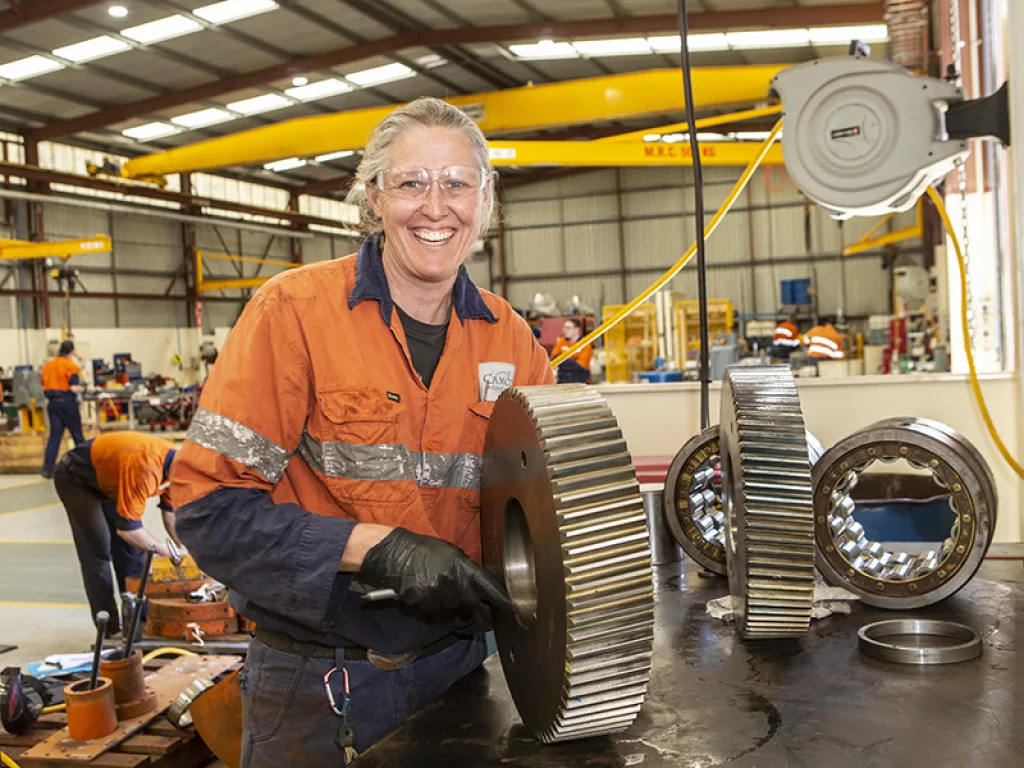 WORKPLACE DEVELOPMENT
These employees are the backbone and the fuel behind Camco's past and continued success in the Australian manufacturing space. The Camco team primarily consists of full-time permanent staff that are trained to a high level and are vital to the company's day-to-day function.
"Training is intrinsic to what we do, and upskilling staff is an ongoing and important process," Wigley elaborates. "A part of this upskilling process is our apprenticeship programme. Since inception, Camco has employed apprentices and generally aims at maintaining a ratio of one apprentice to every 10 tradespersons. This is spread across the various engineering trades and across the apprenticeship year levels. Departmental rotations allow every apprentice to receive comprehensive and rounded training across engineering in general as well as specialised, trade specific skill development."
Camco also has an Innovate Reconciliation Action Plan (RAP) endorsed by Reconciliation Australia. According to Wigley, with a commitment to providing long-term career pathways for Aboriginal and Torres Strait Islander peoples, Camco are well underway with their contribution towards a reconciled Australia.
"Our Indigenous Engagement plan is underpinned by utilising our apprenticeship and traineeship programmes as the pathway for training and to provide a long-term career pathway and meaningful employment," he tells us.
"Looking to the years ahead, we know that our current employees, as well as those to come, will ensure Camco's existing business fundamentals; to consistently deliver a quality product, on-time every time and at the right price for our long-standing resource-based customers."