George Abraham, Managing Director of Hickory Group, promotes prefabrication as a time-efficient and environmentally sustainable alternative to traditional construction.
PREFAB ON THE RISE
There is high demand for reliable, sustainable construction methods.
Prefabrication – the practice of manufacturing building components offsite and assembling them onsite – could help fill this void.
Ensuring that materials are accurately calculated, the ability of prefabricated construction to control the amount and processing of waste further promotes environmental sustainability.
"Promoting prefabricated building methods over the medium-term could help to mitigate many of the current cost hikes and labour shortages currently being felt across the construction industry," opens George Abraham, the Managing Director of Hickory Group (Hickory) since 2018.
A global pioneer in prefabrication, Hickory is a privately owned Australian business that has steadily evolved into one of the country's most diverse property companies.
For more than 30 years, Hickory has continued to invest in researching and developing people, platforms and products to advance the capabilities of the built world, with expertise in construction, developments, data centres, and manufacturing.
"Hickory, and our associated divisions, are at the forefront of innovation and new technologies. From conception to completion, our documented 'Hickory Way' methodology enables us to mitigate risk on high-rise projects and consistently deliver exceptional outcomes," Abraham tells us.
"We are so much more than just a construction business. We have the expertise in many divisions to create a full lifecycle of the built environment.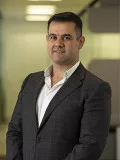 RETHINKING CONSTRUCTION
Hickory's patented prefabrication building technology, Hickory Building System (HBS), takes the majority of the building structure offsite and delivers an innovative, technological alternative to the construction of high-rise projects.
The system enables a parallel track construction programme, reducing construction time by up to 50 percent compared with traditional concrete and column construction methods.
It also dramatically minimises construction waste, noise pollution, traffic congestion, and overall build time, whilst increasing public and site safety to provide better outcomes for the local community during construction.
The HBS building process begins with an engineered concrete floor, load bearing columns, fully fitted wet areas, and a building façade. Large building components are preassembled prior to delivery to the site, offering exceptional structural stability and enabling fit-outs to quickly progress behind the protection of the pre-attached façade.
Delivering a turnkey building solution to clients from foundation to final completion, HBS is ever evolving.
"We are currently manufacturing HBS Generation 8, which is being used to construct a 57-storey tower in the heart of Melbourne CBD. This prefabricated system is post-tensioned, reducing wet joints and propping required onsite," reveals Abraham.
It will be the very first Meriton Suites Hotel, complete with 298 luxury hotel rooms as well as two top-floor penthouse suites.
The serviced apartment building will feature more spacious rooms than a traditional hotel, with accommodation options including separate bedrooms paired with a large lounge and dining space.
Each individual suite will also include a gourmet kitchen with European-style applications, as well as flat screen TVs in the master bedroom and living area.
FORAY INTO FAÇADES
Parkline Place, meanwhile, is Hickory's first façade package outside of its own construction projects.
This 39-storey premium office building above the new Pitt Street Station northern entrance will become Sydney's newest landmark, forming a vibrant commercial hub.
"Hickory's in-house façade team is providing an end-to-end delivery solution through the design, procurement, manufacturing and installation phases," Abraham tells us.
The podium at Parkline Place will comprise curved double-glazing units (DGUs), supported by slimline steel over clad mullions and external sandstone fins that have never been attempted before at seven metres high.
Elsewhere in Sydney, Hickory recently completed its first tower, at Sydney, the world-renowned Ace Hotel.
Designed by Bates Smart, the hotel consists of 264 guest rooms and is built on a nine-storey heritage federation free style warehouse known as 'Tyne House', constructed in 1915-16.
"We are incredibly proud of the Ace Hotel," Abraham smiles.
"We now have an established team in Sydney, and our presence in the market is growing steadily."
"Promoting prefabricated building methods over the medium-term could help to mitigate many of the current cost hikes and labour shortages currently being felt across the construction industry"

George Abraham, Managing Director, Hickory Group
DATA CENTRE DRIVE
Redefining the provision of digital infrastructure within Australia and beyond is Hickory Data Centres (HDC).
HDC combines extensive knowledge and experience in property development and innovative construction technology to build, own, and operate hyperscale data centres, powering global leaders in digital technology.
As HDC builds its foundations in the Australian market, covering new locations driven by cloud infrastructure expansion, it has recently partnered with STACK Infrastructure (STACK), a leading global developer and operator of data centres.
"Together, we are currently constructing a 72MW campus in the high-growth hyperscale corridor of Truganina in Melbourne's western suburbs," shares Abraham.
"The facility is expected to be delivered early in 2023, and will include two 36MW buildings with separate access points to accommodate multiple users with separation of security and services. In parallel, STACK Australia is also expanding into Canberra and Perth."
Hickory, whose highly experienced data centre management team will join the STACK global platform, is well-positioned to help concurrently develop efficient facilities across these three key Australian locations.
Partnering with STACK enables the company to leverage an outstanding global operating platform and innovative capital solutions, to target hyperscale customer growth in key markets.
"Partners and suppliers are the backbone of our business, and we wouldn't be where we are today without the support of all those who we work with on a day-to-day basis," Abraham notes.
"As well as strong partnerships, our success is achieved through exemplary values and unrivalled excellence in project execution. With self-performance, vertical integration, standardised processes, and the combined experience of over 1,000 members of the Hickory family, we've worked to become experts in our field."
BUILDING THE FUTURE
Hickory prides itself on developing the industry's most capable, confident, and hands-on construction professionals.
The company's culture of innovation, learning and growth is achieved through unified construction professionals, talented new recruits, and a visionary executive team that leads by example.
"This approach is how we retain a loyal and enthusiastic workforce, and consistently deliver award-winning projects," recognises Abraham.
"Many long-term, key team members have over 30 years of industry experience, and are responsible for the world's most iconic landmarks.
"We are made for the next generation, with our graduate programme developing the skills and confidence of our future leaders, while fast-tracking their professional development, learning and careers," he adds.
Hickory believes that all employees have the ability, integrity and desire to innovate and perform to the highest level. As such, graduates are offered great learning opportunities to help them reach their career goals.
Learning from a range of professionals, graduates also receive coaching and practical support from Hickory's experienced site management personnel.
"Our success is evident, with many of our graduates progressing confidently into management positions within a few years of joining Hickory."
Hickory is building future leaders in construction at a time when the company is confronting several challenging headwinds, such as increased material costs, labour scarcity, and a reduced appetite for risk from subcontractors.
"We are focused on delivering our current workbook to the highest standard, and more than ever, we need to keep a very close eye on our operations," Abraham concludes.