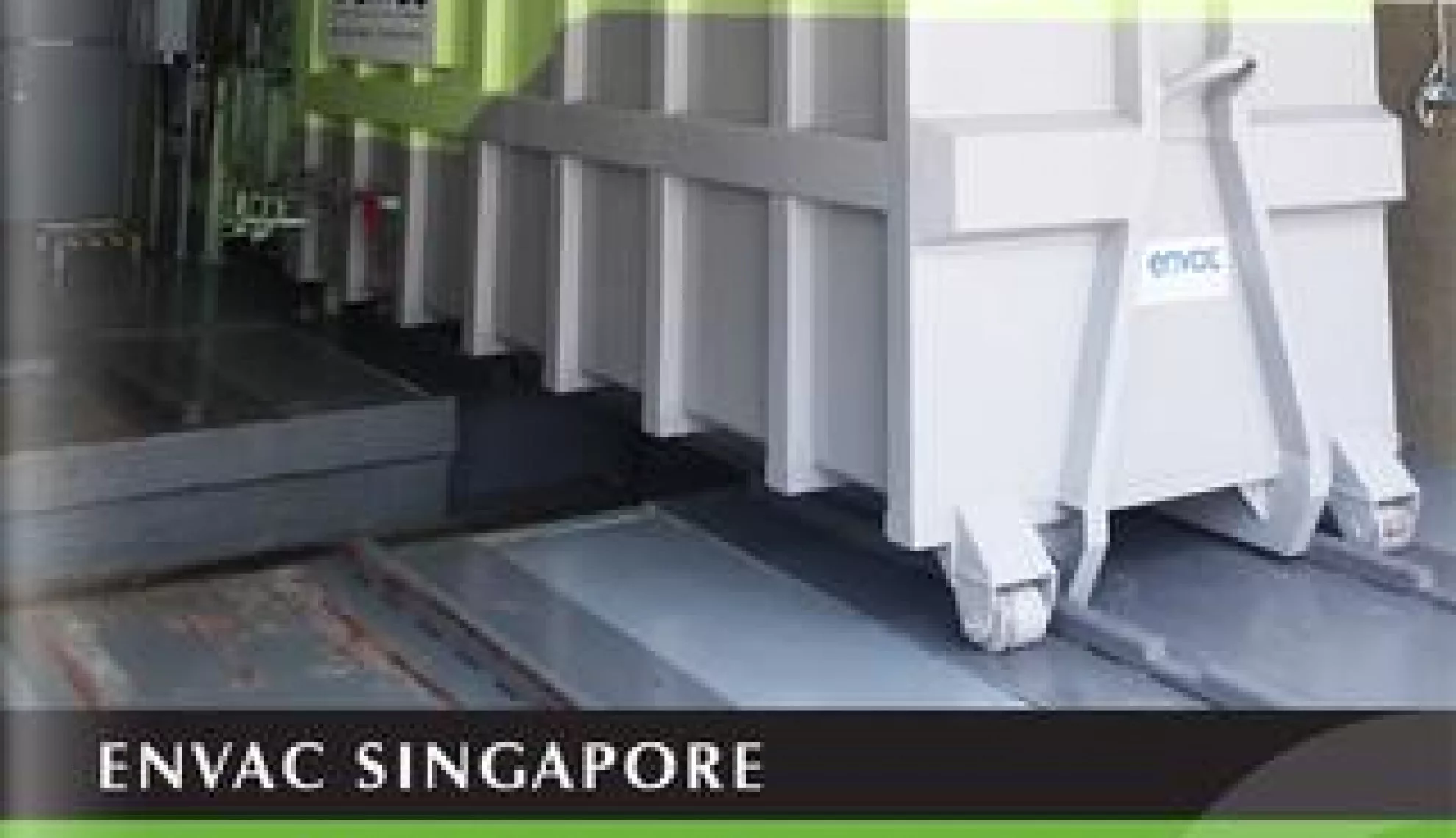 A Forward-Looking Approach to Smarter Waste Management
Writer: Emily Jarvis
Project Manager: Tom Cullum
By aligning with the Singapore Building and Construction Authority's green buildings initiative, which will see 80 percent of the country's buildings certified green by 2030, Envac Singapore has been able to unlock new strategic growth opportunities and explore further innovative waste management solutions in the tech capital of Asia.
Since establishment in Singapore in 1992, Envac has built a solid reputation as one of the early pioneers of automated refuse collection systems (ARCS) for waste, street litter and soiled hospital linen. A fully-owned subsidiary of the wider Envac AB Group – a strong player in the industry since 1961 – Envac's Singapore operations have adapted to the local Government's more recent drive to push for smarter and more sustainable methods of energy saving and waste efficiency.
"When we started out, the technology surrounding waste management was the limiting factor in the country. Additionally, it was quite challenging as the local market lacked a forward-looking approach towards the benefits of adopting a more efficient and greener automated refuse collection system; something that had already been adopted in some of our other locations globally," recalls Tan Chin Tiong, Regional Vice President at Envac Singapore, who has headed the Company since its inception.
"Today, however, there has been a worldwide shift to finding greener, cleaner and more sustainable solutions to waste management, and Envac Singapore has greatly benefitted from this increased visibility; unlocking new opportunities created by the country's Housing Development Board (HDB)."
Sustainable solution
The Envac system promises to be a welcome replacement for the previous waste disposal scheme that has been in place in Singapore since 1989. According to the Housing and Development Board (HDB), "flats built before 1989 use the Individual Refuse Collection System (IRCS) for waste disposal. Residents will dispose their waste through the hoppers and into the collection bin at the bottom of the refuse chute. The waste is then manually collected and stored at the bin centre before being removed by the National Environment Agency's (NEA) Public Waste Collectors".
This labour-intensive process involves collecting and transporting waste from individual refuse chutes to the bin centre openly. The open nature of the collection process can result in waste spillage, bringing about sanitary, odour and pest problems, with regular washing also required to keep the estate clean.
"Envac's technology is an alternative to this refuse collection system, promising to create a better quality living environment for all," says Tan. "The system transports waste through a Pneumatic Waste Conveyance System (PWCS), using a vacuum-type underground pipe network to collect household waste, which is then transported through underground pipes to a sealed container. Trucks then periodically collect the waste from this central location for disposal. The entire waste collection process is automated – we can start, stop and identify issues through a computer system, even remotely through our smartphones via an app – thereby reducing manpower requirements and increasing productivity."
Through the PWCS, the environmental and sanitary issues associated with open refuse collection methods are reduced. The large number of waste and hygiene challenges that Envac's solution can mitigate has become the driving force for the Company's success in the past two-three years.
Mr Tan explains: "We are living in a very small and densely populated area, which means hygiene becomes a key factor to consider. Traditional waste management methods involve a significant amount of collection vehicles which contribute further to the heavy traffic. Moreover, recent healthcare challenges, such as the SARS outbreak, has made it difficult to get people to handle waste directly and has made this method unsustainable and inefficient. Therefore, our largely automated waste collection methods are having a positive effect on more than just the way we dispose of rubbish, streamlining the whole value chain."
Smart cities
Identifying the problems with the existing waste collection methods, the Singaporean Government and local institutions are now supporting the use of Envac's technology in the public sector. With 80 percent of Singapore's population living in HDB housing, this provides huge opportunities for the Company to capitalise on in the coming years.
"Since HDB came on board, our typical project sizes have grown from waste management for a couple of hundred residences, into the thousands. Our value proposition fits perfectly with the Government's drive for smarter living and smarter cities; which invariably has a waste management aspect.
"By adopting the smart cities model, we can track the amount of waste collection, we are able to introduce features to increase the rate of recycling, track energy consumption and monitor the whole waste flow. We have just rolled out this system in Yuhua, the largest PWCS set-up of its kind so far," Tan says.
Adding value to the Company's main revenue stream, Envac is now able to offer a retrofitting service to existing residences through its new interest in brownfield projects.
He adds: "This is a new market segment for us that brings with it exciting challenges. Meanwhile, we have also entered the healthcare market, where we now offer to handle general waste and dirty linen for a number of hospitals."
While increasing its project portfolio, Envac's technologically-advanced solution has also attracted a new wave of local workers to the industry; a welcome development in light of a shortage of labour, especially in the waste handling industry.
Tan explains: "Traditional waste collection has long been an unappealing job at first glance. However, the Envac solution presents a very different picture. With heavily reliance on automation and technology – such as our app and remote monitoring systems – we have been able to give waste management a new identity, which is attracting young local workers into the industry."
A greener future
Supported by the Envac Group's wider success, industry expertise and the changing global sustainability targets, Envac Singapore is in a strong position to demonstrate its local commitment and further ingrain its innovative waste management solutions into a nation that strives for a smarter, greener future.
"Going forward, the Government will play an important part in our success here and with Singapore often considered a technology leader, we hope that there will be continued momentum and emphasis on the country's future, and that Envac's waste management technology will be an influential part of this future," Tan states.
By cooperating with the Economic Development Board (EDB) to encourage research and development into this space to answer the specific needs and requirements in Singapore, Envac's aptitude for continuous improvement will no doubt lead to the creation of further refined localised products and services that make the system more effective.
He concludes: "Envac wants to be at the cutting edge and always meet the people's needs. Continuous improvement will form part of our strategy to keep our solutions up-to-date with industry trends, local demand and client expectations; and we will continue to invest time and money to retain our forward-looking outlook."
VIEW Envac Singapore Pte Ltd BROCHURE