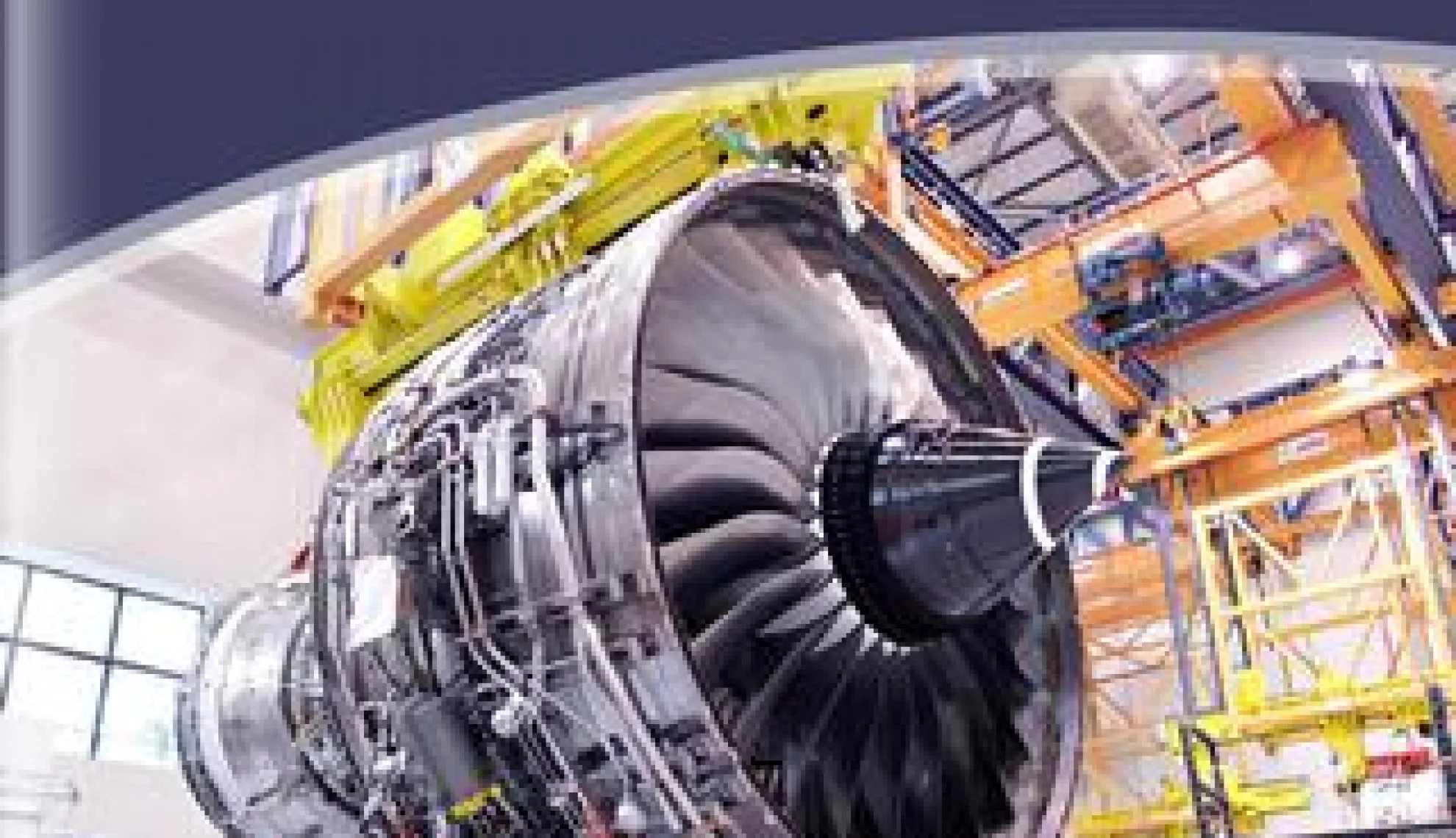 Servicing the Best by the Best
Writer:Matthew Staff
Project Manager:Tom Cullum
For the best part of two decades, Singapore Aero Engine Services Private Limited (SAESL) has diversified, expanded and innovated its way to prominence in becoming the MRO operator of choice for some of the biggest names in the aviation world.
Incorporated initially in 1999 as part of the first ever order by Singapore Airlines for Rolls-Royce engines, the successful completion of this project set the tone for the following 18 years, with the Company's facility since expanding four times.
The addition of a dedicated component repair facility in 2010 has been followed by the addition of its own extra-large test cell in 2014, extensive new offices, and enhanced Trent 1000 and Trent XWB build space in 2015 to further solidify SAESL's evolution in the market – now alongside its merged sister Company, IECO – and from a team of just 15 in 1999, the current complement of more than 1,000 employees across three state-of-the-art sites epitomises the Company's influence in the present day and the rapidity of its overall development.
"Singapore Aero Engine Services Private Limited (SAESL) is a joint venture Company between Rolls-Royce Plc and SIA Engineering Company which, since inception, has become a market leader for both engine overhaul and component repair services," adds the Company's Vice President of Customer Business and Procurement, Simon Morris. "[In total], SAESL has serviced more than 2,300 engines, supporting more than 26 customers on all continents, and while employing more than 1,000 employees on its three sites located in the shadow of Singapore's Changi airport.
"With annual revenues of around $2 billion, SAESL is key contributor to the Singapore aerospace community."
Can-do attitude
As a result of SAESL's sustained business growth throughout the 1990s, 2000s and 2010s, the Company has continuously been able to reinvest its profits into ongoing facility expansions, service diversifications and general business improvements.
Consequently developing new capabilities for both its engine overhaul and component repair arms, such development has culminated in numerous accreditations and certifications being awarded, and even more industry firsts being achieved.
"SAESL's engine overhaul business is the only facility in the world that can service all current products in the Trent engine family," Morris offers as an example, "and this includes for Trent 500 (Airbus A340), Trent 700 (Airbus A330), Trent 800 (Boeing 777), Trent 900 (Airbus A380), Trent 1000 (Boeing 787 Dreamliner™) and Trent XWB (Airbus A350).
"The engine overhaul business has the capacity to repair and overhaul more than 300 Trent engines a year and it is equipped with a state-of-the-art engine test facility."
An indictment for such proactivity and positivity when it comes to internal growth for the benefit of its customers, is Singapore's wider attitude to industry as a whole; SAESL having adopted the city-state's 'can-do' attitude amongst its core values.
Morris continues: "Our highly motivated and enthusiastic workforce has enabled the Company to position itself as an extremely responsive facility that can adapt to emerging customer needs, and has supported Rolls-Royce and its airline operators through different maintenance and engine upgrade programmes over the years.
"SAESL has also established itself as a lead shop outside of the wholly-owned Rolls-Royce facility in the UK and has established capability for Trent 900, Trent 1000 and Trent XWB ahead of other facilities.
"It is also the highest volume shop in the network and maintains capabilities for the widest range of Rolls-Royce products."
SAESL's core values:
Safety
Communication
Integrity
Teamwork
Respect
Innovation
Customers on all six continents
Showing no signs of slowing down any time soon, SAESL's engine production rate is forecasted to double once again over the next five years, from 200 engines to 400 engines a year; a trajectory that is set to be influenced in large-part in 2017 with an initial rise to 270.
Simultaneously, and virtue of this trend; engine load, and component materials and design will result in the component repair side of the business tripling over the same period.
A key driver behind the forecast revolves primarily around the aforementioned induction of the Trent 1000 and Trent XWB engine types into SAESL's repertoire, compounded by an-ever increasing and diversifying portfolio of customers, as Morris explains.
"The customer mix is changing rapidly. Two years ago, we mainly serviced operators in the Asia-Pacific region, but recently we have expanded to take on customers on all six continents," he details. "This has included two North American customers (Delta and American Airlines); South American customers (Avianca and LATAM); African customers (Ethiopian Airlines); and a growing number of European customers.
"This is in addition to growing and new customers in the Asia-Pacific region; the number of airlines currently standing at 26 around the world but still growing. This is attributed to our dominance on Trent 1000 support, Rolls-Royce engine sales successes, and the de-regionalisation of the Rolls-Royce network to create more competition and choice for customers."
Centre of excellence
And with each new customer and new engine type, SAESL strives to also find new innovations, new processes and new expertise to keep itself of the industry curve, and to ensure that it remains the partner of choice in such a technically complex industry.
"A range of new component types introduced in the latest generation engines will require new advanced repair techniques, including additive layer manufacturing, and SAESL is positioning itself to create a centre of excellence in Singapore to work on this early development with the ARTC (Advanced Remanufacturing Technology Centre)," Morris notes."ARTC is a platform built upon strong partnerships across the supply chain, complemented by technical support from research institutes and academia.
"As the first Centre in Asia within the network of Advanced Research Centres (known as AxRCs), ARTC is headed by a capable core team. With a purpose built facility, ARTC is underpinned by world-class research expertise at A*STAR and NTU to rapidly create solutions and bring these technologies into industrial production capabilities to the benefit of all its stakeholders."
Joining the ARTC as a Tier 1 member in 2015, SAESL has since collaborated on new additive layer manufacturing techniques that will contribute greatly to the advanced design of its engines and components in future generations; a partnership enthusiastically lauded by Rolls-Royce who – thanks to an extensive repair development roadmap with SAESL – will see the introduction of at least four new commodities into its portfolio as a consequence of such commitment to innovation.
Workforce strength
"SAESL employs a workforce of over 1,000 highly skilled people with technical expertise and Trent engine knowledge.
"Our state-of-the-art working environment provides employees with access to the most advanced MRO techniques and training to support the growing Rolls-Royce Trent engine fleet.
"This includes new engine types including the Trent 1000 which powers the Boeing 787 Dreamliner and the Trent XWB which powers the Airbus A350 XWB." – SAESL
State-of-the-art test cell
With its Trent 1000 production already at full rate and Trent XWB in the offing imminently, the aforementioned need to improve internal manufacturing processes is compounded by an equally pressing need to drive efficiencies, sustainability, speed of manufacture, and flexibility of operations.
Accounting for all of these facets and more is SAESL's recently unveiled US$150 million state-of-the-art extension and new engine test facility in Singapore.
Already the only approved maintenance centre in the world with the capability to repair and overhaul every variant of Trent engine, the expansion and new engine test bed is the driving force behind the Company's increased overhaul capacity – from 250 to 320 engines a year – while also supporting productivity through advanced MRO techniques and optimised layouts as part of each manufacturing and assembly process.
The expansion increases the facility to more than 46,000 square metres and comprises optimised layouts that deliver improved productivity through efficient space utilisation and additional capabilities including fan case assembly and new vertical build capabilities.
These duel capabilities will greatly improve flexibility of our operations and allow us to offer significantly improved lead-times for our customers, this means engines back on wing sooner earning money.
Economic Development Board Director, Mr Tan Kong Hwee continued: "This investment is testimony to the successful partnership between SAESL, Rolls-Royce and SIAEC (SIA Engineering Company), and it is a significant addition to Singapore's MRO ecosystem.
"Aerospace is an important growth sector for Singapore. We are committed to partnering with companies to prepare for the future by building new capabilities and adopting innovative solutions to improve productivity."
Breaking ground not only in terms of innovation, but in sheer scale, the test cell is capable of testing engines of up to 140 inches in diameter and 150,000 lbs (or 70,000 kilograms) of thrust; providing SAESL with the capability to carry out full engine tests on all current Trent engines, as well as preparing for any new engines or capacity requirements in the future.
"SAESL employs a workforce of more than 900 highly-skilled people with technical expertise and Trent engine knowledge. The new state-of-the-art working environment will provide employees with access to the most advanced MRO techniques and training to prepare for new engine types, including the Trent 1000 which powers the Boeing 787 Dreamliner and the Trent XWB which powers the Airbus A350," a Company release emphasised.
Quality and safety
"Quality and safety are primary considerations for all operations undertaken by SAESL at all times. Evident by our Airworthiness approvals and other certifications attained, the integrity of our customers' engines and components are of the highest priority. To this end, we have established Quality and Safety Management Systems that ensure that our customers' needs are fully met, while complying with all regulatory and legal requirements.
"SAESL has established a culture of quality and safety that is embraced by all our employees, from the top management down to our competent workforce. This culture is nurtured through various training and awareness programmes, fostering an atmosphere of open reporting and prompt feedback between the leadership and the team, who form the backbone of SAESL's core competencies." – SAESL
Component repair
Since being embraced into the SAESL family, its component repair strand has become a significant contributor to the Company's own vertical integration ambitions and, thus, to the overall quality of products distributed to the global market.
In supporting in-house and global component repair demand, the division has the capability to repair more than 85 percent of the engine, including five accredited centres of excellence for fan blades, compressor blades, nozzle guide vanes, compressor stator vanes, and front combustion liners.
And in 2016, the Company compounded this market-leading strength even more concertedly via an amalgamation with International Engine Component Overhaul Pte Ltd (IECO); a world-class component repair Company based in Singapore and a readymade perfect fit when it came to a strategic merger for SAESL.
"This was a 50-50 joint venture employing 200 employees at its 5,000 square metre facility at Loyang, also located to the east of Singapore," Morris says. "This facility is a well-established centre of excellence for Trent and RB211 NGVs and stator vanes with a global customer base, and this merger greatly expands our in-house capabilities."
Once again positioning itself not only in line with current trends and demands, but with future saturation in mind, such a strategic merger could be pivotal over the next few years, where component repair activities are expected to triple in volume as a consequence of three key dynamics.
Morris lists: "Firstly, the engine volume increases within SAESL will drive increased component repair volumes, and this is not just an increase in engine numbers. As the installed Rolls-Royce Trent fleet matures, the work-scope increases too, generating a higher level of component repair per shop visit.
"Secondly, the highest cost of an engine refurbishment is the replacement of new parts, so in order to reduce costs for airlines, there is a need to develop more repairs that can extend the life of the parts and restore them to original design intent; improving engine performance and efficiencies through the life of the engine (which can be more than 25 years).
"Thirdly, new generation components include more complex materials, geometry and higher tolerances, which calls for MRO facilities to develop more technologically challenging repair techniques."
SAESL's mission
Providing best quality & turn-around times through innovative MRO solutions
Nurturing people and developing core competencies
Maximising stakeholder benefits and serving the community
Repair technologies
To plan for the forecasted growth in component repair volumes, SAESL is also currently drawing up its strategy to deliver extensive expansion in the area; looking into new technologies and processes to complement its capacity drive and merger activities.
Morris knows that to achieve this, any future investments need to address the changing requirements of SAESL's customers to fully support the future requirements of the industry as a whole; the first of these investment areas revolving around repair technologies.
"More specifically, repair technologies that can cope with ever-more complex parts and materials," Morris elaborates. "While this will be an ever-evolving journey, SAESL needs to build new capabilities that we already see will be different from today's traditional techniques.
"New manufacturing techniques are already on the journey away from castings, joining and material reduction methods to additive, printing and forming processes. With these techniques the MRO world will have to undoubtedly follow as the new parts become more complex."
To this end, SAESL is already beginning its journey courtesy of additive layer manufacturing developments where it is working alongside Rolls-Royce and ARTC to learn about such processes for specific applications.
"We expect this to be followed by repair requirements for more advanced materials such as composites and CMC (Ceramic Matrix Composites)," Morris adds.
Continuing along the technology theme, automation has also been earmarked as a pressing contributor to the success of component repair; breaking the norm slightly, where its adoption had previously been limited in MRO domains.
"Bespoke by its nature where a repair may vary in length, depth and geometry, autonomy has historically struggled to justify itself from an investment point of view," Morris explains. "However, the demands and ingredients have both changed to set the right environment for this to quickly progress.
"The demand now calls for more complex geometries, materials and higher quality specifications which require precision machines as well as the growing cost rate of human capita around the world. This all means that the newer adaptive automation can now more easily cope with MRO variation and very soon – with machine vision sensoring and AI (Artificial Intelligence) – these machines will be able to cope with complex repair decisions that highly experienced technicians accumulate over years of learning."
Automation isn't the only technological method emanating its way into the MRO consciousness either, with processes such as RFID tracking becoming an equally useful tool when it comes to managing unit traceability and production planning in the supply chain. Similarly, autonomous vehicles are also being explored as an area of interest for SAESL in the years to come as it looks to move parts between machines more consistently.
"The final investment possibility concerns our buildings, with any future buildings needing to address the sustainability requirements of the business and the community in which it resides," Morris concludes. "And across all of these parameters, the technologies and hardware will continue to be supported by SAESL's two core foundations: its data and its people."
VIEW Singapore Aero Engine Services Private Ltd (SAESL) BROCHURE