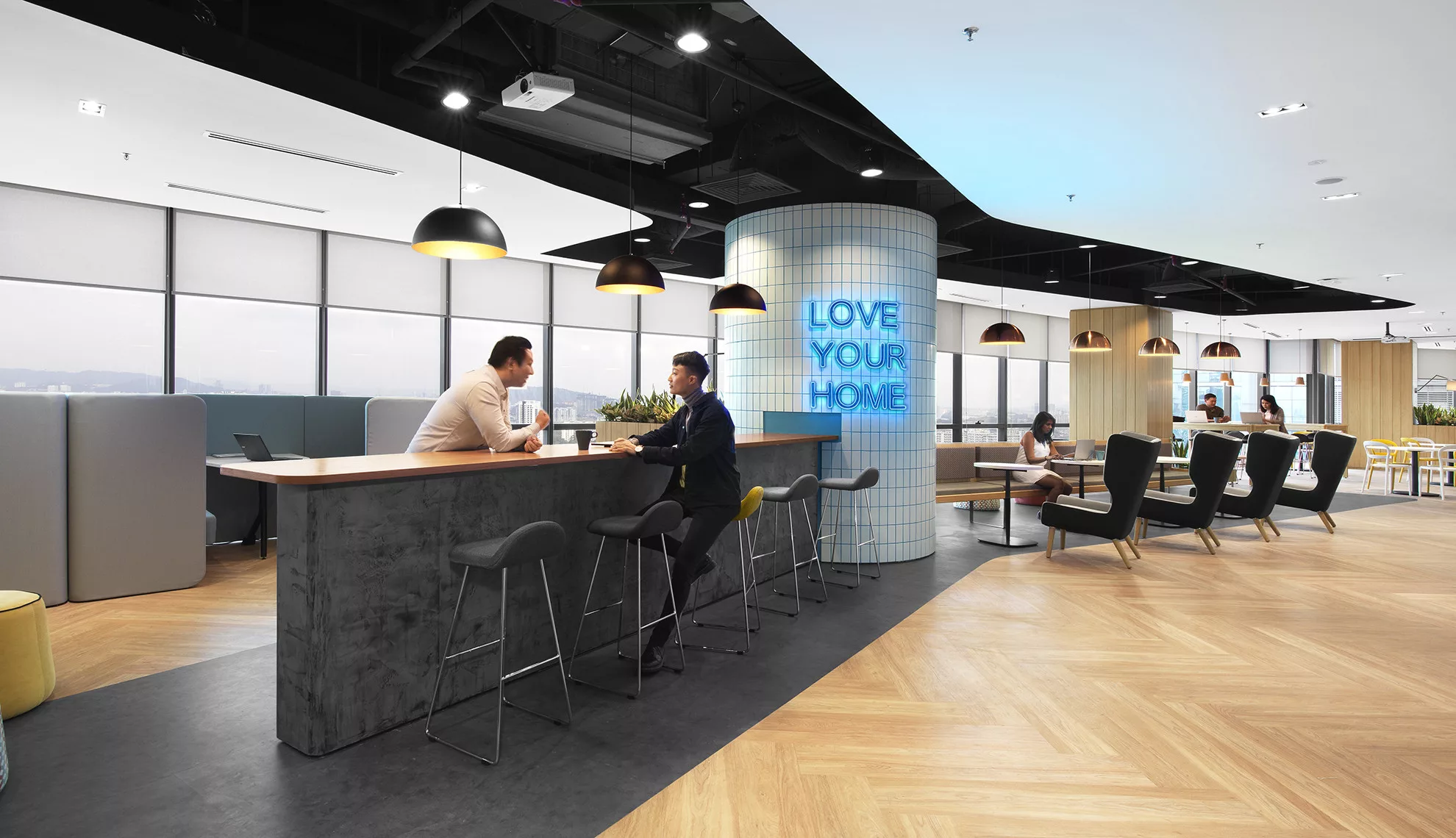 Designing Dreams
Having pursued his own dream to start his own interior design business, Jeff Choo and Ai Associates are helping people to live better, work better and play happier
Writer: Tom Wadlow | Project Manager: Ben Weaver
"Be prepared for the many challenges that lies ahead. It will not always be a smooth sail, but if you keep your sights focused on the dream that you want to create, follow your heart and it will eventually come true."
Jeff Choo has been following his dream ever since discovering a passion and talent for design at high school.
Now Managing Director of his own company, Ai Associates, he has built a career for himself having graduated with top marks through the educational system in Singapore, even being awarded the Singapore Design Council Gold Medal for being the best performing student.
"This was one subject that I fared very well in at school," he recalls. "I was spending a lot of time after classes in the technical workshop dreaming up the next big thing in furniture design. From the conceptualisation to the sourcing of materials and making it by hand in the workshop to seeing the final completed product – this is what gives me a sense of achievement."
His first job in the interior design space came at an international Australian firm, before entering a partnership to set up a new firm a few years later.
"I was faced with many challenges starting a new company and I was suddenly in a management position," he continues. "I had to manage other tasks like hiring the right talents for the different departments while at the same time still doing what I love most which is design.
"The company did well and also won many design awards in the few years I was there. But deep down I always wanted to build my own brand and create a company that I can call my own. So, after a few years, I sold my shares and left. I started Ai Associates – Ai standing for architectural interiors – at the age of 28."
Live better, work better, play happier
This was back in 2003.
Since then, the company has morphed into a regional one-stop interior design shop with offices in Singapore, Kuala Lumpur, Jakarta, Phnom Penh, Ho Chi Minh, Yangon, Shanghai and Beijing, its headcount now standing at 70 seasoned design professionals.
Its client roster is equally impressive, Ai serving many MNCs and Fortune 500 companies including American Express, Ocbc Bank, DBS Bank, Grab, Uber, Ricoh, NOL, Estee Lauder, Orsted, Ericsson, Dell, IBM, Metlife and Blackstone, to name a few.
The secret to Ai's success?
"There is a tagline that we use in Ai," Jeff says. "In all our designs, we strive to redefine and enhance the way people live, work and play. That is the basic fundamental, that design affects everybody's lifestyle. And if we start thinking along that perspective, then subconsciously our designs will help people live better, work better and play happier."
Such an approach has also been helped by a distinct lack of golden rules to design on the part of Jeff.
"I personally don't have a golden rule that we apply for every project," he adds. "I always encourage designers to challenge the norm and think outside of the box – that's the only way to constantly improve the future of design, in my opinion."
Knowledge exchange and experience sharing are a critical part of this.
Jeff was himself a beneficiary of close mentorship during his first passage of employment in Australia, learning the practical aspects of design that are not explored in school or college.
"I also had the opportunity to work in other countries like Malaysia, the Philippines and India," he says. "The skills I learned allowed me to excel as a designer and after a few years I was helping the company to win design awards."
Now the MD wants to offer Ai recruits the same valuable learning experience that he enjoyed as a graduate.
The firm has a dedicated HR department whose role is to ensure the best and brightest talent joins the organisation, with employees able to benefit from a learn as you work programme across all departments, an initiative which involves directors running coaching sessions and external experts giving regional video conferences.
"We believe in mentoring and nurturing our staff and giving all of them a career path in the company so that they have a better understanding of their potential career direction," Jeff adds. "As well as internal training, we also encourage our staff to go on courses to acquire certification and attend design talks and seminars which the company will sponsor."
Project pride
It is therefore little surprise that Ai's dedicated workforce is motivated to exceed client expectation, the company's ability to attract repeat business testament to this.
Jeff points to US tech giant Dell as the perfect example, Ai having been appointed on its second project in Malaysia.
"This project by far is one of the biggest that we have secured in Malaysia," he explains. "More than 240,000 square feet in size and spanning over a few floors, it will be executed in phases and we aim for it to be completed by the end of 2020.
"We look forward to forging a strong long-term working partnership with Dell and we are confident to once again deliver a successful project for them."
The MD also points to ongoing work with ride hailing service Grab, Southeast Asia's first startup with a valuation of more than $10 billion.
Here, Ai designed the interior of its current headquarters in Singapore, a project completed a few years ago which covers more than 80,000 square feet of space. This has led to further collaboration on Grab offices in the likes of Malaysia, Jakarta, Vietnam and Beijing.
Enduring partnerships such as this is what Ai has built its legacy on, and Jeff is determined to expand the brand across a greater portion of Asia and even beyond the continent in the future.
A new office in Ho Chi Minh City is due to open by the end of 2019, a move which will allow the company to target the city's growing commercial office market, one which Jeff believes will deliver 400,000 square metres of projects a year by 2021.
Indeed, the company's plan is to be present in most major Asian cities within five to 10 years, Manila being the next target before Ai looks to list on a stock exchange, a development which could open it up to growth outside of Asia.
Jeff concludes: "I believe we can push the boundaries further in terms of interior design in this region.
"And I am optimistic with the direction the interior design industry is moving towards as more countries in Asia are opening up to the world and being exposed to best practices in the industry. We will see more improvements made to improve and enhance the way people live, work and play."
VIEW Ai Associates BROCHURE