In the cleaning industry, GJK Facility Services is embracing technology and sustainability. We talk data, robotics and green cleaning with CEO, Elias Stamas.
CLEANER PLACES, SAFER PLACES
Every day, hard-working cleaners help to keep offices, hospitals, retail stores, schools and other buildings safe and hygienic.
People have continued to prioritise cleanliness since the COVID-19 pandemic hit, highlighting the vital role of professional cleaners more than ever.
Facility services companies, such as GJK Facility Services (GJK), have played a major role in keeping COVID-19 at bay, eliminating pathogens and minimising transmission in workplaces and public areas.
"We had a comprehensive pandemic plan, and through our work in the health sector, we had significant experience in infection control procedures, understood by a really strong team that works in environments which require a higher level of sterility," opens Elias Stamas, CEO of GJK.
"In January 2020, we trained up some 160 staff in infection control, so we were able to respond to our customers' needs immediately. With COVID-19 hitting Australia around March, we not only had cleaners that were appropriately trained, but we had the appropriate personal protective equipment (PPE), equipment and chemicals."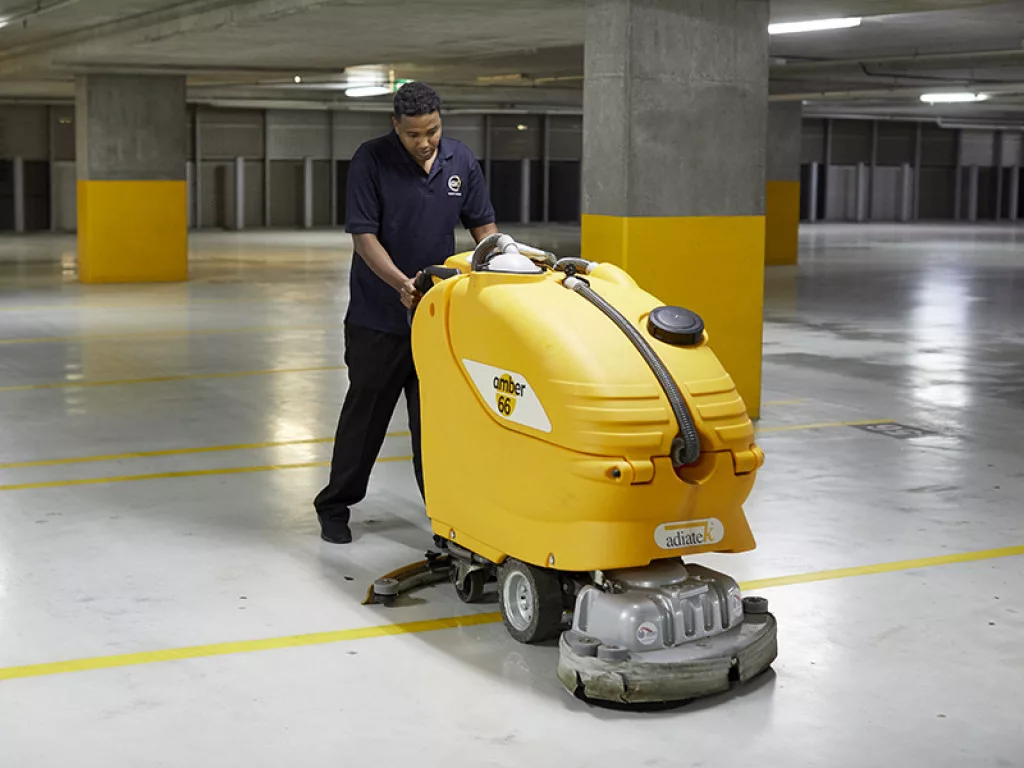 GOING THE EXTRA MILE
Cleaning remains vital in controlling not only COVID-19, but germs in general, so workplaces need to invest in facility cleaning services to keep staff and visitors safe.
Likewise, the appearance of offices, buildings or facilities can negatively impact brand perception if their premises look dirty, have unkept grounds, or have graffiti on the walls.
With over 30 years of experience, GJK is a leading provider of facility services, providing businesses with peace of mind that their facilities are always looking their best.
"GJK currently provides soft services across Australia and New Zealand, such as commercial cleaning, restoration, maintenance, grounds, and facility support services," Stamas informs us.
"We work extensively through the education space, specifically tertiary. We currently service eight universities across Australia. We're also heavily involved in the government sector, both federal and state, and we have quite a presence in the commercial space throughout the central business districts (CBDs) of all major Australian cities."
Services are delivered by GJK's talented and diverse teams, who are trained, equipped and motivated to go the extra mile for customers.
As a family-owned business, people are GJK's biggest asset, and the company looks to attract and retain the very best employees to become part of the family.
"We currently have over 2,500 employees. We've got a great team of people that have stayed, grown, and developed with GJK," says Stamas.
Indeed, many of those in senior positions have moved up the ranks, equipped with an intimate understanding not only of GJK, but of customers and their businesses.
"They're able to respond with that ability to quickly shift direction for the customer. I think that was highlighted particularly during the COVID-19 pandemic, to support our customers at the drop of a hat, but it's true of the way we have historically operated.
"Our hypergrowth through COVID-19 would not have been possible without the incredible team that we have here in the business," Stamas recognises.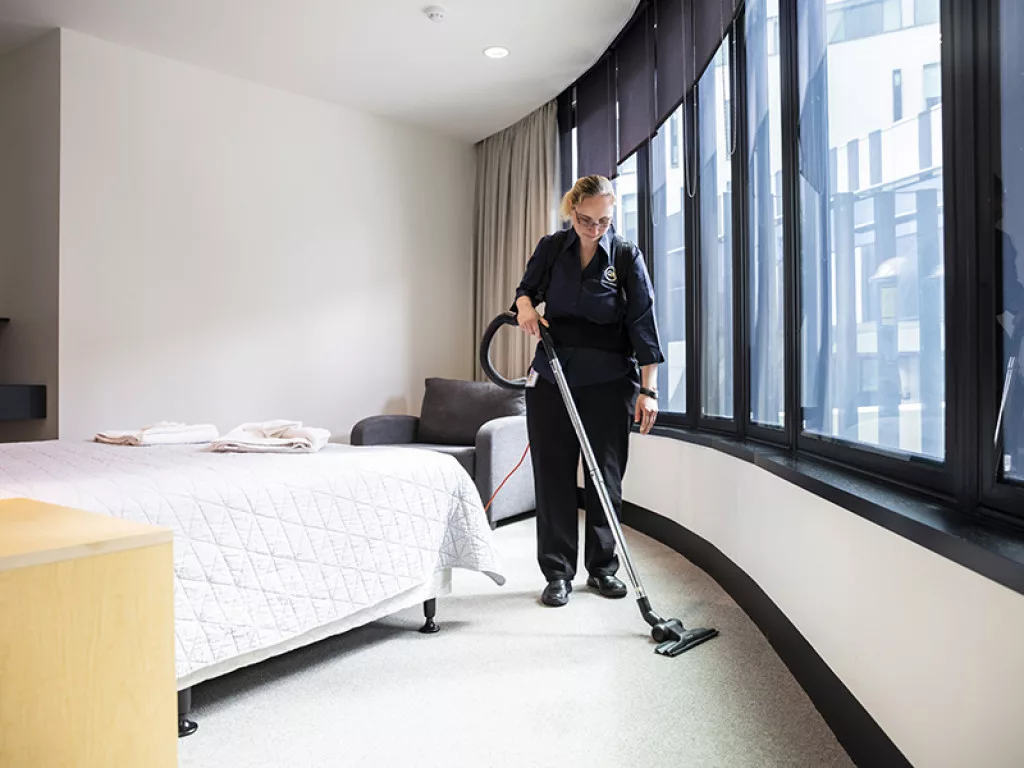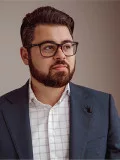 DATA AND ROBOTICS
In the cleaning industry, a host of new equipment is rapidly entering the market.
Whilst nothing is more important than professional, trained cleaners who understand optimal cleaning methodologies, new technologies can make cleaning services smarter and more responsive to the end user.
For Stamas, the next few years are going to be defining for next-generation solutions in the facility management (FM) space, with the Internet of Things (IoT) and robotics the stand-out technologies for their power to truly transform how commercial cleaning is delivered.
These technologies provide unprecedented access to big data, to drive better decision making for a more tailored and responsive cleaning service.
"A lot of people are starting to leverage data, artificial intelligence (AI), and robotics. The lessons that are being gleaned from that data, particularly about the way spaces are used and the way people move through and interact with spaces, are really interesting," Stamas notes.
"It allows you to consider all sorts of elements, right down to how you're servicing that space. Are you attending the areas that are most frequently used, or where people tend to congregate the most? Can you have a more bespoke solution which is predicated on the use of the facility?"
GJK leverages supplier relationships, many of which span more than 10 years, to access the latest machinery and technologies, including data analytics and AI robotics.
Data analytics is the most revolutionary aspect of IoT technology in cleaning. Insightful changes to how cleaning services are delivered, for example, can be made by capturing, analysing, and interpreting data.
IoT sensor technologies, meanwhile, come with advanced data analytics software, enabling cleaning companies to study trends, better understand the cleaning needs of spaces, and plan operations accordingly to make the experience of using spaces more enjoyable.
"There's no doubt that our industry is entering the age of data and transparency. I'm interested in the way data is used to create solutions that are true to the requirements of businesses, our customers, and end users," Stamas tells us.
"We've rolled out a variety of sensors that pick up various pieces of data such as the movement of people and door openings. It brings that data together and creates what we like to call a predictive cleaning model, which is based on the needs and uses of the building.
"Data insights are vital for intelligent decision making, and I think that it's really starting to be embraced," he says.
AI-powered cleaning robots likewise play an increasingly important role in today's commercial cleaning services.
GJK currently has a fleet of more than 40 vacuuming, mopping, and scrubbing robots deployed throughout Australia, which supplement rather than replace the work of cleaners.
"Robotics are nowhere near replacing human beings, but what they can do is the type of tasks that don't require the same level of dexterity," explains Stamas.
"While robots are cleaning floors, for instance, people are able to do more detail-oriented tasks that only a human can do. We're fully expecting that to continue to develop, and because there is a level of involvement for the cleaner with the robot to make sure that it's operating efficiently and following the right mapping area, it gives cleaners the opportunity to learn new skillsets and interact with this technology."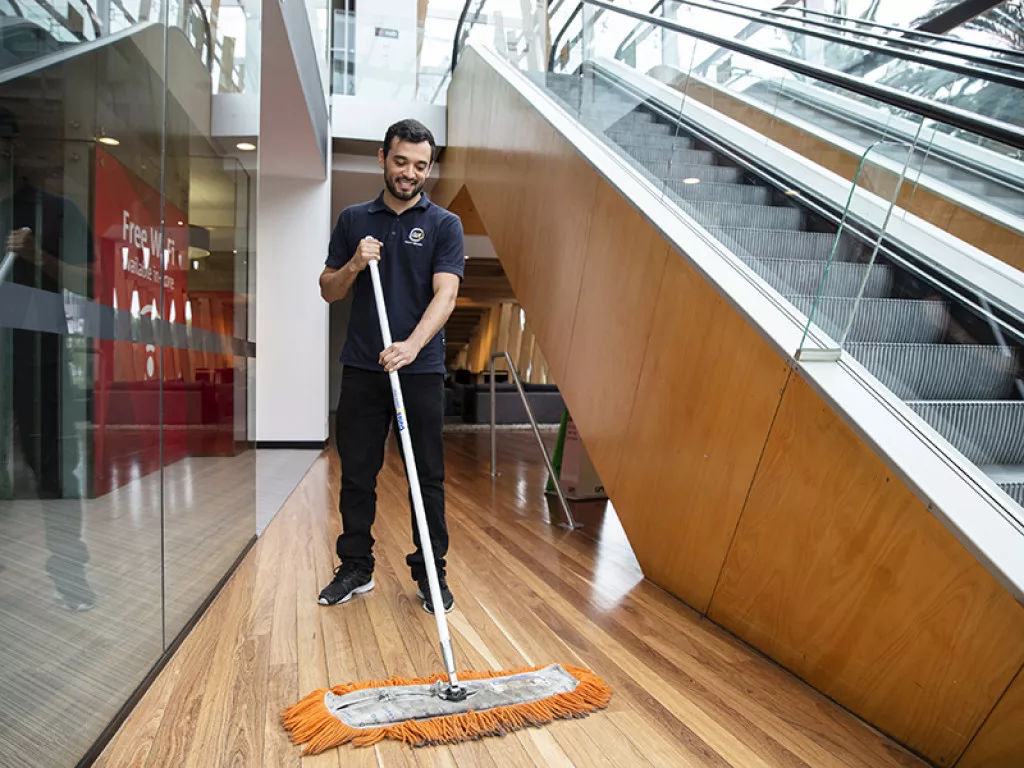 GREEN CLEANING
As sustainability becomes a major focus for businesses to achieve ambitious climate change targets, a wave of new technologies on the market has also enabled the "green cleaning" movement.
Scrutinising how office cleaning services are delivered is an obvious approach to help lower the environmental impact of businesses, who equally have a stronger focus on employee wellbeing and understand the impact of toxic cleaning chemicals on health and productivity.
GJK is pioneering sustainability in commercial cleaning, and has embraced the movement towards green cleaning practices.
"I believe we're one of the first cleaning service providers to be carbon neutral," Stamas acclaims.
"We've completely offset our Scope 1, 2, and 3 emissions, which means that any service we provide to our customers is carbon neutral. Many cleaning service providers are committing to net zero and we are all looking at ways to further reduce our environmental impact.
"That's critical not only to us socially and consciously as a company, but also to our customers and stakeholders."
A new sustainability framework has recently been launched by GJK, which strengthens the company's social and environmental governance responsibilities.
Giving back to the community is part of the GJK DNA, driven by Founder and Managing Director, George Stamas, who was honoured with an Order of Australia earlier this year in recognition of his corporate social responsibility (CSR) efforts.
For over three decades, GJK has been investing in programmes that benefit the wider community, and fostering sustainable outcomes that have a positive social impact.
GJK Giving Back, for example, is the company's new social impact programme, designed so employees can get involved in work with charities, not-for-profits, and organisations.
"We recently launched our GJK Giving Back programme, in which we seek to support a number of charity partners through multiple avenues, not just with fiscal contributions, but also by organising employee volunteers," Stamas elaborates.
"All of our employees get a certain amount of volunteer days, which they can allocate to a specific charity. It allows them to get involved through volunteering activities, and equally workplace giving, which is great."
End-to-end solutions
As GJK embraces both technology and sustainability, the company will continue to evolve into a multidisciplinary service provider.
To be able to offer customers end-to-end solutions across the cleaning spectrum, it really comes down to two pressure points for GJK's customers, according to Stamas.
"The first key driver is to ensure stakeholder satisfaction, making sure the tenants and end users of those facilities and buildings are happy with the space they're using, and that they're hygienic and safe," he states.
"Secondly, our services must achieve the best value for money for customers. Those two overlay to produce end-to-end solutions for our customers."