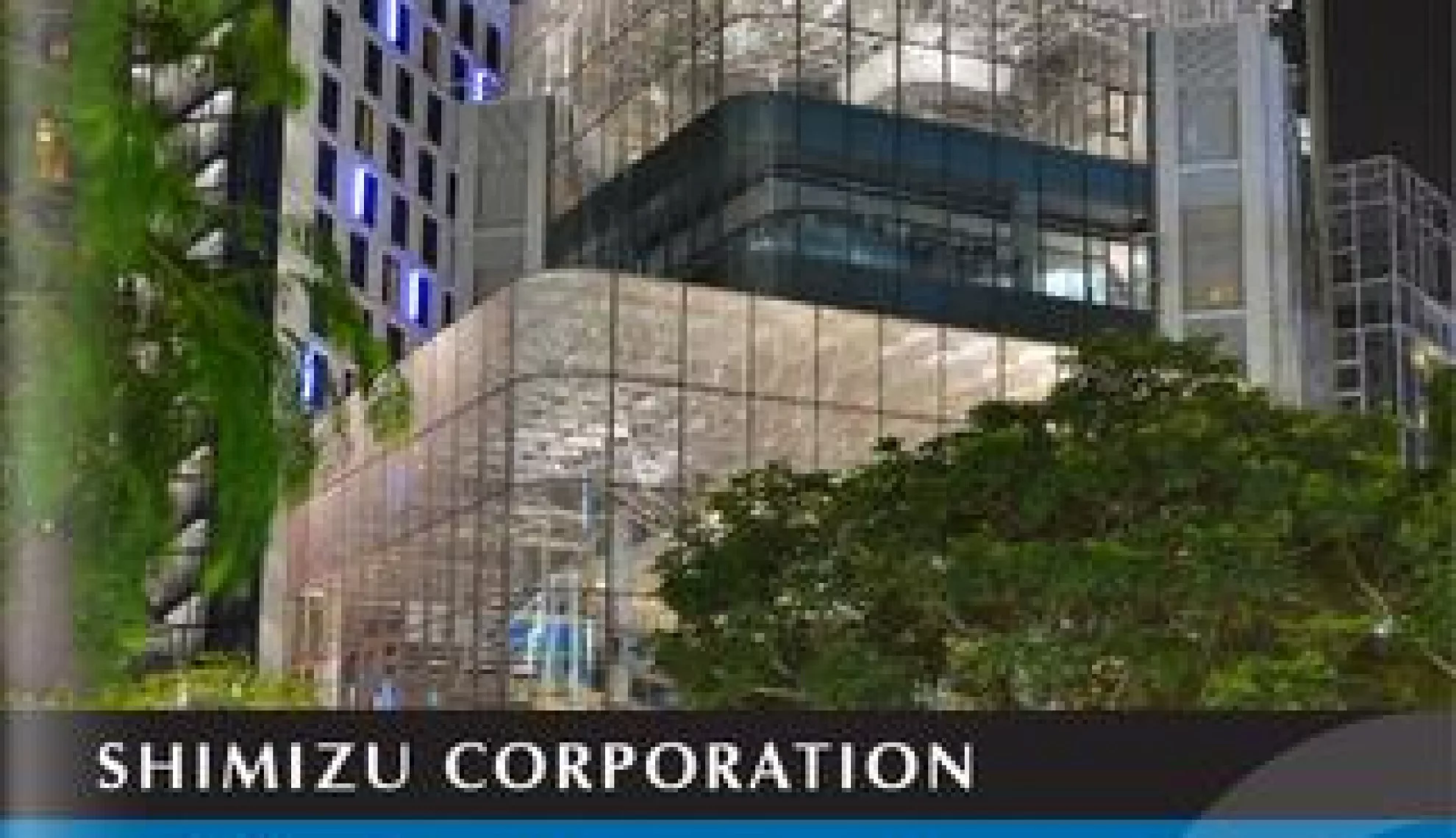 Towering Above the Competition
Writer: Matthew Staff
Project Manager: Arron Rampling
As one of the most renowned brand names in Asian construction, Shimizu Corporation's success in Singapore should come as no surprise, but as the Company to beat and with a plethora of local competitors striving to prise market share away, the civil engineering and built environment specialist continues to rely on far more than its Japanese heritage.
Having said that, there aren't many operators – even on a global scale – who can promote such a heritage; with the wider Shimizu Group, headquartered in Japan, boasting more than 200 years of history.
The latter 43 of these have been complemented by a concerted presence in Singapore, following the corporate decision to not just replicate the Japanese model in a new market, but to follow its loyal customers in order to facilitate their own expansion.
Nearly half a century later, and with more than 1,000 employees bought into the Shimizu culture, the Company is now a firmly established Singaporean entity, finding the perfect balance between leveraging its Japanese knowhow and tailoring it towards a very local service offering.
"There is a significant difference in the local and Japanese corporate culture which enables us to focus on good, meticulous planning and high quality of work done," says the Company's Deputy General Manager, Bonaventure Lek. "We also emphasise good, long-term business relationships and we have the financial stability as our resource."
Pivotal to the overall success of Shimizu in Singapore has been this ability to not just form long-term sustainable partnerships, but to do so at an almost exclusively local level, despite the international presence the Company brings.
Senior Business Manager, Peter Wee adds: "A very important thing over the years is that even though we're a foreign registered Company, we've been here longer than some of the local contractors and our entrenched presence means we are seen as a local Company.
"We are fortunate to leverage the Japanese operations and to be competitive and sustainable over 43 years, but the most important thing is our commitment to delivery, with a local philosophy."
Finishing the job
The ability to meet the niche demands of each specific project, within time and budget, has led to Shimizu Corporation being awarded some of the most prestigious civil engineering and building contracts in Singapore, in recent decades.
Spanning across office space, the medical industry, residential buildings, commercial and lodging facilities, educational premises, transportation and telecommunication networks and even the resources and energy industry, there aren't many examples of the Company's global activities that haven't equally been addressed in the country.
Averaging around $200 million per contract, the significance of each construct certainly isn't limited either, and the past five years especially has witnessed a strong presence across numerous sectors, despite the seemingly more difficult economic circumstances befalling global industry.
In the commercial and business space domain, Mapletree Business City I and II, PSA Alexandra Retail Centre, Tokio Marine Centre and the fit-outs for an array of major financial companies have all been graced by Shimizu's innovative approach to modern construction from both an aesthetic and operational efficiency perspective.
Similarly, Urban Suites, Ardmore Residence, Nassim Park Residences and Sky Habitat have all been critically acclaimed in the residential space since 2010. Shimizu's strength in the construction of commercial buildings is also evident through its involvement in landmark projects such as Capitol Development (designed by Richard Meier and Partners Architects), Westgate, Scotts Square, 268 Orchard, and the iconic Ngee Ann City.
In terms of complexity, the Company's efforts in the transport sector have arguably been the most eye-catching; epitomised initially by Shimizu's flagship work on Changi Airport Terminal 3 in 2007 and followed up in 2013 by completing the C905 Tunnels between Promenade Station and Marina Bay in the hub of the city, as well as Raffles Place MRT, the connector of the central business district.
Most recently, Shimizu's praises have been sung extensively for its construction of the National Heart Centre and Yishun Community Hospital, completed ahead of schedule; once again emphasising the trust that the country has in placing some of its most significant local projects in the hands of the internationally-successful Corporation.
Ultimately, what Shimizu Corporation has been able to leverage is the ability to bring a vast range of processes and systems to a country that hadn't previously enjoyed such an extensive, turnkey proposition.
"We built the clientele quickly through the culture of the Company and the partnerships that we quickly formed with the customers; serving them as well as possible and by finishing the job no matter what the challenges were," Wee emphasises.
Job scope
To ensure the Company's promise of quality and efficiency is adhered to entirely on each project – both from a construction and CSR perspective – the Company has worked tirelessly on implementing its vast and innovative range of services to ensure that there is a flexibility and scale in place in order to facilitate any requirement.
This is achieved by incorporating planning and proposals, design, construction, building renovation and even research and development (R&D); introducing the most contemporary and bespoke technological systems, construction methodologies and administrative ideologies in each area.
From a planning perspective, Shimizu's computer graphics and computer-aided planning and engineering system for infrastructure is continued via a host of CAD (computer-aided design) capabilities across planning and R&D, in order to produce the most bespoke and high standard final construct possible.
Within the literal construction process the same theme continues as a result of the Company's SMART system; a process once again developed internally to enhance levels of automation and produce more sustainable, safe and efficient towers.
These examples – just a select few of many – emphasise how far Shimizu has come in Singapore over its 40-plus years of operations; staying true to a differentiator first experienced when it entered the market; being able to offer a different proposition to the norm, in what can largely be a traditional and slow-moving sector.
"This played into our hands firstly in the 1980s when the Government of Singapore was looking at the Japanese model and how the same technologies, innovations and expertise could be applied to the country," Wee recalls. "This led to us becoming one of the major contractors in public housing back then, applying expertise we already had, before going on to more complex, mixed developments like offices in the 1990s."
This was the first significant leap towards diversifying the Company's clientele and business partner network – a period which has been validated by the fact that many of these partnerships still exist to this day – and has subsequently laid the groundwork for the market-leading success that Shimizu Corporation has gone on to enjoy since the turn of the century.
Mr Lek, who has been with the Company for more than 30 years, epitomises the main reason for the Company's prosperous longevity: "The dynamic overlapping of job scopes is the reason for me being with the Company for so long."
It is evidently also the reason why the majority of Shimizu's customers, partners and indeed Singapore as a whole, keep turning to the business as their contractor of choice as well.
Mr Fujita, former General Manager concludes: "Over the next three-five years I would like to see us be more localised, continuing to learn the Japanese way and therefore encouraging our local staff to progress and take up more senior positions.
"This will all be done in a socially responsible manner so we can, in turn, help people and companies in Singapore enjoy their own capital growth."
Sustained corporate growth
As well as capital growth, Shimizu is equally reputed for its role in enhancing social development, ensuring that it operates in a responsible manner across all areas of construction, and in each region of operation.
In the words of the Corporation's President, Yoichi Miyamoto, the overall goal as part of this concerted CSR ethos is to target "sustained corporate growth and contributing to society through the development of safe, reliable national infrastructure".
This entails the ability to promote CSE management as part of the Company's everyday business efforts, striving for ongoing transformation and reformation of social conditions in alignment with the quality it brings to its core construction processes.
"Shimizu bases its CSR activities on the following three principles: fairness and transparency in business; creating value that surpasses the expectations of customers and society; [and] pursuing business activities that coexist with society," the Company states.
These three principles are driven by six key performance indicators based on their contributions to corporate value for a broad range of stakeholders, and their impact on Shimizu's growth.
Shimizu continues: "A self-evaluation of each effort based on targets and performance (including KPIs) showed that 12 of our 13 CSR efforts in 2014 either surpassed targets or were largely in line with plans.
"In the one area where results fell short of targeted goals – health & safety efforts – we will enhance incident-reduction efforts by making comprehensive improvements to existing conditions."
Health & safety sits alongside corporate governance, ethics and compliance, transparency, biodiversity, pollution prevention and the mitigation of global warming as some of its more extensive ongoing activities, while its philosophy of being 'a Company that values people' forms the crux of its internal strategy.
"Shimizu's Management Philosophy incorporates the concept of humanism along with socio-dynamism, innovation, market orientation and zeal," the Company emphasises. "Beyond this… our code of corporate ethics and conduct calls for the development of a Company that places the highest priority on people.
"To achieve this goal, we pursue numerous measures that reflect the ever-changing conditions of our social environment."
Initiatives to help more women thrive in the workplace – successfully doubling the number of female managers and engineers within five years – as well as hiring and promoting people with disabilities ranging from wheelchair friendly facilities to its 'Dialogue in the Dark' programme to help blind trainees are just two examples of how people are valued at Shimizu, as part of its wider, global HR commitment.
"Overall, we plan to enhance CSR management by prioritising efforts based on urgency with respect to social needs and expectations," the Company concludes.
VIEW Shimizu Corporation Singapore BROCHURE