Papua New Guinea's telecommunications technology is growing under the guidance and determination of PNG DataCo Limited. CEO, Paul Komboi, shares the company's latest plans.
LEADING THE DIGITAL TRANSFORMATION
The arrival of new internet technology in Papua New Guinea (PNG) in 1997 was impactful, however, the speed of communications traffic was slow. It has since developed to improve industries and the economy, as well as everyday life for Papua New Guineans.
Today, PNG DataCo Limited (PNG DataCo) is developing the country's digital infrastructure even further. The company provides cloud services, hybrid data centres, platform as a service (PaaS), software as a service (SaaS), and infrastructure as a service (IaaS) through its Tier 3 data centre.
"We are utilising this type of technology to provide all the services we offer to additional operators and large-scale enterprises. Those are our customers along with educational, health, and security institutions. As key government operations, they are providing essential public services to the country," opens Paul Komboi, CEO of PNG DataCo.
Komboi is an engineer by profession, specialising in telecommunications after graduating from the Papua New Guinea University of Technology. He has also obtained a master's degree in engineering and policy analysis at Delft University of Technology in the Netherlands.
Komboi was installed as Managing Director at PNG DataCo in 2014 and was instrumental in forming the company before eventually becoming CEO.
With around 1,130 employees and headquartered in the capital city of Port Moresby, PNG DataCo recognises a gap in the industry, which it is rapidly filling with its digital transmission, cloud and ICT services.
"Our customers want to be connected, so we are in the transmission space, dealing with optical fibre technology, submarine and aerial fibre. We are also utilising satellite infrastructure and technology delivery services," Komboi informs us.
A strategic relationship with the oil and gas industry means PNG DataCo can use its pipeline to install fibre. Moreover, government and state-owned companies are already on board, helping to address the accessibility of land and the right of way to install such a strategic and critical infrastructure.
"We also have a significant relationship with state-owned electricity company PNG Power. We use its transmission poles and towers to roll out aerial fibres to areas and regions around the country, to the main districts, provinces, and economic areas. We are deploying these strategies in terms of running our business," he outlines.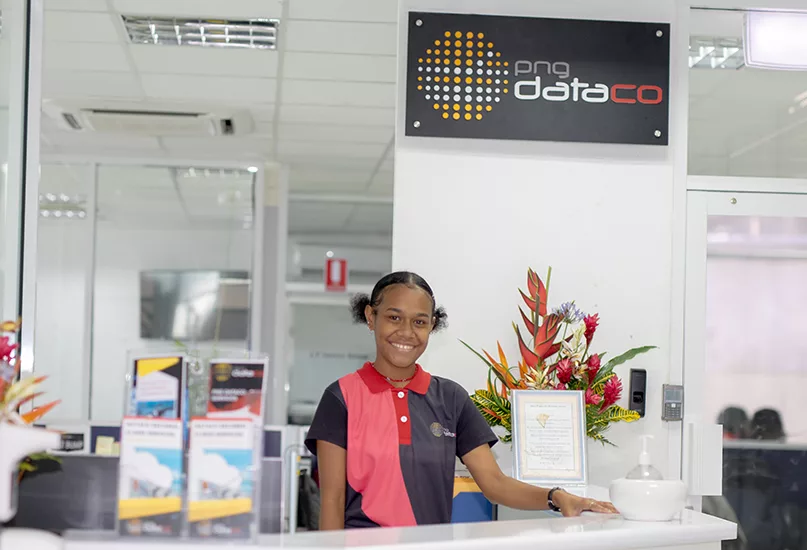 POWER CHALLENGES
The biggest challenge that PNG DataCo faces is energy reliability, with 80 percent of network failures in the country resulting from power outages.
"Geologically, higher altitudes are tough. The road infrastructure makes it difficult to access, therefore, our network has problems in relation to electricity, but we have generators at site locations that enable us to meet those problems," shares Komboi.
PNG DataCo endeavours to have access to regular electricity, so it can offer reliable services and telecommunications to its customers. The company is also investing in network upgrades, which are underway to keep up with demand.
"Our new infrastructure came in around three years ago and that led to an uptake in demand for our data services.
"Along with a new mobile operator, we have two more mobile operators already in the market, and they are consuming a lot of bandwidth already in terms of telecommunications; therefore, we are focusing on upgrades both domestically and internationally.
"We are also focusing on links in areas where there is a lot of downtime due to power issues and sabotage. We are doing our best to stabilise the power transmission by building redundant paths along those vandalism hotspot areas to achieve resiliency. This will improve service delivery to our customers and the people in general," explains Komboi.
Another key move is the marketing of data centres and cloud services. PNG DataCo is striving to remove the jargon surrounding pitching products, so customers feel more comfortable with the type of services on offer, but it is not only the PNG public who are looking to use cloud services.
"We realise that because of the power issues, most corporate and big institutions are unable to invest more in supporting power on their own premises. They will slowly migrate to the cloud; we are just replicating what they had, but on a much bigger and better scale in terms of data centre services," he states.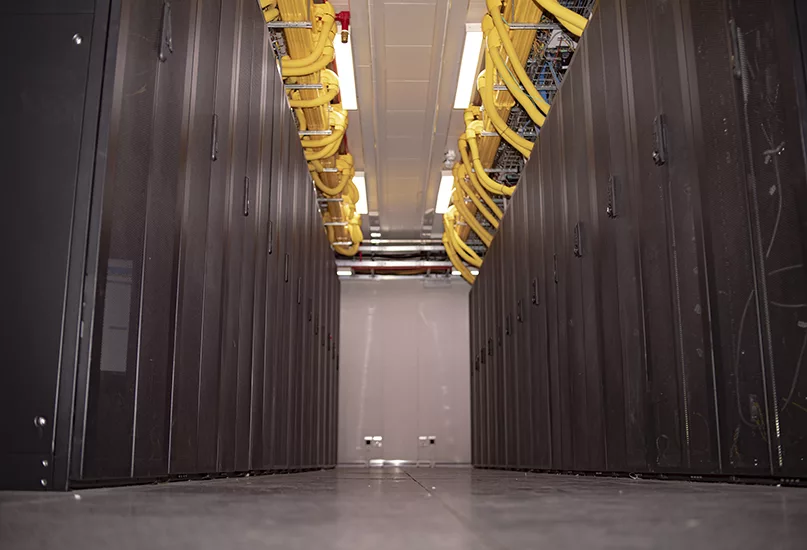 SOLAR SOLUTIONS
PNG DataCo is looking at off-grid solutions to aid network resiliency. Solar power will boost outposts and points of interconnectivity, and it will sustain the network as redundancy in connection is an issue regarding unreliable power.
"We need an alternative path as vandalism is a problem, along with natural disasters such as earthquakes which affect our submarine cables. Last year, we had a huge earthquake and it destroyed three of our submarine cable systems, however, we are trying to create another loop in the cable to protect us from this in future," reveals Komboi.
The goal is to avoid too much downtime as businesses are unable to operate. Sustainable development and a move into green energy will save losses in business at a time of natural disaster.
Solar energy will also provide communities with power to charge their phones and watch television, and those that rely on agriculture can make it commercially sustainable through e-commerce agribusiness.
"Building smart, small, off-grid cities is the type of model that we are looking at. They are the projects that we are interested in for the coming years."
Another project PNG DataCo is working on is communal power, with significant interest from agencies who want to partner with the company for off-grid power solutions.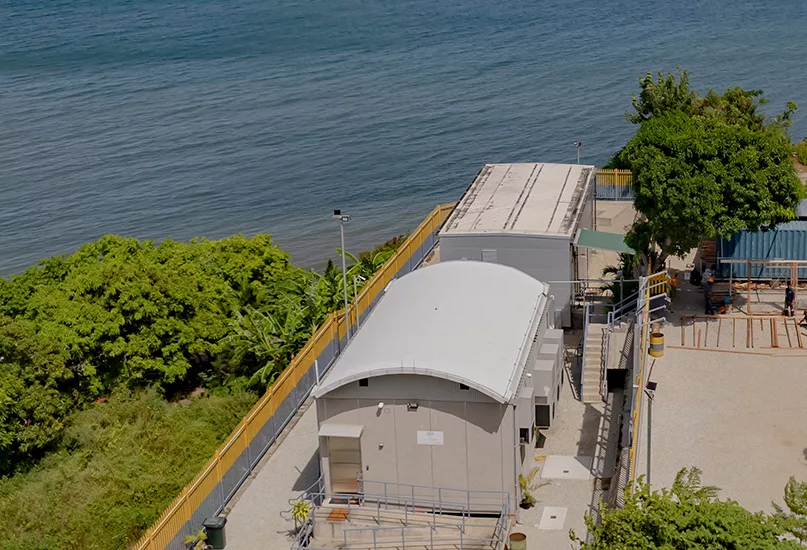 CHANGING THE ICT LANDSCAPE
Regarding the future of data centres, the focus is on edge technology, meaning that smaller data centres will be situated closer to end-users.
"We are focusing on data centres using edge technology, enabling us to deliver services if our main data centre is offline. Edge can support towns as we see the potential for people moving into cloud and data services," observes Komboi.
"The market and banking systems are there for ordinary people, and trade and e-commerce are going to pick up once PNG establishes trade agreements with other countries. To do so, most government departments will act as the anchor alongside the private companies who are digitalising operations."
Digital transformation is happening across institutions in PNG, and the deployment of data centres is desperately needed – a goal which PNG DataCo is fully committed to.
"There is now interest in hyper scale data centres that want to partner with us and are proposing various investment and venture capital (VC) models. As a strategy, we want to be the regional data centre for APAC."
PNG DataCo has a submarine cable project to bring reliability to the existing cables both internationally and domestically. It will also connect new areas such as the islands in Milne Bay Province, which are densely populated compared to the other regions.
"We are looking at the expansion of our aerial fibre with power companies that are building new transmission lines across the country. We are also trying to link up with new satellite technology partners," says Komboi.
Alongside its partner, InterSat, PNG DataCo is looking at Starlink, OneWeb and other satellite operators and technology as a potential avenue to complement its fibre network across the country which will be achieved through a comprehensive strategy over the coming years.
PNG DataCo's future infrastructure plans will encompass the expansion of aerial fibre, securing connections, and edge technology. "We will talk to partners and start soliciting funding and investment and continue the work that we are doing in the next 15 years going forward," Komboi concludes.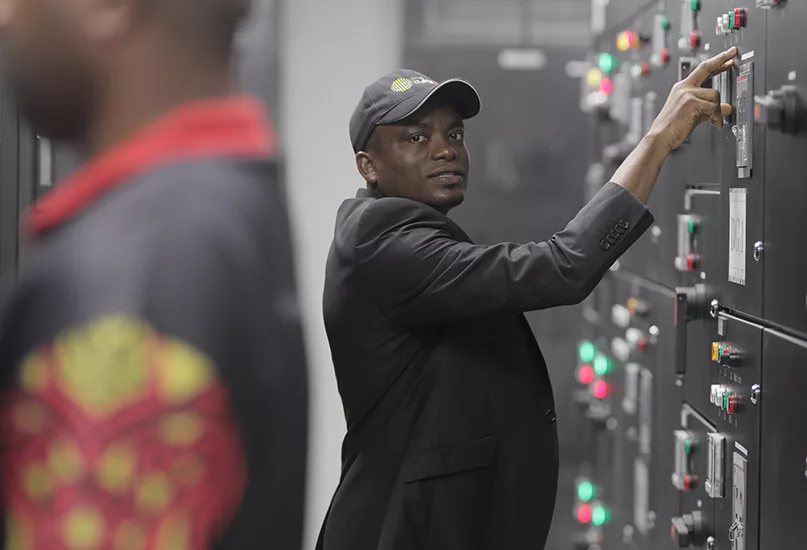 PNG DATACO PARTNERS