When it comes to thermal management, PWR Advanced Cooling Technology is a world leader. Andi Scott, General Manager of Advanced Technology, highlights the company's cooling solutions in the automotive, aerospace and defence sectors.
HIGH-PERFORMANCE COOLING
For three decades, the Weel family have been deeply involved in manufacturing products to serve the automotive cooling industry.
PWR Advanced Cooling Technology (PWR) was founded in 1997 by Kees Weel and his son Paul, to fulfil the growing demand for high-quality, lightweight, performance aluminium cooling products.
"The market was ready for a product that was measured by its performance and backed up by a flexible manufacturing facility capable of designing and adapting cooler configurations to custom specifications," opens PWR's General Manager of Advanced Technology, Andi Scott.
With Kees still heavily involved in the business as CEO, PWR services many different sectors and has grown to become the technical partner of choice for leading motorsport teams, original equipment manufacturers (OEMs), and aerospace and defence customers around the world.
"You will find PWR's product range across motorsport categories including Formula 1 (F1), NASCAR, IndyCar, the World Endurance Championship, the World Rally Championship, MotoGP, motocross, and off-road racing," Scott tells us.
"In the OEM space, we supply many renowned brands such as Aston Martin, Mercedes, BMW, Porsche, Bugatti, Koenigsegg, Ford, McLaren, and Pagani," he adds.
PWR set up its new aerospace and defence division less than three years ago, and it has already achieved significant success in a short space of time.
This is best seen in the electric vertical take-off and landing (eVTOL) aircraft market, where engines are being replaced by heavy battery packs.
Initially, the additional mass of battery packs for any significant flight time would stop the aircraft from generating enough lift to get off the ground.
This caused a rethink of the technology used for this purpose, not only for the batteries but also for lightweight thermal management systems.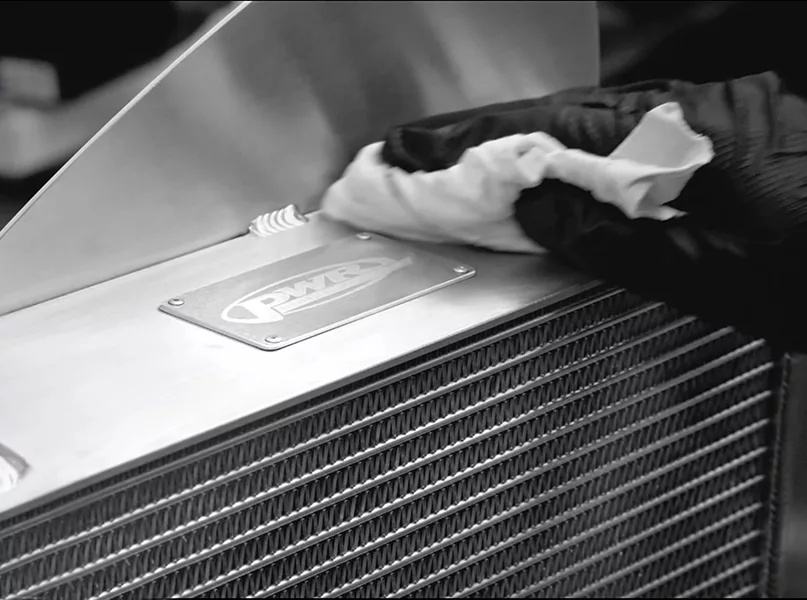 WORLDWIDE PRESENCE
PWR's headquarters in Queensland, Australia, and additional manufacturing sites in Indianapolis (US) and Rugby (UK), are vertically integrated to complete all processes from raw material acceptance to the finished deliverable product.
Now publicly listed on the Australian Stock Exchange (ASX), PWR currently has a global complement of over 500 staff, 350 of which are located in Australia, 130 in the US, and 40 in the UK.
The company also has a range of valuable certifications, holding AS9100, ISO9001, IATF16949, ISO14001, and NADCAP accreditations across its three manufacturing sites, and takes great pride in seeing its products exported around the world.
For example, PWR has enjoyed healthy growth in defence material exports to the US market, ranging from cooling components for high-power electronics systems used in ruggedised avionics and radar systems, through to large thermal solutions used in heavy land vehicles.
"It is quite easy for other countries to think Australia is too far away to get anything designed or manufactured, but I certainly think PWR is a great example of breaking that thought process as we export over 85 percent of the products we manufacture in Australia to the rest of the world," acclaims Scott.
"Australia is a quiet overachiever, in my opinion, when it comes to manufacturing. The skillsets and capabilities I have witnessed across multiple businesses in our network have shown time and again that Australia can and does manufacture world-class parts, often in combination with a refreshing can-do attitude."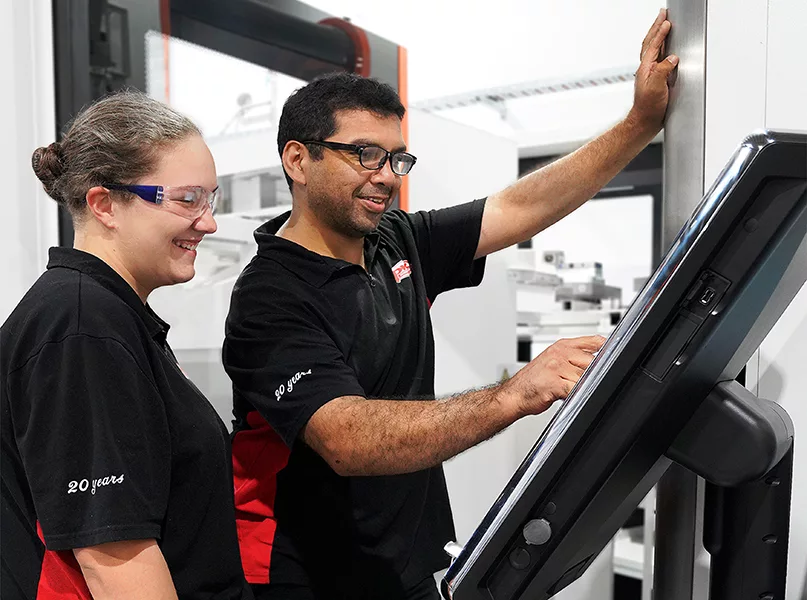 VARIETY OF TECHNOLOGIES
There are many fantastic companies around the world providing novel and efficient cooling solutions, which provides healthy competition for PWR.
The main attribute that sets the company on a different trajectory is the fact that it is not limited to one technology or manufacturing method.
Instead, PWR's approach is that of an R&D division, investing in and utilising a wide variety of new and existing technologies to broaden its manufacturing capabilities and generate valuable IP.
"We are able to look at a complete thermal problem with our eyes wide open and choose the best matching manufacturing methods for individual components of the thermal system, to best meet or surpass our customers' needs," Scott outlines.
"Other companies may focus on one technology or manufacturing method, and consequently they are forced to develop a solution within the limitations of that equipment or technology."
PWR continuously strives to improve in all areas of thermal systems design, manufacturing, and validation to keep ahead and match new customer platform needs.
Proof of this is seen in PWR's internal simulation and wind tunnel calorimeter facility. Using both empirical test data and predictive methods, the company has been able to create its own software to help guide the best technology and solution required for every aspect of the system.
In addition, PWR is able to use this predictive data to test products in a simulated environment before manufacturing prototypes.
"The software prediction is then validated by physical testing of the actual product once complete, therefore closing the loop on our predictive information to continuously improve our process," states Scott.
AUTOMOTIVE PERFORMANCE
Current F1 cars are a fantastic feat of engineering, generating over 1,000 horsepower from a 1.6 litre turbocharged internal combustion engine (ICE).
F1 cars also benefit from hybrid power, which is harvested through an energy recovery system during braking.
This complexity means a typical F1 car will have cooling systems for the engine water, engine oil, intercooler, energy store, hydraulics, gearbox, and electronics.
PWR engages with its customers to support their needs for a bespoke holistic cooling system; as with any sport, there are various requirements from customers to achieve the best possible performance.
"This means we are always faced with different thermal conditions, loads, and geometry constraints," explains Scott.
"We specialise in these freeform geometry heat exchangers, which all make efficient use of the available space inside the complex aerodynamic shapes of the modern-day F1 car."
The company has also just completed a series production run in which cooling systems were delivered directly to Ford's production line in the US for use in a new variation of the Mustang GT.
The bespoke cooling system used in the Aston Martin Valkyrie road car, meanwhile, is also currently in production.
"I had the pleasure of working on this project before I emigrated to Australia, whilst I was still at Red Bull Racing. The car was designed by Adrian Newey, and I was lucky enough to be part of a small team working on the Valkyrie as it came to fruition," Scott reveals.
"After moving to Australia, I then had a second opportunity to support the Valkyrie project, this time from PWR's side, where we designed the complete cooling system to meet the demands of the engine and drivetrain.
All the while, PWR is continually growing its global manufacturing footprint, capabilities, and customer base.
With all the various propulsion systems, such as ICEs, turbine engines, battery electric, and hydrogen fuel cells, there is one common factor – they all have considerable thermal management to contend with.
"As power density increases, the ability to remove heat from engines, motors, fuel cells, inverters, and graphical processors becomes more challenging, and therefore provides the opportunity for PWR to continue its journey."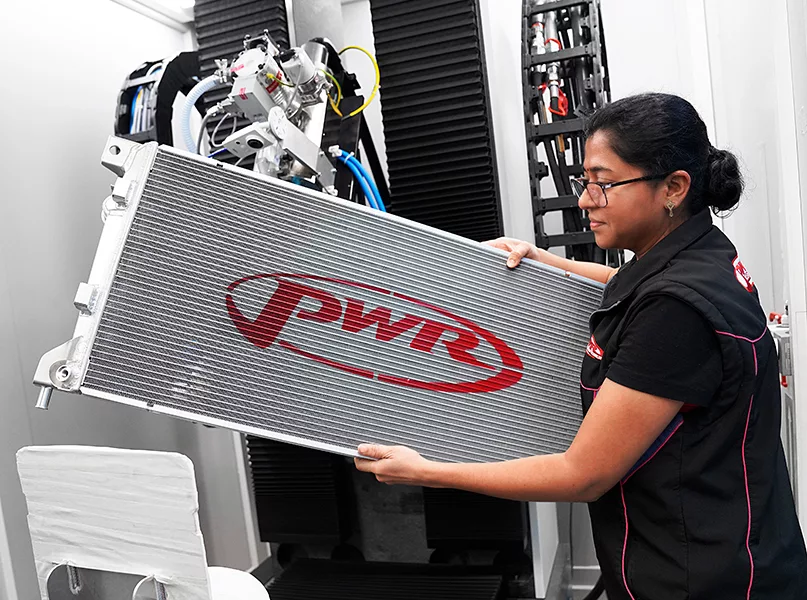 THE DRIVING FORCE
As people are the driving force that allows PWR to be as successful as it is, the company works hard to train, support, and retain its staff.
PWR is focused on its people and ensures they have access to learning and development opportunities.
"We have various apprenticeships and graduate programmes to help expose our staff to the various departments and create a pathway for progression," Scott says.
PWR has many trusted suppliers that are also key to its success and likewise need to be reactive in order to keep up with customer needs.
"Over many years, PWR has built a trusted network of suppliers for various aspects of our operations, and we hope they grow with us."
Equally, PWR wants to continue to focus on sensible and sustainable growth, to ensure the brand continues to expand for decades to come.