With a legacy of excellence and reliability, Pacific Towing is Melanesia's leading marine services business. General Manager Neil Papenfus discusses educating a future of maritime professionals for Papua New Guinea.
A NEW AGE OF SEAFARING
From its headquarters in Port Moresby, Papua New Guinea (PNG), Pacific Towing (PacTow), stands at the prow of advancing a new age of seafaring.
Presently engaged in trailblazing industry initiatives while also charting geographical expansion to new shores, PacTow is a market leader in the provision of a diverse array of marine services. The company specialises in customised and project-based solutions within towage, salvage, moorage, commercial diving, emergency response, and a host of other services.
As a full member of the International Salvage Union (ISU) and the International Spill Control Organization (ISCO), PacTow is increasingly servicing the oil and gas sector. Its service offerings include oil spill response and prevention, video pipeline inspections, PLEM valve hook up and release, alongside other niche solutions.
With a name that has become synonymous with excellence and reliability, PacTow operates as a division of the Steamships Trading Company – a group of businesses and an historic PNG establishment boasting an esteemed legacy centred on driving community development.
PacTow's Pacific footprint extends beyond its Port Moresby headquarters, where the company operates a dedicated tug base, to vessels and operations based throughout PNG with additional operations in Fiji and Solomon Islands. The company's towage and salvage services extend even further afield with recent projects in Micronesia, Indonesia, and Guam.
PacTow's fleet comprises 25 vessels, with the company's operations supported by over 200 members of personnel, alongside the necessary workshops, warehouse, emergency response equipment, servicing stations and accommodation, training venues, commercial kitchen and dining facilities.
The company boasts a competent and experienced in-house team of marine engineers and technicians, as a result of which PacTow is increasingly sought after for its capacity to oversee the entire life cycle of design, engineering, and implementation of customised project solutions.
As reflected by the level of customisation within PacTow's solutions, the company is reputed for its agility and creativity in sourcing and adapting its services to cater to client demand.
"A considerable advantage when it comes to project-based work, is our ability to think outside of the box and problem solve," states General Manager Neil Papenfus.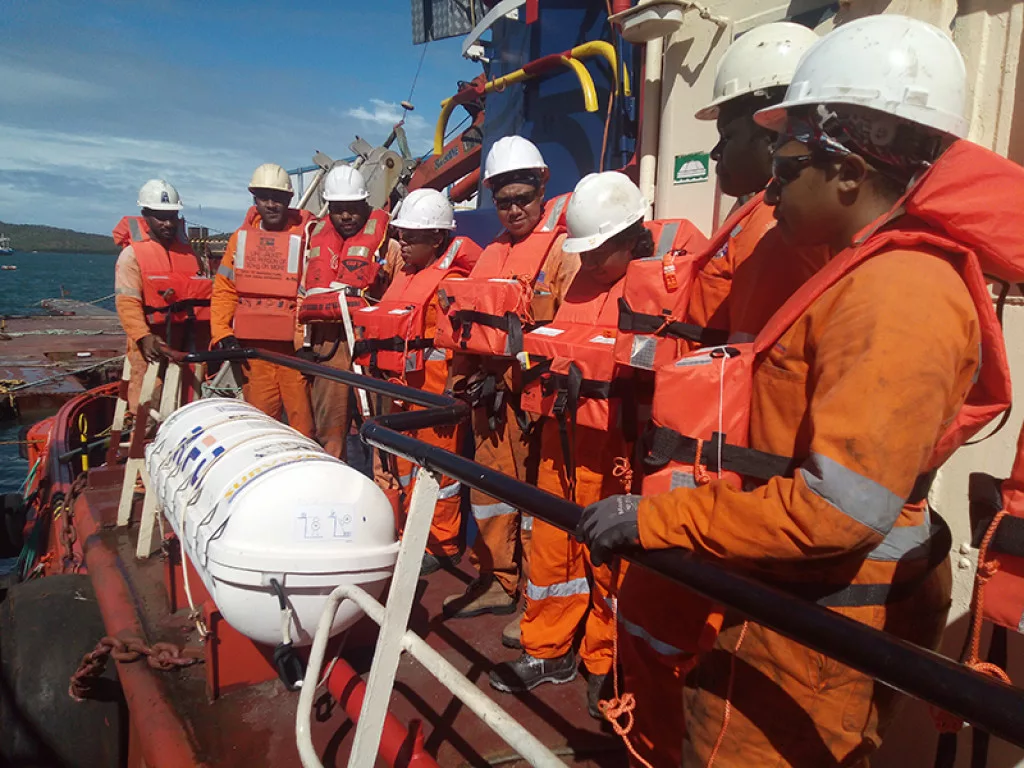 PRIDE IN PNG
For Papenfus, the second greatest defining advantage of PacTow's prowess is its proudly national workforce – of which 97 percent, including senior management, are localised. This national strength is nothing but beneficial.
"We are big on local content and hire local whenever we can," he says. "No one knows our waterways, reefs and weather patterns like our local hires. They know how to improvise, persevere and circumvent roadblocks – they are our undisputed competitive advantage."
In such an intimate business environment as PNG, a reputation-based working relationship applies both within the staff of the company, and the national context of the country itself.
Here, reliability and recommendations are paramount when it comes to the success of a business.
"Established 44 years ago with just a single tugboat, PacTow is a 'born and bred' Papua New Guinean company," he tells us proudly.
As such, the company benefits from a solid backing of relationships centred on trust and integrity that have been fostered thanks to PacTow's longevity in the PNG landscape.
"PacTow enjoys a reputation as a good company to do business with.
"In a nation of almost nine million people, the business community of PNG is relatively small – therefore trust, integrity and reliability are critical not just to securing business, but more importantly to generating repeat business," he continues.
With this people-centric ethos, PacTow is heavily committed to nourishing and fostering PNG's next generation of seafaring professionals.
This is evidenced by the company's significant investment in high quality training for its valued workforce – whether onshore or at sea. PacTow staff participate in training programmes across the globe, from Australia to Denmark, Hong Kong to Taiwan, and elsewhere.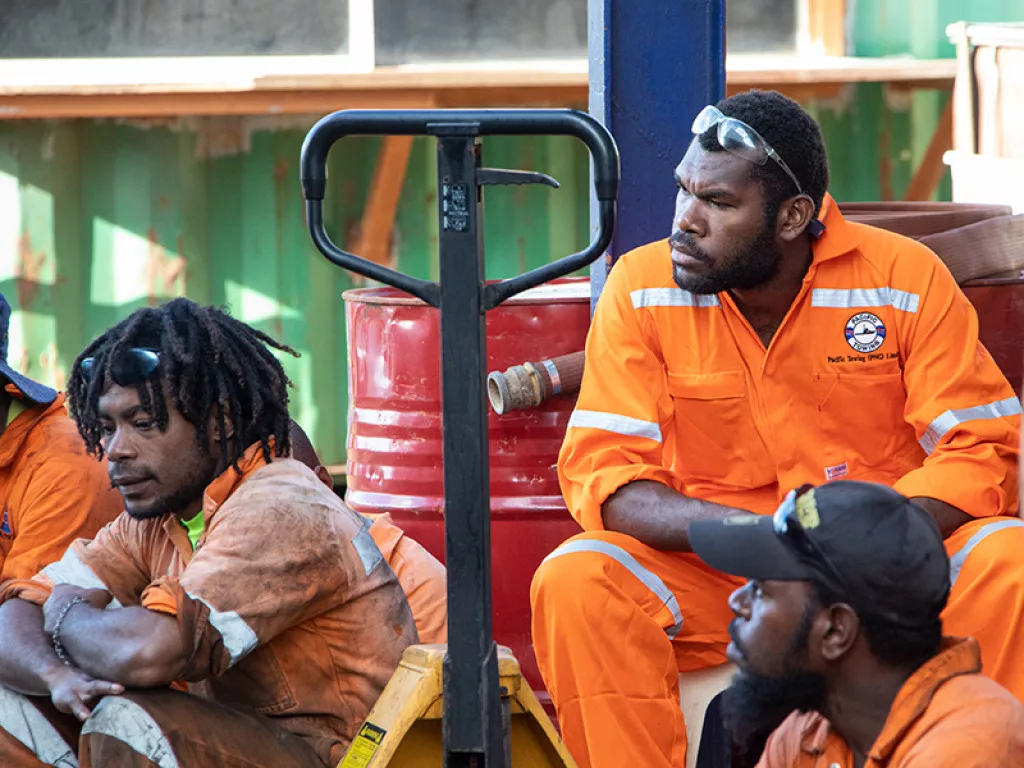 EMPOWERING MARITIME WOMEN
A defining component of PacTow's endorsement of education and training is its commitments to a diversified workforce that is now explicitly focused on attracting and retaining female talent.
Indeed, much like the close-knit business environment of PNG that makes reputation so important, the nature of the country itself translates to a relatively small working pool of talent and professionals.
In this context, training and education become crucial in ensuring the sustainability of talent resources with suitably qualified maritime professionals. Without the appropriate personnel in place, business will inevitably suffer.
PacTow's significant investment in this area is evidenced by the company's two cadetship programmes. The first, which is run in-house, typically attracts a majority of male participants. Therefore, to redress this balance and further diversify the skill pool, in 2018 PacTow introduced the 'Women in Maritime' programme, specifically targeting young women in PNG.
For Papenfus himself, it is the opportunity to take giant strides and chart new waters that makes working within the marine industry so endlessly exciting.
"The industry has allowed me to travel, enter niche markets, innovate and reform, develop products and services and initiate ground-breaking programmes," he comments, with reference to PacTow's 'Women in Maritime' cadetship programme.
A ground-breaking industry initiative, the programme is run in partnership with the Australian Government's 'Australia Awards, PNG', the China Navigation Company, and Consort Express Lines. Currently, the programme is fast-tracking the careers of 26 female cadets. Graduates from both PacTow cadetship programmes emerge from their training as officers, taking charge of vessels and overseeing crews.
It is expected that by the end of this year, 10 women from the first intake of female cadets will complete their Women in Maritime training. This feeds into PacTow's greater goal of implementing a 100 percent female-crewed tug operating out of Port Moresby by 2023 – all of whom will have successfully completed the Women in Maritime training programme.
For Papenfus, the reasoning behind these initiatives stems from both a moral obligation and a recognition that taking such strides simply makes good business sense – particularly in a location where women comprise 50 percent of the national talent pool.
"As a country we need to draw upon the potential of each and every one of our citizens – male AND female – so that we can strengthen our country's economy and prosper. It makes absolutely no economic sense to only rely on the men of PNG (i.e., just half the workforce) to do this," he says.
By developing the all-female crewed tug, PacTow seeks to provide consistently excellent and reliable harbour towage services, whilst retaining a proportion of women within the workforce who may have family commitments prohibiting them from spending extended periods of time at sea.
In boosting the representation of women within the maritime industry, PacTow seeks to increase the numbers whilst also addressing the typical barriers that prevent female participation, including safety concerns, through programmes such as 'Gender Smart Safety'.
"Maximising the workplace safety of female staff, whether it's on vessels at sea, down on the wharves, or in the office is essential. We have heavily invested in programmes to increase the number of women we employ and there is no way we're going to jeopardise that investment," states Papenfus.
"No one knows our waterways, reefs and weather patterns like our local hires. They know how to improvise; they know how to persevere and circumvent roadblocks. They're our undisputed competitive advantage"

Neil Papenfus, General Manager, PacTow
NEW SHORES
PacTow is equipped for the aforementioned geographical expansion with a new fleet underway – indeed, at present the company is halfway through a re-fleeting programme that is scheduled for completion by 2025.
By this time, PacTow will have a total of 11 Asimuth Stern Drive (ASD) tugs in its fleet. These upgraded vessels meet the needs of harbour towage in the face of increasing vessel sizes, whilst also catering to the company's growing capacity within oil and gas.
The programme will equip PacTow with newer, safer, and more powerful tugs, whilst enabling a higher quality of service provision in addition to generating more training and development opportunities for staff. This will be invaluable for the progression of cadets from PacTow's two programmes, ensuring that they are rotated through the ASD tugs and other major projects to enhance the breadth of their knowledge.
With these dynamic movements propelling the company forwards, PacTow ensures that its leading commitments to quality remain consistently at the fore.
"As always we will strive for continual improvement and adoption of best practice," comments Papenfus.
As a mark of this quality, earlier this year PacTow completed a series of ISO Certification Audits and is now in the final stages of certification after satisfying all standards.
"We are confident that ISO Certification ISO 9001 (Quality), ISO 14001 (Environment) and ISO 45001 (OHS) will be achieved by end of year."
With this unwavering commitment to standards of quality and a prevailing concern for the welfare of its people, PacTow continues to chart a promising course into the years ahead.