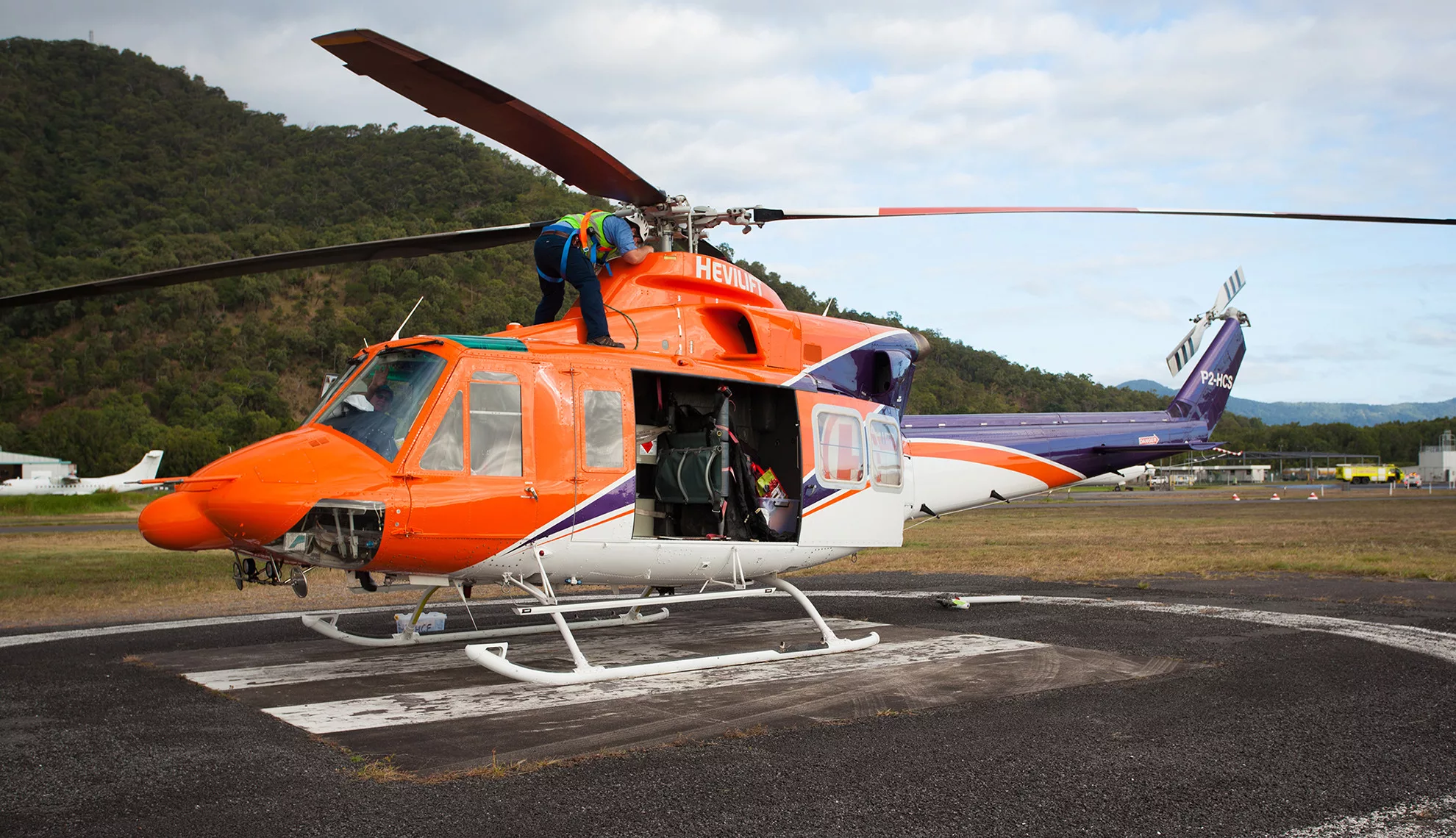 Reaching the Unreachable
Hevilift Group continues to fly to far-flung corners of the Asia Pacific region, meeting the needs of remote industry with its best-in-class, bespoke aviation services.
Writer: Jonathan Dyble  |  Project Manager: Donovan Smith
"Last week I was in Sydney, tomorrow I'm travelling down to Melbourne and then I'm heading to Adelaide on Friday before coming back home on Saturday. On Tuesday I'm then off to Cairns and will be flying to Papua New Guinea the following week."
Catching Peter Cannon on the phone during one of his fleeting windows of availability, it wasn't hard to see from his hectic (something of an understatement) schedule that business is more buoyant than ever
at Hevilift.
It's been two years since Asia Outlook last spoke with Cannon. But the Director of Business Growth is able to pick right up from where we last left off, pointing to numerous opportunities that have presented themselves to the leading fixed and rotary wing aviation services provider in recent times.
"Aviation is always exciting – I don't think that will ever change to be honest," he states. "The main thing that's causing a bit of buzz I suppose at the moment is the upward trajectory of the resource sector. Prices have gone up, more people are exploring, and that's kept us busy of late as we've moved with the market."
Important as they are, market movements are not the only factor dictating Hevilift's continued success. In many ways, this is self-induced by its flexible offering.
The company's fleet comprises a multitude of different fixed wing aircraft including the ATRs and the DCH6-300/400, and rotary wing helicopters such as the Bell 407, 412 and 212 to the Sikorsky S76, the Leonardo AW139, MIL-8 and many others.
As a result, it is able to operate as a one-stop aviation services shop, catering to a multitude of bespoke needs often required by its customers who work in niche, highly specialised operating environments.
"Say we have a client that wants to start in Australia and get 50 people to PNG on a large aircraft," Cannon reveals.
"Maybe they then want to get into the highlands of the country, and get onto a smaller aircraft that can land on a grassy strip near a specific mine site with 19 passengers, before using another helicopter to carry out survey work, or evacuations, or medical work, or lifting work.
"Our crew and fleet will almost always be able to meet any needs by delivering an end to end service that's under one safety system and one management structure."
From lifting pylons and generators to delivering firefighting and emergency medical services, it is this highly diversified, highly adaptable approach that truly sets Hevilift apart.
Moving with the market
Developing a catch-all status and such a broad offering is not something that has happened overnight, however.
New services have been added to its now extensive portfolio year by year, Hevilift meeting new needs as and when they arise in a coherent and measured manner.
"We've had clients who initially needed helicopters for exploration," Cannon explains. "If this has been successful, they've then required different aircraft to transport people and equipment to and from specific mine sites. Then, as production has begun and grown, they've requested a fly-in, fly-out service that requires larger aircraft.
"In each instance and with each diversification, we remain dedicated to offering charter services, giving our customers sole use of entire aircraft within the select, flexible terms that they may require. We always ensure we provide them with a very focused service."
Indeed, this ethos underpinned by customer centricity is Hevilift's modus operandi, most recently precipitating further growth into the cargo sphere on a more dedicated basis.
The Director is quick to iterate that the company can't claim all the credit for these strides, however. Here, he also points to role of vendors and suppliers – relationships viewed as being as important as those which Hevilift has with its customers.
"It's not often that I personally get the chance to see our partners. I always try to buy them a decent coffee when I do," he laughs. "But in all seriousness, we work on the principle that our vendors are just as important as our clients, and their efforts definitely reflect that.
"The clients see the end product, granted, but without adequate support behind the scenes, from those assisting in spare parts to fuellers and ground handlers, our solutions would not be nearly as effective.
"Our partners work hard to support us in a whole range of facets, and for that we are very much grateful."
Project pride and intuitive investment
Clearly, collaboration remains critical to Hevilift and its success stories. And these are indeed abundant.
Casting an eye of over the past two years in particular, Cannon is able to call upon three major contracts signed with major global mining and resource companies in Australia that have led the firm to flying between seven and eight scheduled flights on a weekly basis.
"This project was set up from scratch in 2017, where we had to secure an air operators certificate, hire staff, adhere to regulations and eventually get our aircraft up and running on a regular basis," he explains. "It was a massive challenge for the whole group and took a lot of time and investment, so to see it pay off is something that we're very proud of."
Meanwhile, the organisation has also been busy in PNG, having introduced its new generation Leonardo AW139 helicopters into its offering – renowned as the market-leading medium multi-engine helicopter, and considered to be the current benchmark for safety design, performance capabilities and productivity in multi-role operations all over the world.
"The AW139 was integrated into our offering in the space of just 90 days," Cannon continues.
"This timeframe might not sound like much at face value, but when you consider it included the delivery of two new aircraft as well as training of all the staff, engineers and pilots in line with global oil and gas standards, as well as the sourcing of spare parts, it's a massive feat for any company."
In many ways, this speedy integration comes of little surprise when considering the stature of Hevilift's in-house training programmes, and the robust safety team that conduct full risk assessments and management of change processes to ensure that all risks are mitigated.
Human resources are an area considered to be extremely valuable, the firm needing a vast array of skillsets in order to prevail, so investments both in way of time and finances are prioritised.
"It can be quite hard for organisations such as ours that cover such a broad spectrum of specialisms to provide a standardisation programme in regards to training, so that the whole group has the same reference," Cannon explains.
"Many opt to use online resources, which we tap into as well, but we also have an in-house training department that actively covers all of our bases, be it remote or fairly cosmopolitan areas, providing hands-on training that's often required to teach things such as proper first aid, firefighting and working at heights.
"People can do courses online, but we believe that they have to test their skillsets and develop a practical understanding of these learnings."
From technical instructors specialising in pilot and simulation training to those adept in providing cabin crew learnings, this department covers the entire spectrum of Hevilift's diverse 500-strong team, the latest technologies having also been acquired and implemented in support of this.
"We've been using flight, dial and monitor technologies, for example, equipping aircraft with cameras and in-flight data monitoring capabilities, providing analysis of flight patterns and other trends," Cannon affirms.
"Our teams can then evaluate how each model of aircraft operates, looking at bank angles, take offs and landings, and the information gathered can in turn be used to tailor specific training programmes to specific aircraft."
Maintaining a course
These training efforts are undeniably important in keeping Hevilift ahead of the curve and maintaining its bespoke offering. Yet their purpose is not entirely motivated by the desire for productivity and service improvements, the company also acknowledging the aspirations of its people to learn and upskill.
Tailored development and career progression programmes are cultivated accordingly, the enterprise running cadetships, traineeships and apprenticeships for engineers, for example.
"We've people here who started out as co-pilots and have gone on to become the heads of flight operations, and engineers who've gone through their apprenticeships to become senior base professionals," Cannon affirms.
This is not the only way in which the organisation looks after its people, however, Hevilift providing a multitude of other benefits such as a corporate mental; health programme that includes site visits and a dedicated after-hours counselling line.
The pressures that come from being away from home and working remote locations for long periods can create a heavy burden, but the firm works tirelessly to ensure that both the physical and mental health of its staff take precedence above all else – an emphasis which has served to create a family-like culture.
"We're a hardworking company," Cannon states. "Working in the oil and gas and mining sectors – it's a tough gig. But we make sure our staff feel valued, equipping them with what they need, running our highfliers award programmes and holding social awareness meetings."
Be it employees, partners or Hevilift's own philosophies, the firm's sustainability seems assured moving forward.
Indeed, Hevilift is currently a beneficiary of the fact that the resource sectors are bearing fruit. Yet Cannon remains hopeful that its reputation, structure and customer-centric focus will help to maintain its upward trajectory should the sector face turbulence in the future.
"It's hard to say we're always optimistic," Cannon reveals in his concluding statements.
"Work is always out there but getting to it isn't as easy as that. I think what will continue to stand us in good stead is the fact that we're a relatively lean company. We're hands-on and look at our value proposition in relation to any operation, focusing heavily on maintaining the highest service levels.
"You're only as good as your last flight, and there's a lot of competition in the market. But we are where we are today, and have the reputation that we do for good reason.
"We know that markets move, and we will continue to ensure that we move with them."
VIEW Hevilift Group BROCHURE