Complete with significant port upgrades, Solomon Islands Port Authority (SIPA)'s sustainability and renewable energy endeavours are resonating across the South Pacific.
GREEN PORT PIONEERS
International trade volumes are constantly increasing, and much of the world's freight is being transported by sea.
With the appeal of lower costs and energy consumption, the exponential growth of marine transportation comes as the world becomes more environmentally conscious.
Embarking on a Green Ports initiative in order to reduce greenhouse gas (GHG) emissions and increase the usage of renewable energy in its daily operations, is Solomon Islands Port Authority (SIPA).
Established in June 1956, SIPA is a wholly owned Solomon Islands government authority, responsible for operating the ports of Honiara and Noro.
Operating under the jurisdiction of SIPA, it is these two ports that are carrying out the Green Ports initiative, tasked with tackling a global challenge for the maritime industry and transport sector. With a vision to be carbon neutral by 2030, SIPA is a regional leader when it comes to championing the use of renewables.
As of 2020, close to 45 percent of electricity at SIPA's ports came from renewable sources, and last year the company officially commissioned an LED lighting system for Noro Port.
It follows the installation of 20 LED lighting poles at Honiara Port in 2019, which saw SIPA become the first company in the South Pacific to use the energy-efficient, environmentally friendly system in its facilities and operations.
The LED lighting system enhances the efficiency of SIPA's port operations and productivity output, especially for fast vessel turnarounds. It also ensures the safety and security of SIPA employees, given the higher visibility LED lights provide during night-time operations, and allows the ports to operate 24 hours a day.
SIPA has also undertaken the Green Ports initiative in order to support rural communities, by providing sustainable power to those who could not previously access any form of energy.
As part of the project roadmap going forwards, it will be extended towards more deprived communities in all provinces of the Solomon Islands. An investment of USD 100,000 has been allocated for community projects to promote and encourage more communities across the country to use more renewable energy sources, and reduce GHG emissions.
Targeting carbon neutrality by 2030, SIPA endeavours to promote and build social cohesion towards establishing renewables for rural communities.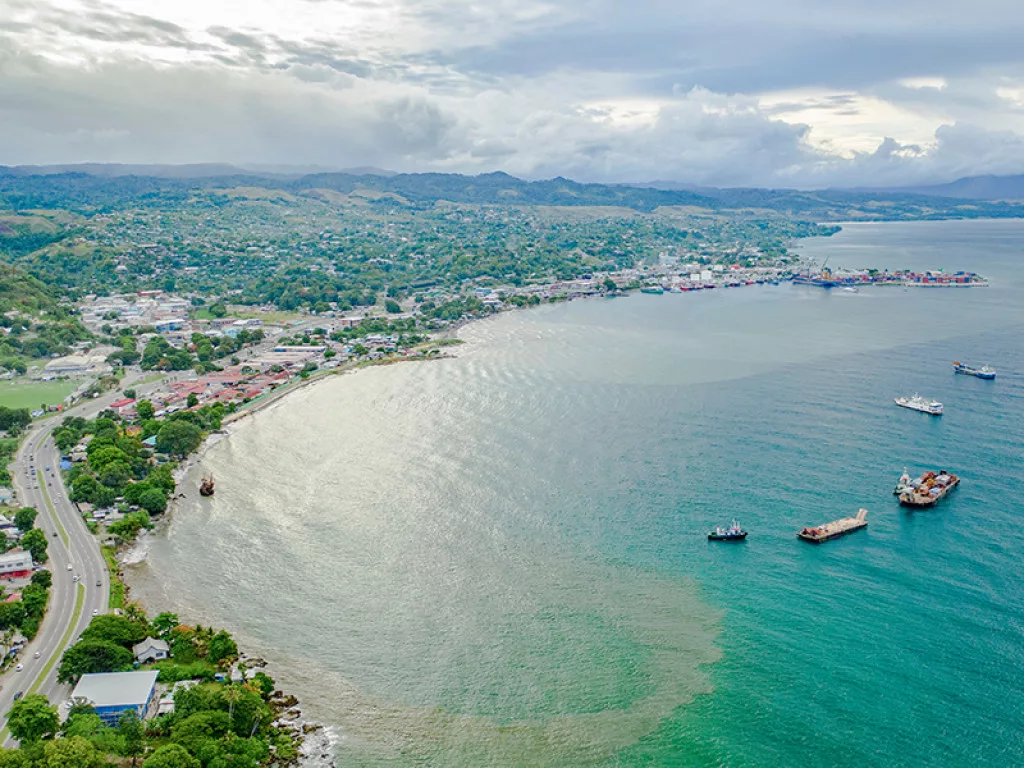 INFRASTRUCTURE IMPROVEMENTS
SIPA continues to improve the domestic terminal at Honiara Port, and to ensure proper waste management practices, has installed buoys and barriers.
These barriers are used to trap plastic waste and rubbish from the Mataniko river, and along the Honiara coasting. SIPA officers from the harbour patrol division are in charge of monitoring the barriers and buoys during their regular patrols, and responsible for collecting plastics trapped in the barrier.
Meanwhile, a ground-breaking ceremony was also held at Honiara Port in August 2021 to commemorate the construction of four new jetties.
The new, larger jetties, which will be 50 metres in length and 12 metres in width, will be better equipped to facilitate the number of vessels using the domestic terminal.
With the size of domestic ships using jetties getting larger every year, the idea of increasing the size of the jetties is to allow more manoeuvrability for both vessels and port users during ship operations.
Widening the jetties will allow two vehicles to enter at the same time, thereby speeding up the loading and unloading process so that ships can leave quicker.
Access to the new jetties will include paved roads with sufficient car parking facilities, specialised parking areas for individuals with disabilities, as well as resting areas for passengers.
Self-funded by SIPA, the project will cost SBD 28 million including onshore developments, whilst other works and repairs to existing jetties are also underway, mainly to replace fenders and bollards.
Construction of the first jetty and onshore features is set to be completed and commissioned by mid-2022, as SIPA continues with domestic terminal upgrades with the aim of improving port facilities and services to users travelling to the islands.
The domestic terminal three-storied exit gatehouse was also completed in July 2021, when the proposed plans and design concept for the new domestic terminal building were also unveiled.
The exit gatehouse hosts several services that port users can make the most of whilst waiting to board domestic vessels, including first-floor cafés and shops, a public viewing gallery on the second floor, and third-floor feature offices.
Costing over SBD 30 million, and fully funded by SIPA once more, the new exit gatehouse, as well as ongoing developments at the domestic terminal, will ease the movement of people using the port to travel in and out of the Solomon Islands' capital city.
Indeed, for the last 50 years, Honiara Port has been without a proper domestic terminal facility. By improving efficiency and service delivery to port users, these new developments will improve the standard of Honiara Port, and make it a model port in the South Pacific region.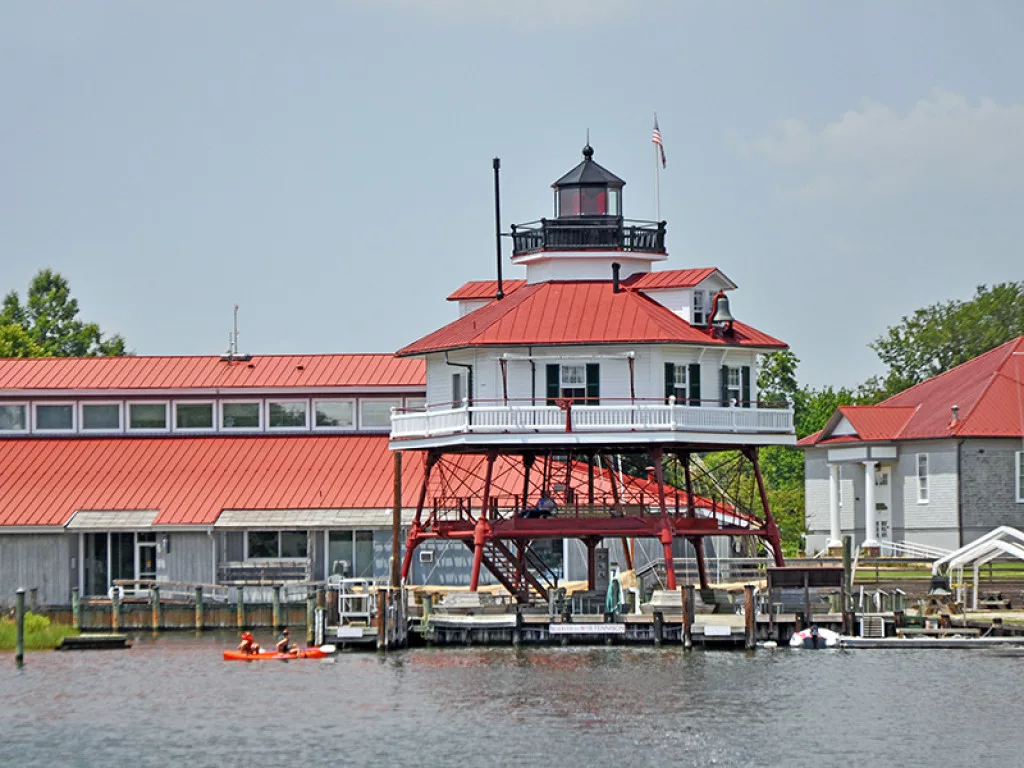 NORO UPGRADES
Australia's flagship Solomon Islands Infrastructure Program (SIIP) recently signed an MoU with SIPA in May 2022, to support upgrades to the country's second largest port in Noro.
SIIP will deliver detailed designs to increase the capacity and efficiency of Noro Port, which processes both domestic and international shipping traffic, including passenger, freight, and fishing fleets.
The designs will be a critical step for SIPA, in attracting the international investment required to finance such a major port upgrade.
As the current wharf in Noro can't accommodate larger vessels or increasing shipping demands, the new design to be overseen by SIPA and implemented by SIIP will ensure that Noro Port can meet the future shipping needs of the Solomon Islands for many years to come.
The SBD 8.5 million project was approved by SIIP's joint Australia-Solomon Islands Steering Committee in March 2022, with the design expected to be completed by July 2023.
By increasing the port's capacity, and speeding up both passenger and freight processing times, the project ultimately addresses the connectivity and long-term prosperity of the Solomon Islands.
Among other things, it will increase the ability of the Solomon Islands to export tuna to lucrative international markets, for instance, and help to unlock the country's sustainable natural resources for the benefit of all Solomon Islanders.
SIIP is focused on helping Solomon Islanders harness the economic potential of both its human and natural resources to build a stronger economy. After all, island nations such as Australia and the Solomon Islands need efficient and effective ports to connect people and goods to local and international markets.
PREMIER HUB OF ACTIVITY
For SIPA, the completion of a 15-year Solomon Ports Master Plan (SPMP) is another major focus. The urgency for such a plan has become more critical with each passing year, owing to the need for a comprehensive investment strategy that specifically aimed to address a number of issues, primarily to do with Honiara Port but encompassing all SIPA ports.
The implementation of this sustainable master planning exercise will bring positive long-term benefits and enhanced financial returns to the company.
With upgrades to more modern infrastructure, SPMP will help SIPA to achieve its aim of becoming the South Pacific's strategic gateway to the world.
Thus, SIPA envisages the development and promotion of the Solomon Islands into the premier hub for port and maritime activities in the South Pacific.