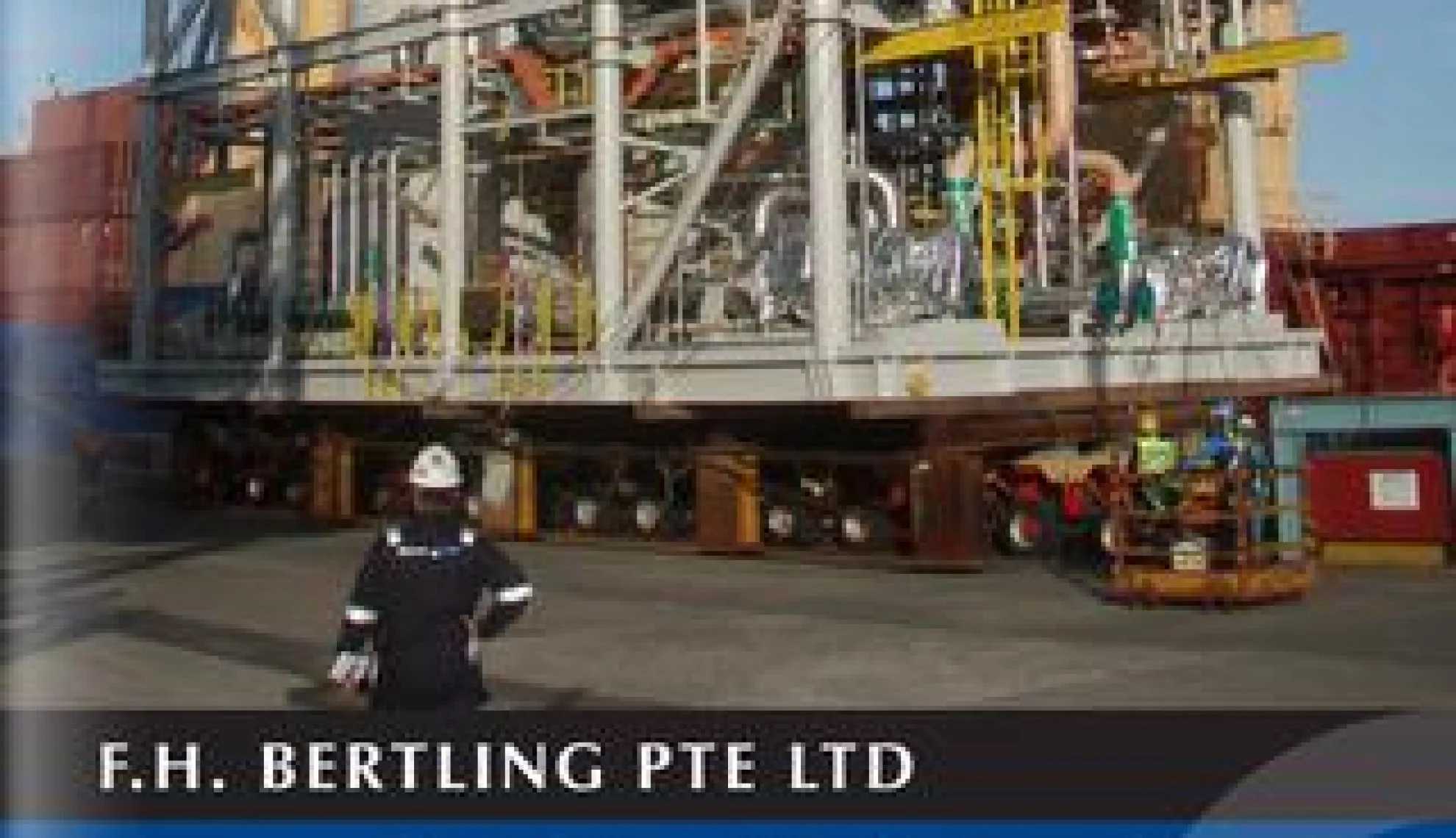 Reacting to Regional Demand
Writer: Emily Jarvis
Project Manager: Callam Waller
With many leaders of industry tightening their belts in the wake of the commodity slowdown, F.H. Bertling Pte Ltd's Chief Commercial Officer (CCO), Guenther Bielfeld cites the importance of remaining flexible and attentive to the finer details of any given logistics project as two vital components in the Company's consolidation strategy.
Building on more than 150 years of transport logistics expertise from the world-renowned Bertling Group, headquartered in Hamburg, the Company's Asia-Pacific operations have focused on bolstering its core offering in project logistics while adjusting to the changing global economic climate.
"Essentially, in terms of project logistics, we react to market trends and go to where the activity and customers are. From our Singapore base, this adjustment has primarily seen us shift our focus towards the emerging markets across Asia, the Far East and Africa, where we provide support throughout the entire logistics value chain," says Bielfeld.
Within the Company's three main pillars of business – comprising project logistics; its own IT Company, Besitec; and Ship chartering, operations and technical management – is a set of services and solutions that each complement one another and come together to offer a total logistics solution delivered by a highly motivated and locally-sourced team of 160 in Asia-Pacific.
"We strive to offer seamless services throughout the whole supply chain and testament to this, we obtained a license for MES (Major Export Scheme) to be able to electronically process import customs clearance and handle tax duty exemption for our customers in-house," he adds.
Presence on the ground
Despite always having a presence in Asia with many significant partnerships over the years, the Singapore regional office was only added to the Group's strategic locations in 2001 to cater for the increasing number of contracts being awarded.
Bielfeld further details: "Project logistics fast became our core business in the region where we have formed relationships with some of the world's biggest IOCs and EPCs active in the oil & gas, energy, renewable energy, power transfer and transmission and offshore industry. These high-profile partners have stringent prequalification and compliance programmes, as well as health & safety and other policies which we continue to keep up-to-date with and retain a good working relationship."
Leveraging Singapore's strategic location in the Indian Ocean and growing reputation as a centre for international trade, Bertling Pte Ltd now has 22 vessels; comprising bulk vessels, single-decker, general cargo ships and tankers.
Coupled with the Company's strong support services is a team of technical transport engineers and IT technicians who often collaborate with customers onsite to assist with the logistical aspects of their operations, through professional project management and the relevant administration procedures.
"As mentioned, a lot of customers utilise Bertling due to our attention to detail and dedicated presence on the ground. We prefer to conduct business face-to-face and are available 24-seven to discuss all aspects of a client's logistics to find the best solution," Bielfeld says.
"Over the years this has led to the completion of some very attractive and interesting transportation projects across Singapore, Malaysia, Indonesia, China, Vietnam, Western Siberia and parts of Africa. For example, we just delivered the largest wall divide tower in the world to Gebeng in Malaysia and are looking to capitalise on the lucrative infrastructure projects in Myanmar. Elsewhere, Iran remains a growing area of activity for oil & gas projects."
Demand-driven future
With a significant number of factors pushing global industry towards a more cost-conscious and consolidated approach to business, Bertling has used this as an opportunity to bolster confidence in its service offering and demonstrate that it is up to the industry challenges that lie ahead.
"There is no doubt that the commodity crisis has changed the face of industry forever. To retain our longstanding and valuable client relationships, we must be able to meet their exacting requirements. It is this goal that saw us create our own IT Company, Besitec to create individually-tailored IT software solutions for a variety of applications. Each project has different security requirements for example, and we are able to modify our software to heighten security measures depending on the location."
While Bertling is not undertaking huge amounts of expansion, it is not resting on its laurels, and Bielfeld is confident that the Company currently has achieved the right balance to weather toughening economic conditions.
He explains: "Banks have lost confidence to promote and push projects forwards…How has Bertling overcome this? You don't survive 150 years if you can't produce in a reduced market. You have to be prepared to go to where the projects are, which is exactly what we have done. A consolidation strategy, paired with the competitive advantages that come from being a privately-owned Company have enabled us to close-in on opportunities quickly, allowing us to strengthen our market presence.
"In the next few years expansion will continue to be driven by demand, which is fluctuating significantly at this time. I could talk about what could-be and what might-be, but this is subject to change and would contain too many variables."
He concludes: "One thing is for sure, we will always be in Asia-Pacific as it is the only part of the world that is still providing a healthy double-digit growth. Our people drive the business, and we buy and invest in equipment where the infrastructure requires it. However, we have dormant entities ready to activate around the world when and if there is a market turn, so rest-assured we will leverage our footprint advantage and people power to secure growth in the coming century of the Group's operation."
VIEW F.H. Bertling Pte Ltd BROCHURE