The airline industry is experiencing a rapid period of growth following the COVID-19 pandemic. We take a look at Pacific Turbine Brisbane and speak to company executives about its soaring solutions.
KEEPING TURBINES TURNING
Pacific Turbine Brisbane (PTB), a Precision Aviation Group (PAG) company, is a gas turbine engine workshop and sales facility offering tailored solutions to its customers. In addition to its large inventory of turbine engines and components, PTB customers benefit from the expertise offered by highly dedicated and experienced engineers, sales, and technical representatives.
In conversation with David Mast, President and CEO of PAG, we take a look at the soaring success of the group's most recent acquisition.
"Over the past two years, we completed seven acquisitions which expanded our core capabilities in avionics, components, engines, as well as manufacturing, sub-assembly, and designated engineering representative (DER) services for fixed and rotary-wing aircraft," he says.
"Each acquisition was strategically chosen for its expertise, reputation, and geographical location. Today, we have 23 locations and 20 FAA and EASA-approved repair stations worldwide. PAG's focused attention on how to better serve our customers — and attract new customers — is a source of strength and growth for all our companies."
During the COVID-19 pandemic, PAG continued to expand its service capabilities, repair facilities, and inventories throughout its group of companies worldwide. While the aviation industry has grown each year post-COVID-19, expectations for even higher growth from now through to the end of the decade promise significant opportunities for all PAG companies.
"The last few years were hectic for the entire industry, but for PAG, it was also an exciting time," Mast tells us. "We emerged from the crisis even stronger. Today, our global presence, customer-focused teams, facilities, and diverse maintenance, repair and overhaul (MRO) capabilities are among the best in the industry."
"PAG's global presence will give our customers a much broader platform of support," adds Peter Cannon, General Manager of PTB. "It's not just about building or repairing engines – it's about keeping aircraft flying so that tourists reach their destination on time, miners get to their sites, skydivers get in the air, and agricultural teams get the crops sprayed for the season."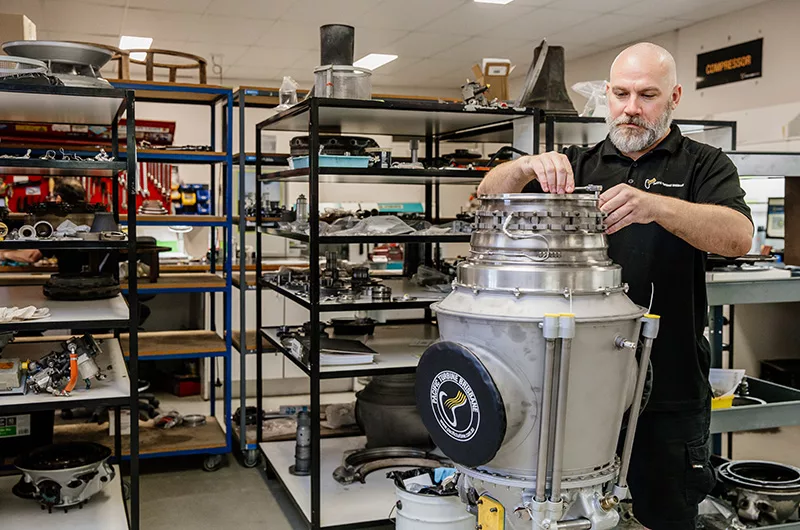 AIRLINE EXPERTISE
Cannon has spent his life with aircraft. He started his career in 1989 as an aerospace engineer apprentice in the Royal Air Force (RAF) in the UK, and always had a passion for all things aircraft related, reflecting on childhood summer holidays spent at air shows or travelling with the Air Cadets. After seven years as an RAF engineer working on the iconic Harrier jump jets, he joined the Royal Australian Navy (RAN) as a helicopter engineer for a further six years.
In the early 2000s, there was an unprecedented movement of aircraft into the Middle East to support the coalition efforts for troops in Afghanistan, Iraq and Africa. For Cannon the calling was too much to ignore; he went to the Middle East for an initial six-month contract in Kuwait, and returned home 10 years later having run aircraft, passengers, cargo, and helicopters all over Central Asia, the Middle East, and Africa.
"This led me to take a position in Papua New Guinea (PNG) as the CEO of an airline with 35 aircraft, both fixed wing and rotary wing," he tells us. "Then the dreaded COVID-19 pandemic hit, and after enduring six hotel quarantines, I decided to make a change and moved into the maintenance and repair side of the business. I knew that this would give me a much better life balance, and this is where I was fortunate enough to start with PTB which had been a supplier of aircraft engine support whilst I was in PNG."
AIR SUPPORT AND SOLUTIONS
One of PTB's core services is the repair and overhaul of PT6 and 331 engines, which are commonly used in aircraft with 19 seats or less, and certain types of helicopters. PTB has facilities in Brisbane alongside engine shops in Phoenix, Arizona, and Dallas, Texas.
"All these shops can repair, strip, and test engines. They all have test cells so they can run the engines to simulate them operating on aircraft and measure their performance to ensure the highest standards," Cannon explains. "We have a component shop in Pittsburgh that supports the hot sections of the engines and some additional components. Collectively across our shops, we maintain, repair and operate/overhaul an average of 25 engines per month."
A second area of PTB's business is its leasing department. PTB buys aircraft and leases them to operators while providing full customer support.
"The third area is our parts sales, undertaken across two offices," Cannon added. "Our Brisbane office stocks and sells parts that support the same customers whose engines we look after, as well as the leased aircraft. Our office in Sydney trades a huge array of aircraft parts, from components to large engines, across the world."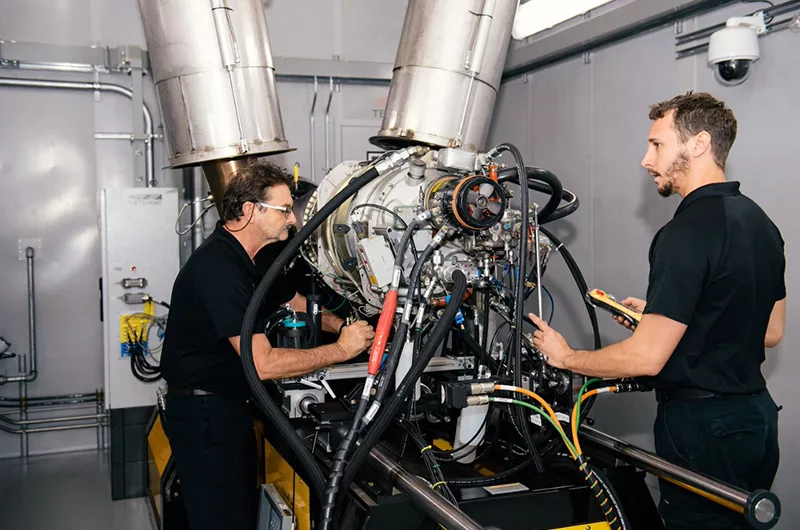 FLYING HIGH
According to Cannon, PTB's helicopter business represents substantial promise and opportunity. One of the company's shops in Phoenix has recently revamped the overhaul and building of its twin-engine pack that is used in Bell utility helicopters all over the world.
"This, coupled with the acquisition of PTB by PAG, which has a long history of helicopter support, will give us access to more inventory, as well as their current customer base who operate helicopters," he elaborates. "In our recent hiring of business development managers, we onboarded individuals with both fixed- and rotary-wing experience as we anticipate growth in the industry."
PTB is also making moves when it comes to its regional expansion. The company has played an integral role in supporting tourism airlines in the Asia-Pacific market, and since the relaxation of restrictions on travel, the airlines have been expanding.
"We currently support over 150 engines in the Asia-Pacific market, along with component support," Cannon states. "They are continuing to expand flights there with recent record-breaking flying hours."
Outside of this growth, PTB's key priorities this year include working with PAG to become fully knowledgeable with all the products and support available to support its customers with tip-to-tail solutions.
"By joining PAG, we are now present across 23 locations in various countries including Australia, Singapore, Brazil, the US, and Canada. The success of PTB is really a reflection of a great team of dedicated people. It's exciting to see the company continue to rise to new levels," concludes Cannon.