Matthew Kenny, CEO at Zambrero, discusses his organisation's drive to play its part in the fight against hunger globally.
THE MISSION TO STOP WORLD HUNGER
To Zambrero, ending world hunger isn't just a tagline — it's a commitment.
"We believe that no one should go hungry," stresses Matthew Kenny, CEO at Zambrero.
Zambrero is Australia's largest Mexican franchise. And the organisation is showcasing that actions speak louder than words through its Plate 4 Plate initiative.
"We are driven by our mission to stop world hunger," affirms Kenny. "With every burrito or bowl purchased, a meal is donated to someone in need. The donation of meals to those in need is facilitated by our international and local distribution partners."
Kenny is a lawyer by background and has worked in private practice for a number of years specialising in leveraged finance transactions. Having worked closely with Zambrero's founder Dr Sam Prince on a transaction, he made the decision to join Prince as part of his family office.
"After more than two years as General Counsel and COO of the Prince Group, I found myself spending a lot more time focusing on Zambrero as a business," explains Kenny. "In doing so, I started working closely with Bianca Azzopardi, Zambrero's CEO of North America, and assumed the role of CEO of Zambrero in Australia to continue to build out our growth while Bianca is focused on our global ambitions."
EARLY BEGINNINGS
Indeed, Prince's journey to founding Zambrero is interesting in its own right. As a young 21-year-old medical student, Prince noticed a lack of choice for healthy, fresh Mexican cuisine.
While still studying in 2005, Prince began to shake things up by opening the first Zambrero restaurant in his hometown of Canberra. As Zambrero gained more recognition, Prince was always driven to own a business that helps those that need it most. This would later become the Plate 4 Plate initiative.
"Rise Against Hunger is Zambrero's international distribution partner," discusses Kenny. "As an international hunger relief agency, Rise Against Hunger directs our Plate 4 Plate meals to communities much in need globally, where many do not have access to adequate nutrition, primarily through school feeding programmes.
"Locally, Zambrero partners with Foodbank to fight hunger in Australia, providing a meal to Australians doing it tough with every purchase from our retail range," he adds. "Foodbank is Zambrero's local distribution partner. Foodbank is Australia's largest hunger relief organisation, restoring hope to people who are struggling by rescuing and sourcing food and groceries for over 2,600 charities and 2,000 schools nationally."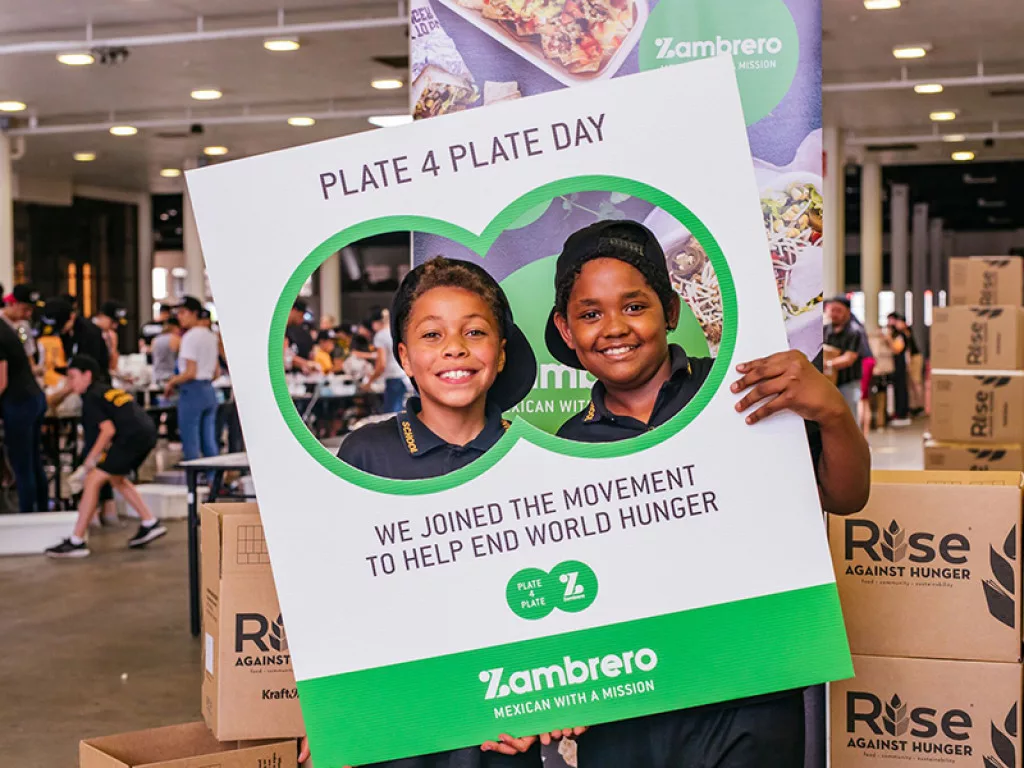 COVID-19 APPROACH
To Kenny, he believes the industry is in an exciting moment despite the challenges of COVID-19.
"The pandemic forced the sector to adapt and innovate far quicker than its pre-COVID-19 trajectory," he explains. "Sales channels are increasing with delivery aggregators (such as Uber Eats, Door Dash etc) offering consumers a convenient delivery service with the click of a button. Similarly, we are, like many of our competitors, expanding our own digital channels to have a closer touch point with our customer and provide them with pick-up and delivery options suitable to them."
From a customer experience perspective, Zambrero's product is made in front of the customer down a line with all ingredients proudly displayed.
"This provides a great ordering experience for the customer, allowing the Zambrero staff member to address any product related questions whilst minimising the risk of any ordering errors," explains Kenny. "Our product offering is vast, with four meat-based proteins (chicken, beef, pork and lamb) as well as two vegetarian options (cauliflower and double beans, rice and guacamole). All of our proteins are slow cooked via the sous vide method, meaning not only are the proteins amazingly tender and tasty, but our food safety risks are greatly reduced. We also offer a number of bespoke sauces (including varied options from garlic to red chilli), which clearly sets us apart from our direct competitors."
"Our customers are the lifeblood of our business"

Matthew Kenny, CEO, Zambrero
THE POWER OF PARTNERSHIPS
Amidst the significant disruption of the COVID-19 pandemic, Kenny points to the monumental support from its restaurant network.
"Without the devotion of Franchise Partners and our employees on the front line and we would not have been able to get through the most difficult months of the global pandemic," explains Kenny. "In addition to this, the foundations of our business put us in a really good position to ride out the challenges that the pandemic confronted us with."
"We have a low-cost operating model which allowed us to operate with flexibility out of locations that may have otherwise been challenging. Moreover, our product is quick to prepare, and it travels extremely well making it well suited to the increase that we saw in delivery and pick up channels during this time."
"Lastly, we found that as less options became available in the market, people searched for healthy alternatives. This provided us with an opportunity to distance ourselves from our competitors, offering up a quality, fresh healthy product that customers could trust and depend on through the challenging times."
THE HEART OF ZAMBRERO
At the heart of operations is Zambrero's supplier relationships. Having created and nurtured robust relationships with many of its suppliers over the years, Kenny recognises the true value that long-term relationships have on success in the industry.
"As a food retail business our product quality and integrity are paramount and always a priority for us," he stresses.
"I am incredibly proud of the quality of our product and in many ways, this is a credit to the strength of the relationships that we have with our suppliers. We foster our supplier relationships by ensuring that they are ingrained in our business, always at the forefront of our product direction and often partnering with us on new product development."
When it comes to the company's staff, Zambrero recognises how essential its people are to success.
For Kenny, it is their passion that shines through.
"It's clear to see how much our employees like working at Zambrero and we are proud of the performance culture we've created here," he says, proudly. "We operate a 'tight, loose, tight' structure, where staff are provided with clear direction from the beginning and then provided with the autonomy to go and execute on that direction, with the last piece of the puzzle being reviewing the outcomes, which we believe is often most important."
"At a restaurant level, we operate a number of staff recognition and incentive programmes, which fosters a collaborative approach to ensure we have the highest operational standards, particularly with respect to product quality and customer service."
Moving forward, Zambrero is in the final development stage of launching its own app, which will not only provide another sales channel but create a platform to communicate directly with customers.
"Our customers are the lifeblood of our business and we will jump at any opportunity to strengthen our connection with them," summarises Kenny.