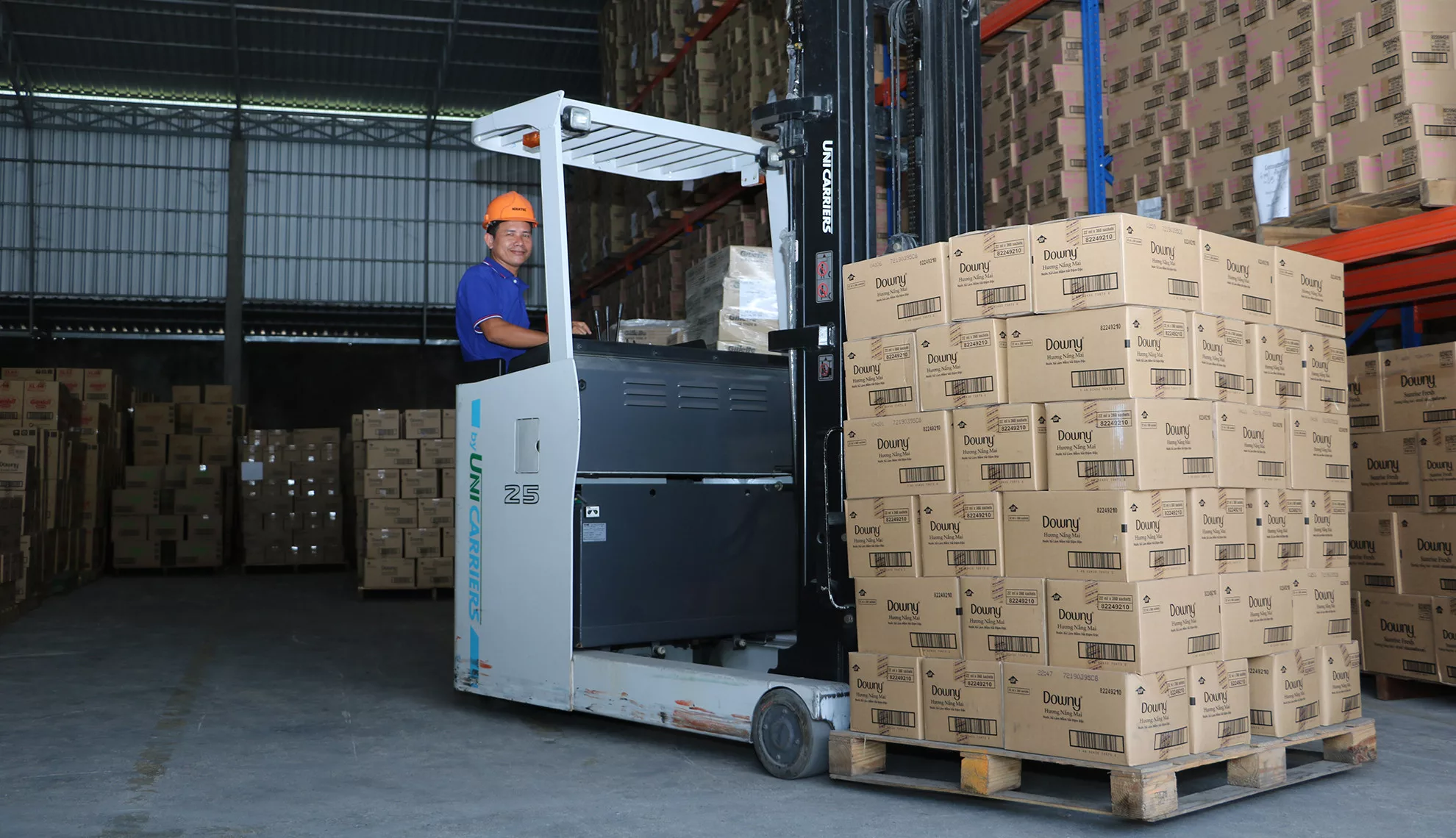 Distribution Dynamo 
Goodhill Enterprise (Cambodia) Ltd is enjoying a remarkable growth curve which is ahead of the country as a whole, bringing more international brands to retailers and consumers
Writer: Tom Wadlow | Project Manager: Josh Hyland
There are many reasons for Cambodian retailers and wholesalers to be buoyant.
Sustained economic growth of seven percent per year, rising consumer purchasing power and a digitally-enabled, youthful population who are exposed to an increasing variety of international brands all add up to a vibrant and rapidly evolving shopping sphere.
"It is currently an exciting time to be in the consumer retail and wholesale sector, as evidenced by the entry of several international players," remarks Teoh Oon Kiat, Managing Director of leading full-service distributor Goodhill Enterprise (Cambodia) Ltd.
"Following the success of its first Cambodia mall in mid-2014, Japanese retail group Aeon has already opened a second mall and is now planning to start construction on the third in 2020. Makro from Thailand first opened in Phnom Penh at the end of 2017 and has already expanded to Siem Reap with its second outlet in early 2019.
"Another example is the US convenience store chain Circle K. Since opening its first outlet in early 2018, Circle K has quickly expanded to more than 20 outlets within a year."
And the potential to develop this sector further is enormous – informal trade still makes up more than 80 percent of the mass consumer products market given the majority of Cambodians reside in rural areas.
"We believe that these are still early days and there will be plenty of room for further development in the consumer retail and wholesale market," Oon Kiat continues.
"This is why we are continuing to deepen our distribution coverage and penetration in Phnom Penh, while also investing into expanding our branches in six key provinces outside of the city. Although income disparity is still wide in Cambodia, it is encouraging to see that the benefits of economic development and income growth are also spreading to provinces outside Phnom Penh."
Upskilling for the future 
Asked about the major challenges that lie ahead for the development of this vibrant industry in Cambodia, Oon Kiat is quick to highlight a skills deficit as a potential obstacle holding back progress.
Already playing catchup with modernised counterparts following the Khmer Rouge period, which saw many intellectuals killed, the country is also dealing with the disruptions brought about by the rapid influx of industry 4.0 and the technological demands carried with it.
"The breadth and depth of the talent pool in Cambodia is still relatively limited, which is a severe constraint in the journey to become future-ready," Oon Kiat says.
"Take our industry. I have mentioned that the modern trade is a growing channel with many new foreign and local entrants in the last few years, however, the talent pool of experienced and specialised people able to manage the modern trade channel well is still relatively limited.
"So now, while we are having to continue to strengthen in our traditional trade channel and build up experience and skills to better manage our modern trade, there is an additional challenge to start understanding and embracing ecommerce and the digital channel."
New entrants to the market are placing an even greater squeeze on this talent crunch, but with the arrival of multinationals comes a raising of standards to international levels, something Oon Kiat identifies as a positive trend along with reform efforts from Cambodia's Ministry of Education.
Goodhill is also addressing the skills conundrum head on.
A vital component of its strategic plans, expanding local knowledge and nurturing homegrown expertise is actively encouraged in the organisation.
The Managing Director explains: "From day one the company had the foresight to base expatriates in Cambodia and over the years we continued to develop our internal talents, complementing them with experienced professionals from MNCs.
"We are also now putting in place a talent management programme to identify suitable candidates and help accelerate their development in a bid to nurture our next generation leaders."
Indeed, Oon Kiat is passionate about driving Goodhill as a Great Place to Work, becoming a home away from home for its people and offering opportunities for them to develop their skills.
For example, the firm has established the Goodhill Learning Hub for in-house training and conferences for up to 60 people at a time. Here, the company holds twice-yearly professional development training courses on top of many other meetings and events, while the management team take part in a corporate away day offsite in Cambodia or abroad to brainstorm new ideas.
Close collaboration with its brand partners is also paramount to these upskilling efforts, not least with FMCG giant P&G, who help to train Goodhill's beauty product advisors and organise workshops focused on creating the distributor of the future, allowing Oon Kiat and his team to take best practice learnings from other P&G distributors.
"We also sign up for external trainings, like the recent workshop by the Harvard Professor Sunil Gupta in a bid to familiarise and open our minds to new possibilities in the digital era," the Managing Director adds. "Learning and development is an integral part of Goodhill's quest to become future-ready and remain relevant."
A full-service distributor  
Such efforts have already paid dividends since the Singaporean company arrived in Cambodia in 1989, its highly skilled team building up a formidable distribution network across the country and investing in infrastructure to serve its brand partners.
For Oon Kiat, this has been fundamental to Goodhill's success to date.
"Instead of using sub-distributors or wholesalers to service the key provincial cities, we chose to invest in setting up branches in these six key provinces with our own team, office and warehouse so that we can have greater control and execute better in these areas," he says.
"Systems wise, we relied on in-house expertise to develop our own distribution management system and customised our own version of salesforce automation system. Now that we are outgrowing these legacy systems, we are planning to invest in enterprise resource planning (ERP) and warehouse management solutions to help us achieve better productivity.
"With the right investments into these areas over the last 20 years, we have developed into a full-service distributor with a wide range of services from market feasibility analysis, clearance and trucking, sales and marketing, warehousing and delivery to aftersales services.
This credibility built up over the years was also recognised by the General Department of Customs and Excise, Goodhill being among the first eight companies across Cambodia to be awarded the Best Trader Group status.
"We have to understand the brand owners' objectives and apply the local market conditions and consumer insights to customise the most appropriate solution for them," Oon Kiat continues.
"For example, depending on the brand owner's strategy, budget and product price points, we may suggest a customised distribution model with more targeted coverage of certain channels or geography instead of a one-size fits all coverage model."
In areas too small to set up its own branch and where sub-distributors are below satisfactory levels, Goodhill has stationed its own sales representatives who coordinate with the nearest company warehouse to ensure products are delivered in a timely manner. Post implementation analysis shows a sales growth of 22 percent with no increase in distribution costs.
This approach has enabled the company to build up a portfolio of well over 50 international and regional brands, many of its partners on board for more than a decade thanks to its reliable, consistent service.
Oon Kiat also touched upon technology and the need to move with the times, another enabler of these long-term relationships with customers. There are four broad areas making up the organisation's digital roadmap, the first being the aforementioned ERP and warehouse management systems which will help to streamline operations and optimise resources.
The second involves exploiting the rising trend of online and digital banking and payment methods sweeping through Cambodia, with social media and ecommerce a big focus for Oon Kiat, who believes this will add tremendous value to its brand partners. So too will harnessing the value of consumer data, the third pillar of Goodhill's digital roadmap.
"The fourth area is more aspirational but the most transformational if we are able to do it successfully," adds Oon Kiat. "After gaining more experience in the digitalisation journey, our goal should be set on identifying major pain points of consumers or industries and attempting to solve them using digital technologies to create disruptive solutions or business models.
"If we are able to embrace digitalisation to this level, then we will be able to not only survive but even thrive in the digital age."
Crossing borders 
As well as growing its digital capabilities, Goodhill is also eyeing up bold physical expansion.
In Phnom Penh, it is set to complete the building of a 4,000-square-metre corporate office and a 10,000-square-metre warehouse by 2020, and beyond Cambodia, Oon Kiat plans to enter markets across the wider Indochina region such as Myanmar and Laos.
The company has already been dealing in the paper and stationery market in the former since 2011, but in a limited capacity due to restrictions on foreign trading. However, now the Myanmar government has relaxed legislation on overseas investment, Goodhill is looking to set up a full-scale distribution operation using Cambodia as a template.
Real estate is another natural opening for the company. Given its experience in buying land and building its own warehouses and commercial facilities, Oon Kiat highlights the potential to explore more land investments in strategic locations across the country and develop similar assets for other organisations to either rent or purchase.
Diversification and expansion do not stop here, however.
"The third part of our growth strategy is our Reform to Transform project," the Managing Director says. "We plan to transform the supply chain function from a cost centre servicing in-house customers to a profit centre – a 3PL servicing internal and external customers.
"Supply chain is one of the core competencies of a world class distributor and we need to continually scale up our service levels and keep abreast of rapid industry developments.
"By transforming supply chain into a 3PL business, it both strengthens our position as a distributor of choice for our brand partners and adds another revenue stream for us to justify the extensive investments into people, systems and infrastructure."
Central to this development will be ongoing collaboration with partners and suppliers, companies that Oon Kiat is quick to praise for the integral role they play in Goodhill's success story.
"Strong relationships with our business partners are definitely vital for our business as we will not be able to win in the market unless we have the trust and support of our brand partners, especially when business conditions are challenging," he says. "We need to cultivate and nurture the relationship with them carefully to build trust and then strengthen it over time."
Goodhill generally classifies partners into two broad categories – tactical/trading partnerships which predominantly concern sales and taking products to market, and strategic partnerships which involve closer collaborations on product packaging and development, branding and marketing elements.
Setting and aligning clear expectations is paramount to the success of both forms of collaboration, an approach which has enabled Goodhill to develop a strong and resilient portfolio. Synergy, scalability and sustainability are three vital factors the firm looks for when scouting potential suppliers.
"In addition to having mutual trust and support, we enjoy working with brand partners who have clear goals in the market with the right building blocks to achieve them," Oon Kiat adds.
"With some, we have also progressed to working on joint business plans where key business objectives are aligned – some partners even mandated Goodhill's profitability as one of their KPIs, which goes to show the extent they view us as a business partner instead of just a customer or trading partner."
Giving back to Cambodia  
Indeed, building up a sustainable business in an ethical way is, for Oon Kiat, the most fundamental form of corporate social responsibility.
Besides providing fulfilling career opportunities to Cambodian citizens and contributing positively to the country's economy, the company is giving back in a number of other ways at a community level, not least in the form of continued support for the underprivileged.
"We regularly contribute our products to various less privileged groups in orphanages, hospitals, NGOs and schools or donate to organisations like the Cambodian Red Cross," Oon Kiat explains. "We rotate the donations to different organisations so as to spread the help more widely to different needy groups.
"Where possible, we try to incorporate a charitable aspect to our promotional activities. For example, for our Staedtler brand, we organised the World Kids Coloring Day event in Cambodia, whereby school children participate in the colouring contest and their works are then sold to donors with the funds given to a charity.
"Such activities are very meaningful as they allow the children to express their creativity and also understand from a young age the importance of helping those less fortunate."
As Goodhill continues to expand its activities and drive towards becoming IPO-ready, more opportunities to support local community causes will arise, a prospect which prompts Oon Kiat to reiterate his confidence in the future of development of Cambodia.
He concludes: "The projected GDP growth of Cambodia in the next three to five years remains healthy at around six to seven percent. If Cambodia continues on its pro-business policies, education and tax reforms, and follows through with the Industrial Development Plan and smart city initiatives, the mid- to long-term prospects of the country remain bright.
"The retail and wholesaling industry will definitely be developing in tandem with the country's economic developments. The increase of disposable income of the growing middle class coupled with rapid urbanisation will mean that this industry will continue to be attractive.
"Goodhill's aspirations are to not only participate in this growth but also attempt to lead the developments in the sector by futureproofing our business models and developing industry leading talents. Our intention is to widen and deepen our investments into Cambodia and continue to enrich Cambodian consumers' lives with our global brands."
VIEW Goodhill Enterprise BROCHURE