Strong family and community values are the foundation of Hazell Bros' civil construction projects as Managing Director, Geoffrey Hazell, tells us.
CONSTRUCTION THAT CARES
"The word that best summarises the construction industry at this moment in time is 'dynamic'."
The construction industry in Australia generates in excess of $360 billion in revenue, producing around nine percent of the country's GDP with a projected annual growth rate of 2.4 percent in the next five years.
Geoffrey Hazell, Managing Director of Hazell Bros, is part of the equally dynamic duo that owns and operates the family-run construction business together with his brother, Robert.
Founded in 1944 by the first generation of Hazell brothers, Donald and Rowley, as a transport business operating in Southern Tasmania, Hazell Bros soon became involved in earthmoving projects, and by the 1970s, civil construction.
Over the next three decades, the business continued to expand throughout Tasmania, adding quarries, concrete batch plants, a commercial building business and a crane company to its portfolio.
By 2010, Hazell Bros had expanded its civil construction and plant hire operations to the Australian mainland in Queensland and New South Wales. Traditionally a Tasmania-based business, this enabled Hazell Bros to operate in different economic environments to support the company through changes in the market.
"My father and uncle started the company, and I was always interested in what they were working on. I'm part of the second generation of the business, and it is with the support of the second generation that the business has grown to what it is today," says Hazell.
"The Hazell Bros journey has been one of ongoing change and diversification – sometimes planned, sometimes imposed, and sometimes opportunistic. Having grown from being one man and his truck working in Southern Tasmania to a workforce of some 700 people operating across multiple Australian states, we are big enough to deliver but small enough to care."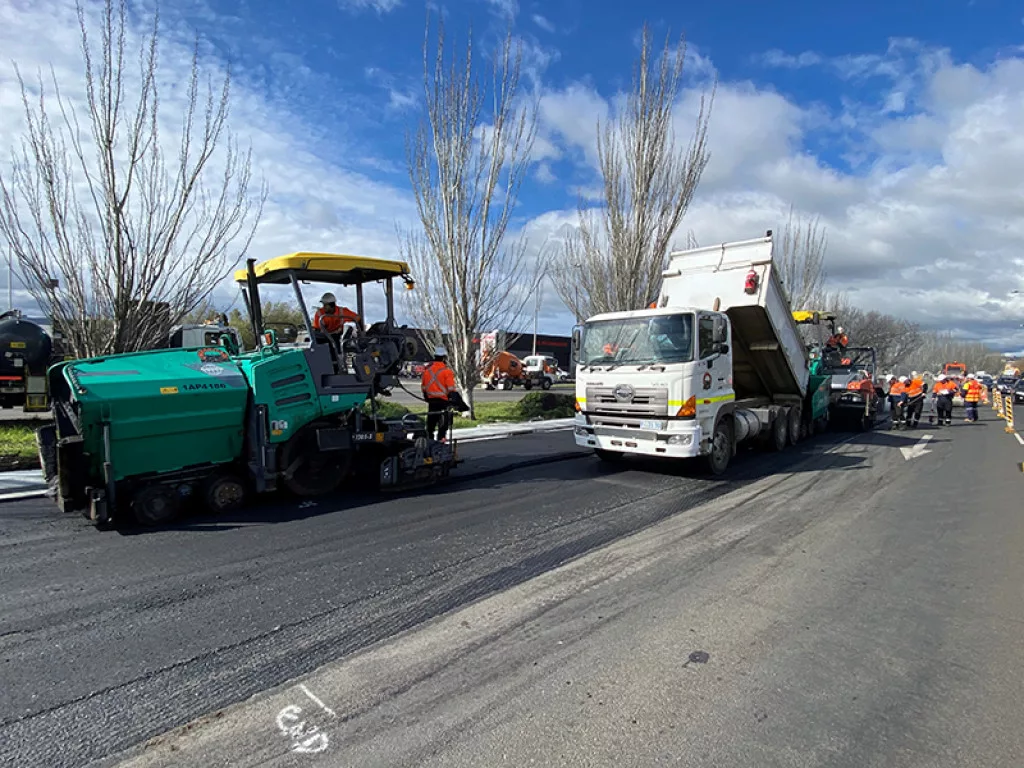 FAMILY CULTURE
Whilst it has been a journey of change for Hazell Bros, the company's employees have been significant mainstays, whose diversity and skills ensure that value is continually added, and client expectations are always exceeded.
Backed by its training and development programmes, the people at Hazell Bros are committed to working safely and upholding a company culture that is based on family values and initiative.
"Training and development plans are in place to formalise development, delivered by external training providers or internally on the job," Hazell outlines.
"There is a wealth of experience within the ranks at Hazell Bros, and our most experienced employees take a proactive approach to passing on knowledge. We are an employer of choice, where people want to work and grow."
A family business that values its people, nothing is more important to Hazell Bros than a workforce that returns home in a fit and healthy state at the end of every working day.
The company recognises the health and safety of workers as a fundamental value and is committed to providing healthy, safe workplaces in all aspects and areas of its operations. It maintains a strong culture of safety reinforcement, training, monitoring, inspections, and most of all the commitment of all employees to care for and look after their fellow co-workers.
In October 2014, Hazell Bros was recognised for the excellence it has demonstrated in the commitment to continuously improve workplace health and safety, through the implementation of an integrated systems approach.
Just a few months later, the company also had its Federal Safety Accreditation extended for a further six years, testament to its strong commitment to safety.
"The safety of our workforce is our number one priority. 'Safety First Always Works' is more than just our slogan, it is the cornerstone of our safety culture," emphasises Hazell.
"Strategies to further enhance our high safety standards include daily pre-start meetings, task risk assessments, risk reduction programmes, internal auditing and continuous improvement processes, and the training and development of our workforce in risk awareness and control."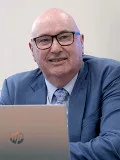 CONSTRUCTION SPECIALISTS
With a large, privately-owned fleet of vehicles, plant machinery and equipment, in addition to extensive quarry and product interests, continually exploring new opportunities and constantly challenging the status quo will see Hazell Bros remain at the forefront of its core business functions, which today comprise civil construction, quarries, concrete, and industrial services.
Delivering civil construction projects to public and private sector clients across Tasmania, Hazell Bros' capabilities include roads and bridges, infrastructure projects, pipelines, demolitions and minor civil works. In 2018 Hazell Bros acquired the northern Tasmanian civil construction company Crossroads to increase its northern footprint and add road sealing expertise to its portfolio.
Professionals in project delivery, including Early Contractor Involvement (ECI) and Design and Construct (D&C) where the experience, knowledge and innovation of its teams can be incorporated into any project, Hazell Bros is dedicated to delivering flexible, safe and environmentally sensitive construction solutions.
"Hazell Bros specialises in delivering civil construction projects to public and private sector clients across Tasmania, Queensland and New South Wales," Hazell outlines.
More than $300 million in infrastructure projects have in fact been delivered by Hazell Bros across Queensland and New South Wales, whilst the company is also the supplier of choice for premium quarry and concrete products in Tasmania.
Indeed, Hazell Bros has a proven record of excellence for workability in road base materials and supplying high-quality aggregates. The company currently has three fixed-plant quarries across Tasmania at Leslie Vale in the south, Raeburn in the north and Long Hill in the north-west, complemented by a sand quarry at Beauty Point in the north.
"Our hard rock and sand quarries are strategically located across the state to meet the market's needs, providing product to build the state's road networks and aggregates to produce concrete for the construction and housing industry," states Hazell.
The Leslie Vale quarry can produce close to one million tonnes of crushed dolerite per annum, as well as other materials including white rock and decomposed dolerite, whilst the Raeburn and Long Hill quarries provide rich sources of basalt and dolerite, respectively.
After investing in equipment and expertise, Hazell Bros is also leading the way with its recycling centre based at the Leslie Vale quarry, bringing new opportunities to lessen its impact on the natural surroundings and explore new markets for recycled materials. Here, materials such as inert building and demolition waste, clean fill, wood, brick and much more can all be recycled.
Hazell Bros' quarry products are tested to NATA (National Association of Testing Authorities) standards to ensure that clients are provided with products they can trust. With many satisfied external clients, they are some of the most sought-after quarry products in Tasmania.
"The Hazell Bros journey has been one of ongoing change and diversification – sometimes planned, sometimes imposed, and sometimes opportunistic"

Geoffrey Hazell, Managing Director, Hazell Bros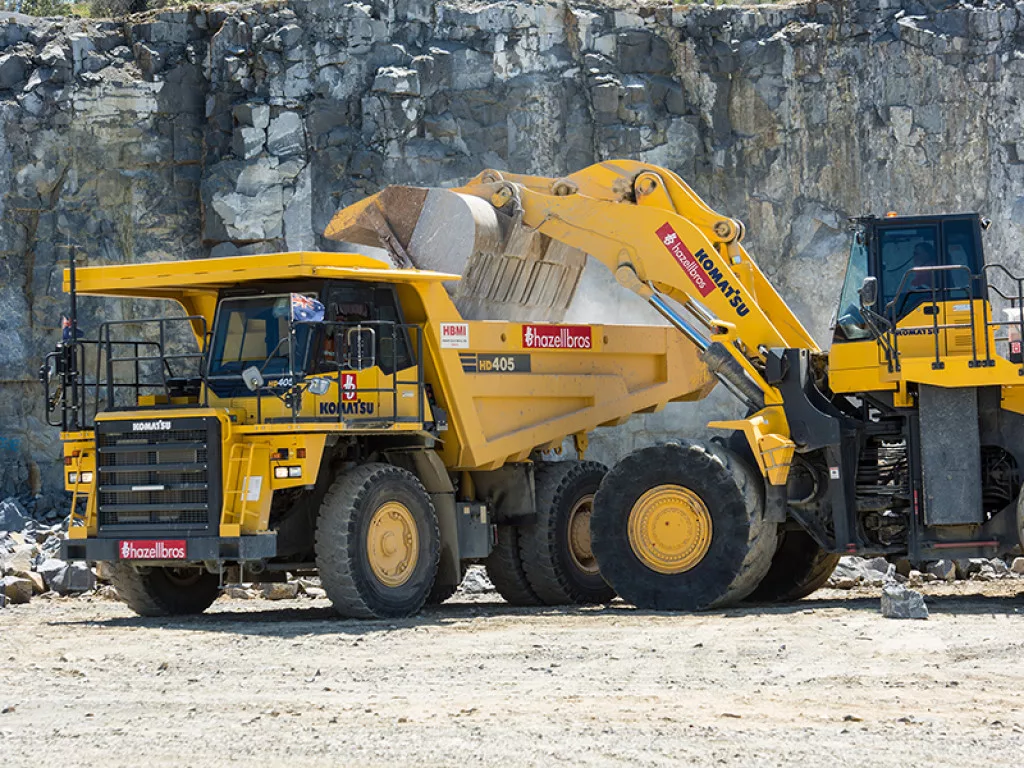 STRONG RELATIONSHIPS
Durable, quality concrete from Hazell Bros has been essential to the Tasmanian construction industry for more than 25 years.
Supplying concrete for commercial, industrial and residential use, Hazell Bros is able to design concrete mixes tailored to specific needs, supported by an NATA-accredited QualTech (TAS) laboratory.
QualTech (TAS) operates a total of three accredited laboratories within Tasmania, catering to the needs of the construction industry and specialising in soil, aggregate and concrete testing. The experienced team of registered technical consultants at QualTech (TAS) can offer a diverse range of materials testing and project analysis.
"With state-wide concrete production, backed by a substantial fleet of modern concrete agitator trucks, Hazell Bros prides itself on providing quality products and services while creating value for its customers.
"Hazell Bros services the needs of the domestic, commercial and infrastructure markets with certified products that can be trusted," continues Hazell.
From materials handling in process environments to planned maintenance, plant hire, fleet servicing and long-term contracts, Hazell Bros' experience in industrial services allows it to deliver operational and site innovations to improve operational efficiencies.
The company supplies maintenance services and plant and transport solutions to the mining, forestry and heavy industrial sectors, local councils, government departments, and waste transfer stations.
It also has a strong relationship with Nyrstar, a global leader in metals processing and recycling. Hazell Bros provides contract services to Nyrstar's operations in Tasmania, as well as Port Pirie in South Australia, involving the provision and maintenance of more than 95 material handling units, onsite workshops, supervisory personnel, and maintenance teams.
Thanks to its relationship with Nyrstar in Tasmania, Hazell Bros has been able to support their operations in Port Pirie, where it has approximately 120 workers delivering and handling materials on site.
"Relationships that have been built from our forefathers have remained steadfast in our partnerships today. One of our longest standing relationships has been with Nyrstar, who we continue to work closely with," Hazell informs us.
"We have recently renewed our materials handling and mobile asset contracts with Nyrstar in both Tasmania and South Australia, which required the rollout of a challenging CAPEX programme.
"Many legacy projects have been completed over the years, and Hazell Bros has played a substantial role in them. We have always challenged ourselves to take on harder opportunities, by working closely to provide solutions to our clients and gaining their respect in order to grow long-term reciprocal relationships," he adds.
Likewise, a strong relationship with Veolia has been the catalyst for Hazell Bros to revolutionise glass recycling in Tasmania. Research and testing over the past five years has allowed the company to create quality recycled glass for use in asphalt production, masonry products, and pipe embedment.
COMMUNITY REPUTATION
A number of strong supplier relationships have been developed by Hazell Bros, and these relationships remain critical to the success of the business across its sphere of operations.
Crucially, they uphold the company's longstanding reputation for reliable, high-quality products and materials, and providing innovative solutions that meet the needs of all customers from individuals all the way up to large companies and projects.
"When operating in a small market, it is important to maintain a robust reputation. Word travels quickly if this is not the case, and limited supply chain alternatives can create risks for the business," acknowledges Hazell.
The company is committed to building relationships based on respect, mutual success, open and honest communication, and developing long-term partnerships. It has thus developed a business that is both agile and regionally focused, as it strives to meet the expectations of clients, stakeholders and the communities in which it works.
"Our people are connected to each other, our customers and the community. In more recent times, COVID-19 restrictions have limited our ability to engage with the community, however plans are in place to reinvigorate this focus."
The company has a long-standing association, for instance, with service clubs, whilst the Hazell Bros Corporate Services team donates one day per employee, per year to support a local community organisation or worthy cause.
Hazell Bros has also supported a number of fun runs, donated goods and services to charitable organisations, and provided financial support to employees in times of need.
SUSTAINABLE STRATEGY
On top of upgrading the crushing capabilities of its flagship quarry operation based in Southern Tasmania, Hazell Bros is currently investing heavily in infrastructure as a result of the buoyant, spring-boarded economy that has emerged from the COVID-19 pandemic.
This includes local and state government infrastructure projects in Tasmania and Queensland, projects that are supporting the company's vertical integration and enabling it to continuously invest in the business.
"We recently completed the demolition of a 15-storey government building to make way for a new government precinct, with some other heritage art deco buildings being converted into the new Marriott hotel," Hazell shares.
"We are also currently in the process of finishing off the new flyover to Hobart Airport and the Sorell Bypass for the Department of State Growth, which is part of the south-eastern expansion corridor. These are projects that support our vertically integrated business."
It has otherwise been a challenging couple of years for the industry, however, which continues to deal with the usual assortment of risks as well as the emerging challenges brought about by the COVID-19 pandemic.
These emerging challenges, such as supply chain constraints and limited resource pools, have led the industry to focus on new innovations, particularly around lean management and collaborative contracting in order to overcome them.
Meanwhile, the company has been involved in substantial irrigation projects throughout Tasmania to service the agriculture industry, which is helping to put the state's produce on the international market, as well as the construction of wind farms, from site establishment to the roads and concrete footings.
"Being a clean, green state, the focus of future projects for Tasmania over the next decade will certainly be to upgrade older energy infrastructure and accelerate the renewable energy space."
Hazell Bros' strategy is to deliver increasingly sustainable products and service solutions by eliminating waste, reusing and recycling concrete, glass and manufactured sand, reducing carbon emissions, and leveraging technology.
The key priority for the company over the next 12 months and beyond is to maintain a sustainable business, focusing on the areas in which potential challenges will arise due to market conditions surrounding the supply chain and the pressure on resources.
"Our future plans and objectives are to further utilise the integration of the company to increase growth and strengthen our civil construction and industrial markets through collaboration and innovation, with a focus on both new and emerging markets in these areas," concludes Hazell.
"We are also implementing a succession planning strategy that will enable the incumbent directors to transition to retirement and engage the next generation to become members of the board."