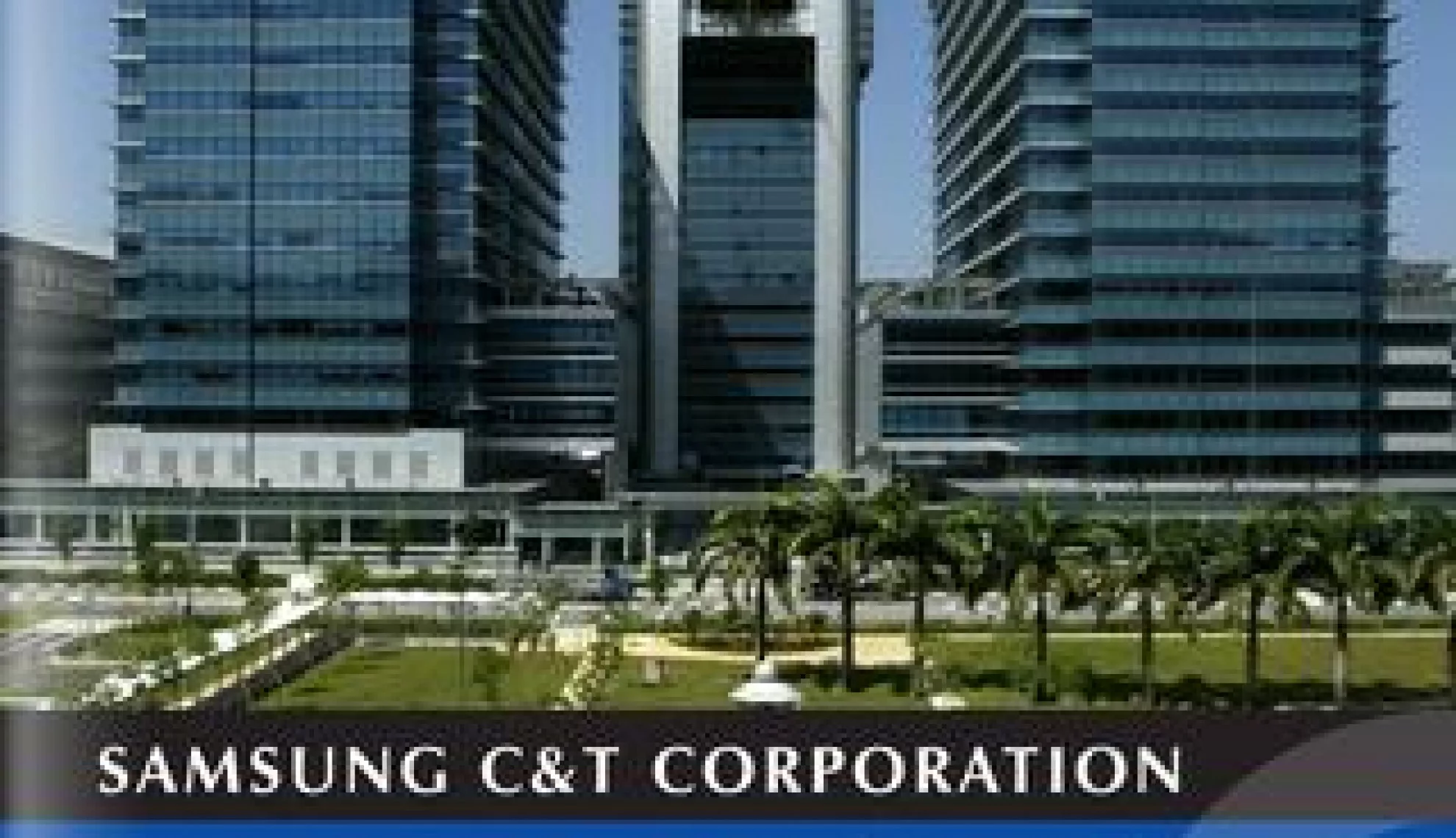 Singapore's in Safe Hands
Writer: Matthew Staff
Project Manager: Tom Cullum
Capitalising on nearly 80 years of global experience and one of the most renowned brand names in the world, Samsung C&T Corporation is building its impressive portfolio in the country year-on-year, as part of an ever-increasing Asia-Pacific stronghold within the industry.
While Samsung Corporation was founded in 1938 as the parent company of Samsung Group, its Singapore operations made it one of the leading contractors in the city-state since 1990. The global entity has become even more extensive in recent years, and with a presence in more than 50 countries to this day, it has become a leading global name and an employer's preferred choice in each operating nation.
"Since its founding in 1977, Samsung C&T, a leading global master builder, has emerged as one of the world's preeminent builders providing full services in engineering, procurement, and construction," the Company states. "Harnessing the resources shared by Samsung Group affiliates, the Company has undertaken many large-scale, complex projects with the goal of fostering innovation in construction technology that ensures safe delivery of high-quality works within budget.
"The Asia-Pacific region office covers various countries which include Singapore, Malaysia, Indonesia, Vietnam, Philippines, Thailand, Hong Kong, India, Australia and Mongolia. Currently, Samsung C&T has 34 ongoing projects on hand with a total contract value of more than US$18 billion."
The Company's first foray into Singapore in 1990 commenced with its maiden Atria Condominium project alongside leading developer, Hong Leong Group. Since then, numerous luxurious residential projects and civil works have been undertaken to confirm not only Samsung C&T's concerted influence within Singapore, but also its strong relationships with its leading partners.
Construction and completion
"Over the years, Samsung C&T has successfully clinched many iconic projects; Biopolis Science Hub Phase 1, One Marina Boulevard, Harbourfront Twin Towers, Deep Tunnel Sewage System T-04, Changi East Reclamation, and Power Seraya Combined Cycled Power Plants to name just a few," the Company details.
Subsequently building a strong presence in Singapore, Samsung C&T has especially made a name for itself as a result of the challenging nature of some of its projects, including the likes of Kallang Paya Lebar Expressway (KPE) Contract 423 in 2002.
The Company continues: "This project spanned a three kilometre long cut-and-cover tunnel constructed across the Pelton Canal. Samsung C&T proved its capabilities and successfully completed the project in 2008 despite its complexities and tough geological conditions.
"The Building and Construction Authority (BCA) has also awarded the Construction Excellence Award of KPE C423 project to Samsung C&T and on 26 May, 2016 the most recent conferment of the same award for MCE C483. In terms of safety and environmental issues, Samsung C&T has made utmost efforts to upkeep workplace and workforce safety at all times; even under the most challenging conditions and circumstances which resulted in the LTA conferring three consecutive years of the ASAC Champion award to Samsung C&T.
"Over the years, Samsung C&T has also received numerous awards for safety, excellent performance, Green and Gracious Builder of the year, and BIM for its Singapore projects."
Employing more than 7,500 people from all backgrounds, Samsung C&T's niche in being able to take on the most complex and large-scale projects is an attribute evident across all of its global operations, and is definitely the case in Singapore across building, civil engineering and plant domains, for both public and private sectors; working with esteemed clients including the LTA, Singapore Power, Singapore LNG Corporation, JTC Corporation, Changi Airport Group, Power Seraya, State Courts, Keppel Land, Guocoland and UIC.
Arguably the most significant recent projects (Marina Parade T307 and Xilin T313) revolve around the Thomson-East Coast Line though, an integral piece in LTA's Singapore rail network jigsaw.
"Thomson-East Coast Line T213 comprises the construction and completion of Caldecott Station and associated tunnels," Samsung C&T notes about one of the more prominent areas being constructed at present. "Scheduled to complete in 2020, Caldecott station will become an interchange station connecting the future Thomson-East Coast Line with the Circle Line, bringing further convenience and connectivity to commuters working and residing in the Thomson Road and Toa Payoh Rise areas."
Safety first
Across all of Samsung C&T's projects, one core principle takes precedent time and time again. 'Safety first' is not just a philosophy to abide by in terms of internal sustainability and employee care, but is also an ethos which potential clients place above nearly all else when identifying a potential contractor.
"To be in line with the very first core value of safety first, Samsung C&T does not compromise the safety standard and has spent around half a million Singapore dollars to build an on-site safety training centre in Thomson East Coast Line T213 as part of this commitment," the Company says. "The safety training centre provides quality, practical and hands-on workshop experience to ensure that trainees understand the safety and environmental requirements, and acquire specific safety practices in Samsung C&T projects."
As an example of this initiative succeeding, the Thomson-East Coast Line T213 project has currently achieved 2.3 million man-hours with very few accidents or incidents; an indictment of the continuous progression that the Company strives for in this area.
Such efforts are subsequently rewarded in a number of different guises; whether it's through the positive supply chain management relationships that are formed as a consequence of being a reliable partner, or through the projects themselves and the trust being put in the Company from public, private and Government agencies.
Arguably the Company's most significant partners come from the surrounding communities, however, as the Company details: "Samsung C&T understands the importance of partnering not only with companies but also communities," the Company says. "Samsung C&T has engaged in Habitat Homebuilding activities since 2000 and has built a total of 271 homes for low-income families, childcare centres, community centres, and recreational facilities; and this effort was recognised with the Asia Responsibility Corporate Award in 2014."
Two charity organisations – Singapore Children's Society and TOUCH Senior Activity Centre – have also seen active involvement from the Company as further evidence of the Samsung influence in Singapore, while its numerous awards over the course of 2013, 2014 and 2015 offer the perfect glimpse into how the Company expects to thrive in the future as well.
"Samsung C&T's goal is to be the trusted builder, based on the core values of safety, integrity and appreciation to our clients, partners and employees," the Company concludes.
VIEW Samsung C&T Corporation BROCHURE