A start-up on an explosive trajectory, COBOD International is now the world leader in 3D printing construction machines. We explore its expanding global network with co-Founder and Head of Asia Pacific, Simon Klint Bergh.
SMART BUILDINGS ON DEMAND
The future of construction will be 3D printed. In a laborious industry faced with escalating material costs and a diminishing skilled workforce, autonomous, multifunctional construction robots are the answer.
A trailblazing innovator in this nascent field, COBOD International (COBOD) has proven itself as a world leader in the few years since its inception in 2017. That same year, COBOD delivered Europe's first 3D printed building in Copenhagen, and introduced the largest 3D printer in the world to Saudi Arabia just two years later.
With an equally impressive future ahead, we delve into the pioneering start-up with co-Founder and Head of Asia Pacific, Simon Klint Bergh, as the company spreads its global network of local partners with a new venture in Indonesia.
Q&A WITH SIMON KLINT BERGH
What led to the inception of COBOD and how has the company grown?
Simon Klint Bergh (SKB): COBOD stands for Construction of Buildings on Demand. In 2017, after three years of research in the sector, we realised that there weren't any commercial companies doing 3D construction printing. Although we started as a plastics printing company, we set ourselves the goal of bringing this technology to market.
After we printed the first house in Europe near our headquarters in Denmark, everything started to take off. Today, we have regional offices in Miami, and Kuala Lumpur, Malaysia alongside our base in Denmark. We have sold just over 55 machines across the world, and we're present through our customers in all six habitable continents.
The fact that a five-year-old scale-up can claim to be the world leader in this field because we have sold more machines than any others in the market, in fact, more than all of them combined, really speaks to the infancy of the technology.
Our focus mission is to bring this new 3D printing technology to the construction sector to innovate and change the way things are done for the better. This is why it's so important for us to establish strategic collaborations and partnerships across the world to spread our technology.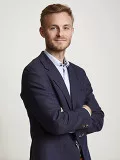 What are the key drivers for 3D construction printing?
SKB: As a young scale-up, we're still exploring where this technology makes most sense to implement. There are four different factors that we consider when introducing 3D printing into the construction sector. Firstly, there is a huge need across the world for more housing, even in developed countries where more affordable options are required due to the rising cost of materials.
A lack of skilled labour is also a major problem throughout many countries. With the increased automation our technology brings to the construction site, this problem is directly addressed.
Sustainability is another pillar – we don't overconsume and only use the materials that we need. Our technology allows the use of new, innovative materials and our mentality is entirely based on open-sourcing materials. Basically, whatever you can extrude can be used with COBOD technology. Universities and customers are continually exploring new opportunities into materials other than concrete.
The final factor is individualism. Form freedom is appealing to most of our generation – people who want their homes to appear unique and can be a part of the design process. The form freedom enabled by our technology makes it no more expensive to build 100 different homes rather than 100 of the same, whereas conventional technology would typically appreciate that uniformity.
Tell us about your recent joint venture with Bakrie in Indonesia?
SKB: Our partnership with Bakrie has been in discussion for a long time. We decided to partner with them since they are a big, multi-vertical group of companies with good connections and an advanced vision of technology and how to make it viable in the market. Similarly, we work with Siam Cement Group in Thailand and KA Bina in Malaysia to help us expand our technology in those regions.
At COBOD, our focus is on continuously developing our technology to the best possible level and then finding partners for the rest. We're not construction experts, we're technology experts, so we need these local partners to bring the technology to market and use their knowledge of local authority regulations and building sectors.
We have just signed the agreement with Bakrie, meaning that one of our machines will be introduced in Indonesia within the first half of 2023. Meanwhile, there are various projects soon to be delivered in Malaysia, Thailand, Japan and India.
What are priorities for the year ahead for COBOD?
SKB: Working with customers to refine our technology and make a better product is key for COBOD. We put a lot of emphasis on our customers succeeding, because that means that we succeed in the long run. We will continue to collaborate with them to bring the first 3D printed houses to different countries around the world.