Specialising in reverse vending machines for the collection of used containers, TOMRA Collection is cleaning up across Asia Pacific. We delve into operations with Vice President and Head of Asia, Bing Zhao, and President of Pacific, Ryan Buzzell.
In the face of escalating global populations, waste generation rates are rising to a concerning level, as every year, billions of tonnes of rubbish are sent to landfills. As reported by the World Bank, population growth and urbanisation mean that annual waste generation is expected to increase by 73 percent from 2020 levels to 3.88 billion tonnes by 2050.
Combatting this waste dilemma, is an ever-developing waste collection and recycling industry, seeking to find sophisticated ways to collect, recycle, and repurpose these resources.
Across Asia, there is regional disparity regarding how advanced such systems are, although the industry is generally considered to be less developed compared to western countries.
While North Asian countries, such as Japan, Korea and Taiwan boast some of the most advanced waste collection and recycling systems, Southeast Asia is heavily reliant on informal sectors to support the industry, with an emphasis on selective collection and down-cycling, as opposed to closed-loop recycling.
Although the majority of Asian countries (excluding Japan) are in consideration to allow the use of food-grade rPET – applying recycled plastics in food contact materials – waste collection and recycling are in an area ripe for further development, improvement, and innovation.
One company well-positioned to answer this demand, is TOMRA Collection (TOMRA).
"Waste collection and recycling is a very exciting sunrise industry, with more and more government regulators exploring legislations to promote sustainability," opens Bing Zhao, TOMRA's Vice President and Head of Asia.
Through its effective and efficient collection, sorting and processing systems starting with reverse vending machines (RVMs), TOMRA facilitates the collection of over 45 billion empty cans and bottles around the world every single year.
Indeed, with an installed base of approximately 80,000 machines in over 60 markets, TOMRA is the world's leading provider of reverse vending solutions.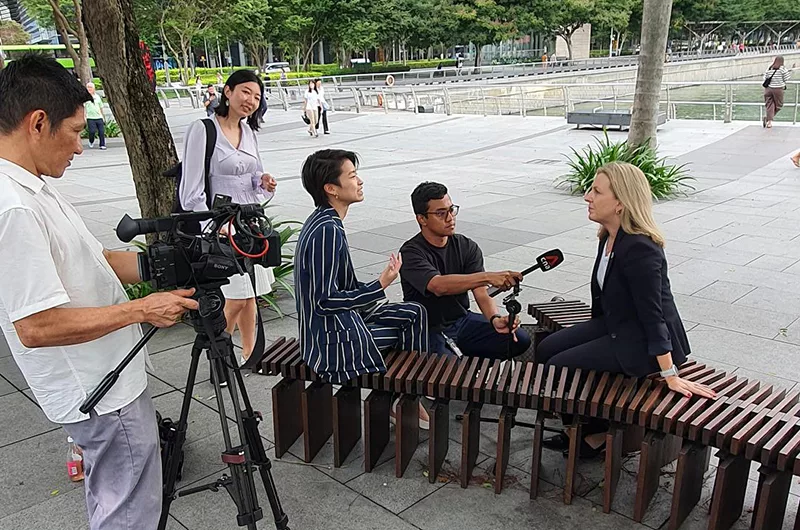 A COLLABORATIVE EFFORT
As the region awakens to the global waste crisis, legislation is being formed, and a waiting game lies ahead until it is enforced. Simultaneously, a burgeoning consumer conscience in the worldwide shift towards a circular economy is creating heightened demand.
"Consumers are now more conscious as well as demanding – from both a tech-savvy and price sensitive perspective," shares Zhao. "Brand owners are now beginning to take action, but we would like to see more coordinated efforts to align incentives and ensure effective recycling outcomes."
Extended producer responsibility (EPR) schemes are critical in this regard, as environmental policy whereby packaging accountability extends beyond the post-consumer stage of a product's life cycle.
As part of an EPR framework, another major collaboration helping to effect widespread change is TOMRA's involvement in government return schemes for single-use beverage containers, which has been applied successfully in the Australian market.
Here, working with its partner, Cleanaway, TOMRA has functioned as the sole network operator for the New South Wales (NSW) container deposit scheme since its inception in 2017.
"Through these schemes, TOMRA leverages its world-leading technology to provide a unique consumer return and refund experience," shares Ryan Buzzell, President of TOMRA Collection Pacific. This includes the world's first consumer app in a return scheme, offering various digital payment options.
"TOMRA's IT ecosystem drives a data-rich scheme, whereby all machines are connected to a cloud-based platform allowing for unparalleled levels of real-time data transparency and scheme integrity," Buzzell elaborates.
Elsewhere across Australia, TOMRA operates modern collection points throughout the states of both Queensland and Western Australia. This collection point infrastructure is due to expand with new formats aimed at delivering maximum consumer satisfaction.
Some recent developments have included the implementation of smaller RVMs, modelled on machines found throughout Europe, alongside the implementation of point formats designed to cater to a wider variety of commercial premises.
"In the Australian schemes, TOMRA is directly incentivised to increase return rates by establishing the most convenient and consumer-friendly network of collection points possible."

Ryan Buzzell, President of Pacific
SPOTLIGHT ON SINGAPORE
Another area with significant potential is Singapore, where TOMRA has been operating for the past two years, beginning as a knowledge sharing partner leveraging its significant experience and advising on best practices to establish a localised solution.
As the leading country in Asia to introduce comprehensive legislations on recycling and waste collection, Singapore is something of a frontrunner and a dynamic, receptive market for TOMRA.
"Singapore is often seen as a lighthouse or reference model for many countries in this region. The government is far-sighted and takes a scientific approach to all the policies implemented," shares Zhao.
The nation's legislative commitments to achieving sustainability and boost recycling began in 2019 with the introduction of the Zero Waste Master Plan. This was implemented to address the amount of waste deposited in the country's only landfill site – Semakau Island – and hopefully extend the site's lifespan beyond 2035.
"Concurrently, the landmark legislation – Resource Sustainability Act – was introduced to give effect to the regulatory framework. Three main waste streams were identified in this act, including food waste, e-waste and packaging waste," she outlines. Legislated waste management based on e-waste has been introduced via an ERP system, thereafter, it is the second legislated system – packaging – where TOMRA's potential is clear, as a specialist in the recycling of single-use beverage containers.
Singapore's introduction of a comprehensive deposit refund scheme on beverage containers – expected to be labelled the Beverage Container Return Scheme (BCRS) – is hotly anticipated to be launched by the end of 2024, with TOMRA on standby for further clarification and legislation in the meantime.
"TOMRA aims to contribute to the success of the BCRS through our state of the art Reverse Vending Technology (RVT) and operational excellence," Zhao continues.
"We are willing to invest in building up a collection network across Singapore under viable commercial conditions, to maximise convenience for the consumers and provide a cost-effective solution for the industry stakeholders."
Since TOMRA's core competencies are proven by successfully supporting deposit return schemes in over 40 markets, Zhao is fully optimistic about the positive role the company could play once the new framework comes into action.
"With our expertise and the upcoming BCRS, we believe we could put our core strengths into the best application to drive this unprecedented scheme to great success, setting a role model for the rest of Asia to follow."
REALISING A CIRCULAR FUTURE
Looking to the years ahead, TOMRA's Asia operations will continue to focus on how best to shape and deliver a successful BCRS in Singapore, with the aim to commit to a viable business plan and move into the operational stage to prepare for rollout and support green job creation by building up technical capabilities.
Across Asia, TOMRA will be working closely with its joint venture company in China to introduce next-generation RVT based on artificial intelligence (AI).
"For us, it is crucial to identify and execute on projects that are sustainable both for society and for us, where we can provide a clear value proposition," surmises Zhao, emphasising the spirit of collaboration that is truly required to progress towards a circular economy through the effective management of waste.
"Ultimately, we aim to inspire more markets to find effective ways of tackling their packaging and plastic waste with joint efforts from both public and private sectors across Asia."