A proudly Australian manufacturer for half a century, Seeley International's evaporative air conditioning systems are redefining cooling. We discover this ground-breaking technology with Executive Chairman, Frank Seeley.
INNOVATIVE AND EVAPORATIVE
For the first time in decades, the Australian public is keen to buy goods manufactured in their own country.
Fortune favours the brave, and there are rich rewards for those who are prepared to go after these opportunities.
One company capitalising on this strong, resurgent preference for Australian made products is Seeley International (Seeley), the country's largest and most coveted air conditioning manufacturer.
Today, Seeley manufactures more than 80,000 products and 1.5 million components in Australia every year, sold through more than 300 independent dealerships and a worldwide network of distributors.
"We are in the process of bringing manufacturing from overseas, not only for ourselves, but also for other manufacturers, wholesalers, retailers and end users," reveals Executive Chairman, Frank Seeley, who founded the company just over 50 years ago in 1972.
"We are very vertically integrated, making many of our own motors and virtually all of our injection moulded plastic products, components and filter materials."
Frank is a joint shareholder in the business along with his wife, Kathy, whose role has been instrumental to the longevity and success of Seeley and its Australian cooling and heating products.
"My wife's part in this business is critical. She has always supported the company and believed (even more than I did!) in my capability. Without her, I simply could not have done it," he smiles.
Despite the rising popularity of goods manufactured in Australia, Seeley nevertheless plans to build its own manufacturing facility in the US, as well as multiple smaller sites across the globe to speed up production.
Set to happen over the next three years, this will subsequently expand the business in Australia as a number of proprietary sub-assemblies are supplied to other plants.
"We're already doing some manufacturing in the US, but that is going to increase significantly in the future," Frank informs us.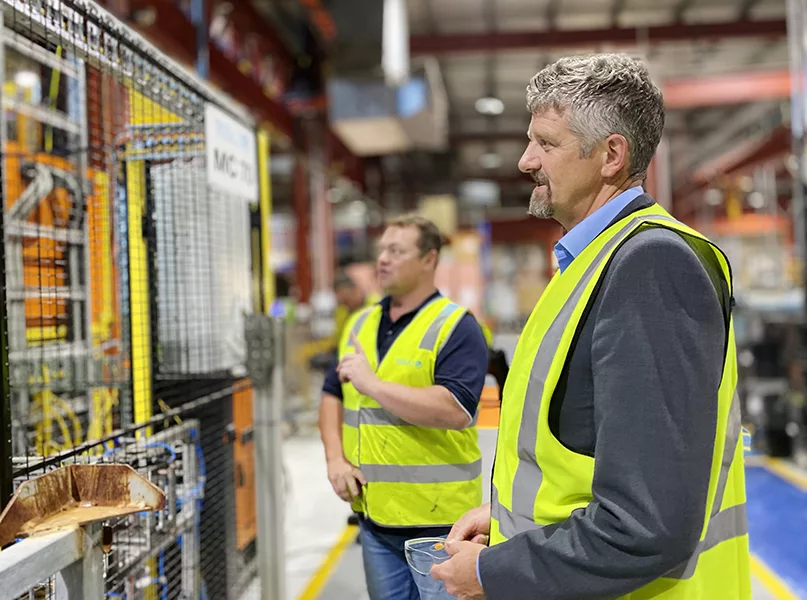 RECORD ORDER
Employing more than 500 people in Australia and overseas, Seeley dominates the Australian evaporative cooler and ducted gas heating market and is a world leader in state of the art cooling products which, in many instances, can fully replace refrigerated air conditioning with power savings of up to 80 percent.
It's therefore no surprise that high quality air conditioners made by Seeley with Australian materials are also exported around the world, to destinations such as Europe, the UK, the Middle East, and the US.
In 2018, the company successfully completed the world's largest order for evaporative air conditioners, resulting in around 50,000 of Seeley's Australian made Breezair conditioners being installed in the tent city of Mina Valley, Saudi Arabia.
Evaporative air conditioners, as the name suggests, use the principles of evaporation to help cool the air. As hot and dry outside air is pumped through water-soaked cooling pads, the water evaporates and the heat in the air is absorbed, which lowers the temperature.
The bulk order provided state of the art cooling for Mecca pilgrims during their stay in the tent city, a fascinating logistical exercise involving more than 100,000 tents and houses for approximately three million people.
A three year tender evaluation process saw the Breezair brand and other contenders tested on site over several months, in all conditions and seasons, including comparative tests done during a pilgrimage to assess performance under real-world conditions.
The built-in safety mechanisms, economical use of water, ease of control and compact design were critical in Breezair being successfully selected.
"We were among 900 companies asked to quote, and we understand our products were actually the most expensive, however they were without question the most effective and long lasting," acclaims Frank.
"Through our Saudi distributor, we got those messages across to the Ministry of Hajj. We started early and were able to supply all their needs over two years without adversely affecting any of our global customers, which was a remarkable feat!"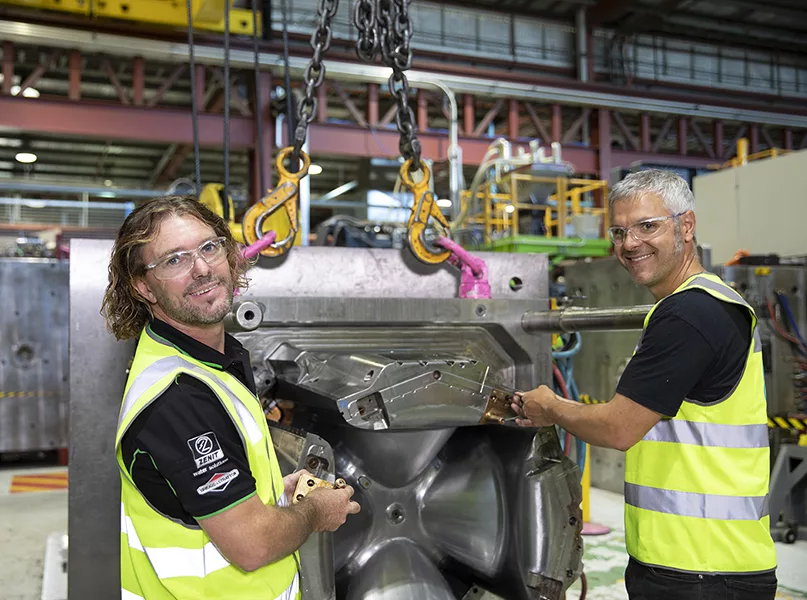 CASTING A SPELL
Built to withstand Australia's hot and dry climate, Breezair is one of four brands under which Seeley's products are sold, along with Braemar, Coolair, and Climate Wizard – the latter of which offers ground-breaking new technology throughout its wide range of models within its series of indirect evaporative air conditioning products.
Climate Wizard's patented indirect evaporative technology delivers unparalleled levels of cooling, and has now been successfully adopted worldwide.
The technology uses a heat exchange core that provides hyper-efficient cooling, generating fresh air at temperatures that can rival, or even surpass the performance of refrigerated systems which in many situations can provide 80 percent lower energy costs.
"We've been working on Climate Wizard to make it better and better for over 20 years, and I believe in another 20 years' time we will still be improving it," Frank affirms.
"There is nothing else in the world to compare it with, and we intend to continue its development and protect every new breakthrough that we make along the way."
At the forefront of developing ingenious, energy-efficient cooling and heating products, Climate Wizard demonstrates Seeley's mantra – the need to innovate, automate, and accelerate like there's no tomorrow.
"We've been doing these things for much of our 50 years in manufacturing, and I hope we'll always be doing them because we know that the day we stop, is the day we'll start to die. Innovation is not a destination, it's a journey – a never ending journey!"
There is naturally a strong focus on R&D at Seeley, to deliver on its vision of leading the world in creating climate control solutions which continue to be highly innovative, of premium quality, and inspirational in the delivery of energy efficiency.
Frank is an innovator himself, and as Executive Chairman, he looks after Seeley's special R&D group, Imagineering, which continues to work on "over-the-horizon" products which outperform the competition with newer technologies.
"We're never short of projects and its these opportunities that keep me wanting to go to work every single day," says Frank.
"Many of my targets and goals are centred around Imagineering, to provide ever-better and cheaper heating and cooling products in Australia and throughout the world for the greater good."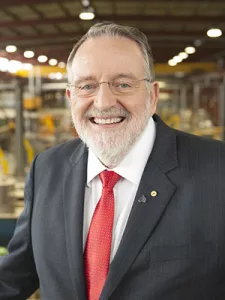 GOLDEN JUBILEE
Seeley celebrated its golden jubilee in 2022, a milestone moment marking 50 years of pioneering climate control products.
"On the face of it, 50 years is only a number, however for those who have travelled the distance it's an incredible achievement," Frank beams.
"So many of our people have been with us for so much of the journey, that I would not for a moment take the credit for us still being here. I want to acknowledge all the wonderful people who, over the past half a century, have contributed to making Seeley the vibrant company it still is today."
With strong supplier relationships amassed over a number of years, Seeley, from day one, was at pains to advise its suppliers upfront about anything out of the ordinary it would be requiring.
This modus operandi has characterised the company throughout its 50 year history and has continued to pay untold dividends.
For the next 50 years, Seeley remains committed to Australian designed, made and owned air conditioning products, world leading climate control solutions, and an ongoing relevance in an everchanging world.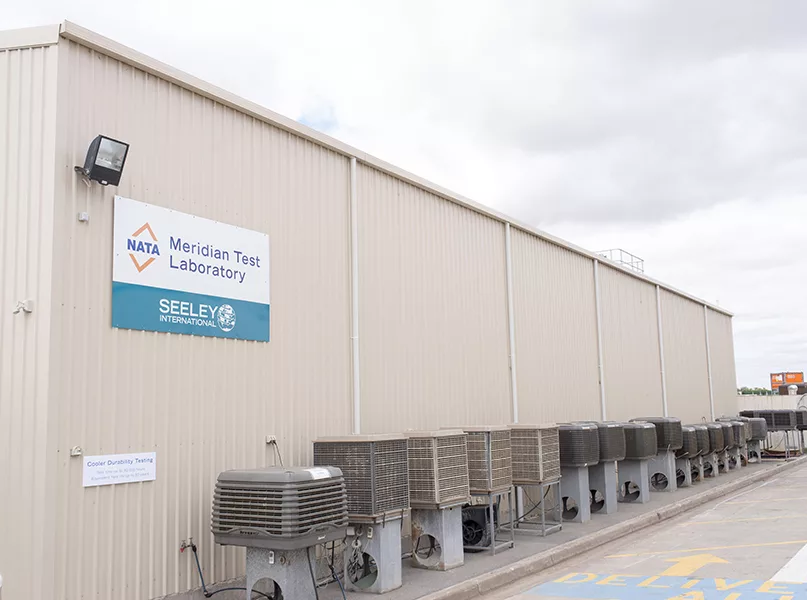 SEELEY INTERNATIONAL PARTNERS