Australia's Largest construction, architecture and infrastructure show, Sydney Build, is back once again on the 6th and 7th March 2023.
Held at the International Convention Centre, 14 Darling Drive, the event aims to bring together all professionals in the built environment and design industry in an extremely busy two-day exhibition and conference.
The event has firmly established itself as the largest and most important trade show for the industry. This event is free to attend and merely requires a simple registration on the expo's website to secure a spot amongst more than 40,000 pre-registered attendees.

SYDNEY BUILD EXPO OVERVIEW
Brought to you by Oliver Kinross, Sydney Build is part of the company's award-winning 'BUILD' exhibition portfolio that extends internationally to include trade shows held throughout New York, Chicago and London.
Sydney Build 2023 will feature over 500 exhibitors and 450 speakers across nine conference stages. Alongside Sydney Build, the Sydney Infrastructure Expo and Digital Construction Australia will be co-hosted at the venue. Three major expos in one, spread across a two-day period, will showcase the latest in technological advancement and touch upon controversial topics highly prevalent within the contemporary built environment industry.
Boasting a comprehensive programme and diverse range of displays, the event's show floor incorporates a unique format designed to stimulate business networking opportunities between attendees and exhibitors and deliver quality content for audience members in an entertaining and engaging manner. Cutting-edge seminars, sponsored networking lounges and live equipment demonstrations are just a small portion of what attendees can expect to encounter at this year's expo.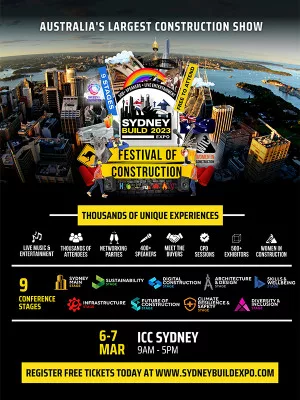 OPPORTUNITIES FOR ALL
Uniting thousands of construction experts, architects, engineers, designers, government personal and aspiring tradies is no easy task. That's why Sydney Build Expo has themed it's 450 top-level speakers into nine stages scattered throughout the venue's floor. These CPD accredited presentations will encompass a wide range of exclusive industry insights, touching upon topics of interest prevalent within the field of construction and shedding light on the first-hand experience of industry professionals. Below is a list of stages occurring throughout the course of the event:
• Sydney Main Stage
• Digital Construction Stage
• Sustainability Stage
• Architecture and Design Stage
• Diversity and Inclusion Stage
• Future of Construction Stage
• Infrastructure Stage
• Climate Resilience and Safety Stage
• Skills and Wellbeing Stage
The foundation of the Sydney Build Expo has been built on providing education and training opportunities across the Australian built environment industry; therefore, Sydney Build hopes to provide guests with new perspectives and favourable circumstances for approaching this booming field. More importantly, Sydney Build hopes that its attendees can build lasting relationships within the industry to further the growth potential of Australian construction development.
For more information and to register a complimentary ticket:
marketing@sydneybuildexpo.com.au